Climate change is a global issue impacting every life on the planet. That's why the World Economic Forum has listed climate action failure as one of the most significant risks in the next ten years. Hence, it is the responsibility of every individual, organization, and industry to start acting on it immediately.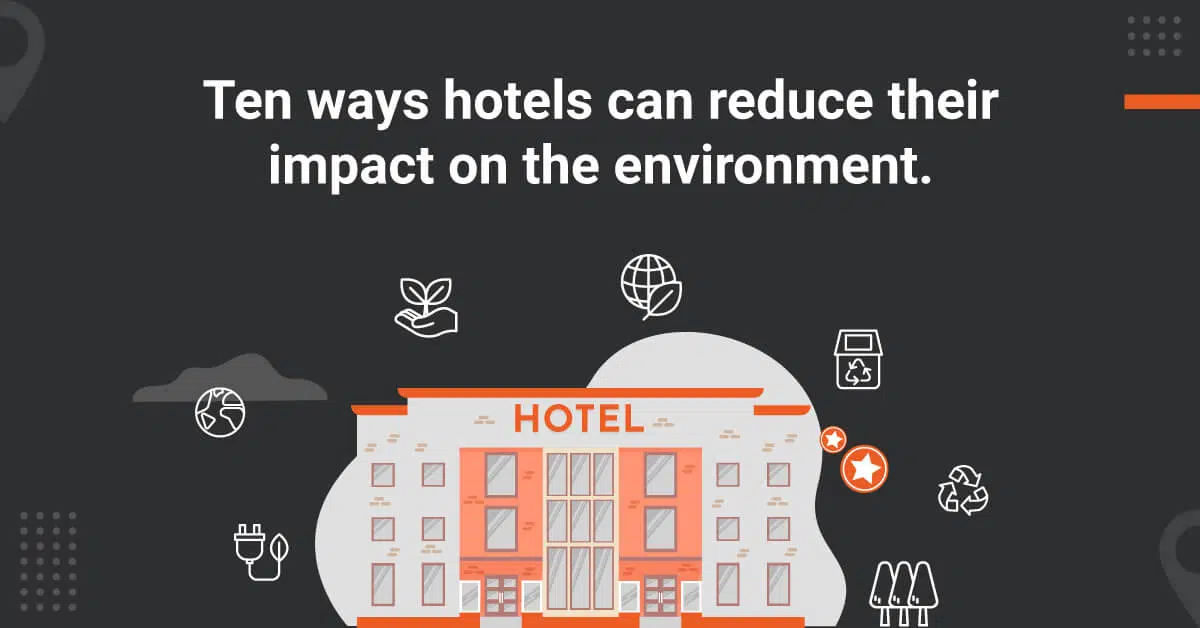 One such industry is the hotel industry, as it is one of the major contributors to global warming. According to a study, hotels need to cut their carbon emissions by 66% per room by 2030 to compensate for their current environmental impact.
Hence, there is a surge in the need for eco-friendly hotels. Environmental sustainability in the hotel business is no longer "nice to have"; it's a must-have.
Here are 10 ways hotels can reduce their impact on the environment.
1. Utilize Renewable Energy
A hotel has multiple heating, cooling, and lighting appliances that consume significant energy. According to a study, a 100-room hotel consumes an average of 80,000 kWh of electricity per month. This level of energy consumption from non-renewable sources is bound to harm the environment.
Therefore, hotels need to switch to sustainable energy sources like solar energy. Using renewable energy sources can help increase the hotels' energy efficiency and increase overall power generation cost-saving in the long run.
2. Discontinue Single-use Products
Hotels provide multiple single-use products like small shampoo bottles, soap packets, straws, etc., to make their guests' lives easier. However, most of these products are made of single-use plastic, which accounts for 40% of all plastic produced annually worldwide.
A single plastic product can take 20 to 500 years to decompose, and even as it degrades, it releases toxins into the soil around it. Therefore, hotels must find a better way to deal with their plastic waste.
Recycling is an excellent way to reduce plastic waste. However, the fact that 91% of all plastic is not recycled calls for a different approach. Hence, hotels should replace single-use products with more sustainable bulk-sized amenities.
Additionally, they can use eco-friendly hotel toiletries with plant-based, toxin, cruelty-free ingredients, and biodegradable packaging to eliminate the use of small plastic bottles.
3. Adopt Paperless Processes
Avid travelers know that no hotel stay is complete without a bunch of paperwork. Despite the modern technology available to exchange and store information, hotels still retort to the old-school methods. For instance, they still make physical copies of their guests' IDs instead of using cloud-based storage.
Moreover, they print invoices, itineraries, menus, etc., instead of sending them via mail. This practice may seem harmless on the surface; however, the environmental effects of producing paper include deforestation, water pollution, and air pollution. Also, paper amounts to 26% of the total waste in global landfills.
Hotels can send digitized invoices directly to the customers' mail instead of handing them printed ones. They can also provide QR-coded menus instead of paper menus. Going paperless will not only preserve the environment but also save operational costs.
4. Install Power Sensors
Hotels have a lot of unnecessary power consumption. Often, guests forget to turn off electronic appliances when leaving the room, or the porchlight remains switched on even when it is not being used.
An efficient way to combat power wastage is to install smart power sensors. Such sensors can detect whether guest rooms are empty and automatically switch the light, fans, and ACs on and off. Such technologies can also automate turning lights on and off in shared spaces like gardens.
Minimizing carbon emissions is one of the primary goals of the hotel industry because hotels are responsible for 1% of total carbon emissions worldwide.
There are multiple ways of carbon offsetting. Hotels can invest in projects that reduce carbon footprint and conserve the ecosystem. They can also partner up with organizations that work with businesses to curb their carbon emission. They can also take up individual projects aimed at reducing their carbon footprints as a part of their corporate social responsibility.
6. Do Laundry the Clean Way
Hotels go the extra mile to ensure cleanliness for their guests by cleaning sheets, towels, and pillow covers every day. While this may seem like an acceptable practice from a hygienic point of view, it takes a toll on the environment. Daily laundry causes a lot of water wastage and electricity consumption.
Hotels should promote reusing bedsheets and pillow covers among their guests. They can also put up an eco friendly hotel towel reuse sign to tell their customers reusing their towels as much as possible is helping the environment.
Additionally, they should have a policy whereby the guests place dirty laundry on the floor and hang up the clean ones. This will ensure only necessary laundry gets done.
Some eco-friendly hotels have followed the abovementioned practice and discovered that reusing sheets and towels reduces the number of loads washed by 17%, along with related water consumption and sewer, labor, and energy costs.
7. Invest in Eco-furnishing
Hotels stay at the top of trends when it comes to interior decoration. Hence, they demand a lot of wooden furniture and flooring, which promotes deforestation.
Hence, hotels need to switch to more eco-friendly furnishing. They need to furnish rooms with sheets, towels, covers, etc., made of natural fiber and furniture made of sustainable materials like bamboo. They can also conduct a life-cycle assessment and only invest in long-lasting furniture.
8. Embrace Eco-friendly Architecture
Ozone layer depletion is a significant environmental hazard. It is caused by the emission of CFC (Chlorofluorocarbon) gas, which perforates the ozone layer, causing harmful UV rays to enter Earth's atmosphere. Hotel buildings are responsible for a substantial amount of CFC emissions from heating and cooling devices like air conditioners and heaters.
To do away with this problem of excessive CFC emission, hotels need to adopt eco-friendly bioclimatic architecture. Bioclimatic architecture is the way of designing buildings according to the climate, with the aim of ensuring comfort to inhabitants and the least possible environmental damage.
With the help of bioclimatic architecture, hotels can harness the local climate conditions like sun, wind, or rain to reduce the building's environmental impact.
9. Offer Zero-mile Food
Hotels demand food ingredients on a large scale. Hence, when they require off-season or non-local ingredients, the demand must be fulfilled by transporting food across borders and storing it in cold storage. The problem with this approach is that fuel is a rare commodity, and long-distance transportation causes air pollution.
Hotels can solve this problem by offering locally sourced food ingredients. By ordering locally, hotels can put the money back into the local economy and support small businesses. Additionally, they can cut back on the 1500 miles on average that food needs to travel.
10. Team up with Customers
Reducing the impact on the environment is as much the customers' responsibility as the hotel. All the efforts towards sustainability will provide double results if hotels team up with their guests.
Hotels can request their guests to switch-off lights, fans, and ACs when they leave the room. They can also encourage their guests to reuse bed sheets, pillow covers, towels, etc., instead of changing them daily. Finally, hotels can request their business traveler guests to partake in sustainable business travel.
Sustainability is the only Way Forward
Hotels, being one of the major contributors to global warming, have started realizing their negative impact on the environment. This has led to increased eco friendly practices in the hotel industry. However, there is still a long way to go.
These were 10 ways hotels can reduce their impact on the environment. Practices like switching to renewable energy sources, providing eco-friendly amenities, reducing the frequency of laundry, etc., can help hotels reduce their impact on the environment.
Companies around the world prefer ITILITE's unified travel and expense management software for swift and effortless hotel bookings. To see how it works, just try out the software for free.