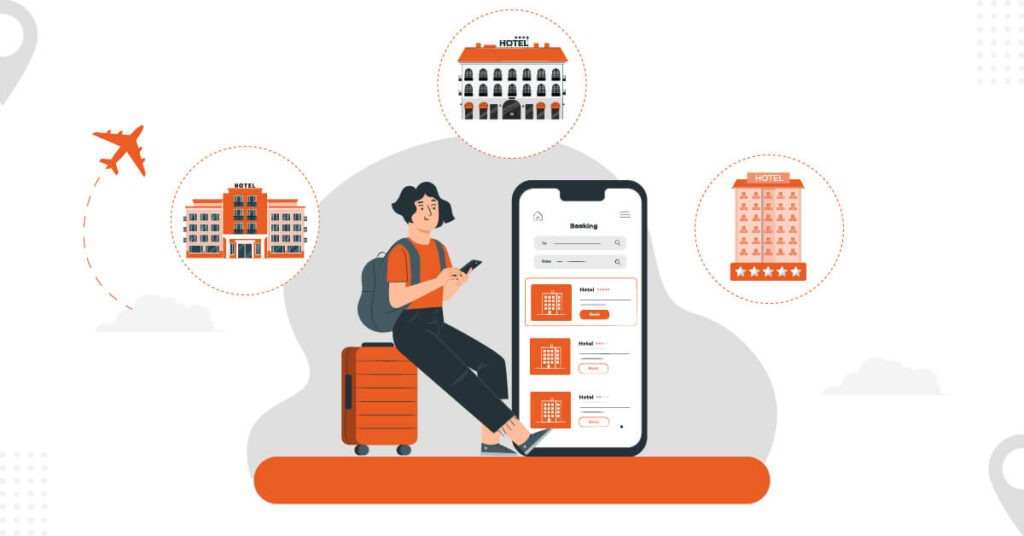 Employees' accommodation during a business trip can make or break their travel experience. When employees don't get a good accommodation, they may face issues with hygiene, check-in procedures, power cuts, etc. which can impact their productivity.
Therefore, travel managers must book accommodation for business travelers that provides safety, comfort, and convenience. With so many options available, you may be confused about choosing and booking the right business travel accommodation.
Business Travel Hotels : Choose the Right One
Let's see some essential steps to follow while booking the right business travel hotels for your business travelers.
1. Understand your Employees' Preferences
The first step in choosing the right business travel hotels is understanding your employees' preferences. Before booking any accommodation, the travel manager should ask the business travelers what accommodation they prefer.
It is essential that you must understand their needs and requirements. This may include factors such as location, safety, amenities, leisure facilities, etc. For example, some business travelers may prefer to stay in a hotel close to the airport or the city center, while others may prefer a hotel that provides free Wi-FI or gym facilities.
By understanding your employees' preferences, you can narrow the options and book the accommodation that best suits business travelers needs.
2. Keep in Mind the Location and Proximity 
One of the most important factors to consider when choosing business travel hotels for travelers is its location and proximity to meeting venues. Booking a stay where employees must often depend on public transport or book cabs can result in employees reporting late to meetings. This, in turn, can impact their reputation.
For instance, if your employee has to meet a client for lunch, the venue should be close to the location of the accommodation. Therefore, ensure that the business travel accommodation is close to places employees need to go.
3. Read Reviews on the Internet
Once you have shortlisted the business travel lodging based on location, your next priority is to read reviews online. Reading online reviews about the business travel accommodation on TripAdvisor or Google will give you first-hand information about the property.
It is crucial you must go through both positive and negative reviews about the accommodation. Let us assume you read only the positive reviews and booked the stay. However, one of the travelers may have mentioned a particular issue in the negative review section. Such negligence can lead to choosing a substandard accommodation.
Online reviews help travel managers make more informed decisions about which accommodation to book for their business travelers.
4. Consider the Safety and Security Measures
When employees go on business trips, their personal safety is often neglected. When you neglect your employees' safety, they can find themselves stuck in a difficult situation.
Moreover, companies have a duty and legal responsibility to protect their employees when they send them on a business trip.
If you have a female business traveler traveling alone, booking a hotel in a safe area is crucial. According to a recent global survey, 71% of female respondents felt more unsafe than their male counterparts while traveling.
Therefore, you must choose the location of the business travel hotel that is absolutely safe. Travel managers must book stays with robust safety and security measures. These measures include 24-hour security, CCTV surveillance on every floor, rooms with peepholes, fire safety equipment, emergency exit manuals, etc.
It is also advised that you have a corporate travel safety policy in place. The policy gives you information on all the training, protocols, travel advisory, etc., which you must implement in your business travel management program.
Also Read:
3-star Business Travel Hotels for your Corporate Travel Program
5. Book Accommodations with Leisure Facilities
After a long day of back-to-back meetings, attending calls, and replying to emails, employees need comfort and relaxation. They may want to indulge in some leisure activities such as having access to a gym, spa and sauna, swimming pool, yoga, bar counters, etc.
Therefore, you must always book business travel lodging which provides these facilities. When you book such types of hotels, it helps employees to rejuvenate and unwind. Business travel can often be stressful and demanding. Leisure activities help alleviate stress and provide a more enjoyable experience for business travelers.
6. Ensure the Accommodation has Business Amenities
Another important point to consider while booking corporate travel hotels and accommodations is the amenities it offers. Employees need to achieve certain business objectives during their trips.
Hence, it is essential that you book a business travel accommodation that offers business amenities. These include:
Fast and Secure Wi-Fi
As employees have a lot of business tasks to complete, you must book accommodation that provides a fast and secure Wi-Fi connection. When employees have a good internet connection, it helps them carry out business tasks smoothly.
Plenty of Power Outlets
Business travelers have so much to plug in and power up these days. They may require a room that has multiple outlets to charge their phones, tablets, laptops, and more. Hence, you should choose accommodations that are relatively new. New and renovated hotels offer multiple power outlets.
Accessible Meeting Rooms
Business travel is crucial to securing new clients, pitching ideas to existing clients, and having important meetings and discussions. Therefore, you must choose business travel hotels with accessible conference and meeting rooms.
It is also an added advantage if these rooms have AV equipment, such as projectors and screens, where employees can present their ideas.
Business-Friendly Room Amenities
Booking accommodations for business travelers, it must have a setting that promotes productivity. Therefore, travel managers must book a room with a comfortable working space. It should have a well-lit work desk, a comfortable chair, good lighting, and a quiet atmosphere.
24-Hours Front Desk
Business travelers may require assistance at any time of the day or night. It can be to either order food or fix any power issues. Hence, travel managers should always book accommodations for business travelers with a 24-hour front desk.
7. Check for Transportation Services
While choosing a business travel accommodation, travel managers must check if they provide shuttle or cab services. Employees may often need to venture out sightseeing or meet clients for lunch/dinner.
In such cases, depending completely on public transport or hiring cabs may not always be feasible.
Hence, travel managers must ensure that the chosen business travel hotel has transportation services that will help business travelers get around the city. This helps employees save a lot of time which otherwise they would require to hire cabs or depend on public transport.
8. Don't Forget your Company's Budget
Last but not least, while keeping in mind your employees' preferences, you must not forget your company's travel budget. Business travel accommodation costs are incurred while making stay arrangements for employees. Hence, these costs make up 30-80% of travel costs.
Therefore, while choosing business travel hotels for travelers, travel managers must keep in mind your company's travel budget as well as employees' preferences. While booking accommodations, you should also negotiate with hotels so that you don't go overboard with the company's allocated budget.
This way, you can evaluate the total amount spent when employees stay in hotels, resorts, lodges, or others. While you must include the budget for business amenities, you can exclude any personal stay arrangements.
Different Types of Business Travel Accomodation
Business travel accommodation comes in various forms to cater to the diverse needs of business travelers. Here are some different types of business travel accommodation:
Hotels: Hotels are the most common type of business travel accommodation. They offer various levels of comfort and amenities, ranging from budget hotels to luxury five-star establishments. Hotels often provide business centers, conference rooms, Wi-Fi, and other facilities geared towards business travelers.
Serviced Apartments: Serviced apartments offer a combination of hotel-like services and the convenience of a fully equipped apartment. They are suitable for longer stays and often include amenities like kitchens, laundry facilities, and separate living and sleeping areas.
Corporate Housing: Corporate housing refers to fully furnished apartments or houses that are rented on a temporary basis to business travelers. They provide a more homelike environment and are ideal for extended stays.
Extended Stay Hotels: These are a variation of traditional hotels that cater to guests staying for an extended period, typically a week or more. They offer more spacious rooms with kitchenettes or full kitchens to accommodate longer stays.
Airbnb and Vacation Rentals: Some business travelers opt for Airbnb or vacation rentals, especially if they are looking for unique or local experiences. These rentals can range from single rooms to entire homes, providing a more personalized stay.
Boutique Hotels: Boutique hotels are smaller, stylish, and often independently owned establishments. They offer personalized services and a unique atmosphere, making them popular among business travelers looking for a more intimate experience.
The Right Business Travel Accommodation Helps Improve Travel Experience
Business travel accommodation is a significant aspect of enhancing your employees' business travel experience. Hence, travel managers must plan well in advance and choose the accommodation that suits employees' preferences and also ensures productivity.
At ITILITE, we help you enhance the travel experience of your employees by providing personalized accommodation options through our travel management software. Moreover, we partner with the most popular business hotels to offer you the best deals.
Get a free demo of ITILITE to know more about our services.