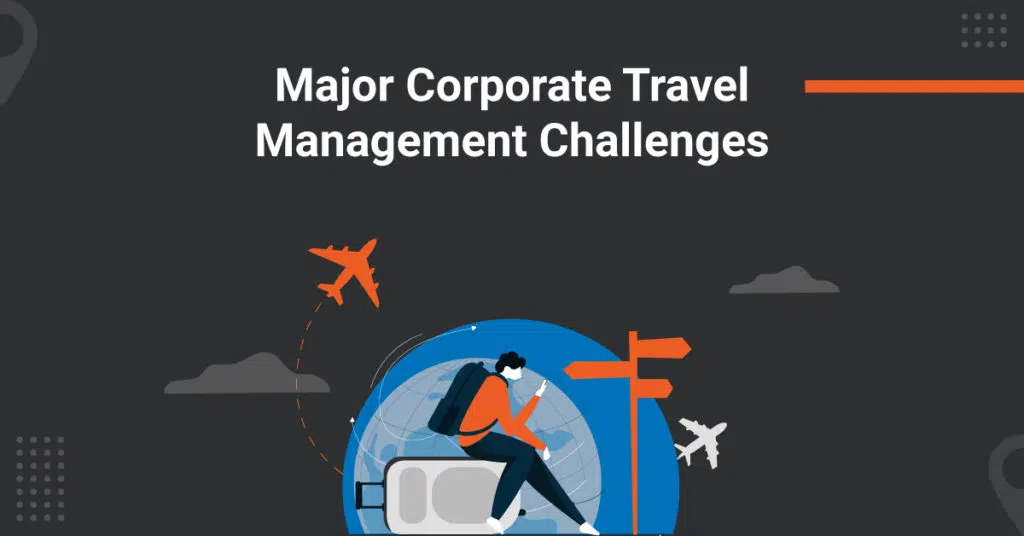 With the advent of COVID-19, the business travel industry took a hit. However, there was a silver lining during this dull period. It got many companies around the world to re-evaluate their current travel process and identify the corporate travel management challenges.
With the world returning to normal now, the global business travel spend is estimated to touch $1 trillion this year. Hence, it is a good time to find corporate travel solutions to all the travel management challenges you might be facing as early as possible.
Here is a video showing some major corporate travel management challenges and the ways to overcome them.
Read the major corporate travel management challenges & corporate travel solutions in detail.
1. Getting the Best Inventory
Not having enough travel options is one of the major corporate travel management challenges highlighted by most companies. Your employees might be booking flights, hotels, etc., on the vendor's website, oblivious to better options. Or, the TMC (Travel Management Company) that you prefer for travel booking might have access to a limited travel inventory.
In any case, if the employees are not getting all the travel choices, how will they choose the best option? Therefore, you must seek a corporate travel management solution that offers extensive travel inventory.
Solution: Choose a TMC that deploys a wide range of travel options for the employees. You should enquire whether the TMC is getting travel inventory from a GDS (Global Distribution System) or not. A GDS offers real-time travel inventory and fares to the TMC. If not, it is highly unlikely that the TMC offers you good options.
2. Tiresome Reimbursement Process
Travel approval and reimbursement is one process that companies can surely improve on to optimize their corporate travel management process.
There is a lot of time lag between booking a trip and getting approvals from the concerned authorities. This case even worsens in the case of multi-level approvals (generally for international trips). Even after a trip, reimbursement of expenses can take days.
Solution: The solution for this challenge is simple- adopt travel management software. Travel management software fast-tracks the approval flow by sending notifications to the approver as soon as you book a ticket. Moreover, the employees can see the travel policy in real-time, eliminating the issue of out-of-policy approvals.

3. Cutting Down on Travel Costs
Cutting down costs is a challenge for most processes. However, as far as business travel is concerned, it is a bit more complex.
A lot of factors lead to budget overspending at your company. Firstly, your employees might not be getting access to affordable travel options. Secondly, even if they get affordable options, they might not be willing to book it. Last-minute bookings and unclear travel policies can be some other reasons.
Solution: You should adopt a business travel management solution with advanced features that enable cost control. The best corporate travel solutions like ITILITE have access to LCCs (Low-Cost Carriers), so the employee can choose from affordable options. Moreover, you can further enhance cost savings with the help of a virtual travel consultant. The AI-powered travel consultant identifies cost leakages, conducts industry benchmarking, and gives you a step-by-step action plan to save more.
Other than that, you can introduce an incentive program for your employees. Under this program, you can reward them every time they book a cheap flight, hotel, cabs, etc. Drafting a policy with stricter provisions for late bookings can also help in cutting travel costs.
4. Integrating Core Processes
Multiple departments are involved in a corporate travel management process, be it admin (travel manager), finance, or HR. All these departments use stand-alone apps for their process. As a result, data sync becomes an issue, leading to errors and irregularities.
For instance, if a new employee joins your organization, the data is updated in the HRMS software. However, it also needs to be manually updated in other systems like ERP or the travel management software you use.
Solution: The solution for this challenge is to choose a travel management platform that offers plug-and-play integration with all the essential apps. This way, you get a complete ecosystem where data is synced automatically, enhancing the travel process accuracy.
For instance, by integrating the HRMS system with your company travel software, you don't need to add the employee data separately in the traveler database.
5. Employee Travel Safety
Business traveler safety has always been one of the significant corporate travel management challenges over the years. Travel regulations vary from country to country and keep changing with the situation. Moreover, it is tough to find accommodation for employees with all the necessary precautions.
Solution: Implement a Duty of Care plan to comply with the latest travel regulations. The plan must include:
Vaccination policies
Keeping track of travel regulations
Blacklisting unsafe hotels
Ensuring traveler support
Here is a checklist you can use to check if your plan is comprehensive.
6. Lack of 24/7 Support
One of the major corporate travel management challenges companies face is offering employees support on a business trip. Whether the company handles the business travel in-house or a business travel company handles it for them, it is essential that the employees get support, whenever they need it.
Consider the situation where an employee goes on a business trip and is denied check-in at the hotel. The employee calls the TMC but gets no response as it is beyond their working hours. Imagine what a disaster that would be for the employee. Hence, you need a corporate travel management solution that provides A1 travel support round the clock.
Solution: Choose a TMC that offers 24/7 support via multiple platforms, such as call, chat, or email. Also, the TMC should provide a dedicated travel manager for your company who responds swiftly and is well-equipped to handle critical issues.
7. Drafting an Effective Travel Policy
Every company has a travel policy. However, what travel managers find tough is drafting a travel policy that is both cost-effective and employee-centric.
For instance, if you allow low flight fares for employees, they might not get the best options. Contrarily, if the flight fares are high, it might cost your company heavily.
Solution: To determine corporate travel solutions regarding effective policy creation, you should analyze your current business travel management process to identify the loopholes in the process. Draft a travel policy keeping in mind employee safety, travel guidelines, annual budget, and more. Taking employee feedback will also be a great help in improving the travel policy.
Here is a free template you can use to draft an effective travel policy.
8. Complying with Travel Policy
Drafting an effective policy is one thing, but it's of no use if employees don't comply with it. In some cases, travel managers are unable to communicate the travel policy clearly to the employees. In other cases, the policies are so impractical that it is tough for employees to comply.
Solution: To achieve policy compliance, opt for a business travel management solution that offers real-time policy visibility to employees. It will avoid out-of-policy bookings as they will get notified at the time of travel booking.
Also, try to understand the employee preferences and try to modify the travel policy around it. You can also introduce a business travel incentive program that benefits both.
9. Controlling Travel Expense Fraud
Travel expense frauds have been a headache for companies for quite some time now. Issues such as reporting duplicate expenses, filing under wrong expense categories, and policy violations hamper your corporate travel process.
Solution: You can control travel expense fraud by using an advanced corporate travel solution with an integrated expense management software that automates auditing and enables fraud detection -any duplicates are notified to the approved in real-time. Moreover, the best software tools also offer receipt scanning, ensuring that employees provide valid proof.
Also, educate the employee about the best practices of business travel booking and expense filing.
10. Keeping Employees' Data Secure
One of the major challenges in corporate travel management is keeping business data secure. Managing business travel involves storing and processing a lot of critical information like employee PII (Personal Identifiable Information), credit card information, and travel arrangement. Such data can cause financial losses to the company and threaten employees' security if leaked.
Solution: Invest in cloud-based travel and expense management software. A cloud-based travel management solution offers enhanced data security to help you protect all the travel-related information. The data is stored in servers located in safe warehouses that no one can access without permission. Moreover, the information is encrypted in a way that makes it challenging for cybercriminals to access it. Hence, with a cloud-based integrated T&E software, you can be sure that your critical data is safe.
11. Managing T&E separately
A mistake most companies make is adopting stand-alone tools for travel and expense for corporate travel management. In this case, when an employee books a trip, they have to file business travel expenses manually in the expense software, causing irregularities in the T&E process.
Solution: Choose an integrated travel and expense management software with both travel booking and expense filing capability on one platform. The employees can map the Trip ID while filing expense reports and all the expenses will be included automatically.
An integrated T&E system boosts the health of your processes significantly. If you want to find out your organization's T&E process health, click on the calculator below.
Corporate Travel Management Needs Constant Attention
Resolving the abovementioned corporate travel management challenges allows you to streamline the travel management process for the employees as well as save costs for the company. An integrated travel and expense management software like ITILITE can help you resolve them.
With ITILITE, you can get the most out of your travel management process with an advanced self-booking tool for employees, extensive flight and hotel inventory, automated trip request approval workflow, 24/7 support via calls, chats, and emails. You can also leverage the advantages of the world's first virtual travel consultant- Mastermind and save big bucks on travel.
Take a free demo of ITILITE to experience the advanced features first-hand.
ITILITE Lunch and Learn: If you would like to know more, come meet us in your city. Join us for our "Top Tier Travel Talks" Lunch Seminar.