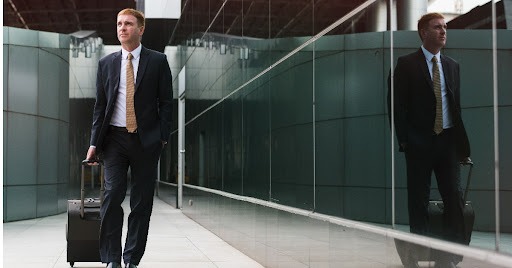 Corporate travel management tools, also known as Travel Management Software (TMS), are specialized software solutions. They help in planning, booking, tracking, and overseeing work-related travel more efficiently.
If you send your employees frequently on business trips, you must leverage these tools as they greatly streamline the management of travel processes.
Let's understand travel management tools in detail and learn how you can get maximum advantage from travel management tools.
Travel Booking: These tools let employees book flights, hotels, and rental cars from one platform, often with special discounts.
Expense Tracking and Reporting: Corporate travel tools help workers record and send their travel expenses digitally. This includes receipts, mileage, meals, and other trip costs. Managers can review these expenses, and the system creates detailed expense reports.
Policy Compliance: These tools make sure employees follow the company's travel policies. They can stop or flag bookings and expenses that don't follow the rules, helping to stick to budgets and guidelines.
Travel Itinerary Management: They create and store detailed travel plans, including flight information, hotel bookings, and meeting schedules. Employees can access these plans on their phones for convenience.
Data Analysis: Corporate travel tools also collect and show data about travel expenses, trends, and patterns. This is helpful in improving future spending, better negotiations, and enhancing the overall experience of travelers.
Travel management tools have evolved significantly to keep pace with the changing needs of businesses. Some key aspects include:
Mobile Accessibility: Since lots of people use smartphones, these tools often have their own apps. This means you can take care of your travel plans and stuff when you're on the move.
AI and Automation: Advanced tools like ITILITE incorporate artificial intelligence to automate tasks. This includes but is not limited to suggesting booking options, travel policy enforcement, and categorizing expenses.
Expense Integration: Modern tools often integrate with accounting and expense management software. This simplifies travel expense management.
Customization: Many of these tools can be changed to work just how your company wants. You can set up your own policies and workflow to make things convenient.
Using travel management tools offers several advantages for both employers and employees.
For Employers:
Cost Savings: When travel is managed well, it can help a company save money by getting the best deals, expense tracking, flight price re-shopping, etc.
Policy Compliance: These tools ensure that employees adhere to company travel policies. As a result, they reduce the risk of overspending. The tools also help you make sure that employees are booking safe, company-approved flights and hotels, aiding duty of care.
Data-Driven Decision-Making: Access to travel data and business travel analytics helps companies make smart choices. They can figure out the best way to spend money on travel and get good deals from suppliers.
Improved Productivity: Automated processes save time for both employees and travel managers. This allows them to focus on more strategic tasks.
For Employees:
Convenience: Travelers like these tools because they're easy to understand. It makes booking trips and submitting expenses simple.
Safety: These companies provide a 24/7 dedicated helpline for travelers if there's an emergency. That helps travelers feel safe during their trips.
Mobile Access: You can use these tools to manage your travel plans and expenses from anywhere, reducing the need for paperwork.
Faster Reimbursement: When you use these tools to send in your expenses, it results in quicker reimbursement due to smoother approval workflows.

Here are some steps to ensure a smooth transition from your previous travel management system to an online travel management solution.
Plan Thoroughly and Set Clear Objectives: Before starting, decide what you want to achieve, like saving money, following policies, and making things more streamlined.
Select the Right Tool: Choose a tool that fits your company's needs, size, and budget. Consider reading reviews online and request demos to understand the tools better.
Engage Stakeholders: Involve key stakeholders such as travel managers, finance managers, and frequent travelers for valuable insights.
Conduct Employee Training: Make sure everyone knows how to use the tool well by giving them good training.
Manage Change: Understand that using a new tool might change how things are done. Tell everyone why it's good and make it easy to switch.
Offer Ongoing Support: Provide helpdesk services for user support.
Customize to Your Policies: Configure the tool to enforce company policies.
Migrate Data and Integrate With Existing Systems: If you have past data, move it to the new tool and make sure it works with other programs you use.
Offer a Pilot Program: Test the tool with a small group before everyone uses it.
Track Performance Metrics: Establish travel KPIs and regularly review progress.
Keep a Feedback Loop: Ask employees to share their thoughts about how to make things even better.
These travel management tools in the US are highly rated.
ITILITE: A comprehensive travel and expense management software known for its user-friendly platform and transparent pricing, ideal for small to medium-sized enterprises.

Concur: Widely recognized travel management tool used by businesses globally.

TravelPerk: Offers AI-powered travel solutions for businesses to optimize travel bookings and expenses.

TravelBank: Tavel and expense management tool with a focus on expense tracking and savings.

Egencia: Part of the Expedia Group, Egencia's TMS provides corporate travel solutions with a user-friendly interface.

Happay: Known for its expense management and spend visibility features to streamline corporate travel expenses.

Navan: Offers an easy-to-use tool with a range of travel management and booking services.

Emburse: Offers expense management, virtual cards, and travel booking tools for businesses of all sizes.

RouteSpring: A travel management software that focuses on simplifying and automating travel planning and booking processes.

Deem: Offers solutions for booking flights, hotels, rental cars, and other travel-related services.
ITILITE stands out as a top choice in corporate travel management tools in the US market. What makes us unique is our commitment to affordability and transparency. With ITILITE, you get straightforward pricing with no hidden fees, making it easy to budget for your travel needs.
One of the key advantages of our platform is its user-friendliness. You can book your travel tickets from anywhere, whether you're in the office or on the go. Need to make changes to your itinerary? No problem – ITILITE allows you to modify your travel plans with ease.
But that's not all. When you choose ITILITE, you'll also benefit from our dedicated account manager. Plus, when it comes to support, we have your back. Our 24/7 customer service is included at no extra cost. With our easy-to-use software and exceptional service, we're here to make your travel experience as smooth as possible.
Take the first step towards stress-free, seamless journeys. Opt for a free demo today to discover ITILITE's benefits firsthand.