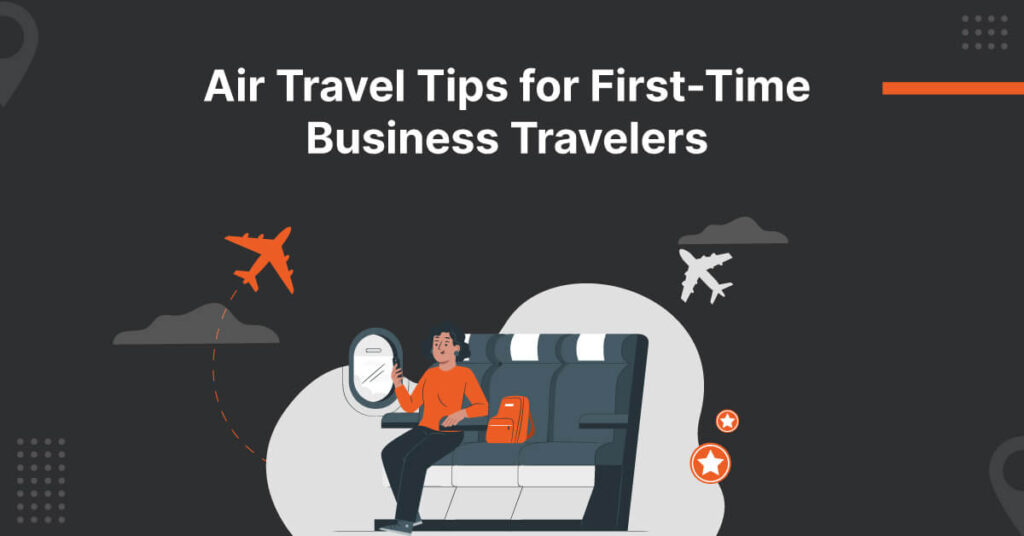 Business travel can be exciting! While it may be nerve-wracking to fly for the first time, you can certainly enjoy your business trip if you plan it right.
You have to ensure that you book your flight tickets based on price and convenience, purchase the right travel insurance plan, and pack travel essentials to make your first air travel experience stress-free.
Here are some tips on how you can make sure your first air travel experience is seamless.
Know about your Company's Travel Policy
If you are a first-time business traveler, it is important to understand your company's travel policy. A travel policy entails comprehensive information about air travel. It will give you all the details you need, such as the flight booking process, reimbursable travel expenses, the cabin class you can book, and whether you can receive travel advances.
For instance, your company has a list of contracted air travel partners. By reviewing the travel policy, you can find out the vendors from whom you are allowed to book. This way, you can book tickets that comply with the travel policy while still being able to personalize your travel.
Create a Packing Checklist
Imagine this- you're all packed and ready to go for your business trip when you realize you've left your laptop charger at home. This is a classic case of forgetting something important when traveling. A packing checklist is crucial for business travel since you wouldn't want to forget to bring an essential document or gadget you might need for air travel.
Your air travel packing list should ideally include items such as VISA, flight tickets, travel insurance documents, and electronics such as a portable hotspot and power bank. Creating a packing checklist for your air travel allows you to stay organized and avoid any last-minute stress before your trip.
Get Free Business Packing Checklist
Pack Sensibly 
Business travelers know it's important to pack light so you can be comfortable during air travel and move around easily at the airport without being bogged down by heavy luggage. For short business trips, this means sticking to a carry-on bag to avoid the time-consuming process of checking in your luggage.
You can use packing cubes to keep your clothes organized. To fit your clothes in a carry-on bag, you can roll your clothes instead of folding them. Folded clothes are more compact, so you get space to keep more items. Additionally, if you want to take a heavy coat or jacket with you, it's better to wear it than pack it in your bag. It is also a good idea to pack items that help you sleep faster on flights, such as sleep masks, earplugs, and melatonin. 
Charge Your Gadgets
As a business traveler, most of your work relies on electronic devices. It could be attending a work-related call or sending emails. The last thing you would want to happen is be stranded with a dead laptop or phone at the airport, which is not only frustrating but also quite inconvenient. 
Since you cannot expect an electrical charging port to be easily accessible at the airport, it is imperative to charge your gadgets before your trip. You can also carry a power bank with you as a backup option.
Put an AirTag in your Luggage
After you check in your luggage, you cannot know whether your luggage has been loaded on your flight or not. According to Air Travel Consumer Report, airlines mishandled around 220,000 pieces of luggage in April 2022 alone. Therefore, you need to take extra steps to safeguard your belongings at the airport. 
An AirTag is a small, Bluetooth-based device that helps you keep track of your essentials, such as keys, wallets, and luggage. You can put this in your luggage and carry-on bag to avoid misplacing your items at the airport. Moreover, if you lose your luggage, you can use your mobile phone to connect with the AirTag and locate the whereabouts of your luggage.
Save a Copy of your Travel Documents Offline
Nowadays, people mostly use cloud-based platforms such as Dropbox or Google Drive to save their documents. Keeping your documents on a cloud-based platform is helpful in accessing them from any device. However, when traveling, you cannot rely on consistent internet availability.
When you are at the airport and want to take a quick look at your flight tickets and other documents, it is much easier to find them on your phone. You can save the files in 'pdf' form or take screenshots of your documents. This way, you won't need a data connection to access them. To make things even more convenient, you can create a separate folder in your phone's gallery for all your travel documents.
Get Well-Rested Before your Trip
Business travel can be tiring, and sometimes you might have to attend a meeting as soon as you reach your destination. You must be well rested to complete all tasks efficiently and be attentive throughout your day. 
Try to finish all essential tasks at least a day before your flight. This way, you can rest well and avoid staying up all night to complete the work. On the flight, you can use neck pillows, noise-canceling headphones, and an eye mask to block out noise and light. This will help you relax and be refreshed when you reach your destination. 
Leave for the Airport Early
No one wants to start their business trip by sprinting through the airport to catch their flight. Sometimes you might get caught up in traffic, or you might not be able to find the boarding gate. Whatever the difficulty might be, it will cost you time and could put you at risk of missing your flight. 
To make your first business trip as smooth as possible, leave your house early for the airport. You never know how long you'd have to stand in the security queue or while checking in your bag. Therefore, ideally, reach the airport at least 2 hours before a domestic trip and at least 3 hours before departure for an international trip.
Check-in Online
Checking-in your luggage at the airport can be time-consuming. When traveling for business, you are on a tight schedule and wouldn't want to waste your time standing in queues. Therefore, for air travel, you can opt to check in for your flight online. 
The online check-in process is relatively easy. All you have to do is visit the airline's website, enter your booking details and pay any baggage fee applicable. You can also choose your seat and get an upgrade if available. After completing the check-in process, you will get a boarding pass via the app or email. 
Avail TSA PreCheck
In case you reach the airport late, it would be crucial to get through the security lines quickly to avoid missing your flight. The TSA PreCheck program allows travelers to access faster security screening at the airport. This is very convenient for business travelers because they do not have to complete regular security procedures such as removing shoes, belts, or wallets. 
According to TSA, 96.2% of TSA PreCheck passengers waited for less than 5 minutes at airport security checkpoints. You can avail of TSA PreCheck for a fee of $85, which remains valid for 5 years. This program is available only for US citizens and US nationals.
Ensure your Safety
No matter how busy you are, always prioritize your safety over everything else during air travel. If you are traveling by yourself, it is imperative to remain aware of your surroundings. By following specific practices and keeping safety tips in mind, you can prevent unfortunate events.
When flying, it's best not to bring any valuables with you in your carry-on or checked luggage. Also, book those flight tickets that don't reach the destination late at night, especially if you are a woman. Tag your luggage and mention your name and phone number on it. You can also click a picture of it to show it to the luggage desk in case it gets lost. 
Make your First-time Air Travel Hassle-free
By following these tips, you're well on your way to a successful business trip. Good business etiquette and staying on top of your schedule are key to making an impactful first impression on your trip. Additionally, don't forget to enjoy a little while you are traveling. 
ITILITE is a travel management software that you can use to plan your first business trip. You can personalize your flight and hotel bookings, file expenses on the go, get 24/7 customer support if you get stuck in a situation, and make your travel smooth with multiple other features.
Get a demo to try out these features yourself.