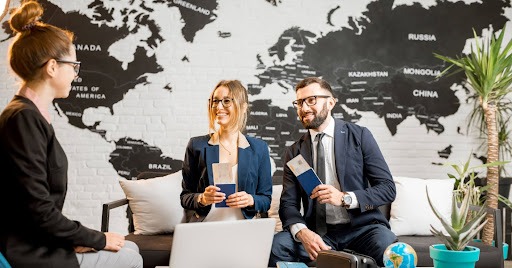 It is without a doubt that corporate travel has become an integral part of most companies to become successful. With employees constantly traveling for work purposes, efficient travel management is crucial for companies of all sizes. Managing corporate travel can be complex and time-consuming, involving multiple stakeholders, intricate itineraries, and varying travel policies.
This is exactly where a travel management company (TMC) comes into the picture. A TMC offers a range of valuable services to simplify and optimize business travel. This makes the life of travel managers, finance managers, and decision-makers of the company much easier.
Let us look at the most valuable TMC services that can help buyers streamline their travel management processes, enhance cost control, and ensure a seamless travel experience for their employees.
1. Travel Policy Development
The first and the most important TMC services buyers must look out for is travel policy development. Your organization must have a travel policy to ensure employees follow all the rules and regulations and don't go overboard with them.
TMCs work closely with company owners or travel managers to develop comprehensive travel policies that align with their business objectives, budget constraints, and industry regulations. The process typically involves the following steps:
Assessment: TMCs conduct a thorough analysis of the buyer's travel requirements, considering factors such as travel volume, destinations, traveler profiles, and budgetary considerations.
Policy customization: Based on the needs assessment, a TMC tailors your travel policy to the buyer's specific requirements. This includes defining guidelines for booking methods, preferred suppliers, class of service, accommodation options, and allowable expenses.
Policy documentation: A TMC assists you in documenting your travel policy in a clear and easily understandable format. They ensure that the policy document outlines the rules and regulations your employees must adhere to, confirming consistency and providing guidance for travel arrangements.
Policy communication: TMCs help you communicate the travel policy effectively to all stakeholders, including employees and managers. This ensures that everyone in your organization knows the guidelines and understands their roles and responsibilities in the business travel management process.
2. Travel Policy Compliance
For most organizations, travel policy compliance is a major challenge. This is because employees usually book according to their preferences which sometimes exceed the company's travel; budget. This becomes difficult for travel managers as they must optimize the travel expenses so that it does not affect the company's bottom line.
However, TMCs take care of this issue. Once you have created a travel policy, TMCs play a vital role in ensuring compliance with the defined guidelines. Here's how they facilitate policy compliance:
Booking compliance: TMCs leverage technology and booking platforms that are aligned with the travel policy. Based on the travel policy, you get travel options that comply with the policy guidelines, making it easier for travelers to make compliant bookings.
Approval workflows: TMCs ensure they set up approval workflows that align with your organization's travel policy. Hence, any booking made by your employees goes through the necessary authorization processes. This prevents any non-compliant booking and travel expenses.
Policy monitoring: TMCs continuously monitor travel bookings and transactions to identify any deviations from the travel policy. They have access to reporting tools and analytics that allow them to track compliance metrics and identify areas of non-compliance.
Exception management: TMCs provide support in managing exceptions to the travel policy. Sometimes there may be unavoidable/special circumstances or urgent business travel requirements where you must change your plan. In such scenarios, TMCs assist you in evaluating and approving exceptions and, at the same time, ensuring policy compliance.
Compliance reporting: Most companies do not create reports to check compliance. They don't have a proper system, or the process is too time-consuming. The TMCs generate detailed reports on your policy compliance, highlighting areas of non-compliance and providing insights into patterns or trends. These reports empower you to address compliance issues and improve policy enforcement proactively.
Policy updates: TMCs help regularly review and update your travel policies to align your employees with changing business needs, industry regulations, and emerging best practices. They also provide guidance on policy enhancements and facilitate the communication and implementation of policy updates.
3. Bookings and Reservations
One of the most valuable TMC services for buyers is travel booking and reservation management. As a buyer, here are some services that a TMC offers that are vital for your travel management process:
Access to comprehensive booking tools: TMCs have access to the most advanced booking tools and technology that will help you simplify your business travel process. These tools have a user-friendly interface where your employees can easily search, compare, and book flights, accommodations, car rentals, and other travel-related services.
Negotiated corporate rates: Apart from booking, TMCs also negotiate with hotels, airlines, car rental companies, and other travel service providers to get the best deals and discounts. These negotiated rates are often lower than standard retail rates and can result in significant cost savings for buyers.
Global Distribution System (GDS): The TMCs have a wide inventory of flights and hotels directly sourced from the Global Distribution System (GDS), allowing you to pick the most cost-effective travel options.
Travel Management Software: Leading TMCs in the market also use travel management software which can help your employees with easy bookings. Some software also provides you with incentives for booking the most cost-efficient option.
Itinerary planning: TMCs simplify itinerary management by consolidating all travel arrangements into a centralized system. This allows your and your business travelers to access and manage their itineraries in one place, eliminating the need to juggle multiple confirmation emails and documents.
Support and assistance: Round-the-clock travel support is essential during international corporate travel to assist travelers with issues they may face during any hour of the day. A TMC has a dedicated and experienced team that provides business travelers with 24/7/365 business travel support to assist travelers in times of emergency.
4. Expense Management and Reporting
Expense management and reporting is a critical service TMCs provides to help buyers efficiently track, manage, and report travel expenses. Let us look at it in detail:
Automated expense tracking: TMCs leverage advanced expense management systems that automate the process of capturing and tracking travel expenses. These systems allow travelers to easily submit expense reports by uploading receipts or entering expense details into a user-friendly interface.
By automating this process, TMCs help you streamline expense tracking, reducing manual effort and minimizing the chances of errors or omissions.
Policy compliance enforcement: TMCs ensure that travel expenses comply with your travel policy. The system is configured in such a way that it enforces policy guidelines.This helps you maintain control over travel expenses.
Receipt management with software: A TMC generally leverages expense management software that allows employees to capture and store digital receipts. With the help of OCR technology, employees can easily scan their paper receipts, categorize expenses, and submit reports using their smartphones.
Reporting and analytics: With the help of expense software, TMCs generate comprehensive expense reports that provide buyers with a detailed overview of their travel expenses.
These reports can be customized to include specific data points, such as expense categories, cost centers, vendors, or timeframes. By analyzing these reports, you, as a buyer, can gain insights into spending trends, identify outliers, and make informed decisions to optimize your travel program.
5. Risk Management
Business travel is full of uncertainties. Employees can face unavoidable circumstances such as getting stuck in an airport, bad weather conditions, political unrest, mugging, etc. Hence, every company has to take responsibility for their employees who travel domestically or internationally for work purposes.
Risk management and duty of care are crucial aspects of travel management, and TMCs play a vital role in providing comprehensive services to address these areas.
Travel risk assessment: TMCs conduct thorough travel risk assessments to identify potential risks associated with travel destinations, transportation methods, and accommodations.
They gather information from reliable sources, such as government travel advisories, security intelligence providers, and health organizations, to assess the safety and security conditions of specific locations.
This allows you to make informed decisions regarding any travel arrangements and ensure the well-being of your employees.
Travel risk monitoring: TMCs continuously monitor travel risks and provide real-time alerts and notifications to travelers and travel managers. They keep track of any security or health incidents that may affect the safety of travelers, such as natural disasters, political unrest, or disease outbreaks.
By providing up-to-date information, you can ask your employees to take necessary precautions while they are traveling.
Live-traveler tracking: The TMCs provide you with live-traveler tracking services which help you locate and communicate with your employees during their travels. This way you can ensure that your travelers are safe and get real-time information and status of them.
Business travel insurance: TMCs understand that business travel is not that easy. Hence, they provide you with business travel insurance. They have expertise in understanding the complexities of travel insurance policies and can help you assess your insurance needs based on your specific travel requirements.
Ensure you Get the Best Service from a TMC
Travel Management Companies (TMCs) offer a comprehensive suite of services that provide immense value to buyers seeking to streamline their travel management processes. From policy development to risk management, TMCs act as trusted partners, simplifying complex tasks and optimizing travel programs. Therefore, you must invest in a TMC that yields long-term benefits.
One such TMC that will help you with the best business travel services in the market is ITILITE. ITILITE is a SaaS-based travel management company that provides valuable services for buyers. We offer you the best deals on flights and hotels, customize travel policies, ensure policy compliance, provide 24/7/365 business travel support, manage your company's expenses, and many more.
Get a free demo of ITILITE to learn more about our advanced features and services.