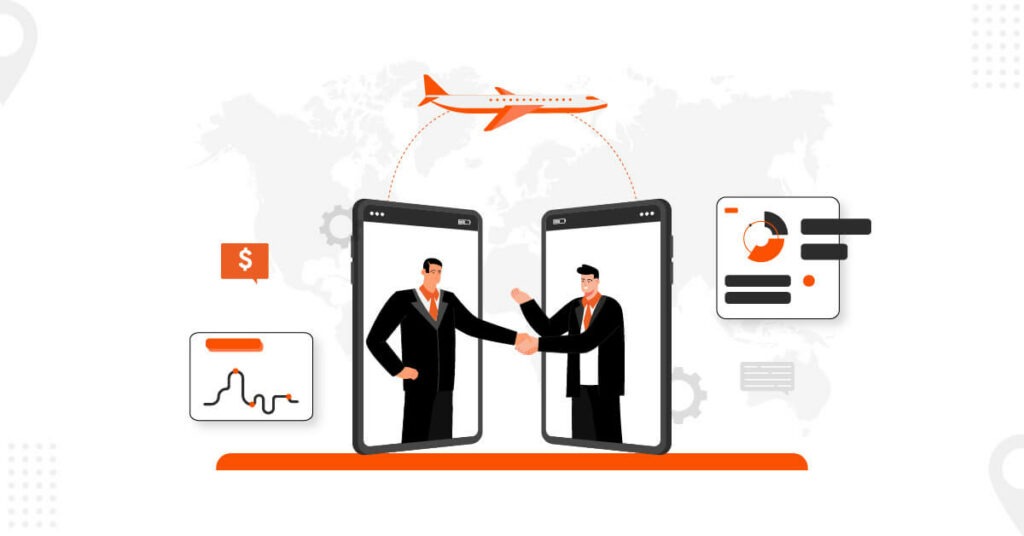 In the last few years, we saw a rise in the number of business travelers. As per a recent report by Morgan Stanley, the number is expected to increase in 2023 and the coming years. However, in such a fast-paced business environment, companies may find it challenging to make business travel arrangements for their employees.
With a large number of employees traveling often, travel managers must book flights and accommodations, manage travel expenses, ensure policy compliance, and many more. This process is very tedious, hectic, and time-consuming. Hence, most companies consider outsourcing a Travel Management Company (TMC) for their business travel management process.
With the help of a TMC, your company can not only save a lot of time but also ensure a seamless business travel management process. In this blog, we will explore the various benefits of outsourcing your business travel management.
1. Seamless Booking Process
One of the major issues that most companies face is the complexities in the booking process. Especially for travel managers, it can be very daunting to book different flights, hotels, rental cabs, etc., for different employees with various destinations and itineraries.
Additionally, they must spend a lot of time browsing through various third-party websites in order to choose the best and most cost-effective travel options. Moreover, any last-minute cancellations or changes in the business travel plan can make the process more difficult.
By outsourcing your business travel management to a TMC, you do not have to worry about any booking complexities as everything will be taken care of by them. The TMC books flights, hotels, rental cabs, or any other travel services that provide the best deals and discounts. This is because they partner with the leading hotel and flight vendors in the industry.
Moreover, the TMC also makes travel bookings according to different employees traveling simultaneously and accommodates any last-minute changes in the travel plan or itinerary. They also negotiate with hotel and flight vendors to meet the specific needs of your employees and get the best deals and discounts.
2. 24/7/365 Business Travel Support
Safety is of utmost importance when your employees go on business trips. Sometimes, employees can encounter untoward situations such as natural disasters, being stranded in an airport or in a city due to a global pandemic, political unrest, loss of baggage, etc. Moreover, female travelers also face more safety risks than their male counterparts.
In such situations, travel managers must provide them with business travel support. However, providing assistance can be difficult during such situations because of variations in time zones, weekends, or after-work hours.
By business travel management outsourcing, you can overcome these issues. A travel management company provides round-the-clock travel assistance to your employees in case of such emergencies. Modern TMCs possess a skilled and committed workforce that can assist your employees in handling such circumstances.
With a TMC, employees can also get in touch with them through many communication channels such as emails, chats, and even calls at any hour of the day.
3. Travel Policy Compliance
Travel policy violations are among the most common problems that travel managers and companies face. Employees violate travel policy for various reasons. Either the policy is not communicated properly by the management, the guidelines are too complicated to understand, or they are simply unaware a travel policy exists.
Another reason for policy violation is that your business travelers need help to view the policy in real-time.
By outsourcing your business travel management, you can ensure travel policy compliance. Some of the best TMCs in the market use travel management software, which will allow you to configure multi-granular policies depending on the type of employee and department, travel destination, and many more.
With the help of this software, your business travelers can get real-time visibility of the travel policy. This prevents them from making any out-of-policy bookings or expenses. Additionally, business travelers and approvers are instantly notified if any out-of-policy bookings are made. This way, travel managers don't have to keep a track of any policy violations.
4. Business Travel Insights
Most companies need help with business travel analytics. This is because travel managers must track significant travel KPIs such as travel policy violations, employee and spending per department, expenses incurred for every trip, employee net promoter score, and many others in order to optimize their business travel management process.
Business travel management outsourcing can assist you with this, as you will get access to business travel data and analytics. The TMC uses travel and expense management software that compiles all the travel information in a single platform. These dashboards are customized and provide access to real-time without any hassle.
For instance, you can find out which airlines your employees usually prefer traveling with. You can use this data to get deals and discounts when your employees are traveling next. The dashboard also provides custom reporting for various departments according to their needs.
5. Cost Optimization
Optimizing business travel costs is another major challenge that companies and travel managers face. Employees tend to make bookings outside of the company policy when they are unable to find sufficient flight and hotel alternatives.
Another primary reason for cost leakages is the mismanagement of unused tickets, as flight credits can be difficult to track during booking. With so much to do already, travel managers can find it difficult to identify any areas of cost leakages.
The best TMCs in the market make use of a virtual travel consultant. A virtual travel consultant such as ITILITE Mastermind compares your travel and expense data against industry standards and suggests where you could have saved more. It also provides practical, driven insights and recommendations on where you cut down your travel costs.
6. Third-Party Integration
In a company's travel management process, different departments, such as HR, finance, admins, and travel managers, are involved. And usually, these departments use individual software or applications to manage their process.
Hence, retrieving any data from others and uploading it into theirs becomes challenging. Additionally, if you have to modify any data, you need to do it across all the platforms, which is an inefficient and tedious process.
A TMC that uses a SaaS-based travel management solution can help you address these issues. The solution easily allows you to integrate with various third-party applications, thus allowing data synchronization.
For example, if you need any data from the HRMS tool, you don't have to extract it manually. When new data is added to the HRMS tool, the software automatically updates the data across all platforms.
7. Data Security
Keeping employees' data secure is one of the most important aspects of business travel management. However, most travel managers find it difficult to keep this data secure. On a daily basis, they have to handle the information of multiple employees. They need to collect and store Personal Identifiable Information (PII) such as email addresses, identity card details, phone numbers, credit, and debit card details, amongst many others. These data are very crucial and if by mistake it gets leaked, it can cost employees as well as your company a fortune.
Hence, business travel management outsourcing is the best option. TMCs use travel management software that comes with state-of-the-art security features which shields all the private information of your employees. The information is encrypted in such a way that no one can access it without permission, thus reducing the chances of any cyber-attacks.
8. Business Travel Recommendations
Employees and travel managers have to seek the help of an external travel agent to manage certain aspects of business travel. But most travel agents don't have expert knowledge or do not provide the right recommendations while booking a hotel or any mode of transportation.
This is where business travel management outsourcing can assist you. A TMC has in-house travel experts who help you get good deals and discounts on flights and hotels. They are highly skilled with many years of experience, have inside knowledge of the business travel industry, and have access to information that the general public is not aware of, such as flight price changes, industry rates, etc.
Business Travel Outsourcing Helps In Seamless Travel Management
In conclusion, business travel management outsourcing can offer a range of benefits for your company. From cost optimization to round-the-clock business travel support and access to expert knowledge, outsourcing can help your company save a lot of time, money, and effort. You can partner with a reputable travel management company to achieve our business travel goals.
ITILITE is a SaaS-based TMC that can assist you with your business travel management process. At ITILITE, we provide various benefits, such as discounted rates on flights and hotels, access to a virtual travel consultant, detailed policy configurations, round-the-clock travel assistance, and many more. We also deploy a robust security infrastructure with certifications such as Level 1 PCI DSS, ISO 27001:2013, and more.
To know more about ITILITE's advanced features, get in touch with our experts now!