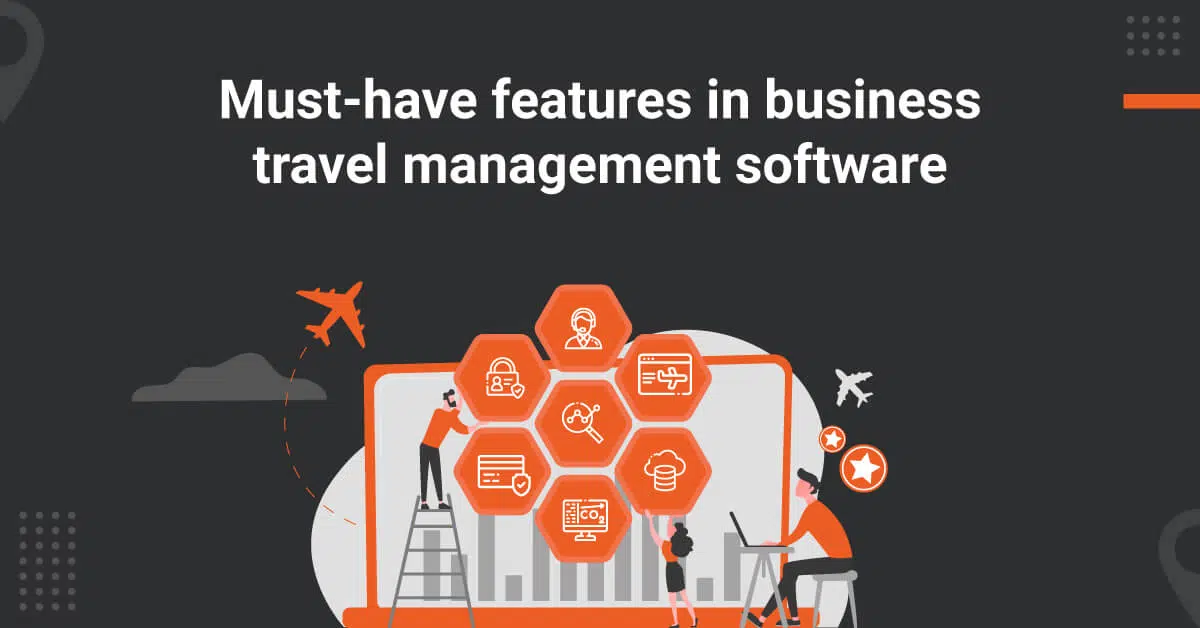 Companies are always looking to optimize their business travel management process. This has led to the increased adoption of travel management software worldwide with the market forecasted to grow by $2.85 bn. by 2024. Business travel software automates the entire travel management process, saving time for travel managers and revenue for the company.
However, nowadays, there are various travel management solutions in the market. This makes you wonder which is the best corporate travel management software.
Features of Corporate Travel Management Software
So, to help you pick the right travel software, we have compiled a checklist of state-of-the-art features.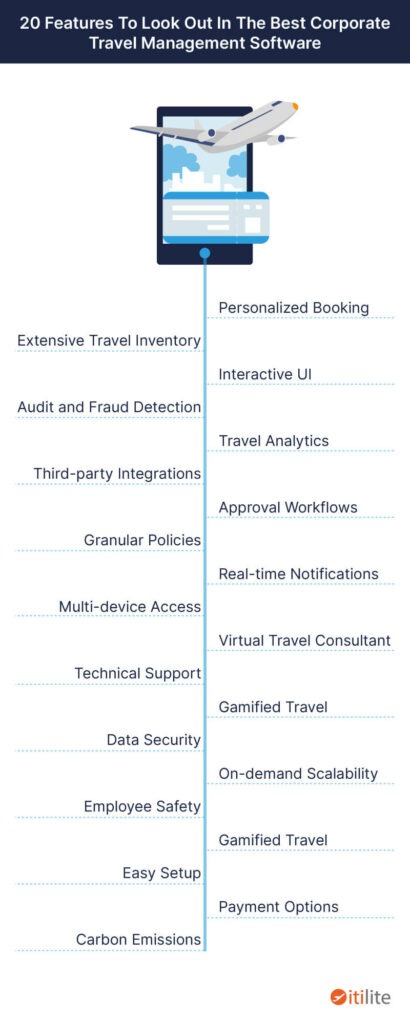 To learn more about the features, read on.
1. Personalized Booking
While booking a flight, the employees often struggle to find their preferred travel options. They have to go through an ocean of flights and hotels displayed on the booking screen to find the desired result. Hence, you need a business travel platform that can save their time by suggesting only relevant booking options.
The best corporate travel management solutions in the market offer you an AI-enabled booking mechanism, where business travelers get personalized booking options.
The relevancy of the customized recommendations depends on many factors. A few factors are travel policy, traveler history, and departure date/time, among others.
2. Extensive Travel Inventory
When your employees are booking flights or hotels, you need them to have all the right travel options at their fingertips. However, some employee travel software providers offer only limited travel options, which may not be suitable according to employees' needs.
However, the best modern travel partners with major vendors to offer you a wide range of inventory, including LCCs (Low-Cost Carriers). This ensures that your employees get affordable options, which saves money and prevents policy violations.
3. Interactive UI
One of the primary objectives of travel managers is to offer employees a convenient booking experience.
Hence, you must look for corporate travel software that the employees find easy to use. The user-interface should be simple and interactive. Moreover, there should be real-time visibility of travel policy on the booking window so employees can book without fuss.
Some travel management software providers also offer a free demo so you can have a hands-on experience before choosing it.

4. Audit and Fraud Detection
Travel expense frauds cause a significant financial loss to your company. However, controlling expense frauds manually can be tough, be it duplicate receipts, overstated expenses, or inflated amounts.
Hence, you should choose a unified travel and expense management software that offers the Audit & Fraud Detection feature. This feature automatically validates the expense reports and identifies duplicate expenses, out-of-policy expenses, expenses in the wrong category, and more.
5. Travel Analytics
The travel managers need to measure important travel KPIs such as employee satisfaction and policy violations. Tracking these analytics helps them identify bottlenecks in the corporate travel management process.
In order to facilitate effective travel data analysis, you must opt for corporate travel software that offers advanced travel analytics. The software must also offer an intuitive dashboard for the travel managers and finance department to access travel data in real-time. Moreover, the employee travel management tool should also offer custom reporting for different departments based on their requirements.
6. Third-party Integrations
The travel management process can function only by efficient and error-free data sharing between different departments, be it HR or finance.
Hence, you should opt for a corporate travel software that offers multiple third-party integrations. The software should be able to integrate with applications, such as HRMS or accounting software. This ensures automatic data flow among different business functions and breaks down silos.
7. Approval Workflows
One of the primary reasons for the delay in business travel approval is unclear approver workflows. The approval delays escalate especially in the case of international travel as it involves multiple approvers.
Hence, you should prefer a business travel management solution that implements multi-tier approval workflows. Such software can define the workflow according to the departments, price range, and type of travel, among others.
8. Granular Policies
One of the major issues for travel managers is the lack of travel policy compliance. Policy violations mostly happen because various employee travel software tools in the market offer highly generalized travel policy configurations. This leads to confusion among the employees.
However, with a competent travel software solution, you can customize travel policies to the most granular level. Moreover, the travel policy can be configured on the basis of employee level, department, vendors, cabin class, hotel ratings, geographies, and more. This granular configuration enhances employees' policy understanding and improves compliance.
9. Real-time Notifications
Sometimes after the employee has booking approval request, it gets delayed from the approver's end because they are oblivious of the request.
Hence, business travel software should be enabled with real-time notifications to notify approvers of travel requests via diverse business travel platforms, such as SMS, email, etc. Moreover, the corporate travel management software should also alert the approver if the booking violates the travel policy.
10. Multi-device Access
An employee must have the flexibility to book travel tickets and file expenses whenever they see fit. Therefore, you should look for a travel management solution that offers flexibility in business travel booking and expense filing.
Choose a SaaS-based travel management software that gives employees access to travel booking, itinerary, and request status from anywhere at any time. The employees just need to pick up any device and access their account through a web browser.
11. Virtual Travel Consultant
Analyzing the current travel management process of your organization empowers you to optimize it further. So, you should look for a modern corporate travel software solution that can analyze the travel data to help optimize you travel process.
Look for a business travel software that comes with a virtual travel consultant like ITILITE Mastermind. Mastermind is the world's first AI-powered virtual travel consultant pre-embedded in ITILITE's travel management software. It analyzes past bookings, employee behavior, budget spending, etc., to offer AI-based actionable recommendations. You can also set targets as per the industry benchmarks to measure your progress.
To get a first-hand experience of Mastermind, click on the button below.

12. Technical Support
Technical support is vital when deciding on a corporate travel management solution. This is because you would not want to waste your time on a minor technical issue because your vendor takes a long time to respond.
Hence, before investing in a travel solution, ensure that the vendor offers 24/7 support across multiple business travel platforms, such as chat, email, or call. Moreover, the support team should be well-trained to resolve any issue regarding the product, booking, integrations, invoicing, etc.
13. Gamified Travel
Rewarding employees encourage them to use cost-effective business travel platform and decisions. As a bonus, rewards also enhance employee satisfaction and improve your brand reputation. But how can you implement incentivization into your travel management process? The answer is- by investing in an advanced company travel software solution.
Some new-age business travel management software solutions like ITILITE offer incentives to employees at the time of booking.
Let's see how the incentive program works –
Employees get a list of travel options to book their travel according to the travel policy.
From the given options, you can choose either the most expensive one or other travel options.
If an employee chooses a cost-effective travel option, he or she gets a part of the revenue saved as a reward.
The travel incentive program helps save the company money while presenting lucrative rewards to employees.
Recommended case study:

Capillary delights employees through gamified business travel
14. Data Security
Corporate travel management involves the processing of critical data, be it the payment information, employee personal data, or vendor invoices. If the data gets compromised, it can prove fatal to the company.
Choose a travel management software provider that ensures complete data security. To ensure stalwart security, you should look for certifications such as ISO 27001, PCI DSS, GDPR, etc. Moreover, you must prefer cloud-based software solution that stores data in secure data centers with enterprise-grade security.
15. Pricing Plans
As business travel is dynamic, you can't calculate exactly how many business trips will be taken by your business travelers annually. In such cases, you might end-up loosing huge amounts of money as some vendors charge you on an annual basis. So, even if there are no bookings in a month, you are paying them anyways.
Hence, you must check the pricing structure of the business travel software you choose. Look for a travel solution provider that charges you per trip. So, you pay only when you book a ticket and not a penny more.
16. Employee Safety
Employee safety during business travel has always been a cause of concern for companies, more so in the pandemic. Hence, it comes as a sigh of relief when your corporate travel software helps you keep your employees safe while they travel for work.
Opt for a business travel solution that offers the employee tracking feature. With this feature, every employee can be pinpointed to their exact location. This helps companies ensure that their employees are safe in an unfamiliar destination.
17. On-demand Scalability
The business travel process keeps on growing with new employees joining the business traveler list every day.
A business travel solution should be scalable according to your travel process requirements. Prefer a cloud-based travel software solution that offers the addition of an unlimited number of users and data storage.
18. Easy Setup
Some business travel management software solutions are complex and take significant time and effort for setup and installation.
Therefore, you must carefully choose a travel software like ITILITE that is easy to set up and install. Moreover, the software vendor should offer its assistance and provide training to your employees when they need one.
19. Payment Options
Paying for your travel booking can be delayed sometimes due to problems with your preferred payment method.
To avoid such delays, the business travel software you choose should offer diverse payment options, such as credit, wallet, etc., so you can make payments without a fuss.
20. Carbon Emissions
Business travel results in 2% of the total greenhouse emissions worldwide. Hence, every company nowadays is taking proactive decisions to reduce their carbon footprint and lessen their GHG emissions. However, you first need to analyze the emissions first before taking any steps to reduce the footprint. So, you must select a corporate travel management solution that helps you ensure sustainable business travel.
Some travel management tools come with a carbon footprint tracking feature that measures the emissions after every business trip. This enables you to make eco-friendly decisions for the company.
Suggested Read:
Choose Corporate Travel Management Software Wisely
These were some of the key features that make a corporate travel management software solution best in class. However, selecting the right solution also depends on your current business travel process, budget considerations, and future travel requirements. Hence, you must analyze your business travel process first before making a decision.
ITILITE is a SaaS-based travel management solutions with a lightning-quick booking system, extensive travel inventory, virtual travel consultant, 24/7 support, and more. Get the free demo of ITILITE to get a hands-on experience of all the advanced features before you decide.