The success of every organization depends on its workforce. However, whether an employee works with the utmost dedication depends on employee engagement.
Employee engagement is not only about keeping the employees happy; it's much more than that. It depends on whether the employee believes in your company's objectives and is willing to work for it. Moreover, an employee should feel valued and appreciated in the organization to be engaged.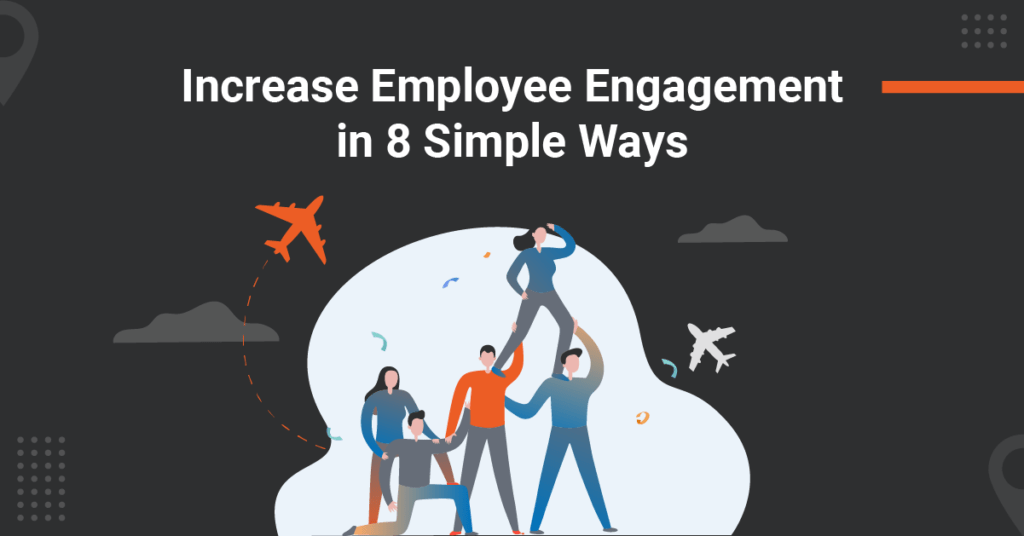 You can measure employee engagement in multiple ways, such as Employee Net Promoter Score (ENPS), retention rate, and absenteeism. However, identifying if the employees are engaged or not is just the start. You also need to find ways to increase employee engagement
Here are 8 ways in which you can increase employee engagement.
1. Increase Work Flexibility
According to Gartner, 48% of employees will prefer working from home, even after COVID-19. The pandemic has changed an employee's perception of the workplace. Now, they want more flexibility in their working hours and the ability to work from anywhere. Work-life balance is not just a term but a reality in today's world.
The road to employee engagement starts with providing the employees with the workplace of their choice. 74% of US companies have already put a plan in action to move to a hybrid working model. You can also deploy a hybrid plan in your office to enhance employee flexibility. Moreover, you can implement flexible working hours for employees, where they can take time off for personal work on a weekday.
2. Conduct Surveys
The wisest thing you can do to keep employees motivated and engaged is to ask them yourself. Surveys and pulse polls are a great way to capture the collective feeling among employees. Moreover, taking a survey makes employees feel valuable because they are being heard.
Plan a survey every month with some effective questions that would help you identify the employee's opinion. Some questions you can include are –
Would you recommend [company] to a peer?
Do you see yourself working in [company] in two years' time?
Are you happy with the role and job responsibilities given to you?
Would you like to take up a leadership role in [company]?
Are you being provided the right tools for your work?
Do you receive recognition for your achievements?
3. Adopt New Technology
Adopting new-age technologies offer employees the 'convenience' quotient in their daily operations. For instance, adopting cloud platforms, such as AWS, gives employees the flexibility to work from anywhere at any time, and on any device. Hence, there is no surprise that the cloud revenue is expected to rise to $474 Bn in 2022 from $408 Bn last year.
Moreover, there are some other tools such as Slack, Trello, Google Calendar, MS teams, etc. that can help improve employee productivity, collaboration, and time management. These tools reduce manual tasks and increase employee engagement.
4. Reward Your Employees
There is more to work than a paycheck. All of us have an inherent desire to be recognized by our peers, superiors, and family.
You should recognize the achievements and milestones of your employees, such as completing 1 year in the company, resolving an important issue, bringing in the most sales, etc. Giving them a shoutout in the internal mail, rewarding them with gift coupons, or sending them on vacations can increase employee engagement.
Rewards and recognitions also help companies retain their employees and increase employee satisfaction levels as they feel valued.
5. Prioritize Learning & Development
None of us want to be stuck in the same old job role for years. As the corporate world is evolving, we all ought to evolve with it. Training employees on critical job functions keep them engaged as they see future growth in their career.
Implement a personalized training program taking into account the specific career graph and job role of each employee. The best way for it is to ask the employees about their aspirations and what kind of courses they want to enroll in.
You can also provide cross-training to employees where there is knowledge sharing between different departments of your company.
6. Automate Essential Tasks
A good way to increase employee engagement is automating employee tasks, such as HR, expense report submission, tax filing, etc. These processes generally take a lot of time that the employee can spend on his/her task.
There are various software solutions available in the market that can automate these tasks. For instance, you can adopt expense management software to automate the expense and reimbursement process. This gives employees more time to spend with their family as well as focus on their work.
As per a mental health report by Mindshare, 50% of employees in the US left their jobs due to mental issues in 2021. Moreover, 84% reported at least one factor in the workplace that affects their well-being. Taking care of the mental well-being of employees is not a choice anymore; it's a necessity.
The first step towards enabling a healthy work environment is to identify the problem, which can be done with the help of polls and surveys. The main causes of anxiety and stress in the workplace can be harassment, workload, timings, etc.
Deploy an Employee Assistance Program that includes free consultancy with therapists. You can also include mental health in the insurance cover for employees. Promoting mental health activities like yoga, sports, vacations, etc. will also keep employees happy and healthy.
8. Celebrate Achievements
Celebrations are a great way to bring people together. When people interact with each other at events, they feel emotionally attached to their colleagues and the company. Moreover, if you celebrate the company's achievements with the employees, you treat them like family.
Try to celebrate the smallest of achievements with the employees. If you are working remotely, organize an online event with fun activities like a treasure hunt, online quiz, etc. Let your employees know that the company's achievement is their doing.
Plan Smartly to Increase Employee Engagement
Employee engagement cannot be achieved in a day. Whereas some companies might need a substantial transformation of their workplace, others might need to only tweak it a bit. In any case, employee engagement is one thing that can't be ignored, especially during these testing times.
There can be various changes that you can bring about to improve employee engagement. Why not start with providing the employees with the right travel and expense management software for the organization.
Get a free demo of ITILITE to enhance employee engagement and productivity.