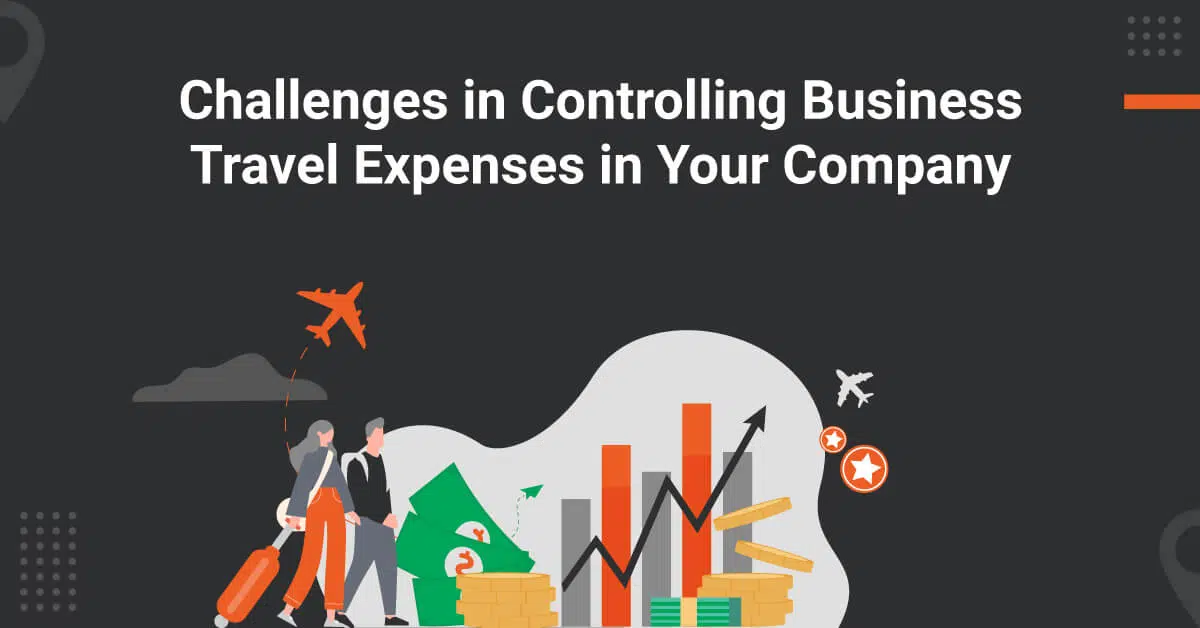 In 2020, the COVID-19 pandemic reduced global business travel expenses by roughly 61%. However, with COVID-19 slowly subsiding, global business spending will increase steadily in 2022. Consequently, businesses will focus on controlling business travel expenses and increasing return on costs (ROC) on business travel spending.
Your company can effectively track and control business travel expenses by implementing an elaborate business travel program. In addition to boosting employees' work travel expenses, the program streamlines business travel expense submission, approval, and reimbursement. It also helps you make informed decisions by analyzing travel expense data using multiple corporate travel KPIs.
But you must remember that decision-makers often find it challenging to control and curtail business travel spending due to a variety of reasons. Your program must focus on identifying and addressing some of these common challenges in managing business travel expenses.
Here are 8 challenges that companies face while Controlling Business Travel Expenses
1. Travel Expense Policy Violations
Employees often increase work travel expenses because they don't understand the employer's travel and expense policies clearly. Hence, they end up booking flights or hotels that violate some or the other clause of the policy.
You can easily overcome this challenge by keeping your organization's travel and expense policies clear and understandable. When you communicate these policies to business travelers clearly, they can easily avoid unauthorized purchases and expenses that violate your company's travel and expense policies.
You can opt for business travel management software that offers policy checks and real-time visibility to ensure policy compliance.
2. Lack of Partnerships and Networking
Most enterprises these days control corporate travel costs by partnering and networking with airlines, hotel chains, and car rentals. The partnerships and negotiations enable employees to book flights, accommodation, and cabs at discounted rates while arranging work trips.
Your organization may lack the expertise and resources required to set up a robust network of suppliers and vendors. But you can avail of discounts and deals by enabling your employees to make travel arrangements through a corporate travel consultant or using travel management software.
3. Inefficient Travel Expense Processing
A significant percentage of organizations still manage their travel expenses manually. In addition to being error-prone, manual expense processing makes travel expense management time-consuming and laborious. Both employees and the finance team have to put in extra time and effort to rectify errors.
Also, they find it challenging to track, analyze, forecast, and audit corporate travel expenses by reviewing a large number of expense reports and receipts. These activities are essential to control travel expenses and streamline travel expense management.

4. Escalated Travel Expense Processing Costs
Accountants and finance managers need additional time to process business travel expenses manually. Hence, your organization has to deploy additional staff to manage a surge in the number and frequency of business trips. The recruitments escalate the operational costs and make it challenging for you to control travel expenses.
You can eliminate the need to deploy additional staff through expense management automation. The right business travel management software will automate travel expense approval and speed up travel expense reimbursements despite a surge in the number of expense claims. At the same time, the software will prevent policy violations and expense fraud by sending smart notifications.
5. Poor Visibility of Business Travel Expenses Data
You can identify the areas to control travel expenses only when you can access and analyze the travel expense data. However, you can neither visualize nor analyze business travel expenses data while managing expenses manually.
A unified travel and expense management software solution gives you a 360O view of the travel expenses incurred by employees across departments or projects. The software enables you to access and see all business travel expense data in a single and centralized location. Also, you can manage budgets and control costs by analyzing the data using a variety of KPIs.
6. Last-minute Bookings
Many employees book flights, accommodations, and car rentals at the last minute while making travel arrangements. The last-minute bookings always escalate corporate travel expenses and reduce the options available to the employees.
Your corporate travel policy must encourage employees to book flights and hotels early. At the same time, the employees must book flights and accommodations by choosing from approved suppliers and vendors.
7. Travel Expense Fraud Preventions
In addition to escalating travel spending, frauds committed by employees make it challenging for you to control business travel expenses. You can control and curtail expenses only by preventing a fraud committed using tactics like submission of fabricated receipts, overstating travel expenses, and duplicating expenses.
You can easily detect and prevent various types of travel expense fraud using the right expense management software. The software will detect expense frauds automatically based on policy violations and receipts duplications. Also, it will inform you about the travel expense frauds immediately by sending smart notifications.
8. Ignoring Employee Business Travel Patterns
While exploring ways to manage business travel expenses efficiently, decision-makers often ignore the employee travel pattern. The employee travel patterns help you understand when, where, and how employees travel for work purposes.
The comparison of historical trends and normal patterns will help you identify unnecessary and unexpected travel expenses incurred. You can easily understand and analyze travel expense patterns and trends using the right software.
Reduce Business Travel Expenses Easily
Your company can control business travel expenses by overcoming a variety of challenges.
Your company should invest in business travel management software that enables you to get a 3600 view of travel expenses, analyze travel expenses using relevant KPIs, and conduct travel expense audit regularly without putting in extra time and effort.
Try ITILITE travel management software to experience high saving in business expenses.

Get the latest in your inbox
Subscribe to the Itilite blog and never miss a post!