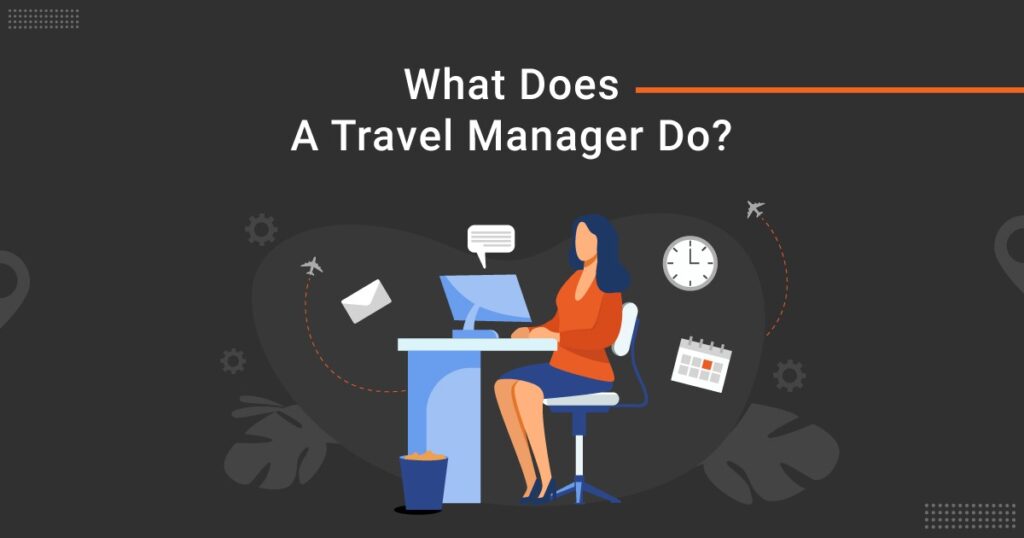 The role of a corporate travel manager has changed drastically from what it was a decade ago. It has evolved beyond supporting employee travel, crafting a corporate travel policy, and managing approvals. Today, a travel manager designs travel programs, implements duty of care programs, does vendor management, and more.
According to a recent survey conducted by GBTA, over the past five years, the role of a corporate travel manager has evolved to deliver an even more significant value to the company. Additionally, travel managers with at least 15 years of experience spend more time focusing on new responsibilities:
61% of corporate travel managers think that technology implementation is crucial for travel management
Leveraging and analyzing travel data is essential, according to 82% of corporate travel managers
86% of corporate travel managers report that selecting the right technological tools is a significant part of their job
And the role is ever-evolving.
Let's dig deep into how the role of the travel manager is changing, from a tactical to a more strategic one, especially post-pandemic. There are a few areas in which corporate travel managers will require new skills and technologies to cope with the uncertainty in this "new world". Read on.
Traditional Role of a Corporate Travel Manager
Traditionally, most corporate travel managers were only concerned with travel arrangements and policy policing. Their job primarily consisted of creating travel policies and ensuring all the flight and hotel bookings happened according to the policy.
Additionally, in cases where the company handled the travel management process with an online travel agency, corporate travel managers were responsible for coordination and communication.
However, as the demand for business travel grew, traveler preferences also changed. Modern trends like personalization started to seep into the travel management process. Hence, the role of a corporate travel manager evolved to incorporate more facilitative tasks like traveler safety and travel process optimization through data analytics.
The Changing Role of a Corporate Travel Manager
The new responsibilities of a travel manager should include the following:
1. Ensuring employee welfare by assessing travel risk
As a corporate travel manager, your role is not limited to booking tickets and planning itineraries for employees. In this new world, you will have to play the role of "risk manager."
Risk management involves evaluating and mitigating all kinds of travel-related dangers. From defining essential travel, assessing if the employee is fit to travel for her age, health conditions, any underlying ailments, etc., evaluating risks & business ROI for each trip, and doing robust scenario planning – you have a lot on your shoulders.
Here is a travel risk assessment checklist that you can use to analyze travel risks for each employee.
2. Ensuring the safety of employees
As organizations look at smarter ways to ensure safety of their employees while traveling, eyes turn to corporate travel managers. As travel managers, you need to understand that safety is more than just "safe flights and hotels." You are expected to be an expert in knowing if the destination is safe, immigration rules, quarantine rules by the state or the country, travel rules, airline guidelines, or any other thing that might impact the traveling employee.
We understand that it is not possible to have all this information at your fingertips. You would require more prepared travel and expense management partners and better technologies. For instance, with an integrated T&E management solution such as ITILITE, you can provide your travelers with relevant, precise, and actionable information.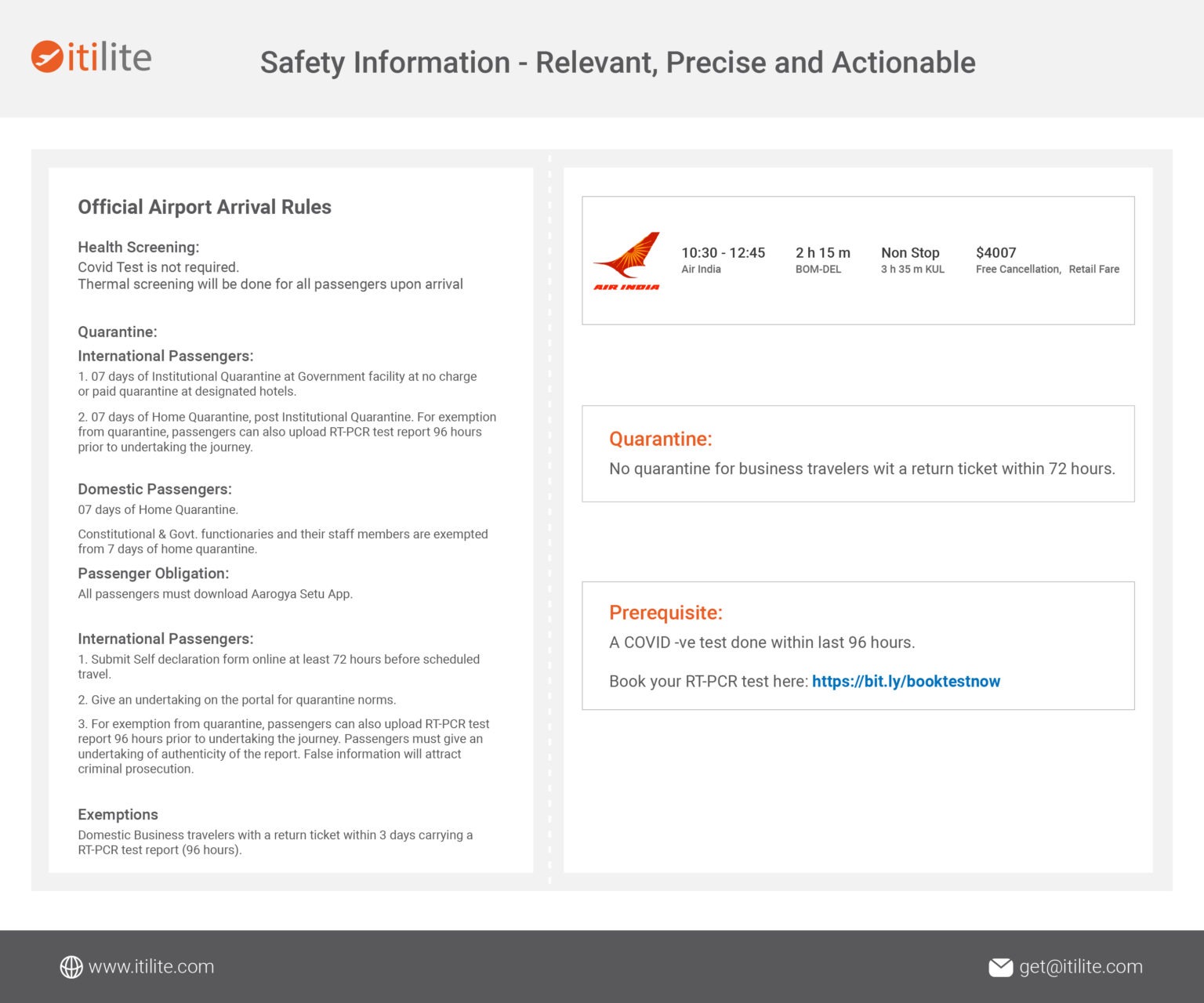 Also, it can send alerts and notifications, track traveler location, and provide 24/7 multi-level support.
3. Enhancing traveler experience
Employee experience is one of the most significant aspects of travel management. Having a good experience on a business trip can help make employees more satisfied and, in turn, increase productivity. According to a study conducted by the GBTA, 73% of employees say that the quality of business travel impacts their job satisfaction.
Hence, as a corporate travel manager in the modern world, enhancing travelers' experience is a crucial part of your job. You can do that by simplifying travel bookings, providing personalized travel experiences, ensuring employees' safety, and providing round-the-clock travel support.
4. Forecasting budgets
Companies will be more sensitive towards travel spending post-pandemic and, therefore, would want you (travel managers) to forecast the travel budgets. Firstly, there is a fundamentally different skill required as a corporate travel manager to think of drivers of travel – if it is essential or not. Earlier, there may be many reasons for travel, such as client meetings, building relationships with clients, etc.
However, in today's times, you have to provide reasoning and forecast a budget before sending employees on business trips. An advanced T&E management solution provides travel costs and helps you create budgets for future travel.
5. Saving costs for the company
Saving money has become more important than ever for businesses, especially post COVID. As business travel resumes, there will be a stronger need for cost control. Therefore, as a corporate travel manager, you will be expected to evaluate travel spending and accurately track savings for the company.
The first thing you can do to reduce travel costs is to increase policy awareness and adoption. Moreover, you can also get an integrated T&E management solution that helps:
Get complete visibility over the travel spend data, timely and accurately.
Prevent fraud with no out-of-policy bookings, duplicate bookings, weekend bookings, etc.
Gamify the travel program by rewarding employees who choose low-cost options
With dynamic pricing for hotels and airlines so that the system automatically compares fares and finds (and suggests) the best one for the employees
Additionally, some integrated T&E solutions also offer a virtual travel consultant to help you save travel costs. An AI-based online travel consultant analyzes your past travel data and suggests cost-saving avenues through internal analysis and industry benchmarking. It also delivers actionable insights that you implement in your company.
To learn more about a virtual travel consultant, click the button below.

6. Providing concierge services
Business travel bookings are open to more than booking flights and hotels. Employees might have some extra requirements for a seamless travel experience. Such supplementary travel needs are called concierge services.
Concierge services are the additional facilities that can help make a business trip more convenient for employees, such as rental cabs, visa renewal, and forex.
As a travel manager, you are responsible for providing concierge services to your employees. However, managing to get these services takes work. You have to contact and follow up with multiple vendors and keep track of endless email chains.
But you can simplify concierge management by onboarding a modern travel management company. Such companies can help you arrange additional facilities by providing a dedicated travel agent. All you have to do is contact that support person via email or put up a request on the company's travel management platform if the company offers one.
7. Aligning processes globally
Almost all companies have a global reach today. Therefore, the responsibility of developing and centralizing travel programs falls under the role of a corporate travel manager.
Therefore, you must select a T&E management solution that helps you align processes globally and manage cultural differences. Your employees should be able to use the same platform for booking their flights, hotels, and other travel requirements, and also for filing expenses. Additionally, the finance and HR managers should be able to view all the claims for quicker reimbursements.
Moreover, it should have the capability to provide centralized data for all travel and expenses. The T&E solution should cater to employees across the globe, with different currencies and languages, and help in increasing compliance.
Be Future-ready as a Corporate Travel Manager
Travel management for business is evolving, and so are the roles and responsibilities of corporate travel managers. As a travel manager, you will need to dive much deeper and learn new skills to enhance employee experience and save costs for your company. But you don't have to do it all alone! Investing in the right technology partner will help you increase efficiency and decrease travel costs.
ITILITE is an integrated travel and expense management solution that can help you provide a seamless travel experience to your employees while controlling costs.
Get a free demo of ITILITE travel management software to see how it optimizes the travel management process.