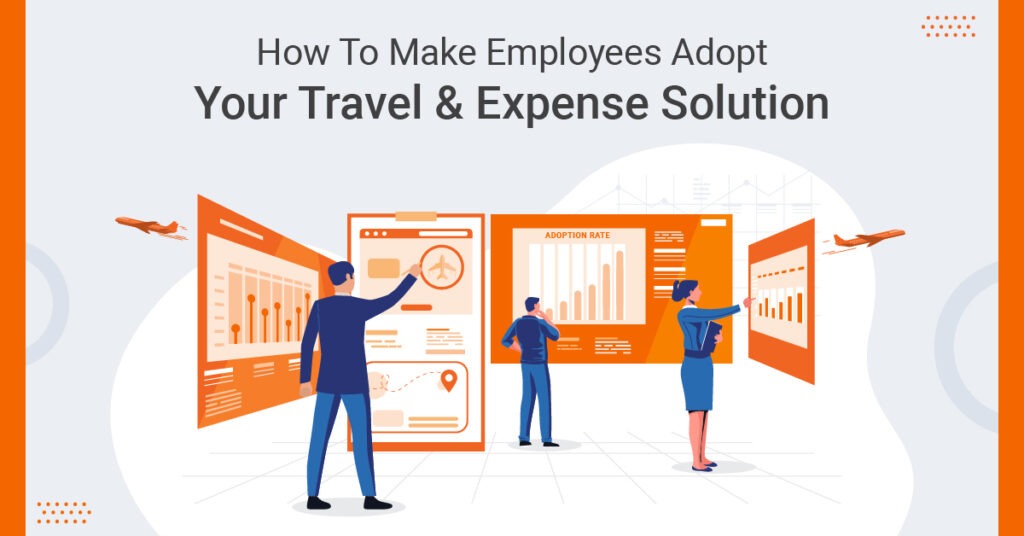 In the past few months, people have asked us the same question for different software/platforms, "How do we get everyone to use it?"
We believe smart tech, an easy-to-use interface, and 24*7 customer support can boost employee experience so much that they actually become happier, more efficient, and support software adoption. A positive experience of managing their work well can inspire employees to regularly use the tool and comply with all the policies.
In this blog, we focus on how you can make your employees adopt your travel and expense management solution while you plan to purchase a new one for your company. And it all starts with choosing the right software – the one that provides easy integration, automates your approval & workflows, and most importantly, has an easy-to-use interface. As you evaluate the software, make sure you keep your employees' preferences and needs in mind, along with the business benefits.
If you wish to figure out where your prganization's current T&E system stands with regards to its health and efficiency, use our calculator below to find out.
After spending months researching, selecting, and integrating your new travel & expense solution, here is what you can do to make it certain that all your employees use it too:
Explain and Train
Even the most intuitive T&E software requires some measure of onboarding and training, especially for employees who are less tech-savvy. Therefore, partner with software providers to provide onsite and offsite training at regular intervals/ as and when required. Educate them by communicating effectively the "Why" and "What's In It For Them (WIIFT)".
Ensure your Employees are Getting Round-the-Clock Support
Ensure that the travel and expense solution you have chosen delivers proactive support to employees – no matter where they are or what time it is of the day – if you have this, you will see a higher adoption rate! The tool experts and customer support should be truly available 24*7, through a variety of channels. While many T&E platforms claim they offer this kind of support, they are often complicated with limited technology that limits accessibility.
Consider Rewards to Encourage Employee Adoption
Choose a software partner that helps you set up a reward system so employees have a reason to use your T&E platform. ITILITE's integrated travel management platform helps you gamify your corporate travel and reward cost-conscious employees with cash and other incentives. Offering incentives, like Amazon gift cards or vouchers, can be a way to attract your employees to book tickets on the platform and save your company money along the way. It's a win-win situation for both employees and the company.
Collect Regular Feedback from your Employees
Your employees will be working day in, day out with the T&E software you select, and therefore, collecting feedback from them is an important step in optimizing your business processes. They can help you identify required software features for better productivity and understand the challenges causing a delay in adoption. Once you know where the adoption issue exists and why you can take the needed steps and resolve it at the earliest.
Provide a Faster, Better Booking Experience via an App
Incentives or customer support alone wouldn't keep employees coming back to your T&E platform if it has a bad user interface or experience. Make sure the T&E software that you choose has an easy-to-use mobile app to provide employees a faster and better booking experience. Along with curated flight and accommodation search options, it should give an employee the flexibility to easily cancel or reschedule travel or report their expenses while on the go.
Employee Delight Drives Tech Adoption
As a company, it is essential that you take advantage of advanced, AI-powered technology to make processes like travel & expense management efficient and seamless for your employees be it, business travelers or travel managers. With a trusted T&E solution partner like ITILITE, employees are able to quickly take care of all their bookings, expense reporting, and much more, so they have time to invest in health, wellness, and productivity.
Book a free demo today with our product specialist to know how ITILITE integrated T&E solution can improve employee delight while saving money for the company as they plan their next business trip.

Recommended Read
Get the latest in your inbox
Subscribe to the Itilite blog and never miss a post!