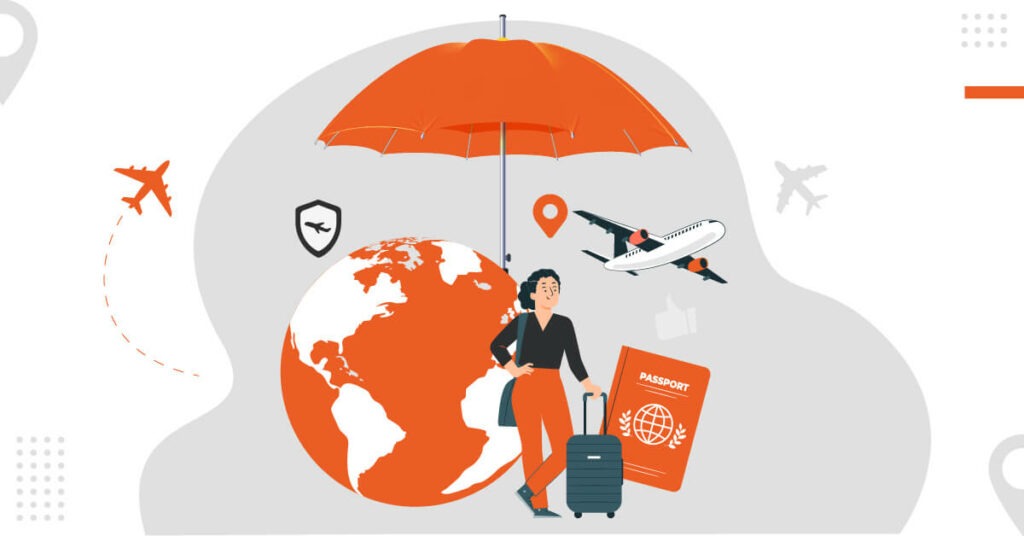 Business travel is full of uncertainties. When your road warrior employees travel for work, they are vulnerable to various risks, often life-altering. For instance, the destination they are visiting might encounter sudden political unrest. Or they may get into a road accident while going to the meeting venue.
Hence, your primary responsibility is to ensure you take all the necessary measures to keep them safe during business trips. A good first step you can take toward employee safety is investing in a business travel accident insurance plan.
With travel accident insurance, you can get financial coverage against fatal bodily injuries and disfigurements. Moreover, some plans provide routine medical benefits and on-premise coverage.
Besides health emergency coverage, your employees can also get financial protection against challenges like a lost passport or emergency evacuation due to a socio-political crisis.
Here is a complete business travel accident insurance guide to help you understand its meaning, scope of coverage, and importance.
What is Business Travel Accident Insurance?
Business travel accident (BTA) insurance is a type of corporate travel insurance that provides travelers with indemnity against travel accidents. It primarily aims to compensate for accidental death or dismemberment during business trips. However, some plans also cover non-health emergencies like abduction, natural disasters, and terrorism.
How does Business Travel Accident Insurance work?
The company purchases a BTA insurance plan for all business traveler employees and pays all the premiums. As per the policy guidelines, each employee is insured for a maximum amount of coverage, called the Principal Sum. The insurance provider calculates the principal sum according to employees' designation and annual compensation.
For instance, an all-active executive-level employee on the company's payroll can be entitled to a principal sum equal to 5 times their per annum salary.
If an insured employee meets with an accident while traveling for work, they or their beneficiaries receive a percentage of the principal sum as compensation. The policy calculates the payment amount on a pro-rata basis according to the accident.
Therefore, if a business traveler dies due to an accident, their beneficiaries can claim 100% of the principal sum. However, if the accident results in temporary or permanent paralysis, the claim amount may get reduced to 75% of the principal sum.
Besides that, for non-medical emergencies like trip cancellations or vehicle damages, the BTA insurance policy pays a pre-decided fixed amount.

What Does Business Travel Accident Insurance Cover?
The scope of coverage of any BTA insurance plan varies according to the type of plan. However, a basic BTA insurance policy covers the following:
1. Accidental death, dismemberment, and paralysis
If your employee gets injured during a business trip and suffers any policy-covered losses, they will be entitled to compensation. The compensation can be a percentage or whole of the Principal Sum depending upon the type of covered loss sustained.
While the covered losses vary from plan to plan, the following are the most common:
Death
Complete or partial blindness
Loss of any combination of hand or foot
Loss of one hand or one foot or sight of one eye
Loss of speech or hearing
Loss of thumb and index finger on the same hand
Quadriplegia– paralysis from neck-down
Paraplegia– paralysis of legs and lower body
Hemiplegia– paralysis of one side of the body
Monoplegia– paralysis of one limb
2. Coma
If an employee becomes comatose due to an accident during their business trip, their family will receive compensation until the insured person regains consciousness.
3. Disappearance
If the insured traveler (your employee) disappears during their business trip and does not return within a specific period (usually one year), the insurance company will deem them dead.
In such cases, their family members will receive compensation equal to the amount insured for accidental deaths.
4. Emergency evacuation
If your employee is on a business trip at least 100 miles away from home and they have to evacuate due to a crisis, they will receive compensation for the evacuation expenses. The crisis can be social, like a terrorist attack, or political, like a sudden mass protest.
5. Physical therapy and rehabilitation
This benefit is an extension of the accidental dismemberment benefit. So if your employee suffered temporary or permanent dismemberment during their business trip, they would receive the compensation for the physical therapy required for recovery.
6. Psychological therapy
Any emergency employees face during business travel, whether disease, injury, or assault, can take a toll on their mental health. Hence, some business travel accident insurance plans cover psychological therapy the injured employees might need to recover holistically.
7. Travel inconvenience
This benefit requires a Cancel For Any Reason(CFAR) coverage. It covers financial losses employees might incur due to trip cancellations or rescheduling.
However, to avail of the repayment, the reason for cancellation/rescheduling must be beyond the employee's control. Moreover, the CFAR plans can inflate premium amounts up to 60% and have strict eligibility requirements.
8. Repatriation of Remains
The death of an employee traveling internationally for business is devastating for their family. Moreover, the repatriation process is highly distressing and expensive. The deceased's family must complete the formal identification, provide multiple documents, and obtain repatriation permits to get the mortal remains.
However, a comprehensive business travel accident insurance plan can save them from the massive financial hit by covering all the repatriation expenses.
9. Bereavement and trauma counseling
Some BTA insurance plans also cover psychological counseling and trauma therapy for immediate family members in case an employee dies during a business trip. The family members get a fixed number of sessions within a specific period (usually one year).
10. Vehicle alteration
Sometimes, employees use personal vehicles for short-distance business trips. In such cases, your mileage reimbursement policy covers regular expenses like fuel charges and wear and tear.
But what happens if they have an accident that damages the vehicle? A comprehensive business travel insurance plan can help them recover financially. Most BTA insurance plans compensate for vehicle alteration if the policy covers the injury sustained due to the accident.
Other than the above-mentioned benefits, some business travel accident insurance policies also cover Bleisure accidents as optional benefits. For example, if an employee gets injured while kayaking one afternoon during their work trip, A BTA insurance policy with Business and Pleasure coverage will cover their medical expenses.
What does Business Travel Accident Insurance not Cover?
There are no all-pervasive exclusions from a travel accident insurance policy. However, some plans may limit the death benefits to flight accidents. In such cases, the aggrieved employee or their beneficiaries cannot claim damages if the accident happened on the road or in waterways.
Moreover, some BTA programs cover only particular countries and territories. Hence, travelers can claim the benefits only while visiting the policy-enlisted places.
Some other standard exclusions include committing or attempting suicide, driving under the influence of drugs and alcohol, traveling to areas declared high-risk by a national travel advisory, and undertaking extremely hazardous activities.
And lastly, almost all BTA insurance plans debar claims where travelers are less than 100 miles away from their regular workplace.
Why is Business Travel Accident Insurance Important?
A BTA insurance plan is essential for an efficient business travel management process. It can help you offset travel risks and provide employees with life insurance-like coverage for travel-related catastrophes. Here are a few significant advantages of BTA insurance:
1. It protects the company's financial well-being.
If an employee meets with an accident while traveling for work, the entire financial onus of their treatment and rehabilitation falls on the company. In case the accident is grave, the treatments can burn a massive hole in your financial bottom line.
According to a study, the average cost of a business travel accident is about 5- 6% of the total trip cost. Moreover, the problem can escalate further if multiple employees get harmed in a single incident, like a common carrier accident.
However, investing in a BTA insurance policy can protect the company's financial well-being. The insurance provider assumes all the travel-associated risks covering everything from large medical bills to lawsuits if any are filed.
2. It helps fulfill the duty of care obligations.
Imagine a situation where your business traveler employees visit an unfamiliar international destination, and a nationwide emergency rolls out. As a result, no international flight is allowed to leave. Moreover, communication becomes tough because the networks are overloaded.
In such cases, your legal duty of care obligation is to ensure their safety and well-being in the foreign country and bring them back unharmed.
A BTA insurance policy can help you fulfill those obligations by providing complete financial coverage for the security evacuation. Moreover, the policy providers have a vast network of experts who can help you arrange evacuation and take care of all legal formalities.
3. It reduces travelers' anxiety.
Each business trip throws employees into unfamiliar situations and places with an expectation of high productivity. Moreover, they become vulnerable to various dangerous situations. Hence, domestic or international business travel can cause some anxiety among travelers.
Investing in a BTA insurance policy is a great way to reassure travelers about their safety and reduce travel-related anxieties. Once employees know they are safe, they can focus on fulfilling the purpose of their work trip instead of worrying about travel risks.
How to Select a Business Travel Accident Insurance Policy?
Now that you have understood the importance of investing in business travel insurance, you might consider buying a comprehensive policy. But how do you know if a BTA insurance policy will fulfill all of your travel risk management needs?
Here are a few factors that can help you determine if a BTA insurance policy is the right fit for your company:
1. Policy size
Ask your policy provider for the minimum and maximum limit on the number of employees insured under one plan. You can also enquire if they offer any discounts for bigger groups of employees.
2. Coverage basics
Look for the type of compulsory and optional benefits the BTA insurance plan offers. The plan should cover all severe accidents, socio-political emergencies, death, and repatriation.
Moreover, you should ensure that the coverage is for domestic and international travel, including all major destinations.
3. Amounts of benefit
Check if the benefits are disbursed as a flat amount or pro rata according to the designation and annual compensation.
4. Maximum benefit
Determine if the maximum benefit given to an employee is a flat amount or some other calculation like X% of the principal amount or a not-to-exceed cap. Usually, fixed amounts are the least preferred because all accidents do not require the same compensation.
5. Extra services
Consider if you require add-ons like bleisure coverage, legal expenses, and spouse and children coverage in your business travel accident policy.
6. Service history
Select a reliable policy provider that provides timely client reimbursements. Additionally, verify if the provider offers 24/7 assistance through calls, chats, and emails.
Traveler Safety is More Than Business Travel Accident Insurance
Ensuring travelers' safety is essential to the business travel management process. Whether your employees are going for a two-day trip to the next city or traveling worldwide, an emergency can occur anytime. Hence, investing in business travel accident insurance is essential to keep them safe.
To improve traveler safety even more, you should manage business trips with advanced travel and expense management software like ITILITE. With ITILITE, you can blocklist unsafe hotels so that your employees stay at safe accommodations. Moreover, you can also track travelers' locations to help them in emergencies.
To know more about the advanced features of ITILITE, book a free demo with our product experts today.