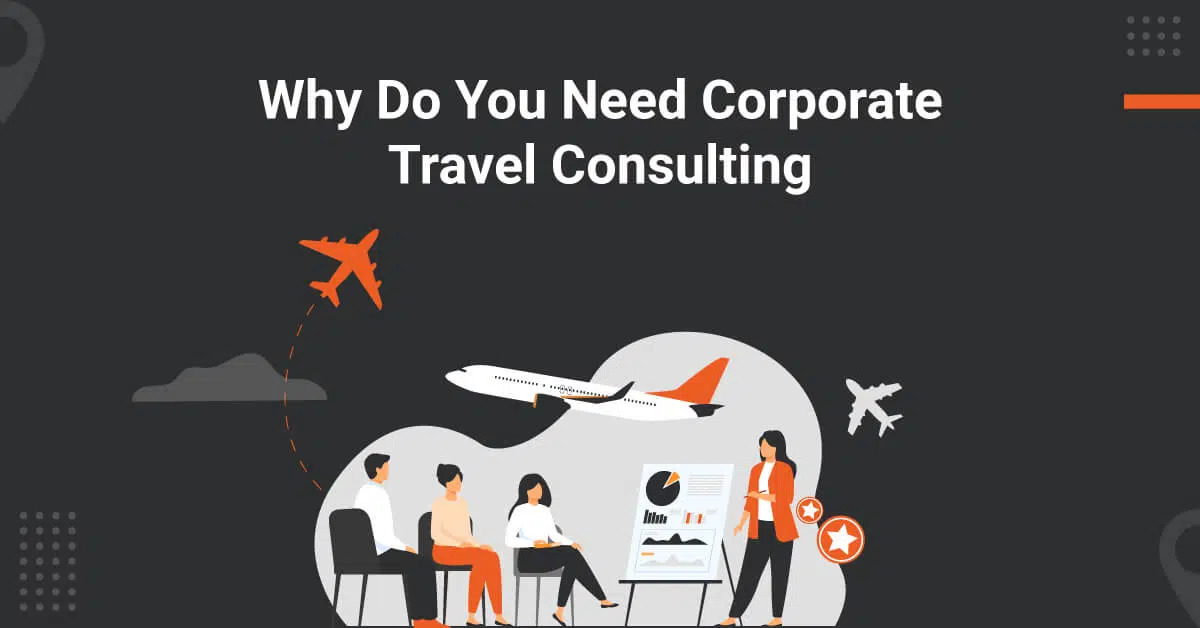 Business travel is witnessing a gradual recovery after Covid. According to a report by Reuters, corporate travel spending is expected to reach $1.4 trillion by 2025, nearly equaling the 2019 pre-pandemic revenue, thus, making a full recovery from the pandemic.
As employees are starting to travel for work purposes, companies are realizing the benefits corporate travel consulting can offer in terms of planning and research. Hence, they have started opting for consulting services to plan employees' travel and make suitable arrangements.
Read on to learn more about corporate travel consulting and its advantages.
What is Corporate Travel Consulting?
Corporate travel consulting is a service provided by a travel management company (TMC) that helps organizations plan and manage business trips per their travel policies, making travel more effortless while saving time.
The TMCs are mainly responsible for organizing travel arrangements by suggesting the best travel packages, affordable travel costs, transportation modes, types of accommodation, etc., to the companies and employees.
Business travel consulting also involves looking into factors that may affect travel plans, such as adverse weather changes, canceled or delayed flights, and other booking obstacles, and notifying employees immediately of the same.
By doing so, travel management companies help employees carry out corporate travel plans without worrying while ensuring traveler safety.
Who is a Corporate Travel Consultant?
A corporate travel consultant is an individual who works for a travel management company and assists them in planning and executing travel arrangements for business travelers. They act as the first point of contact for business travelers regarding all travel-related inquiries.
Their responsibilities include assisting employees in carrying out complex itineraries, suggesting alternate routes, tackling travel challenges, improving the business travel experience, etc.
Benefits of Corporate Travel Consulting
For companies requiring employees to travel regularly on a work basis, it is highly recommended that they opt for corporate travel consulting for better business travel management.
Let's look at the various benefits business travel consulting has to offer:
1. Provides Business Travel Support
Unforeseen circumstances can be very stressful, especially if employees travel internationally. Factors like civil unrest, bad weather, infrastructure maintenance, etc., can majorly impact a traveler's journey and the purpose of the trip.
Business travel consulting services include business travel support to assist employees while traveling. Hence, with the help of corporate travel consultant, employees can tweak their plans accordingly. The corporate travel consultants provide various alternate options, security measures, or even emergency services during such times, thus, ensuring a trouble-free trip.
2. Recommending Best Travel Options
Before employees go on a business trip, they have to choose from various travel options such as flights, accommodations, rental cars, and also places to visit nearby. While doing so, they must keep their company's travel and expense policies in mind and abide by them.
Corporate travel consulting services include recommending the best and most budget-friendly travel options for employees. The consultants help employees in choosing affordable flights, accommodations, best rental cars, etc.
3. Travel Risk Management
Business travel entails multiple risks for employees. The threats can range from a simple misrouting to a nationwide health emergency like Covid-19. In either case, you have a legal duty of care to ensure they escape the danger unharmed.
Corporate travel consulting can help you manage travel risk better through the creation and seamless execution of a duty of care plan. In terms of plan creation, you get expert advice about what aspects you should incorporate and which service providers are the best. You may also get a duty of care checklist, like the one below, to ascertain if your plan is optimal and comprehensive.
Regarding execution, you get suggestions on how to leverage technology to mitigate risks. For instance, the TMC providing you with business travel consulting may recommend tech-forward travel management software that tracks travelers' live location to ensure you can help them during emergencies. Hence, you can embed better care in business travel through corporate travel consulting.
4. Travel Policy Compliance
Every company has its own guidelines when employees travel for business purposes. The larger the company, the more help you require in ensuring that employee travel is arranged in compliance with the travel policy.
If you opt for business travel consulting, the consultants help you build an effective travel policy. They go through your company's travel and expense policies and suggest steps to improve them. Moreover, they create travel itineraries for employees accordingly.
5. Special Discounts and Considerations
Travel management companies handle a large number of travelers daily. Unlike leisure travel, bookings for business travel happen almost every day. Hence, these TMCs partner with various airlines and hotel vendors to offer corporate discounts to companies.
By leveraging these discounts and offers, companies can get great deals for their employees. Apart from that, they can also get any modifications done to their itineraries for any last-minute changes.
6. Concierge Services
While traveling for work, employees might need additional services to ensure the trip goes smoothly. For instance, they might need visa renewal or foreign exchange for international travel. Such services are called concierge services.
While they might seem trivial, concierge services are not easy to avail.
Let's take the example of visa renewal. To renew your visa in the US, you must complete the DS-160 form through Consular Electronic Application Center. After that, you must visit the US Embassy website and find an interview slot. Then, you must compile all your documents and prepare for the interview.
The entire process can take many days, and your employees can't afford to spend that much time.
However, through business travel consulting, you can help your employees save their precious time and effort. A TMC providing business travel consulting can help you manage concierge services with dedicated travel agents. You just have to submit a request on their platform and provide the required information. After that, they'll take care of everything.
7. Acquiring and Updating Travel Documents
Documents such as passports, travel visas, and national ID cards are crucial for traveling internationally. And ever since the Covid-19 pandemic, most countries have changed their rules regarding international travel.
Therefore, employees must keep up with all the latest travel guidelines and update their travel documents regularly. Due to their packed schedules, they may tend to forget to do these.
A business travel consultant procures and updates travel documents according to the latest travel rules and regulations, saving travelers a lot of hassle.
8. Inside Knowledge
Corporate travel consultants generally have many years of experience in their field. Sometimes, they may have access to information the general public isn't aware of, such as flight price changes, industry rates, etc.
Therefore, companies who opt for corporate travel consulting can save a considerable chunk of money. They can also make changes to the itineraries with little or no additional amount.
9. Better Access to Resources
Corporate travel consultants can help provide you with all the necessary resources to ensure the business trip goes smoothly. They also use the best online tools to understand what factors affect employees' travels.
Additionally, a business travel consultant print flight tickets, find out about potential delays, get in touch with the driver to pick employees up from the airport, and others. Corporate travel consultants are constantly updated with the latest information. Hence, they can get in touch with employees in case of any emergency or unexpected events.
10. Dedicated Corporate Consultants
Lastly, corporate consultants are highly dedicated to carrying out all the procedures. They do every step in the process meticulously.
With business travel consulting, travel arrangements become simpler and more precise. The consultants have discussions with employees to meet their specific requirements.
Prefer a Virtual Travel Consultant
Although corporate travel consulting offers various benefits, having an AI-powered Virtual Travel Consultant like ITILITE Mastermind eliminates all the limitations of a human travel consultant. Mastermind is an AI-based virtual software program pre-embedded in the ITILITE system that offers advanced analytics and data-driven recommendations for optimizing a company's travel and expense program.
With Mastermind, you can identify cost leakages and get a full action plan to help save travel costs.. It also reduces human errors, saves time, gives real-time information, and a 360° view of travel and expense costs.
Corporate Travel Consulting – A Must for Businesses
Corporate travel consulting can help companies manage and plan itineraries, provide support, and much more. However, manual travel consulting has its limitations. Hence, a better alternative is to opt for a virtual travel consultant.
ITILITE's virtual travel consultant- Mastermind, enhances travel and expense management using Artificial Intelligence (AI) technology. It provides data-driven insights to simplify travel booking, minimize policy violations, and reduce travel expenses significantly.
ITILITE Lunch and Learn: If you would like to know more, come meet us in your city. Join us for our "Top Tier Travel Talks" Lunch Seminar.