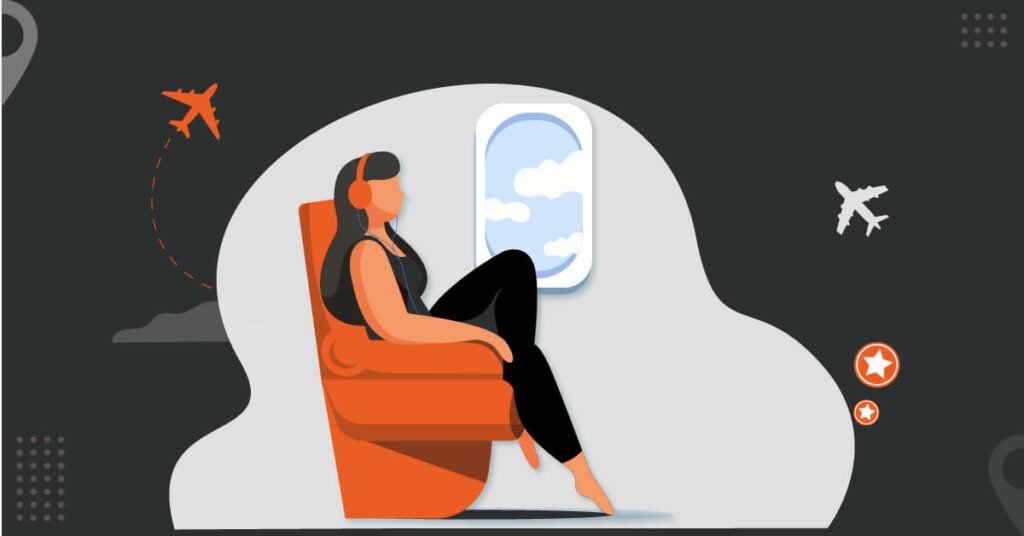 Let's admit it; business travel is not as easy as it sounds. It may seem very exciting as employees get to travel to various destinations, experience new cultures, try different cuisines, meet new people and develop new skills.
However, they have to go on business trips multiple times a year, which involves working continuously, attending meetings and conferences, interacting with clients, and resolving customer queries to achieve their business goals.
When not managed properly, all these factors combined can lead to traveler anxiety.
Therefore, it is crucial that you, as a travel manager, take measures to reduce the anxiety of your corporate travelers during business trips.
Here are some of the methods you can incorporate into your business trip planning:
1. Review Your Travel Policy
To reduce the anxiety of your corporate travelers, you must first consider reviewing your existing travel policy. If you have a travel policy that does not take into account employee experience, then it can make their business trip very stressful.
For instance, if your travel policy includes low-budget airlines and hotels or destinations where they feel unsafe or does not include the airline of the employee's choice, they may become uncomfortable and cause them anxiety.
To review the travel policy, you can start taking feedback from your employees after they return from business trips. Ask them if their stay was good and if their journey went well. This will allow you to understand what went wrong and include measures or make changes in the travel policy to enhance their business travel experience.
Additionally, consider incorporating bleisure in your travel policy so employees can indulge in leisure activities.
Business travel includes organizing many things. They must handle multiple things, especially if they are traveling internationally. They have to discuss their daily tasks with their managers, communicate with their team members, and sign new business deals and contracts, among many others. Managing all these without proper tools can make them exhausted and lead to burnout.
To help employees get rid of stress and anxiety, you, as a travel manager, can empower business travelers with business travel tools when they go on business trips. By using these tools, business travelers don't have to worry about keeping track of everything, especially when there are many things to do.

3. Provide 24/7/365 Travel Support
Corporate travelers face many challenges during a business trip, be it domestic or international. Female business travelers, especially, are prone to more safety risks than their male counterparts. Factors such as unsafe hotels, commuting from one place to another, travel visas, or insurance can make employees anxious and agitated.
Additionally, they may also face challenges such as bad weather, delayed flights, loss of luggage, and political unrest, where they will be stuck in places for hours together. Such situations make employees feel nervous, exhausted, and worried and can impact their business travel immensely.
Therefore, travel managers must provide the right business travel support to employees so their problems are solved, and they can be at ease.
You can provide your employees with 24/7/365 business travel support with the help of a TMC. Employees can contact the support team at any given time through multiple channels such as chatbots, emails, and calls in case of emergency. Providing support during such times will help kick out business travel anxiety and improve your business travel management.
4. Book Flights As Per Traveler's Preferences
Traveling via flights for employees is one of the crucial aspects of a business trip. Employees must go on business trips multiple times a year, for which they must board various flights. But sometimes, they may have to board flights that are not according to their liking.
For example, an employee might prefer traveling on a SouthWest Airlines flight to Delta Airlines for personal reasons. This may seem very trivial, but it does contribute to the employee's anxiety.
Therefore, as a travel manager, you must book flights according to their preferences. Before booking a flight, check with them if they are fine with the flight timings and the airline.
You can also take the help of an AI-based virtual travel consultant such as ITILITE Mastermind, which will help you discover and analyze your employees' preferences. The algorithm predicts the most convenient options based on their previous trips, which enhances personalization. This will help you book flights according to travelers' preferences, thus reducing their anxiety.
5. Prepare a Detailed Itinerary
One of the major mistakes that travel managers make is not preparing a detailed itinerary for their employees. This is because preparing an itinerary seems very complicated and time-consuming. They have to research and include every minute detail, which can be pretty daunting.
However, if employees do not have a detailed itinerary with them, they may not know when to do what, thus creating confusion and stress. This wastes employees' time, and they may get late for any business event or meeting, further adding to their anxiety.
Therefore, as a travel manager, you must prepare a detailed itinerary and hand it over to employees before they embark on their business trip. Your itinerary must include all details regarding the following:
Flight time and details
Layovers, if any
Transportation time and details
Accommodation
Day-to-day schedule details
This way, employees will be fully prepared and know exactly what to do, avoiding panic or anxiety during business trips.
6. Provide Emergency Contacts
Employees may encounter unavoidable circumstances during business travel, such as being stuck in the airport due to bad weather. This can sometimes negatively impact employees' business travel, and they may panic. Hence, in such situations, you should inform employees whom to contact.
As a travel manager, you should provide emergency contact details to your corporate travelers before they leave for their business trip. Also, if the employee has gone on an international trip, provide her with the contact details and address of the embassy.
7. Ensure Corporate Travelers Carry Important Travel Documents
Business travel involves employees traveling to various destinations to carry out business activities. Sometimes they may even have to travel to 2 or 3 destinations in a single trip. During such situations, they need to carry essential travel documents to avoid any last-minute hassle. And since different countries require different documents, employees can feel stressed and anxious about handling them.
Therefore, travel managers should prepare them in advance by informing them what documents are required in each country. You can include the list of the documents in the itinerary with all the essential documents employees should carry. The travel documents should include the following:
National ID card
Copies of ID cards
Passport and Travel Visa
Proof of hotel reservations
Vaccination proofs, etc.
You can also provide them with physical and electronic copies of these documents so that employees don't get stuck anywhere and can travel without worrying.
8. Keep Space For Employees' Personal Time
During business trips, employees are away from their homes and regular routines. Especially if they are away for a long time, there are chances they can feel low, grumpy, and exhausted.
They have to constantly be on their toes working, attending meetings, replying to emails, etc., which can make them feel anxious. Also, they are in different time zones, which can affect their sleep and health and, in turn, hamper their productivity.
Therefore, while planning business trips, travel managers should keep some space in the itinerary so that they can spend some time on leisure activities, talking to their family members, going for a walk, getting sufficient sleep and rest, or even relaxing by a swimming pool. Relaxing post-work is equally important as it helps them rejuvenate and relieves stress.
Bid Good Bye To Traveler Anxiety of Corporate Travelers With Travel Management Platform
There is no doubt that business travel can be very stressful for employees, especially when they already have a lot on their plate. When employees become anxious, it can impact their business travel immensely. Therefore, following the above-mentioned methods will help travel managers reduce employees' anxiety and help them achieve their business travel goals.
You can also reduce your employees' stress by using travel management software. ITILITE's travel management platform reduces their anxiety as we prepare a detailed travel itinerary and provide 24/7/365 business travel support. Employees can also book their own trips with a self-booking option on our software, allowing them to book flights and hotels as per their choices.
Schedule a free demo with ITILITE to learn how we help you plan your travel.