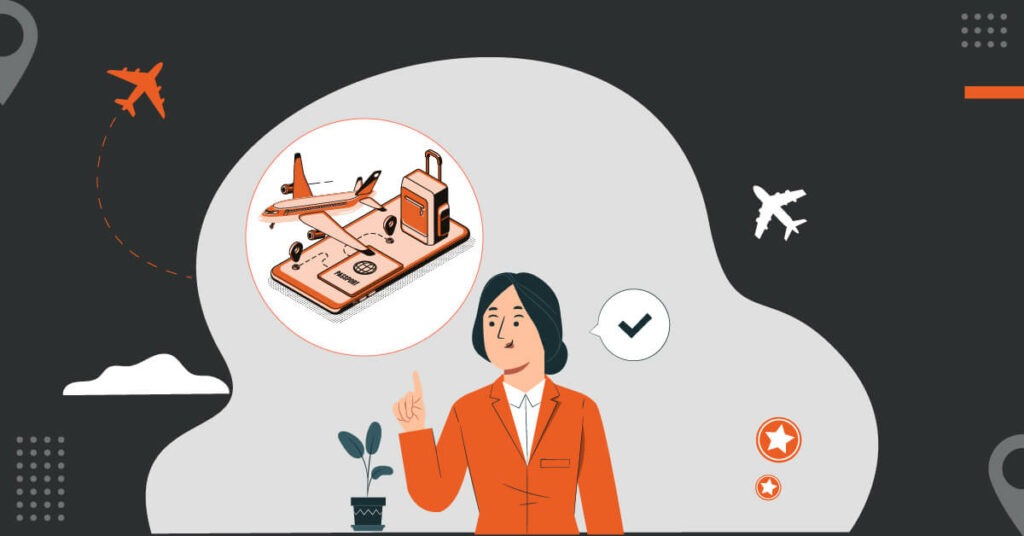 In the new day and age, business travelers want their bookings to be more personalized and flexible. It can be daunting to manage all of these specific requests while also trying to maintain a set budget. Fortunately, some solutions are available to make this process much easier.
A corporate travel solution not only helps you upgrade your current traditional travel management process but also streamlines travel operations by automating repetitive tasks. This gives your employees a seamless travel experience.
Benefits of Corporate Travel Solution
Some major reasons to consider a corporate travel solution for your business are:
1. Increase The Efficiency of Travel Operation Management
Traditionally, companies follow the manual method of business travel management, which is inefficient and costs both time and money. Travel managers must do all tasks manually, such as creating consolidated reports, booking tickets, drafting travel policies, gathering and analyzing travel data, and researching competitive prices for airlines and hotels.
Not to mention, there are high chances of errors when human intervention is involved. This is why companies must invest in a solution that can automate a majority of these time-consuming tasks.
A cloud-based corporate travel solution can carry out recurring tasks faster and more accurately than humans can. Tasks such as finding the best trip packages, report generation, approval workflows, and collating and analyzing trip data are automated, freeing up the bandwidth of the travel manager.
Investing in a corporate travel software solution may seem like a costly decision. But it can help you save a lot of money in the long run by streamlining your T&E.
According to Forbes, intelligent automation helps you save around 40%-75%, with payback ranging from several months to several years. So not only will you be saving money in the long run, but you'll also get your investment back relatively quickly.
2. Enable Seamless Approvals With Workflow Hierarchies
Approval delays can often happen when an employee isn't aware of the right person to reach out to for approval. Things can become even more complicated for international trip approvals because then the employee requires multiple approvals from different sources. Therefore, establishing a clear hierarchy of approval workflow is important to avoid travel delays.
A cloud-based corporate travel solution helps you manage a multi-tiered workflow hierarchy to streamline approvals, saving time for both employees and approvers. You can customize the workflow depending on the type of travel (international/domestic), departments, employee level, etc. This helps in automating the approval sequence according to your requirements. Moreover, approvers are notified of new approval requests on their dashboards, preventing unnecessary delays.
3. Enforce Travel Policies To Improve Compliance
One of the biggest challenges companies face is getting employees to comply with travel policies. Various obstacles can get in the way of achieving 100% compliance. A few of them are: the likelihood of misinterpretation of policy updates when they are communicated to employees and not taking policy into consideration when booking tickets.
An advanced corporate travel solution is integrated with the company's travel policies (including all policy exceptions). So, when employees book tickets through the platform, they get to choose from packages that comply with the policy. The out-of-policy travel options are shown in a separate tab and sent to a higher approver in case an employee wants to book it anyway.
4. Give a Personalized Travel Experience to Employees
When booking travel tickets for multiple employees, it can be difficult for travel agents or managers to keep track of everyone's individual preferences and requirements. Even if you try your best to accommodate all requests, the process can be very time-consuming.
However, if the necessary traveler requests are not fulfilled, they may have a bad overall trip experience. Therefore, it's crucial that employees are able to book their travel according to their preferences.
A corporate travel software solution takes the burden off of travel managers by letting employees book their tickets on the platform. The software takes the search and travel history of the employee into account, giving them personalized travel booking options tailored to their needs.
As a result, this feature spares time and effort for travel managers so that they can focus on other essential tasks, such as managing travel budgets and overseeing business travel arrangements.
5. Optimize T&E With Advanced Analytics
Collecting and analyzing travel data is crucial for any business. You must keep track of travel KPIs, whether it's out-of-policy bookings, the average cost of a trip, or department-wise travel expenditure.
However, without proper business travel solutions, it is not only difficult to analyze but also cumbersome to gather accurate data. Keeping track of data through a travel agent and by excel sheets is neither sustainable nor capable of giving accurate and deep insights.
Modern corporate travel solutions help you optimize your T&E by giving you access to advanced analytics on a single dashboard. It consolidates all the bookings made by employees along with other useful data such as traveler wellness, policy adherence, and the number of cancellations.
You can also customize the type of data that you want to see on the dashboard, for example, maximum spenders for the month or the most booked airline company. By collating and analyzing travel data, you can predict future trends as well as find areas of cost leakages, helping you improve your T&E processes.
6. Gain Access To Cost-Efficient Travel Options With an Extensive Inventory
Travel managers are always looking for ways to reduce business trip costs without compromising employees' satisfaction. However, it can be tricky to find the most affordable options for business trips when they are already burdened with a lot of work.
To find the most affordable options, travel managers must negotiate with airlines and hotels well in advance to get the best price. And even then, they might not get a significant discount since the number of bookings made by one company is considerably lower than the number required to get a large discount.
This is where the benefits of having a corporate travel software solution come in. The software provider partners with various hotels, airlines, and cab rentals so that you get the cheapest market rates.
Additionally, the provider also sources cost-efficient tickets through the GDS (Global Distribution System) to give you an extensive travel inventory to save money on all your bookings.
7. Get In-depth Industry Insights
To optimize your T&E, you need to analyze your travel spending and get a clear idea of improvement areas. However, in-house teams usually do not have the specialized knowledge or resources to provide actionable insights from data or research about other companies.
Some advanced business travel solutions come with a pre-embedded virtual travel consultant, which gives your in-house team the ability to access travel insights anytime and anywhere. Moreover, the AI-based assistant also provides actionable steps to reduce cost leakages and boost your travel program.
ITILITE Mastermind is one such robust virtual travel consultant with the help of which you can eliminate the need to depend on external travel consultants or spend hours trying to decode travel analytics to improve your processes.
8. Get Round-the-clock Travel Support
Business travelers need support for various purposes while they are on a business trip. For example, they might need help with hotel check-in or pick-and-drop service.
Sometimes, they might also need help when they find themselves in an unfortunate situation due to bad weather or delayed flights. However, it is nearly impossible for travel managers to assist business travelers 24/7 or be able to answer the queries of all business travelers.
A corporate travel solution provider can provide your employees with 24/7 travel support, so they can get the help they need anytime, anywhere. For general queries, they can use the assistance of in-app AI chatbots and get quick replies.
However, if they are in an emergency situation, they can contact the support team immediately. This way, you can rest assured your employees are taken care of and can focus on their work while traveling.
9. Ensure Seamless Data Sharing By Integration Features
Data sharing is tedious when using traditional methods, like spreadsheets, to keep track of your data. This is because you can't integrate spreadsheets with other software solutions, so you must manually retrieve and upload data into the other systems.
However, a corporate travel software solution can integrate with other systems like HRMS, accounting systems, and ERP, ensuring error-free data sharing. A cloud-based solution can easily integrate and synchronize with other third-party software so that data flows automatically.
For instance, when required, employee data can automatically populate in the travel software solution via the HRMS solution once both have been integrated. This saves a lot of time and ensures that data is accurate.
10. Ensure Traveler Safety
Traveler safety is one of the top priorities for any business. However, it can be difficult to keep track of travelers without a proper system in place.
According to a survey of 3,850 business travelers across 25 global markets, 31% of business travelers would limit their travel, and 20% would look for a different position if the company didn't implement proper safety policies.
A corporate travel solution ensures traveler safety by giving you access to the exact location of your travelers. Furthermore, you can also block suspicious areas, hotels, or flights that you think aren't safe for your travelers. The software solution can also alert travelers of any updates on travel restrictions in a particular location.
Here is a corporate travel security policy template you can use to ensure all security protocols are in place.
11. Keep Data Secure
Data security is of the utmost importance when it comes to travel. Personal employee information such as name, date of birth, phone number, credit card details, and passport details are often shared during the travel management process.
If this data is leaked, it could lead to identity theft or misuse of information. To protect against this, companies should have strict data security measures in place to keep traveler information safe.
A corporate travel solution ensures end-to-end encryption of the employees' personally identifiable information (PII). Additionally, the company takes care of server configuration, logging infrastructure, and incident monitoring. On the user end, the app offers security via multi-factor authentication and single sign-on.
Upgrade to the Right Corporate Travel Solution
Revamping your traditional methods of travel management may seem daunting at first. But, if you invest in the right corporate solution, you can be certain that you will enhance your travel management processes.
ITILITE is a cloud-based corporate travel solution that offers an extensive inventory with personalized booking options so that your travelers get the trip satisfaction they deserve. They also get 24/7/365 travel support via call, chat, or email. With ITILITE, you can configure granular policies to achieve 100% policy compliance and get deep insights into your travel process with customized dashboards and reports.
To try out the benefits for yourself, request a free demo.