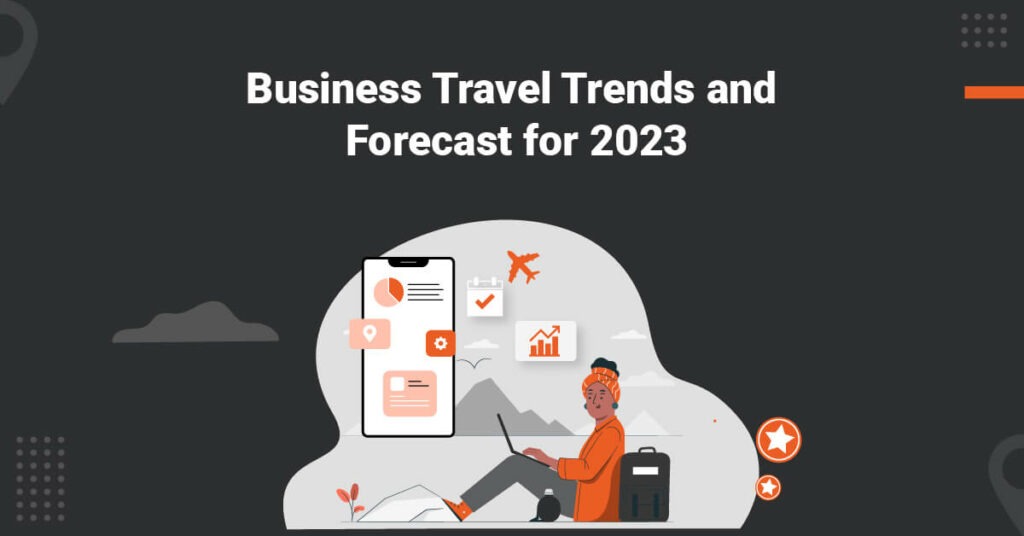 2022 has been a turbulent year for various industries worldwide, including business travel. The year saw a rise in inflation and the effects of the Russia-Ukraine war on the world economy. Despite all these challenges, business travel continued, with some employees traveling domestically and internationally for business purposes.
With 2023 fast approaching, business travel will continue to grow as global travel prices are predicted to increase. The October 2022 business travel recovery poll by GBTA revealed that over 78% of travel managers expect the number of business trips by employees will be much higher in 2023 than in 2022. Hence, companies are preparing to take better approaches to business travel for 2023, which means there will be new trends and changes.
Let's look at some of the business travel trends for 2023 we can expect in the coming year:
1. The Rise in Bleisure Travel
One of the most popular business travel trends that have gained importance over the last few years is bleisure travel. Although this concept existed even before the pandemic, companies, and employees have benefited from it largely post-pandemic.
According to a survey by GBTA, 37% of American business travelers extended their business trips for leisure in the past year, and 81% stayed at the same place for bleisure purposes.
Hence, this combination of 'business travel' and 'leisure activities' is becoming the new norm in the business travel industry. In the last two years (2020-2022), bleisure travel was taking place in fewer numbers due to the pandemic. However, this business travel trend will increase in 2023 as employees look forward to relaxing and exploring rather than just working on their business trips.
2. Employees Prefer Unconventional Stay Options
Business travel has paved the way for various business travel trends, the latest being offbeat/unconventional stays. This is because business travelers, especially millennials, have become more flexible in staying in places other than regular hotel chains. These include boutique hotels, homestays with unique facilities, guest houses, or AirBNB apartments.
These accommodations are very different from conventional hotels and cater to the varying lifestyles of business travelers. Hence, they feel that these unconventional stay options are more beneficial than hotels.
For instance, they provide travelers with more space, are cost-effective, and, most importantly, allow them to enjoy experiences that make them feel at home.
As new-age travelers are interested in staying in a peaceful environment away from the city, this business travel trend will surely be adopted.
3. Self-Booking will be the New Norm
According to a survey by Expedia, 69% of business travelers book their trips through tools not provided or approved by their company. With the increasing demand for personalized travel, business travelers prefer more self-booking options.
A growing number of corporate travelers now prefer to organize their travel and use tools that allow them to book quickly and efficiently. This concept of self-booking is one of the significant business travel trends for 2023 that travel management companies need to pay more attention to.
Companies can encourage employees to use a corporate travel booking platform, a self-booking software tool that allows employees to book accommodations and flights of their choice when they travel. This business travel trend towards self-booking is mainly because of the generation shift in business travelers, which we will likely witness in 2023.
4. Companies will Implement Flexible Corporate Travel Policies
According to Global Traveler USA, rogue booking persists despite various travel policies. This means that business travelers are still booking outside the company's travel policy while choosing accommodations and flights for their business trip.
Hence, companies will relook into their corporate travel policies and make them more flexible for employees. The travel policy will include employee travel preferences and self-booking options. Allowing business travelers to make bookings of their choice and within the company's policies will create a better work culture and also promotes employee satisfaction.
Companies can also opt for travel management software that gives real-time policy visibility and allows employees to book within the company's travel policy.

5. Increase in Airfares and Hotel Rates
The demand for business travel and meetings/conferences is back with a vengeance. Business travel trends and forecasts for 2023 show that travel prices across the globe are expected to increase in the last two months of 2022 and throughout 2023. This is mainly due to rising fuel prices, inflation, and labor shortage, among many others.
As per GBTA, airfares will rise by 8.4%, hotel rates by 8.2%, and car rental charges by 6.3% by 2023. There is an increased demand for air travel as the borders of almost all countries have reopened completely alongside the rising jet fuel prices. Also, due to the travel rebound, hotel prices will accelerate worldwide in 2023 and the coming years.
6. Sustainable Business Travel to Gain More Focus
Sustainability is no longer a buzzword. The business travel trends and forecasts from International Energy Agency revealed that greenhouse gas emissions are likely to rise to record levels in 2023. And if these trends continue over the next few years, they can lead to catastrophic results. Business travel alone is one of the largest contributors to corporate carbon emissions.
Hence, companies must consider sustainable business travel practices to reduce their carbon footprint. Employees are now more aware of the climate crisis and global warming and want to work with companies that follow sustainable practices.
Therefore, travel trends involving low-carbon travel will gain more focus in 2023.
7. The Safety of Employees will be the main Priority
Another crucial business travel trend prediction for 2023 will be prioritizing the health and safety of employees. According to Amadeus, 84% of employees prefer traveling with the proper safety protocols. Employees travel to various destinations where they can face unforeseen circumstances such as civil unrest, bad weather conditions, delayed flights, and many others.
And when road warriors are out on the road, companies must do all they can to ensure they feel safe from the beginning-physically and mentally. Companies must focus on measures such as providing employees with business travel insurance and accommodations with safety and hygiene protocols, among many others. You must also create a corporate travel security policy that defines the guidelines employees and travel managers must follow to ensure the safety of employees during business travel.
Moreover, travel managers should hand out a travel risk assessment checklist to their employees before they go on a business trip.
Get Free Traveler Risk Assessment Checklist
8. More AI and Virtual Travel Assistants
One of the major business travel trends companies must look out for in 2023 is using advanced technologies such as artificial intelligence (AI) and intelligent travel assistants. 
AI has drastically improved how organizations function, so it is no doubt that in 2022, almost 44% of companies were trying to incorporate AI into their current applications and processes. Because of this, the number will increase in 2023 and the coming year. 
Companies can leverage these technologies to understand business travelers' preferences and travel patterns and optimize their travel and expense management process. The next few years also present various possibilities for intelligent assistants, such as AI travel assistants, chatbots, facial recognition, etc. 
As travelers are constantly on the go, they require faster response time and more interaction. Hence, AI and virtual travel assistants will be a boon for business travelers looking to utilize their time effectively during their journey.
9. Blockchain to Improve Security
Blockchain is a system of recording or storing information, making it highly impossible for hackers to modify or hack into it. It is an ideal technology for making business travel transactions more secure due to its integrated security features. This is important because the business travel industry heavily relies on exchanging information between two or more companies. 
For instance, a travel manager must send the employees' details to airlines and hotels. Thus, blockchain allows you to collect every data involved in the travel process, from employee preferences to flight and hotel rates, where it stores information on various devices, thus enabling data security. 
It's Time to Keep up with Business Travel Trends 
This year passed with a lot of uncertainty. However, 2023 looks very promising for the business travel industry. Travelers' safety, sustainable business travel, AI, and blockchain technology will continue to be business travel trends in 2023 and years to come.
If your company is looking for better ways to manage business travel, investing in travel management software like ITILITE is the right choice. We provide your employees with a seamless travel experience while also helping you control costs. We take care of everything right from bookings and free cancellations, providing personalized booking options and 24/7/365 customer support. 
Get a free demo of ITILITE to try the features yourself.