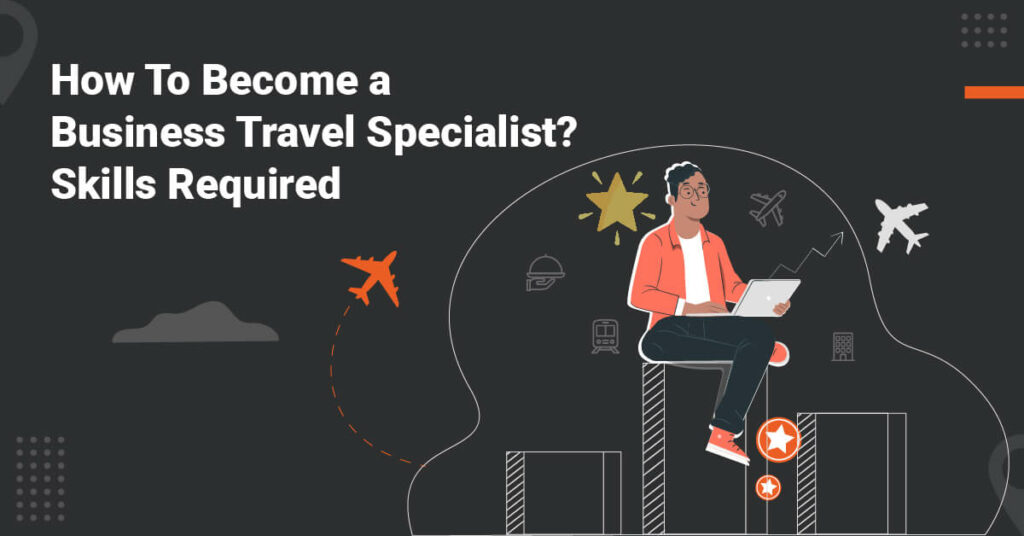 When employees go on a business trip, they need to consider factors such as accommodation, transportation, and expenses. Most of the time, these activities are handled or managed by travel managers who know every minute detail about the business travel process. However, the question arises – how can a travel manager become a business travel specialist?
If you are a travel manager looking to become a successful business travel specialist, you need certain skills to carry out these tasks efficiently. Developing these skills will help you meet your goals and exceed your client's expectations.
Let's look at some of the important skills you must have in order to become a successful business travel specialist:
Good Communication Skills
Communication is one of the most crucial skills for any business travel specialist. As a specialist, you will have to interact with employees, including C-level executives, managers, as well as suppliers, and vendors.
Hence, you must master the art of interacting and listening. Speaking in simple language and asking the right questions will put travelers at ease and create space for an interactive conversation.
You must also be able to communicate travel plans and needs effectively while keeping the company's travel policy in mind. With good communication skills, you can easily communicate the travel policy and other travel information to business travelers, prospective clients, and others.
Industry Knowledge
To become a business travel specialist, it is imperative that you know and understand the business travel industry's ins and outs.
You must be up-to-date with the latest news and updates in the industry by reading from various online sources and interacting with travelers or other people in the industry. It is also essential to keep up with the latest business travel trends so that you know what to expect.
Travel Planning
Whether employees are traveling for the first time or are frequent travelers, you must be able to plan their business trip meticulously. You must know which flights employees prefer more and why, which accommodation options are safe, which airlines or hotels offer corporate discounts, and many more.
Sometimes, there may be many employees who are traveling to different destinations. Therefore, you must be aware of the varying climatic conditions and if there is any ongoing political unrest in all those places.
Additionally, you must know how to create a travel itinerary, prepare travel checklists, conduct market research, know local sightseeing places, provide travel packing suggestions, activities they can indulge in, and many more.
Interpersonal Skills
A part of the business travel specialist's job is to build relationships with travel vendors.
Building strong relationships with them will help you grab better deals on rates and help you get more insight into how the vendors operate. This is especially useful when making travel arrangements.
Also, you will be interacting with business travelers before, during, and after the trip.
You must look for ways to help travelers, be aware of their reactions and empathize with them if need be, understand their behavior and provide relevant travel information. You can also boost your interpersonal skills by learning different languages and understanding cultural diversity.
Budgeting Skills
A travel manager is responsible to managing employees' budgets when they go on a business trip. You must consider numerous factors, such as expenses the company reimburses, the expense limits, how much money employees spend on food and travel, etc. However, unavoidable circumstances and travel regulations can sometimes affect the budget.
You must constantly be updated with what is happening in the travel market. You must continuously enquire about price changes, various hotels and flight inventories, understand how travelers can travel within a certain budget, and draft cost-saving strategies. With all this information, you will be able to create a budget plan according to the employee preferences and the company's policies.
Tech-Savvy
In the changing world of business travel, you must be tech-savvy. The new-age technologies such as Artificial Intelligence (AI), the Internet of Things (IoT), and Virtual Reality (VR) have changed the landscape of the business travel industry.
Familiarizing yourself with the latest travel technology helps you improve financial productivity and traveler experience right from when they book their trips till they return home.
For instance, opting for travel management software helps employees book travel as per their preferences. For travel managers, it gives a 360-degree visibility of the entire travel process, making them improve policy compliance, identify cost leakages, and more.

Customer Service
Business travel specialists often act as a point of contact for employees who go on business trips. During business travel, employees may sometimes encounter circumstances such as flight delays, loss of baggage, inclement weather, etc.
Under such situations, having great customer service skills will help you calmly address travelers' problems and resolve any conflicts with vendors or travelers. You must know how to empathize and stay positive and calm when a traveler is frustrated. You should also be flexible in responding to different situations and stay confident and positive.
Art of Negotiation
Nowadays, most business travel specialists find ways to reduce overall business travel costs. You can control costs and increase savings by regularly negotiating with airlines, accommodations, and other transportation facilities.
Negotiating skills will help you enforce travel policy without escalating business travel expenses. At the same time, you must also remember to keep the business travel experience of travelers intact while negotiating for the best deals and offers. Negotiation skills are also useful while handling unhappy or angry customers.
Managing Business Trips
Once a business trip is booked and deals are secured, it is vital that you must be able to manage their business trips. You must be able to make any changes to the original trip itinerary if any last-minute problems arise, such as difficulties accessing credit or debit cards, online transactions, processing tickets, etc.
Also, you must be able to assist travelers if they are stuck in any situation. If travelers are unhappy with accommodations or concierge services, you should immediately provide them with alternative options. Hence, managing business trips is an essential skill to have.
Scheduling
As a specialist, you have to handle the logistics of your clients' travel schedules. You must ensure no overlap in any appointments, delays, or cancellations. You must have scheduling skills to ensure your clients can board their flights and check in to their hotels on time.
Strong scheduling skills involve monitoring all cancellations, updating itineraries, and making any necessary adjustments to any last-minute changes. You act as a mediator between travelers and vendors. Hence, you must have good scheduling skills while planning or managing a trip.
Time Management
Sometimes, you must work with multiple employees simultaneously. Being good at time management allows business travel specialists to balance priorities and meet the requirements of all travelers without having to rearrange schedules or work overtime.
Time management skills are extremely important as you must pay attention to deadlines, respond to all calls, messages, and emails, set aside time to deal with other ongoing tasks, and prioritize important tasks over not-so-important tasks, among others.
Post-Trip Support
To become a business travel specialist, you need to provide support to employees even after they complete business trips. It is important that you take their feedback and understand if they faced any issues during their travels. If employees have encountered any problems during their trip, you must be responsible for solving them and ensuring that they don't repeat.
When you provide post-trip support to travelers, you will be able to understand their pain points, modify your business travel management process, and improve the business travel experience of the employees. It will also let business travelers know that you care about them and are more likely to consult you again. Hence, post-trip support is an important skill to have.
Become a Business Travel Specialist
Companies depend on travel managers to take care of their business travel process. So, it is essential that you cultivate the skills mentioned above and become a specialist in this field. One of the necessities of becoming a business travel specialist is to invest in the right software.
ITILITE offers you a robust travel booking and management platform to streamline your travel process. You can set granular policies, expedite approvals, and get real-time visibility into travel data. We also offer 24/7/365 business travel support to employees so you don't need to worry about their issues.
Book a free demo of ITILITE to check all the features yourself.