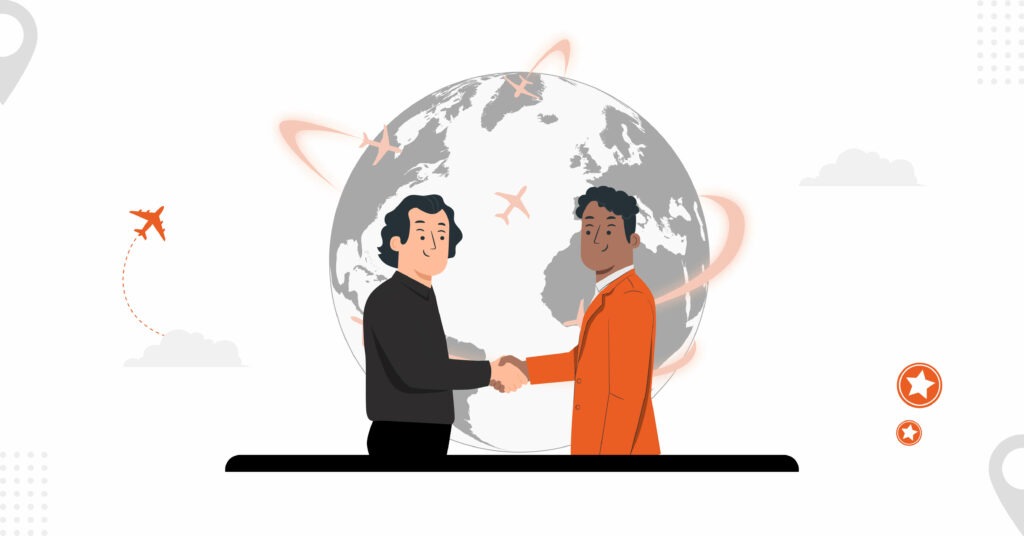 Global travel management can be a complex and challenging process, especially for businesses that have employees going on business trips frequently. From booking flights and accommodations to managing travel expenses, many aspects of global travel management require expertise and experience.
This is where having a reliable and capable travel partner comes in. A travel partner helps you carry out your business travel process seamlessly.
Let's discuss the must-have capabilities of your travel partner for global travel management. By understanding these capabilities, travel managers and company owners can choose the right travel partner so that their employees can have a seamless and stress-free travel experience
Some of the capabilities you should look out for include:
1. Global Reach
One of the most important capabilities your travel partner should have is a global reach. Travel managers or company owners must look for a travel partner with a vast network of travel vendors. This includes airlines, hotels, and car rental companies in different destinations across the globe.
Let's assume you are looking for a hotel in Paris for one of your travelers. In that case, your travel partner should be able to provide you with various options, from budget-friendly to luxury accommodations. They must also help you book flights, arrange layovers, and provide your employees with local recommendations for lunch/dinner, entertainment, and sightseeing.
A travel partner with a global reach can help you plan and manage your travel arrangements to carry out business travel activities seamlessly.
A global travel partner will also enable you to book at negotiated rates with hotels and flights. This is one of the aspects that indicates a healthy travel and expense system. In order to find out the health of your organization's T&E proceses, use the calculator below.
2. Expertise in Modern Technology
In today's digital age, technology is vital in business travel management, from booking tools to mobile applications. Therefore, the travel partner you choose must possess technological expertise.
Your travel partner should be up-to-date with the latest travel technology. The competent travel partners offer their customers an advanced travel management software (TMS) solution. A TMS empowers employees with a self-booking option where they can book their business trips. On a single screen, employees get handpicked personalized choices according to their preferences from a vast inventory of flights and hotels.
Some of the best travel partners also use a virtual travel consultant that will help you control business travel expenses. A virtual travel consultant like ITILITE Mastermind provides practical data-driven insights and recommendations to cut down on your travel costs and optimize your travel management process.
The AI analyzes employees' previous travel data and collects information from external industry data from which travel managers can know how much they can save.

3. Round-The-Clock Global Travel Support
Another essential capability that you should look out for in a travel partner is round-the-clock global travel support. Employees can face issues during business travel such as flight delays, late check-ins in the hotel, baggage claims, etc. During such situations, it is important that employees get the required help.
Hence, your travel partner must provide business travel support to your business travelers. You must ensure they provide 24/7/365 travel assistance through various mediums such as chats, calls, emails, etc. This way, employees can immediately contact the support team in case of any emergency.
4. Travel Risk Management
There is no denying the fact that there are a lot of risks associated with business travel. These risks include natural disasters, flight delays, political unrest, and many others. That's why having a travel partner with a comprehensive risk management program is essential for global travel management.
Your travel partner should have a risk management program that includes traveler tracking, emergency response planning (health emergencies such as Covid-19), etc. They should be able to manage these risks by helping you create and manage a seamless duty of care plan.
5. Cultural Expertise
When employees travel to different countries, it's important to have a travel partner that has cultural expertise and understands the local customs and traditions. This can help employees avoid cultural faux pas and ensure that they have a more authentic and meaningful travel experience.
Your travel partner should have a team of travel consultants with cultural expertise, such as the local customs and traditions, know what is considered offensive, and understand business travel etiquette, and the local laws and regulations, among others. They should be able to provide your employees with advice and guidance on how to navigate cultural differences and interact with local people in a respectful and appropriate manner.
By having a travel partner with cultural expertise, travel managers can ensure their employees have an authentic and meaningful travel experience and avoid cultural misunderstandings.
6. Personalized Travel Service
While going on business trips, business travelers usually prefer staying at a particular hotel or flying on a specific flight. But sometimes, it becomes hard to find policy-compliant flight and hotel booking options. For instance, business travelers may want to stay in a hotel close to the airport but may not find suitable accommodations within the policy limit.
Your travel partner should be able to provide your employees with personalized business travel booking. Some of the best travel partners use a corporate travel booking tool to provide personalized service. The tool uses predictive analysis to analyze your employees' previous travel patterns and recommends travel options based on those patterns.
Some travel partners also provide you with the option to configure preferred hotels and flights in the booking policy, thus enhancing personalization.
7. Sustainability
A few years ago, sustainability was just a buzzword. However, in the current time and age, it is a necessity. A report by Fast Company has revealed that business travel contributes to at least 2% of greenhouse gas emissions (GHG).
Therefore, many top corporate travel management companies are adopting sustainable business travel activities. If your company too is looking to adopt sustainable measures, ensure that your travel partner is committed to sustainability. 
They should be able to help reduce your company's environmental impacts, such as carbon offsetting, eco-friendly accommodations and travel options, and implementing a green travel policy.
Employees can enjoy a more responsible and sustainable travel experience by having a business travel partner committed to sustainability. This also minimizes your company's environmental impact and implements green initiatives.
Ensure you Carry out your Global Travel Management Activities Seamlessly
Choosing the right travel partner for global travel management is essential to ensure your employees have a successful and enjoyable travel experience. The travel partner you invest in should possess a range of capabilities, including a global reach, technology expertise, and risk management, among others. By having a travel partner with these capabilities, business travelers can enjoy a seamless, stress-free, and smooth travel experience.
If your company is looking for a travel partner, ITILITE is the answer. ITILITE is a travel management company that helps employees, travel managers, and even company owners make the most out of their business travel management process. We provide 24/7/365 business travel support, help you plan itineraries, provide personalized recommendations, track your company's carbon footprint, and many more.
Experience these benefits by booking a free demo now.