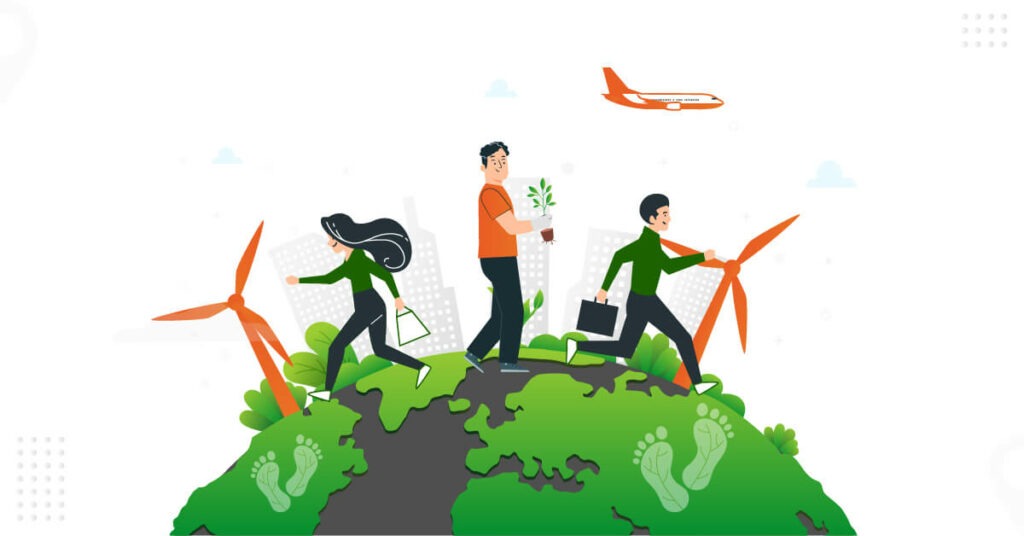 Among the many threats the world faces, climate change is the most concerning. According to NASA, changes to the earth's climate due to increased human activities such as deforestation and the release of greenhouse gases are already having several adverse effects on the environment.
More release of these greenhouse gases means more extreme climates and widespread damage across the planet. Hence, it is high time that everyone, including organizations, takes climate change seriously. The only way to mitigate this is by reducing carbon emissions to ensure a sustainable planet.
But how can businesses and companies take steps to combat climate change? The answer is carbon offsetting.
What is Carbon Offsetting?
Carbon offsetting is any activity compensating for carbon dioxide (CO2) emissions and other greenhouse gases (measured in CO2 equivalents) by reducing emissions elsewhere.
This can be done with the help of a carbon offset. A carbon offset is a permit/credit that individuals or organizations can purchase from a third-party vendor to reduce their environmental carbon footprint.
When you purchase a carbon offset (also known as a carbon credit), you can contribute to carbon reduction or removal by countering your carbon-emission activity and making the activity 'carbon neutral.'
Carbon offsets are generally measured in kilograms or metric tons of carbon removed from the atmosphere.
There are two types of carbon offsets-voluntary and compliance.
Voluntary offsets are bought by choice by organizations or individuals who wish to reduce their carbon footprint and help the environment. The firms may purchase voluntary carbon offsets as a means to satisfy environmental, social, and governance (ESG) objectives.
Compliance offsets are bought to meet legal requirements or obligations in regions that use the cap-and-trade systems and carbon markets. This typically applies to larger, carbon-intensive companies and industries.
Why is Carbon Offsetting Important?
Carbon offsetting is important because it allows people to contribute positively to the environment, especially when it is impossible to control or avoid any carbon emissions.
Additionally, these causes receive a lot of funding that can change lives and bring about social, economic, and health changes in the community. With people at the core of carbon offsetting and ecosystems, it allows us to think of a better, cleaner, and greener planet for future generations.
Because of its importance, most companies nowadays are purchasing carbon offset/credit to reduce their carbon footprint. As of October 2020, 163 Fortune Global 500 companies have made public commitments to achieve climate targets, with the common aim of becoming carbon-neutral. Also, In 2019, Amazon committed $100 to worldwide reforestation and environmental protection efforts to reach carbon neutrality by 2040.
How does Carbon Offsetting Work?
If your company is considering carbon offsetting, you must fully understand what it means and how it works.
Carbon offsetting works on the basis that the carbon dioxide absorbed by the atmosphere can cancel out the carbon dioxide emitted elsewhere. A company usually pays a broker, often known as a carbon broker. The carbon broker is an agency or a professional that invests in environmental projects with the amount paid by the company. Thereafter, the company gets carbon offset units in return.
The company first calculates its carbon footprint and shows the data to the broker. The broker then charges a certain amount for this and invests in an environmental project or cause that removes or reduces carbon emissions.
For instance, employees regularly board flights for business travel, which releases some amount of greenhouse gases into the atmosphere. To counter this, the company uses a specific software tool designed to calculate the emissions from the flight.
They then purchase a carbon credit from the carbon broker accordingly. The broker can use this amount in environmental projects, such as reforestation which helps offset the carbon footprint.
To do this, the company obtains a certificate that proves they have bought carbon offset, and they can use this to show compliance.
Measures to Achieve Carbon Offsetting
Here are some steps that your company can follow to offset its carbon emissions:
1. Calculate Your Carbon Emissions
There are certain protocols that help organizations calculate and measure carbon emissions. One of them is the GHG protocol which establishes comprehensive global standardized frameworks that allow companies to calculate and manage greenhouse gas emissions.
As per the protocol, the emissions are divided into three scopes:
Scope 1 includes the direct emissions from the company's sources.
Scope 2 involves indirect emissions from an organization's heating or cooling equipment or electricity.
Scope 3 is the indirect emissions from an organization's value chain.
These emissions are measured in metric tons of CO2 equivalents, including other gases. Thereafter, companies must frequently assess and review their carbon emissions and add them to their sustainability and financial reports.
2. Reduce Emissions Wherever Possible
Once you have measured your carbon emissions and identified the sources, you can build a sustainable strategy. Some strategies you can incorporate are:
Create a dedicated department to calculate your carbon emissions.
Set short-term and long-term carbon emission targets and measures to meet them.
Optimize your company's energy consumption by using smart lighting systems and many more.
Additionally, the Science Based Target initiative (SBTi), which aligns with the goals of the Paris Agreement, provides you with guidelines for reducing emissions.
Therefore, you must find ways to reduce your emissions wherever and whenever possible. For instance, if your employees are going on business trips, you can incorporate measures such as asking employees to travel sustainably, including a green travel policy as a part of your company's policy, and many more.
3. Partner With an Organization That Follows Green Practices
Sometimes, no matter how hard you try, it is impossible to avoid carbon emissions. In such cases, your company can partner with organizations that initiate green projects or follow green practices.
These include planting more trees, investing in renewable energy, water conservation, etc. While selecting these projects, ensure they are accredited by scientists and follow environmental laws. After each program, you can claim a certificate showing neutralized emissions.
4. Offset The Unavoidable Emissions
Emissions that are difficult to reduce can be offset. And you can do this with the help of reduction projects that compensate for carbon emissions. However, these projects need to be certified to provide carbon offsets. Climate Action Reserve, Gold Standard, and Plan Vivo are some of the international certifications that these projects need to have.
Once certified, the third-party organizations will verify if the project meets certain criteria that organizations must consider. The criteria are:
The carbon offsets or credits must show the removal or reduction of emissions. Organizations are monitored for the amount they invest in projects and if they follow the right method to calculate emissions.
While creating carbon offsets, there must be no emissions anywhere else. For instance, if one part of the land is protected, a nearby unprotected land must not see deforestation.
Carbon offsets should represent carbon emissions that are permanently fixed. For instance, with projects that store carbon underground, it is very unlikely that it can come back into the earth's atmosphere.
Examples of Carbon Offsetting
Some examples of carbon offsetting projects include:
Reforestation
These projects involve planting more trees. Trees are known to absorb and store carbon for longer periods of time, which will help reduce global warming.
Renewable Energy
Some projects replace fossil fuels with renewable energy, such as wind-generated from a windmill. Wind power is known to have a lesser environmental impact.
Energy Efficiency
Here, projects aim to improve the existing infrastructure, for instance, using sustainable building materials such as clay bricks instead of cement bricks, upgrading the building insulation, etc.
Water Management
This involves replacing polluted or contaminated water with clean water instead of chemically treating them.
Waste Management
Here, the projects capture the methane generated in landfills for waste disposal and used in processes, such as generating electricity.
Aviation
Airline operators use AI to optimize flight paths to reduce contrails-a type of cirrus clouds that increase the atmosphere's cloudiness.
Agriculture
Farmers grow their crops using technology. Moreover, they adopt various measures to increase resources and reduce waste while growing crops.
Carbon Sequestration
In such projects, the companies capture the carbon and store in places that are less likely to be released back into the atmosphere, such as soil and trees.
Make your Company Carbon Neutral with Carbon Offsetting
Climate change is no longer a buzzword now. The negative effects caused by human activities have made everyone, including organizations, question our survival on this planet. Because of this, most companies have started to relook at their policies to incorporate ways to reduce their carbon footprint on the environment.
A better way to minimize your company's carbon footprint is to adopt business travel management software. ITILITE's business travel management software has a feature that helps companies track their carbon footprint monthly or quarterly. With these metrics, you will be able to analyze your carbon footprint and find ways to neutralize them.
Get a free demo of ITILITE to experience various features yourself.