Travel is one of the primary sources of greenhouse gases and, thus, the main contributor to climate change. According to a study by UNWTO, carbon dioxide (CO2) emissions from travel-related transport alone are expected to increase by 25% by 2030. Among all travel activities, business travel is a significant contributor that constitutes about 2% of global greenhouse gas emissions.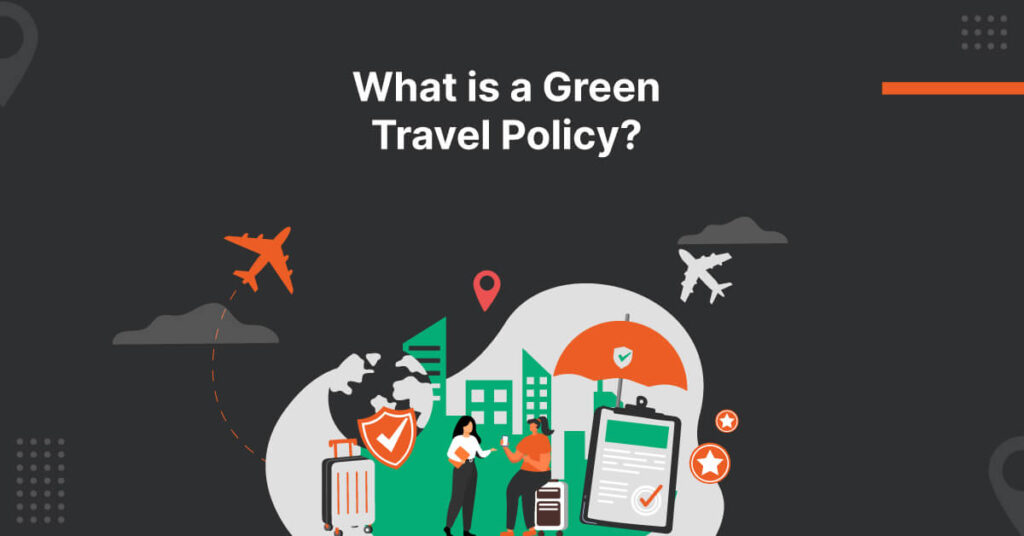 However, the year 2020 saw the effect of the COVID-19 pandemic on the global economy. Everything came to a standstill, including business travel. According to NASA, the shutdown of all the activities reduced the emission of Greenhouse Gases (GHGs) and improved air quality across the globe.
This made many companies rethink their business travel strategies and methods to adopt sustainable travel. With the world back to normal, it's high time companies take essential measures to reduce their carbon footprint. One way in which companies can do this is by incorporating a green travel policy in their system.
Green Travel Policy Explained
A green travel policy is a document that states your company's commitment to sustainability and environmental protection. The policy includes your company's practices and procedures to reduce its carbon footprint caused by business travel activities.
A comprehensive green travel policy can significantly influence your organization's carbon footprint and provide your employees with the support they need to carry out sustainable business travel effectively. Your policy must include:
A declaration of the company's commitment to the environment
A defined procedure to inculcate sustainable methods of business travel across the organization
Greener transportation alternatives for shorter distances
List of strategies your company will deploy to meet these commitments
The Need for a Green Travel Policy
Although business travel is an important contributor to economic success, it is crucial to remember that traveling also has environmental impacts. Whether a business trip is domestic or international, the total carbon emissions caused by a business traveler add to the company's carbon footprint. For instance, the hotel sector contributes to 1% of global carbon emissions.
When an employee travels on business class tickets, there is a larger carbon footprint because the seats take up more space, and only a few seats can be accommodated.
Hence, companies must adopt practices and measures that protect and preserve the environment. A green travel policy defines your company's approach to improving the environment and provides a framework for adopting green practices.

How to Set up a Green Travel Policy?
One of the best ways to set up a green travel policy is to understand where you, as a company, stand with regards to carbon emissions and what measures can be taken to minimize them.
To do that, it is essential to calculate your company's current carbon emissions. Once you analyze the carbon emissions from the company, you can create a proper green travel policy.
Here are a few ways to create a green travel policy:
1. Calculate your Company's Carbon Emissions
When drafting a green travel policy, the first step is to evaluate your business travel activities and establish a baseline of carbon emissions. Create a list of frequent business travelers and the destinations they often travel to. Then, you can identify opportunities to reduce their carbon footprint and implement carbon neutrality.
A better way to calculate your company's carbon emissions is to adopt business travel management software. The advanced software offers you real-time reports on emissions from flights.
2. Analyze your Findings
Once you have your company's carbon emissions metrics, you will get an idea of better ways to implement business travel and strategies to create a robust green travel policy. For instance, you can begin by enabling employees to take direct flights instead of flights with a layover to reduce carbon emissions.
You can also research these destinations and find out if there are any other ways to commute. You can also consider changing business travel goals for sustainability purposes and use them as a reference to set your company's targets.
However, it is also essential to consider the price parameters while analyzing so that the new sustainability practices remain cost-effective.
3. Incorporate Sustainable Methods to Travel
After calculating and analyzing your company's carbon emission findings, establish some easy sustainable methods that your business travelers can implement. Some ways you can include them are:
Encouraging employees to travel via train for shorter distances
If employees need to travel by flight, ensure there are no layovers
Identifying airlines that use bio-fuels for domestic and international travel
Making a list of airlines that adopt sustainable travel practices, such as biodegradable toiletries
Motivating employees to choose electric vehicles to commute locally
Choosing green hotels for accommodation purposes
After you have listed the ways to travel sustainably, you must monitor how your employees follow these new methods of travel. You can reward them for choosing eco-friendly travel options. Rewarding and recognizing them for traveling sustainably will encourage them to follow more such green practices, which further helps companies reduce their carbon footprint.
4. Offset your Company's Carbon Emissions
No matter how hard we try, sometimes it is impossible to avoid carbon emissions. This is where incorporating an offsetting carbon program comes into the picture.
Carbon offsetting is an action implemented to compensate for the carbon emissions caused by any business traveler activity so that it can help diminish the negative impact on the environment. For instance, in 2019, Amazon committed 100$ to worldwide reforestation and environmental protection efforts to reach a goal of carbon neutrality by 2040.
To implement carbon offsetting, your company can partner with organizations that follow green practices such as protecting delicate ecosystems, investing in renewable energy, conducting events to plant more trees, water conservation, and many more.
While selecting such projects, ensure they follow environmental laws and are accredited by scientists or environmental experts. After each program, you can also claim a certificate to prove that emissions are neutralized. This way, you can help reduce carbon emissions regardless of their locations.
Benefits of a Green Travel Policy
Below are some benefits of incorporating a green travel policy:
1. Improves the Company's Brand Image
Your company can stand out from competitors in the business travel world by creating a positive brand image. Since more clients and employees today prefer companies following sustainable practices, incorporating a green travel policy can uplift your company's brand image.
Consequently, you attract more clients, employees, and potential business partners with a good brand reputation.
2. Increases Productivity and Reduces Cost
Incorporating green changes into your company's business travel practices improves employee productivity and reduces costs. For example, adopting a travel management system can reduce your company's dependency on files and papers and simultaneously increase financial productivity.
Promoting active and sustainable travel in the workplace is a good return on investment for the organizations and their employees. You can incorporate simple methods such as booking online tickets instead of paper tickets, encouraging employees to travel via buses or trains, and staying in green hotels. Moreover, green practices, such as prioritizing meetings, clubbing multiple events in one trip, or video conferencing whenever possible, can significantly reduce travel costs.
3. Tax and Monetary Benefits
Apart from the benefits mentioned above, your company can enjoy tax/monetary benefits for following sustainable practices. Various government organizations worldwide emphasize the need to go green and preserve natural resources.
For instance, the U. S Government offers various tax benefits and financial incentives for businesses that go green. This includes tax breaks, tax credits, and other monetary benefits for adopting green travel practices.
4. Government Grants and Subsidies
Apart from tax concessions, your company can qualify for government subsidies and grants. The Environmental Protection Agency (EPA) gives grants to companies that incorporate programs that promote environmental protection and preservation.
Also, Small Business Administration (SBA) provides financial support to companies that adopt eco-friendly solutions.
Make your Travel Policy a Green Travel Policy
Business travel is one of the largest contributors to the increasing climate change and global warming. Yet, research shows that most organizations aren't taking any action toward it. By incorporating a green travel policy, you can reduce your company's carbon footprint and contribute to the environment.
ITILITE's travel management software has a feature that helps your company track its carbon footprint monthly or quarterly. With these metrics, you will be able to analyze your carbon footprint and identify ways to neutralize them.
To know more about ITILITE features, get a free demo today.