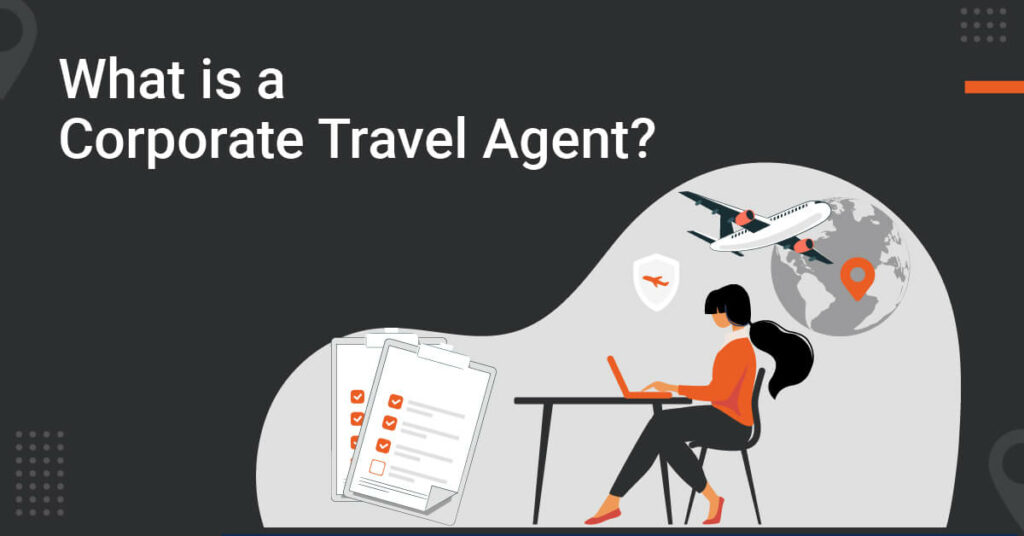 Often, when employees book their tickets directly through third-party airline portals, it results in various issues, such as policy compliance and booking tickets at a higher price.
Therefore, if your company sends employees on business trips frequently, you need a streamlined, cost-effective solution for travel bookings. One of the solutions to get your travel management process on track is hiring a corporate travel agent. 
What is a Corporate Travel Agent?
A corporate travel agent is a professional who works in a corporate travel agency and helps companies to manage their business trips efficiently. This can involve researching cost-effective travel options, booking hotel and flight tickets, providing business travel consulting, and answering any travel-related questions. They may also assist in getting visas and providing business travel support.
Corporate travel agents can also be helpful when organizing a corporate trip, as they offer personalized service and can help plan everything related to the trip. This includes putting together a travel itinerary that meets your company's specific needs and taking care of other complex details to ensure that your trip goes smoothly.

How can a Corporate Travel Agent help you?
1. Itinerary Planning
The corporate travel agent will work with you to plan the most efficient and cost-effective itinerary for your business trip. They can help you find the best flights as per your schedule and needs, as well as save you money by curating a budget-friendly travel accommodation package. 
If you need to make any changes to your trip, a small business travel agent can also help you modify your bookings with minimal cost and hassle. On the contrary, if you try to make these changes directly via the airline company, you may lose a lot of money.
2. Flight and Hotel Bookings
You can use corporate travel agents to book your flight and hotel tickets and take advantage of their access to exclusive deals and discounts for business travelers. This is because they get tickets at a lower cost as they work with many companies and negotiate corporate hotel rates for a high volume of employees with both airlines and hotels. 
Furthermore, travel agents licensed by IATA or ARC can directly issue flight tickets on behalf of the airlines, making the process even easier for you.
In addition to booking airlines and hotels, a business travel agent also keeps track of an employee's travel preferences (if they have any) and tries to accommodate them. Additionally, if certain employees have received travel perks from the company such as an extended stay at the hotel or an upgraded seat on the flight, the agent will arrange that as well.
3. Visa Arrangements
If you're a business traveler, you know that one of the most important things to sort out before your trip is your Visa. Applying for a Visa can be a bit of a headache, but luckily there are small business travel agents to help you with it. These agents usually have a lot of experience with the Visa application process and can offer their assistance to obtain your Visa without much difficulty. 
They help with documentation procedures and handle other details which might be complex for you to understand. Moreover, corporate travel agents also usually have a wide network of contacts in different embassies, due to which Visa applications can be seamless.
4. Corporate Travel Recommendations
A travel agent can be extremely helpful when it comes to booking business travel. They have an in-depth understanding of most aspects of business travel and can usually offer good advice on hotels that offer the best value for money and flights that provide the best services. 
Additionally, travel agents also usually have good tips on where you can cut costs in your business travel. This is because they have gained experience from booking multiple tickets, getting reviews from various customers, and staying in contact with hotel chains and airlines.
5. Corporate Traveler Support
A small business travel agent is a trained professional who can assist business travelers with problems that may arise during their trip. Whenever travelers face issues or has queries, they can contact the agent by phone or text and receive effective solutions. The agent can help with things such as modifying the travel arrangements and offering safety tips in case the traveler requires them.
Other Pros of Employing a Corporate Travel Agent
Along with the services already mentioned, there are additional advantages you receive when working with a small business travel agent.
1. Ensuring Travel Policy Compliance
A small business travel agent understands the travel policy of a company and books flight and hotel tickets that meet those policies. 
2. Handling Travel Expense Procedures
Some companies choose to delegate travel-related expense procedures, such as reimbursements, to their in-house travel agent.
3. Getting the Best Deals
The agent will work with you to get the best flight and corporate hotel deals that fit your budget.
Cons of Employing a Corporate Travel Agent
1. Lesser Visibility Into Trip Processes
By delegating their travel-related procedures to an external agent, companies lose sight of important details regarding their employee's business trips.
For example, the company is unaware of the actual price of negotiation, whether they could get a further discounted price, the average money spent by a particular department, the percentage of cancellations, and safety issues faced by employees.
Without such critical information, it is difficult for the organization to make improvements for future business trips.
2. No Round-the-clock Support
A business travel agent cannot always provide 24/7 support to travelers. For example, if a business traveler needs immediate assistance with booking a flight because they missed one late at night, they'll likely have to wait until morning to contact the agent.
In other words, there are situations where employees need immediate assistance to avoid any safety issues. An agent cannot help in all circumstances.
How to Manage your Corporate Travel Seamlessly?
While travel agents might be able to help you plan and book your business travel, travel management software makes the whole process effortless for you. With this software, there is no need for a middleman, and you can take control of your business travel by making all the arrangements yourself.
It allows you to book tickets, track travel expenditures, and analyze your spending on a single platform. Not to mention, it can also help you save time and money.
Travel management software makes business travel effortless for you in the following ways:
Allow employees to book tickets for themselves easily amongst a curated list of personalized packages.
Get the best deals through a wide inventory sourced through GDS (Global Distribution System) and save costs for your company.
Travelers can modify their itinerary, get rental cars, and keep their tickets on a single application.
Streamline travel approvals by gaining access to a multi-level approval workflow through the travel management software
Get deep insight into important travel KPIs such as department-wise spending, high-spending employees, and policy violations.
Track your employees in real-time to ensure their safety
Give round-the-clock travel support to your employees so that they can get assistance at any hour of the day
Integrate travel policies with the software to achieve 100% policy compliance
A Comprehensive Solution for your Travel Needs
Having an efficient solution to manage your business travel is imperative, especially if you are a growing business. A travel management platform like ITILITE is a scalable option that allows you to create and manage your travel itinerary easily and also ensures your employees' security.
ITILITE is an advanced SaaS-based travel management solution that offers you the best deals on your travel reservations, zero cancellation charges on flight bookings, concierge services, and round-the-clock travel support.
To know more about our services, talk to our team now.