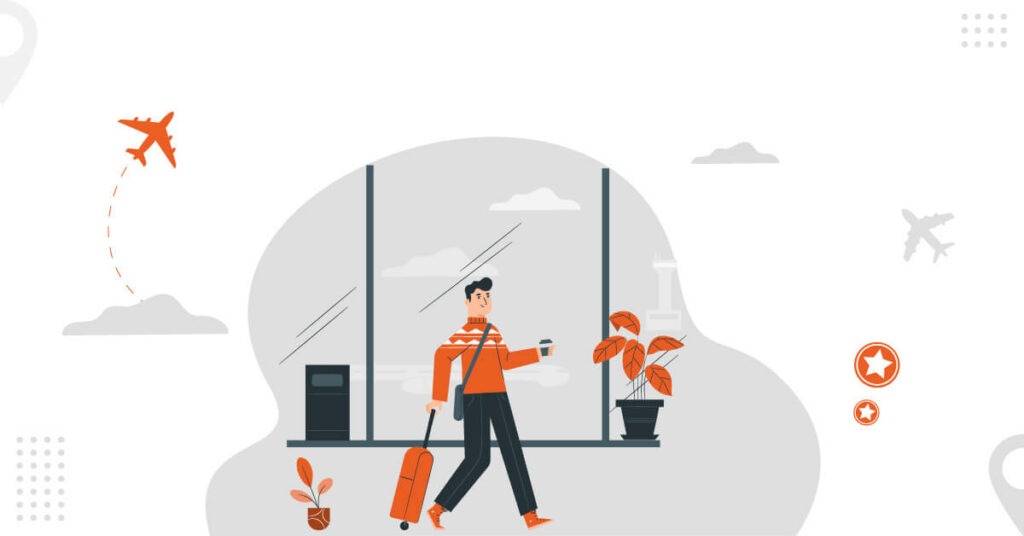 Companies often have to send their employees on business trips for various reasons, such as closing deals, exploring new markets, negotiating contracts, and completing other business activities.
To ensure that your business trips are a success, you must consider your business travelers needs. This involves prioritizing their comfort, safety, and convenience while they are on the road so they can stay productive.
Check out the infographic to gain valuable insights and better understand what you can do to fulfill the requirements of your business travelers.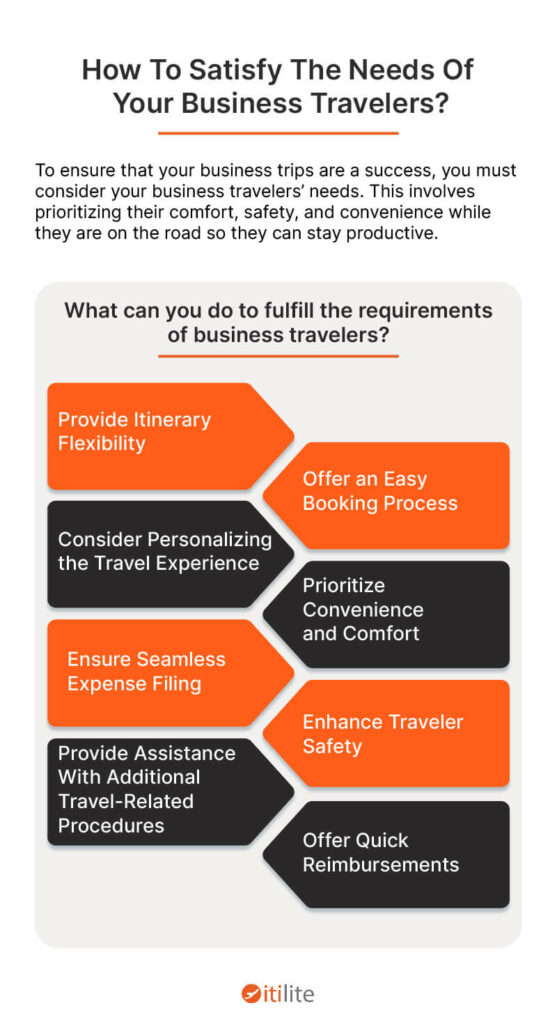 To learn more, continue reading.
1. Provide Itinerary Flexibility
Corporate travelers often have to face sudden changes in travel schedules due to multiple reasons, such as flight delays, rescheduling of client meetings, and so on. Therefore, it's essential that you give them some degree of flexibility so they can change their itinerary when it's necessary.
To do this, you can offer a flexible travel policy to your employees so that they can make last-minute changes to their flight and hotel bookings.
However, to provide flexibility to your employees, you will also have to consider the financial costs associated with reschedules and cancellations. To save money, you can consider partnering with airlines that offer free changes or cancellations in cases when the arrival or departure time changes significantly. Plus, you can also take advantage of airlines that offer lenient cancellation policies, such as American Airlines, which allows you to use the value of an unused ticket for future bookings (up to 1 year).
2. Offer an Easy Booking Process
Employees are often bogged down with strict monthly targets, deadlines, and meetings, which can leave them feeling frazzled. So, when it comes to booking business travel, they need a quick and easy process that won't take up too much of their time or energy.
By streamlining your booking process and reducing the number of steps/approvals required to book a trip, you can make traveling for business much easier for yourself and your employees.
3. Consider Personalization
Corporate travelers need a personalized travel experience to have a smooth trip and consequently enhance their productivity levels. Hence, it's important to consider your employees' personal preferences and requirements for business travel before booking a trip.
For example, some corporate travelers may have special dietary restrictions, while others may prefer an aisle or window seat on an airplane. Additionally, different travelers may have different transportation and amenity needs.
Typically, due to a large volume of bookings, in-house travel managers do not have adequate resources or bandwidth to pay attention to each and every requirement of the travelers. 
Therefore, it is more beneficial to opt for a travel management solution that provides your travelers personalized booking options based on their preferences and previous bookings. This way, you can ensure that all travel requirements of your employees are fulfilled.
4. Prioritize Convenience and Comfort
Corporate travelers spend a lot of time on the road and can feel quite exhausted because of the same. In order to minimize stress and feel energetic to complete tasks, they require that their trips are as comfortable as possible. Prioritizing comfort and convenience for your travelers ensures that they have a smooth journey and stay productive during the trip. To do this:
Book tickets for airlines that are reliable and offer high-quality services.
Prefer booking non-stop flights so that employees' time is utilized efficiently and they do not feel too exhausted after reaching the destination.
Pre-book ground transportation so that the employee can conveniently reach the hotel from the airport.
Book hotels that have been rated and reviewed well by business travelers and provide all the necessary amenities, such as a dedicated work desk, high-speed internet, clean linen, toiletries, etc.
Avail TSA Precheck for your employees so they do not waste time standing in long security queues.
5. Ensure Seamless Expense Filing
One of the major issues that corporate travelers face is collecting and storing receipts while on a business trip. Usually, travelers have a packed schedule and can often forget to collect receipts. Moreover, physical receipts are prone to get damaged and misplaced. Therefore, one of the more important business travelers needs is a digital expense filing system.
For this, you can opt for an integrated travel and expense management system. It allows employees to store their receipts on the cloud and file their expense reports on the go. Moreover, they can view the company's expense policy while filing a report, so there's no confusion about which expenses are reimbursable and which ones aren't. The application also enables corporate travelers to stay on top of their trip budget by letting them track their spending in real-time.
6. Enhance Traveler Safety
Getting proper safety support from the company is another crucial requirement of business travelers. Employees often travel to unfamiliar destinations, and their first priority is to feel safe in their environment. Without a sense of safety, they cannot focus on the business tasks that they are supposed to accomplish. Therefore, ensuring traveler safety is one of the non-negotiable business travelers needs.
To optimize traveler safety, you can take the following steps:
Identify the risk the traveler might face with a pre-trip risk assessment
Ensure that the destination is safe to travel
Provide travelers with business travel insurance
Provide travelers with safety objects such as portable door locks, emergency alarm
Provide safety training so that they can identify, assess and avoid dangers
Give them emergency contacts to ensure proper communication in case of an emergency
Live-track your travelers to reach them in unforeseen circumstances
Monitor disruptions at the destination to inform your travelers of safety precautions
Have a duty of care plan in place
Take traveler safety feedback for continuous improvement
Corporate travelers need assistance with obtaining visas, forex, and other such procedures. This is because the process of obtaining a visa or forex card can be confusing and complex to understand, especially for first-time travelers who are unfamiliar with the requirements.
For example, when applying for a visa, travelers need help picking the right type for their business trip. This is because different countries offer different types of visas for business, work, or tourism purposes.
8. Offer Quick Reimbursements
Employees who travel for business often have to spend their own money upfront with the expectation of being reimbursed by their employer when they return from their trip. However, many times companies delay in providing reimbursement, which can cause financial stress for employees whose monthly budget may be disrupted as a result.
Prompt reimbursement ensures that corporate travelers have a steady cash flow and aren't unduly stressed financially. Additionally, an efficient reimbursement process can improve job satisfaction and help build trust between the employer and the employee.
An integrated travel and expense software solution can help to expedite your travel reimbursement procedure by allowing managers to approve expense reports with just a click of a button. Additionally, the software can prevent delays by sending real-time notifications to managers about new approval requests in their dashboards.
9. Provide Round-the-clock Travel Support
Business travel can often be unpredictable and challenging, so it's important for travelers to have a support system in place in case they face any issues while they are on the road. That way, they can get the help they need with things like upcoming flight bookings, changes in itineraries, real-time updates on flight schedules, emergencies, weather disruptions, etc.
Travel managers want to make sure that any questions or concerns your employees have while they are traveling are answered as promptly as possible so that their trip goes smoothly from start to finish. To offer round-the-clock travel support, consider partnering with a travel management company (TMC) with a dedicated team that can help your employees anytime they need it.
When choosing a TMC, be sure to check that the average wait time for questions or concerns to be answered is low (less than 30 seconds is appropriate). And that they provide support on multiple channels, i.e., call, text, or email.
10. Provide Wellness Support
Traveling for business can often be physically and mentally taxing. Corporate travelers often forget to have proper meals, stay hydrated, and exercise enough while they are on a business trip. Such habits can cause exhaustion and decrease productivity significantly. In extreme cases, they might also experience burnout.
Here are some things you can do to help your employees stay healthy on business trips:
Encourage them to form healthy habits, such as packing fruits and carrying a reusable water bottle.
You can book hotels that have fitness centers so that they can easily access them.
Provide them with gym memberships so that they stay inclined to stay fit, not just while on their business trip.
You can also provide access to mental health resources, such as online counseling or support groups.
11. Provide Time For Leisure
After completing their business trip targets, corporate travelers often feel tired and in need of some time to relax. Bleisure (leisure time on business trips) is increasingly popular for this reason, as it allows travelers to unwind and de-stress. A study conducted by American Hotel & Lodging Association found that 89% of those surveyed wanted to add leisure time to their next business trip.
Bleisure activities are a great way for corporate travelers to explore the culture of their destination, meet new people, and create lasting memories. If many employees go on a business trip together, bleisure activities can also promote team building and improve trust between employees. Adding leisure time to business trips can help employees feel refreshed and relaxed, which may enhance their productivity when they return to the office.
12. Provide Reasonable Allowance
When it comes to business travel, companies sometimes provide an allowance to their employees to help cover expenses. This allowance can come in the form of a per diem, which is a daily expense limit, or a fixed amount for the entire trip.
However, sometimes companies do not provide enough expenses to their employees, due to which they might have to compromise their comfort or safety in order to stay within the budget. Such a situation can have many negative consequences not only for the employee but for the company as well.
Therefore, it's important for companies to evaluate what would be a reasonable allowance so that employees have enough resources to be productive on business trips. When considering how much allowance to give your employees for a business trip, you should take into account the cost of living at their destination, the length of the trip, the purpose of the trip, employee level, industry standards, and any specific requirements of the employee.
13. Implement Feedback
Lastly, to truly fulfill your business travelers needs, you must take feedback seriously. Feedback can highlight which areas need improvement to improve the travelers' experience. It can also help you identify where you can save cost or, on the contrary, which areas you need to allot more budget.
Moreover, addressing any concerns that the traveler may have may build trust and enhance employee loyalty. Ultimately, feedbacks help in optimizing the overall travel program and make business travel more smooth for employees.
Fulfill your Business Travelers Needs
Satisfying the business travelers needs requires a well-thought-out approach that considers their comfort, safety, and convenience. Furthermore, to ensure that the needs of your business travelers are met, it is important to stay informed about the latest trends and best practices in business travel. 
To optimize your travel program, you can consider opting for ITILITE. It is an integrated travel and expense management software solution that allows for easy and personalized bookings, seamless expense filing, and quick reimbursements. We also provide 24×7 travel support so that your employees feel safe while traveling.
To know more about the benefits, book a free demo.