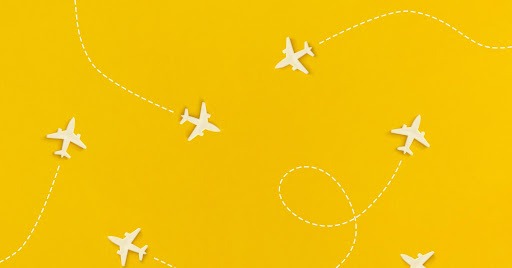 Whether you are a road warrior or a first-time business traveler, it is no doubt that business travel requires a lot of planning. Employees may have to travel often, sometimes multiple times in a month. And some of these months include peak travel season, where a lot of people travel for leisure purposes.
During such times, if you have an upcoming business trip, you may see a rise in flight fares or the hotel rooms sold out.
Hence it becomes necessary that you, as a business traveler, plan every business trip meticulously. And if not planned properly, it can ruin your whole travel experience.
Hence, in this blog, we will share some important business travel planning tips during peak travel months so you can travel seamlessly.
1. Plan Ahead and Book Early
The first and most important tip is to plan very well in advance and make your flight, hotel, and accommodation bookings as early as possible. This is because traveling during the peak season means everything is in high demand.
By planning your business trip well in advance and booking early, you can secure the best rates, availability, and preferred seats. Here are some key points to consider:
Research and compare: As soon as you know your travel dates, start researching and comparing prices for flights, hotels, and other transportation options. Visit multiple travel websites or use aggregators to find the best deals and identify the most suitable options for your trip.
Set fare alerts: Set up fare alerts on travel websites or use specialized apps that notify you when prices drop or when there are significant changes in fares for your desired routes. This allows you to capitalize on any discounts or promotions that may arise.
Refundable or flexible tickets: Consider purchasing refundable or flexible tickets depending on the nature of your business trip. While they may be slightly more expensive, they provide you with the flexibility to make changes or cancel your plans without incurring hefty penalties.

Accommodations: Along with flights, ensure that you book your business travel accommodations early. Business hotels in popular destinations fill up quickly during peak months. Hence, you must look for hotels that offer cancellation policies and align with your needs in case there are any changes to your travel plans.
2. Leverage Technology
It is no secret that technology has simplified our lives in many ways. In today's day and age, leveraging technology can greatly enhance your travel experience during peak travel season. Let's see some of the ways in which technology can help you with your trip planning:
Flight tracking apps: Download flight tracking apps such as FlightAware or FlightRadar24 to stay updated on the status of your flights. These apps provide real-time information about delays, gate changes, and cancellations. You can adjust your plans and minimize disruptions by staying informed.
Travel Management Software: You can also use travel management software that provides you with personalized options from a wide range of flight and hotel inventory. Moreover, you also get round-the-clock support if you face any trouble while making bookings or with any travel arrangements.

Currency conversion apps: When going on business trips, especially internationally, you must download currency conversion apps. Apps such as XE currency, currency converter plus, and easy currency converter provide you with up-to-date exchange rates and help you calculate costs accurately in the local currency.
Travel management apps: Consider using travel management apps like ITILITE to centralize your travel itinerary, including flight details, hotel reservations, and meeting schedules. ITILITE provides you with real-time updates, sends reminders, and offers additional features such as expense tracking.
Business travel tools: During peak travel months, whether certain meetings can be conducted virtually instead of in person is worth considering. As a business traveler, it is crucial that you make use of some important business travel tools such as e-signature tools, video, and audio conferencing tools, expense management software, etc., which can significantly save you time.
3. Utilize Loyalty Programs 
During peak travel seasons, utilizing your loyalty programs can save you a lot of time, money, and effort. Airlines, hotels, and car rental companies offer loyalty programs that reward customers for their continued patronage.
By leveraging these programs, you can enjoy various benefits and perks that enhance your travel experience. Here is how loyalty programs can help you during peak travel seasons:
Flight loyalty programs: Enrolling in a flight loyalty program allows you to accumulate frequent flyer miles or points. These can be earned based on the distance traveled, ticket class, or fare type. As you accumulate miles or points, you can redeem them for various rewards such as free flights, upgrades to higher-class cabins, priority check-in, and access to exclusive airport lounges.
Some airlines also offer additional perks like expedited security screening, priority boarding, and dedicated customer service assistance.
Hotel loyalty programs: Hotel loyalty programs operate on a similar principle. When you stay at participating hotels, you can earn points that can be redeemed for free nights, room upgrades, or other benefits. And during peak travel seasons, this can help you get rooms of your choice in your preferred hotels very easily.
Car rental loyalty programs: If you frequently rent cars for business travel, joining car rental loyalty programs can be advantageous. These programs typically offer benefits such as expedited pick-up and drop-off processes, upgrades to higher car classes, discounted rates, and special promotions.
And during peak travel months, these discounted rates and upgrades can help you save time and money.
4. Consider Alternative Accommodations
During peak travel months, hotel availability can be limited, and prices can skyrocket. Therefore, you must consider alternative accommodation options like serviced apartments or vacation rentals.
You can look up websites such as Airbnb or Booking.com that offer a wide range of options, including fully furnished apartments with amenities like kitchens and laundry facilities.
These alternatives can provide more space and a home-like environment, which can be especially beneficial for longer business trips. This helps makes your business travel management process more streamlined and smoother.
5. Pack Smartly
Packing for business travel can be quite challenging, especially when luggage space may be limited and efficient packing becomes even more crucial. Here are some tips to help you pack smartly:
Make a packing list: Create a comprehensive packing list before you start packing. This will ensure you don't forget any essential items and help you stay organized. Divide your list into clothing, toiletries, electronics, and documents categories. A clear checklist will prevent you from overpacking or leaving important items behind.
Pack according to the weather: Research the weather conditions at your destination during your trip and pack appropriate clothing for the climate. Consider packing layers that can be easily added or removed to accommodate varying temperatures. Planning your clothing based on the weather can avoid unnecessary bulk in your luggage.
Pack efficiently: To optimize space in your luggage, use packing cubes or compression bags. You should make some space to keep some cash, medications, documents, electronic gadgets, etc. Here's a checklist to help you keep track of business travel essentials.
6. Stay Connected and Informed
During peak months, having access to reliable information is essential when traveling. Keep an eye on statuses and potential disruptions by using mobile apps or subscribing to email or text notifications from your airlines or hotel chains.
You must also stay connected with your company's travel department or travel agent, who can assist you during unexpected changes or emergencies. This way, you'll stay informed about local events, weather conditions, and transportation options at your destination to ensure a smooth business trip.
7. Prepare for a Productive Travel Time
Business travel often involves significant waiting periods, whether at the airport, during flights, or in transit. You can make the most of this downtime by preparing in advance. You may store your laptop or tablet with important work documents, presentations, and reading materials.
You can also use inflight Wi-Fi to catch up on emails or collaborate with colleagues. Alternatively, you can use this time to relax and recharge by listening to podcasts, audiobooks, or meditation apps.
8. Stay Healthy and Energized
Peak travel months can be physically and mentally draining, with long flights, changing time zones, and packed schedules. It's crucial to take care of your well-being during these busy periods.
You must stay hydrated by drinking plenty of water and limiting caffeine and alcohol consumption, which can contribute to dehydration. You should also maintain a balanced diet by choosing healthy meals whenever possible. Sleep enough to ensure you're well-rested for business meetings and engagements.
Make Business Travel Seamless During Peak Travel Season
By following the above-mentioned business travel planning tips, you can avoid all sorts of hassles during peak travel months. This ensures you have a successful and seamless business trip.
One effective approach to simplify your business travel is to utilize a T&E software solution. ITILITE stands out as a leading T&E management solution that is designed to assist you in efficiently managing all your trips through a centralized dashboard. By employing ITILITE, you can conveniently modify your itinerary from any location, effortlessly submit your expense reports, and access round-the-clock travel support.
To learn more about the advanced features of ITILITE, get a free demo now!