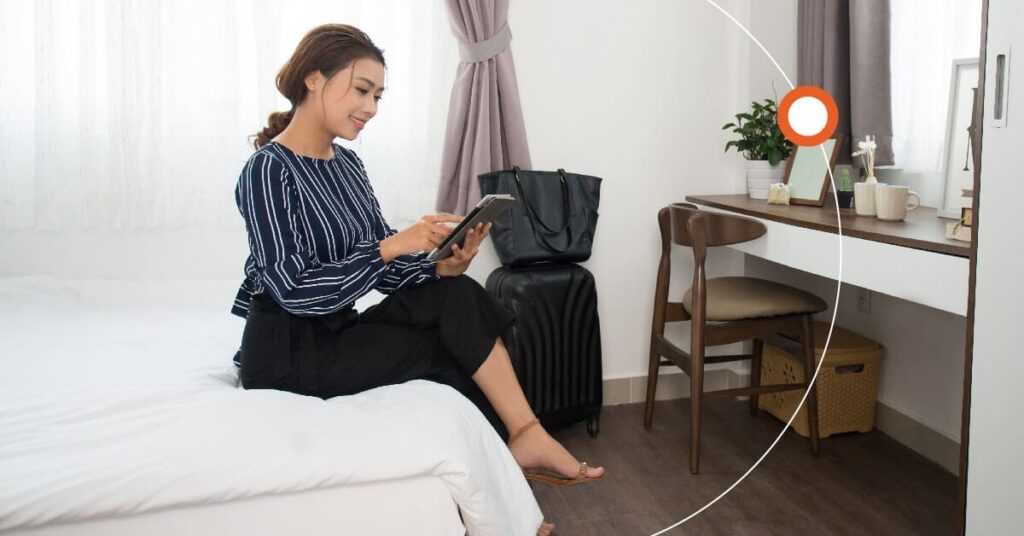 A hotel loyalty program is essentially a strategic marketing approach used by hotel chains to attract and retain guests by offering discounts, perks, and other privileges in return for their loyalty.
Upon joining a hotel loyalty program, members typically receive immediate perks and benefits. However, the real value of these programs is often realized over time as members accumulate rewards and achieve higher levels of membership.
It's also worth noting that there is no downside to joining multiple hotel loyalty programs. However, staying loyal to one specific program can yield greater benefits and privileges over time.
Read this blog to know the 7 best hotel loyalty programs in the U.S.
1. Wyndham Rewards
Wyndham rewards program offers stay across 9,000+ properties, including brands such as Wyndham Grand and Dolce. There are several avenues for members to earn points. One of the primary methods is by staying at Wyndham properties, where members can earn 10 points per dollar spent on room rates.
Additionally, members can also accrue points by booking activities such as architectural tours or wine tastings, earning 10 points per dollar spent as well. This provides members with opportunities to accumulate points not just through hotel stays but also through unique activities available through the brand.
Wyndham Rewards is unique in offering a minimum of 1,000 points for every qualified stay, making it a rewarding option for the everyday traveler. With the Wyndham Rewards Earner Cards, members can earn up to 45,000 bonus points, enough for up to 6 free nights.
Wyndham Rewards also offers co-branded credit cards issued by Barclays, including the Wyndham Rewards Earner card, with no annual fee. Cardholders can earn sign-up rewards of 15,000 points upon first use and earn add-on points on qualified purchases.
2. Marriott Bonvoy
As a member of the Marriott Bonvoy program, you have the opportunity to earn rewards points when you stay at any of the 30 affiliated brands. Marriott Bonvoy members can earn 10 points per dollar spent at most hotels. Further, free nights can range from 5,000 to 100,000 points, depending on factors such as the hotel's location.
In addition to earning points through hotel stays, you can also accumulate points by making purchases with Marriott-affiliated credit cards, such as the Marriott Bonvoy Brilliant from American Express or the Marriott Bonvoy Bold from Chase Visa.
Additionally, members can earn points by utilizing tours, activities, and services offered by travel partners like Uber. Marriott Bonvoy also allows for the rollover of qualifying nights into the following year, providing further flexibility and benefits to members.
Members also have the opportunity to instantly redeem points for drinks, meals, and spa experiences, adding further value to their hotel loyalty program.
3. World of Hyatt
World of Hyatt members have the opportunity to earn five points for every dollar spent on Hyatt purchases, with additional bonuses available for elite members. Award nights start at just 5,000 points per night and go up to 40,000 points for the most luxurious hotels in the portfolio.
The program offers four levels of membership: Member, Discoverist, Explorist, and Globalist. Rewards and benefits vary based on the number of nights stayed (starting at 20) or base points earned (beginning at 35,000).
To further boost earnings and enjoy additional benefits, World of Hyatt offers the option of opening a World of Hyatt credit card from Chase, which comes with an annual free night worth up to 15,000 points and automatic Discoverist status.
Milestone rewards are also available, with bonus points, free night awards, suite upgrade awards, and more becoming available after reaching certain qualifying night milestones, starting at 20 nights and continuing for every 10 qualifying nights, up to 100 nights.
4. IHG One Rewards
IHG Hotels & Resorts offers 6,000 properties across 100-plus countries. To boost your loyalty, you can purchase IHG Rewards points in increments of 1,000 points. Further, members can earn and redeem points at a rate of 10 points per dollar spent at most brands.
In addition to hotel stays, you can also earn points on everyday purchases with an IHG Rewards credit card from Chase. Plus, you have the opportunity to earn miles with over 40 partner airlines by being part of their frequent flyer clubs. When it comes to redeeming your points, award nights start as low as 10,000 points and go up to 70,000 points per night, depending on the hotel.
For those seeking elite treatment, the IHG Rewards Club Premier credit card is worth considering. This card not only provides automatic Platinum status but also comes with perks such as bonuses and welcome amenities. You'll also receive an annual free night worth up to 40,000 points, adding even more value to your loyalty program.
Keep in mind that you can purchase up to 150,000 points within a calendar year to further enhance your rewards and enjoy the benefits of being an IHG Rewards member.

5. Choice Privileges
At Choice Hotels, with over 7,000 properties worldwide, you can earn 10 points per dollar spent on stays. The Choice Privileges rewards program covers a range of well-known brands such as Comfort, Clarion, Econo Lodge, and more.
Although you can redeem points against gift cards, restaurant deliveries, etc., one of the best ways to utilize your points is for stays, which start at just 8,000 points per night.
If you travel frequently for leisure, particularly during the week or off-peak times, this rewards program is a great choice. In fact, after just 10 nights, you can earn Gold status, which is the second membership tier, and enjoy special benefits for weeknight stays, including Starbucks, Amazon, and Uber gift cards. Additionally, Choice Privileges also offers special golf rewards for members.
6. Best Western Rewards
With Best Western Rewards, you can earn between 10 to 15 points per dollar spent, and the best part is that these points never expire, allowing you to accumulate them at your own pace. With its flexible earning options, low redemption thresholds, and exclusive member rates, Best Western Rewards offers a rewarding experience for loyal travelers.
Redeeming your points is also incredibly easy, with reward nights starting at a mere 5,000 points. Best Western also offers exclusive room rates for its members, ensuring that you get the best value for your loyalty.
Additionally, you can earn points by utilizing Best Western partner services, which range from car rentals to flower deliveries, or by making everyday purchases using the Best Western Rewards Premium Mastercard. If you happen to have Diners Club Rewards, you can even convert them to Best Western Rewards points to further boost your earning potential.
For those looking to fast-track their rewards, the Best Western Rewards Premium Mastercard offers the opportunity to earn up to 7 free nights with bonus points, along with automatic Platinum status, providing you with additional perks and benefits.
7. Hilton Honors
Hilton Honors offers over 6800 hotels across the world and is particularly beneficial for business travelers. When it comes to earning points, regular members earn 10 points per dollar spent on Hilton purchases, with most brands participating in the program. However, members can also earn bonuses through elite status, which can be achieved by opening an associated credit card, such as the Hilton Honors Surpass Amex.
Further, the Hilton Honors Aspire Amex card comes with an annual free weekend night reward, adding extra value for cardholders. Award nights at Hilton properties start at just 5,000 points, allowing members to redeem their rewards relatively quickly, especially when considering that 5,000 points can be earned after spending approximately $500.
Moreover, as members progress to higher tiers of membership, such as Diamond status, they can enjoy additional perks like daily food and beverage credits, room upgrades, and lounge access, enhancing their overall experience and value from the program.
Leverage Hotel Loyalty Programs for Business Travel
Hotel Loyalty programs can especially be a game changer for business travel when it comes to saving hotel costs. However, to fully utilize the benefits, it is essential that travel managers and employees track and remember the programs while booking. 
ITILITE's business travel management software can help you do that with ease. The platform offers you the option to configure up to 15 airline loyalty program memberships for each traveler. After the configuration, each time the traveler books a flight, the platform will recommend the membership options first. This will help them take full advantage of the hotel loyalty program.
To learn more about how ITILITE can help you take full advantage of best hotel loyalty programs and enable greater cost savings through state-of-the-art features, get a free demo now.