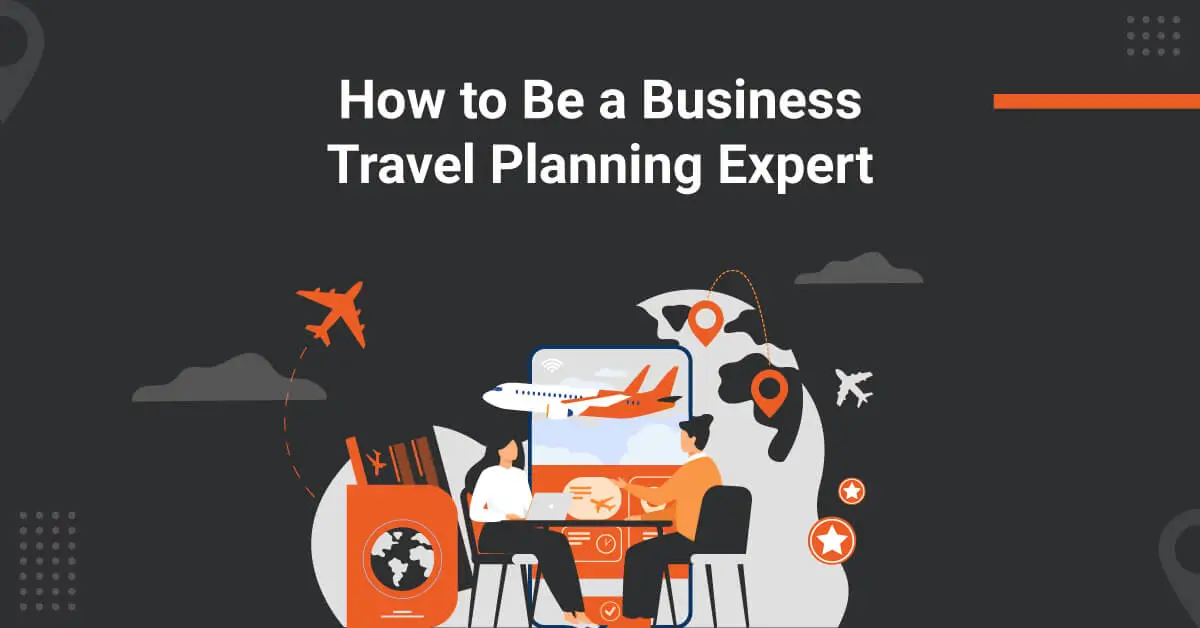 Business travel planning can be one of the most challenging and stressful aspects of business travel. With all the scheduling, coordinating, and budgeting involved in a business trip, you, as a travel manager, must be active and engaged during the entire planning process.
You must create itineraries, ensure traveler safety, provide round-the-clock support, consider business travelers' preferences, and much more. This process can get hectic and stressful with so many other things to manage simultaneously.
Let's look at some essential tips to help you become a business travel planning expert and manage business travel smoothly.
Create a Detailed Itinerary
An itinerary is a detailed plan of a trip/journey that includes a list of meetings, accommodation details, things to do, and the distance between important destinations, among others. During corporate travel, a well-prepared itinerary can save you a lot of time and free you from unnecessary stress. Your itinerary must include details about:
Hotel/accommodation: Including details about the hotel, such as the timings (check-in and check-out) and location, is a must. You must also include details about other facilities available in the hotel, such as a gym, swimming pool, games, activities, etc., and nearby places to visit in the vicinity of the hotel to make the business trip more enjoyable for business travelers.
Transportation: Details such as mode of transportation, the time required to travel, the time of arrival and departure, etc., must be included. You must also mention the time an employee should leave home to reach the airport on time, the mode of the commute from the airport to the hotel, and any layovers in between. You can also include details about the rental cab services available.
Daily schedules: The itinerary should have details of employees' day-to-day activities. You must include information about the time the client meeting/business conference starts, the break and meal timings, what leisure activities employees can engage in during their free time, etc. You can also include information about what they must pack, the weather forecast, local cuisines to try, etc.
Include Business Travel Insurance 
Corporate travel is unpredictable. Hence, during business travel planning, you must include business travel insurance to protect yourself and your employees. 
Make sure you have a good travel insurance policy that will cover the financial losses, flight cancellations, stolen luggage that includes work gadgets, medical care, and even emergency cover for evacuation. Moreover, you should ensure your policy includes 24/7 support for travelers to contact at any time of the day.
It is also imperative that you are aware of what the insurance does not cover. Travel insurance excludes pre-existing medical conditions if the employee is under the influence of drugs and alcohol, personal gadgets, civil unrest, natural calamities, etc. 
While selecting travel insurance, you must consider certain factors, such as frequency of trips, cover size, add-on features, trip length, employee age, and any medical conditions. By doing so, you will have an idea about how to plan business travel and improve the travel experience of business travelers. 
Prepare Checklists and Templates
Business travel planning can be simple and smooth if you have an organized and effective system. You can create checklists and templates for yourself, so you don't overlook or miss any crucial details. 
They may include-
Employee profiles with name, phone number, address, passport number, emergency contact details, and traveler preferences, such as dietary requirements and accommodation type
A traveler checklist with details about necessary documents and currency, electronic gadgets, clothing, medication and toiletries, and many others
An itinerary travel template where you can easily update flight timings, details of business conference/client meeting and bookings confirmations, sightseeing places with clients, etc. 
Having checklists and templates helps you stay organized, be stress-free, reduce mistakes and overlooking, be more efficient, and save time. 
Use Travel Management Software for Efficient Planning 
Using travel management software can streamline your business travel planning and booking process. The software provides personalized options as per travelers' preferences, such as flights and hotels. It simplifies everything from booking to expense reporting and has features such as real-time flight updates, interactive UI, audit and fraud detection, multi-device access, etc. 
The software also offers employee safety features like safe hotel tagging, live traveler tracking, and 24/7 customer support. With travel management software, you can spend less time trying to plan business trips manually. 
Know the Latest Visa Details
Business travel involves employees traveling to various overseas destinations, and these places require a traveler visa. You must know which countries have visas on arrival and which don't. You must also know the different types of visas, the reasons for visa rejection, and the limitations of a travel visa. 
Documents required to get a visa done include:
Application form
Passport
Photographs
Itinerary
Funds
Have a System to Manage Expenses
Managing and organizing expenses can be tedious and taxing, especially with your road warriors frequently traveling for business trips. By implementing an effective employee expense management system, you can track how much employees have spent during business travel and for what reason. This helps you improve travel policy compliance and minimize costs. It gives your business greater control and visibility of expenses. 
One of the best ways to enhance your employee expense management system is by using expense management software. The software automates the approval and reimbursement process, detects fraud, gives real-time visibility into expense policy when filing, and saves time. 
You can streamline business travel planning with an efficient employee expense management system.

Prepare your Travelers Before they Leave
Preparing travelers in advance is an essential step of business travel planning as it makes them more confident and organized. You must spend some time briefing travelers about the itinerary before they leave for their business trip. Apart from the regular flight and hotel updates, you must also inform them about the currency, language, vaccination certificates, travel documents, and many more. Here are a few aspects you can prepare them with:
If their mobile plan has international coverage or not?
If they will need to buy a SIM card once they land?
Are they aware of the business etiquette and local culture? 
How can they take care of their belongings? 
Are they carrying physical and digital copies of the itinerary?
Do they have essential business travel tools for communication purposes?
Take Feedback from Travelers after the Trip
One of the best ways to become a business travel planning expert is by regularly taking feedback on business trips from employees. Check with them about their flight experience, if the accommodation was in a secure location, if the cabs were on time to pick them up from the airport, among others. 
By gathering feedback, you will be able to identify the problems, modify your travel management for upcoming trips and improve the travel experience for business travelers. Also, it will let business travelers know you care about them, thus ensuring employee satisfaction.
Become a Business Travel Planning Expert
Planning and managing corporate travel can be time-consuming and hectic, with many things to do. But with the right system in place, it is not impossible. Following the tips mentioned above, you can plan corporate travel seamlessly and become a business travel planning expert. 
At ITILITE, we help you plan your corporate travel meticulously, create robust travel and expense policies, include a solid duty of care plan, provide extensive travel inventory, and many more. Our business travel management software also offers advanced safety features, such as live traveler tracking, 24/7/365 business travel support, and more. 
Get the free demo of ITILITE check all the features yourself.