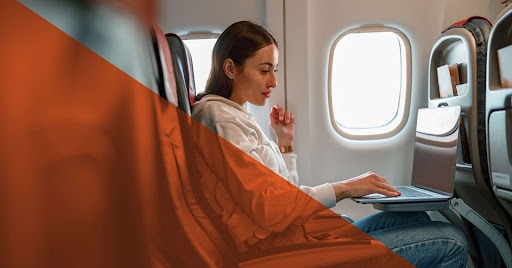 When it comes to flying for work, the choice of airline can significantly influence the success of a business trip. While all airlines value their business travelers, some go above and beyond to provide exceptional service tailored specifically to this important customer group.
Here are five best airlines for business travel that have earned a stellar reputation for being the best choices.
1. Qatar Airways
Qatar Airways is one of the best airlines for business travelers, offering a plethora of benefits. Renowned for its QSuites, widely regarded as one of the finest premium cabin products worldwide, the airline ensures a remarkable travel experience.
The QSuites, Qatar Airways' flagship business class offering, captivate passengers with their outstanding amenities. From providing noise-canceling headphones to fine wines, every aspect of the flight is designed to ensure the traveler's convenience. Moreover, the flight seat itself is a true haven. It provides a fully lie-flat experience, ensuring maximum comfort throughout the flight.
To reward customer loyalty, Qatar Airways provides a complimentary loyalty program called Privilege Club, available to all passengers. By enrolling in this program, travelers earn Avios, Qatar Airways' bonus points, with each flight they take.
The Privilege Club offers three elite status tiers: Silver, Gold, and Platinum. Each tier grants exclusive benefits such as discounted seat reservations, bonus miles, lounge access, and increased baggage allowance, further elevating the travel experience.
2. Singapore Airlines
Singapore Airlines offers a remarkable business-class experience, ensuring that passengers enjoy a seamless journey from start to finish. At every airport, dedicated check-in desks are available exclusively for business class travelers, streamlining the check-in process and saving valuable time.
Passengers in Singapore Airlines' business class can enjoy a variety of amenities. The flight offers free in-flight Wi-Fi and an entertainment monitor. Slippers, earplugs, and hairbrushes are among the items that can be requested, ensuring maximum comfort throughout the flight.
Additionally, the airline's renowned Book The Cook service allows passengers to pre-select their meals, ensuring a customized and delightful dining experience onboard.
One characteristic of Singapore Airlines' business class seats worth noting is the slight angle when lying flat due to the cutout for legs and feet. However, to avoid this slight tilt, passengers can opt for seats at the front of the cabin, commonly known as bulkhead seats, which provide a more level sleeping surface.
Singapore Airlines' loyalty program, KrisFlyer, offers frequent fliers the opportunity to earn and redeem miles on their flights. Notably, KrisFlyer stands out for its unique partnership with major U.S. credit card rewards programs. This collaboration allows members to transfer points from these credit card programs to KrisFlyer, providing additional opportunities to accrue miles and book award seats.
3.Delta Air Lines
Delta Airlines is a business traveler's ultimate delight, as it provides many advantages, such as competitive rates for business class tickets. Delta Airlines goes the extra mile by offering complimentary upgrades on many of its flights. This means that business class passengers have the opportunity to enjoy an elevated travel experience without any additional expenses.
Plus, with a full bar offering a wide selection of beverages, tempting snacks, and complimentary drinks, the Delta Sky Club lounge ensures that passengers can unwind and recharge before their flights.
Business class passengers on Delta Airlines enjoy the luxury of deeper seats with additional legroom and up to 50% more recline. These spacious seats allow for a comfortable and relaxed flight experience. To further enhance comfort, passengers are provided with a blanket, pillow, headphones, and an amenity kit on long-haul flights.
Delta SkyBonus serves as Delta's rewards program for business travelers. One of the program's key benefits is the assignment of a dedicated corporate travel manager, streamlining travel planning and administrative tasks. This personalized service frees up valuable time and resources.
Notably, up to 30 Delta SkyBonus points can be earned per $1 spent on eligible flights, offering significant rewards potential.
4. Emirates
Emirates Airlines prioritizes the comfort and convenience of its business-class customers, offering an array of exclusive benefits, including complimentary chauffeur services for pick-up and drop-off.
Emirates offers exceptional lounges, which are accessible to business-class customers and are open 24 hours a day. Plus, dedicated check-in desks are available exclusively for business customers.
To expedite the baggage handling process, priority tags are attached to the bags during check-in, guaranteeing that they are among the first to be retrieved upon arrival at the destination. Business class passengers also receive fast-track passes for both pre-check and immigration, expediting the airport formalities.
The in-flight entertainment is elevated with large-sized TVs, and each seat is equipped with outlets, USB outlets, and a headphone socket. However, it is worth noting that storage space may be limited.
Emirates offers a secondary loyalty program called Business Rewards, tailored specifically for small businesses. Eligible businesses can earn 1 point per dollar spent on qualifying Emirates flights, in addition to the Skywards miles earned through regular travel. This program provides an additional avenue for businesses to accrue rewards and benefits.
5. Etihad Airways
Etihad Airways has established itself as a leader in the realm of the best airlines for business travel, providing a remarkable array of amenities that elevate the in-flight experience. From exclusive lounge access to fully-flat beds, personalized dining options, and more, Etihad's business-class offering sets the bar high.
The Etihad business class seats feature signature adjustable headrests, USB charging ports, Bluetooth headphone pairing, and a generous 13.3-inch inflight entertainment screen, ensuring a seamless and enjoyable in-flight entertainment experience. One notable aspect of Etihad's business class experience is the introduction of its A350 aircraft, which boasts a modern and refreshed cabin design.
The business class cabin on Etihad flights is configured in a 1-2-1 layout, ensuring that every passenger enjoys direct aisle access. This configuration maximizes privacy and convenience, allowing travelers to move freely without disturbing fellow passengers.
The seats themselves provide ample space, with 185cm of pitch and a width of 51cm. For ultimate comfort, the seats seamlessly convert into fully flat beds, enabling passengers to relax and rest during long-haul flights.
Etihad Airways' loyalty program, Etihad Guest, presents a range of transfer partnerships with renowned brands such as American Express Membership Rewards, Capital One Miles, Citi ThankYou Rewards, and Marriott Bonvoy. This allows members to leverage their loyalty across multiple platforms, maximizing their rewards and benefits.
Choose the Best Airlines for Business Travel
As a business traveler, you now have the knowledge and insights to make an informed decision when selecting an airline for your future trips. However, to enhance your booking experience, you can also use a corporate travel management solution.
ITILITE is a modern travel management software solution that streamlines business travel bookings by giving you access to a vast travel inventory so that you have a diverse selection of options to choose from.
With ITILITE, the process of booking and modifying travel plans becomes a breeze. The intuitive interface allows you to easily search and compare flights, hotels, and other travel services, enabling you to make informed decisions. Moreover, you can modify your itinerary on the go.
To know more about these benefits, book a demo now.