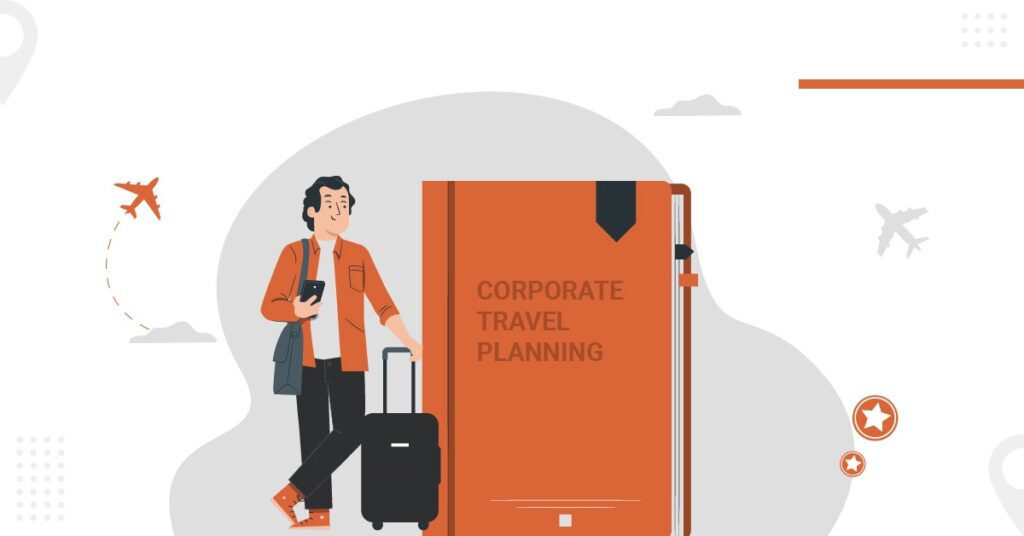 The world of business travel is constantly changing and evolving. As employees travel across the globe to carry out business activities, planning and managing their trips meticulously is essential.
Travel managers must constantly be on their toes, creating itineraries, booking hotels and flights, and ensuring everything align with the company's policies. This process can get pretty hectic and stressful, especially when you have a lot of other things on your plate. Corporate travel planning refers to the process of organizing and arranging the logistical aspects of a business trip. It involves various tasks and considerations to ensure a smooth and successful travel experience.
Therefore, as a corporate trip planner, the best thing you can do is to plan business travel in an organized manner to avoid any last-minute hassle. Here is a complete guide on corporate travel planning.
What is Corporate Travel Planning?
Simply put, corporate travel planning is the process of making and managing a business travel plan for employees before they embark on their business trips. The process includes researching locations, preparing corporate travel budget, booking flights and hotels, incorporating corporate travel policy, negotiating hotel rates with vendors, honoring the duty of care obligations, risk management, curating travel itineraries, and more. A travel manager is usually responsible for business travel planning.
Why is Corporate Travel Planning Important?
Corporate travel is an integral part of business as it helps companies grow, make profits, strike new business deals, and develop business networks. Therefore, extensive planning is required for efficient business travel management. If not planned correctly, it can lead to disappointing results.
For instance, if travel arrangements are not made properly, employees can end up going late to business meetings/conferences. This, in turn, impacts the business trip goals and costs your company a fortune. However, if you plan your employee's corporate travel properly, they can meet your company's travel goals without hassle.
Challenges with Business Travel Planning
Post-pandemic, the role of travel managers has evolved to accommodate various responsibilities. These responsibilities include managing various things, which they find very challenging. Some of the challenges travel managers face while planning business travel include:
Getting good corporate deals
Booking cost-efficient hotels and flights
Navigating through various third-party websites
Arranging travel visas and passports
And if multiple employees travel simultaneously, it becomes challenging for you to plan and manage all of these. This process becomes extremely tedious, exhausting, and time-consuming.
Additionally, there may be times when you become aware of the business trip a few days before its commencement. Preparing a business travel plan during such times can be very chaotic.

9 Ways to Improve your Corporate Travel Planning
Let's look at some corporate travel tips that will help you improve the travel planning process:
1. Do In-Depth Research about the Destination
The first step in planning for a corporate trip is thoroughly researching the destination. Whether it is a familiar one or a new destination, as a corporate travel planner, it is vital for you to know the place your employees will be traveling to.
This includes knowing all information, such as the weather conditions, modes of transportation, public health and current political situation, local people, the safety and location of the accommodation, and many more.
You can also check the local government websites or news websites for the latest information. For instance, if the trip is within the United States, you can check the U.S. Department of STATE travel advisory page.
Some areas in the destination may be known for robbery, mugging, pick-pocketing, etc. If your road warriors are traveling to those places, you must warn them of these incidents so that they will be cautious about their essential documents and belongings.
Additionally, you must also let them know how they can commute to the destination. Here are some essential questions you must answer about commuting:
Are there alternative routes to the business event and the hotel?
Are the places within walking distance?
What are the public transportations they must use?
How can they hire a cab easily?
Is it safe to venture out past sunset?
2. Create a Detailed Itinerary
After researching the destination, it's time to prepare a detailed corporate travel itinerary. Preparing an itinerary may seem very daunting and time-consuming initially, but after making it, you can be assured of not missing any critical details. Additionally, it saves a lot of time as you don't have to worry about any last-minute travel arrangements.
Your travel itinerary must include the following information:
Flight details: Include details such as boarding time and landing time, arrival and departure, layovers (if any), etc.
Transportation: Details about the transportation services, cab rentals, transportation provided by the hotel, and timings of the pick up from the airport and drop to the hotel or vice versa must be included in the itinerary.
Accommodation: Include details of the hotel, such as location, contact details of the receptionist, meal timings, types of cuisines available, and check-in and check-out timings.
Sightseeing places: When business travelers are not traveling, they like to explore the area. Therefore you can also include details about any sightseeing places, popular restaurants/bars to visit, places of entertainment, and adventure activities.
Here is a free template you can download to prepare a detailed travel itinerary easily.
3. Book Hotels and Flights in Advance
The golden rule of corporate travel planning is booking flights and hotels ahead of time. It is usually a good idea to have your bookings in place before employees go on a business trip. It helps you save a lot of time, and the earlier you book, the more money you save. Additionally, you may also be eligible for some good corporate discounts.
Besides monetary benefits, you will also be able to select preferred flights and hotels because they will be readily available. Hence, you must book very well in advance to get good deals and book according to employees' preferences.
4. Choose the Right Accommodation
While planning corporate travel, choosing the right type of business travel accommodation is very important. After all, as corporate travel planner, it is your prime responsibility to ensure employees have a comforting place to relax after a long day of meetings, conferences, or networking events. 
Hence, you must select an accommodation that complies with the corporate travel policy and travelers' preferences. When you book the right hotel, it will make business travelers feel relaxed and comfortable. Here are some factors you should consider while booking a hotel:
Location and proximity: Book a hotel in a safe location and close to the workplace so that travelers don't have to waste time commuting. 
Online reviews: Reading reviews of the hotel will give you first-hand information about other travelers' experiences. This will give you an overall idea about the hotel's safety, services, amenities, and location. 
Amenities: Business travelers generally prefer staying in hotels with access to a gym, swimming pool, bars, gaming zone, etc. Hence, you must book hotels with these amenities so they can relax after a long tiring day. 
Security: Security is a major concern for most business travelers, especially female employees. Hotels with video surveillance, rooms with peepholes, deadbolt locks, and fingerprint scanners will add an extra layer of security
5. Make Use of Travel Management Software
Travel management software can be your best friend if you want to streamline your business travel planning and booking process. The corporate travel planning software provides personalized, cost-efficient flight and hotel options, that can help you comply with your corporate travel budget. It simplifies everything, including booking and expense reporting, and has features that provide real-time flight updates, interactive UI, fraud detection, and many more. 
It also has safety features such as live traveler tracking, safe hotel tagging, and 24/7/365 business travel support. With a TMS, you can plan business trips more efficiently.
6. Keep Important Travel Documents Handy
Business travel includes employees traveling to different countries. And, sometimes, they may have to travel to more than one destination in a single trip. Each country has its own regulations and may require some important travel documents. Some of the important documents include the following:
Traveler's Visa, Passport, and National ID card
Copies of ID documents
Travel itinerary details
Proof of accommodation bookings
Business travel insurance
Vaccination proofs
An essential corporate travel tip you should keep in mind is to give the travelers both physical and digital copies so they don't face any trouble while traveling from one country to another. 
7. Prepare Checklists and Templates
A Business trip planning involves many tasks. You must plan itineraries, book flights and hotels in advance, accommodate travelers' requests, arrange concierge services, and more.
Moreover, you also need to collect employees' information and stay updated with many things, such as emergency contact details, employees' medical conditions, etc. While managing all these, it is most likely that you may forget a few important details.
Preparing a checklist is the best way to manage all this information so you don't overlook anything important. It also helps you save a lot of time. Some of the checklists you need to incorporate into your business travel plan are:
Traveler information: Prepare a checklist that includes all details about the employee, such as name, contact number, address, emergency contact numbers, health conditions, meal preferences, etc. 
New travelers' information: Prepare a checklist for new employees or first-time travelers.  
Traveler safety checklist: You must prepare a travel safety checklist and hand it over to employees so they don't miss out on any crucial safety item.
8. Prepare your Travelers before they Go
Once all the business travel planning is done, it's time for business travelers to embark on their business trips. However, for some of them, it may be their first time. So, as a corporate travel planner, you'll need to prepare your travelers with important corporate travel tips before the trip, as it makes them feel more organized and confident.
Spend time briefing travelers about the business travel plan, local culture, currency, weather conditions, documents, etc. Apart from these, here are a few things you can prepare them with:
Are they carrying all the electronic gadgets?
Do they have an e-copy of all the documents as a backup?
How can they be mindful of their belongings?
Do their phones have an international plan?
Do they need to buy a SIM card after landing?
Make Corporate Travel Planning Easy
Planning and managing business travel involves organizing multiple things before employees go on business trips. However, if done in advance, corporate trip planning will be stress-free and smooth. 
At ITILITE, we help you plan your corporate travel seamlessly. We help simplify bookings with a turnaround time of 90 seconds from extensive flight and hotel inventory, prepare detailed itineraries, speed-up the approval process, provide real-time destination-related update.
Once your trip is planned, we also help you deal with contingencies such as last-minute cancellations by providing 24/7 support through calls, chats, and emails, completely free of cost.
Get a free demo of ITILITE to try out all the features yourself.