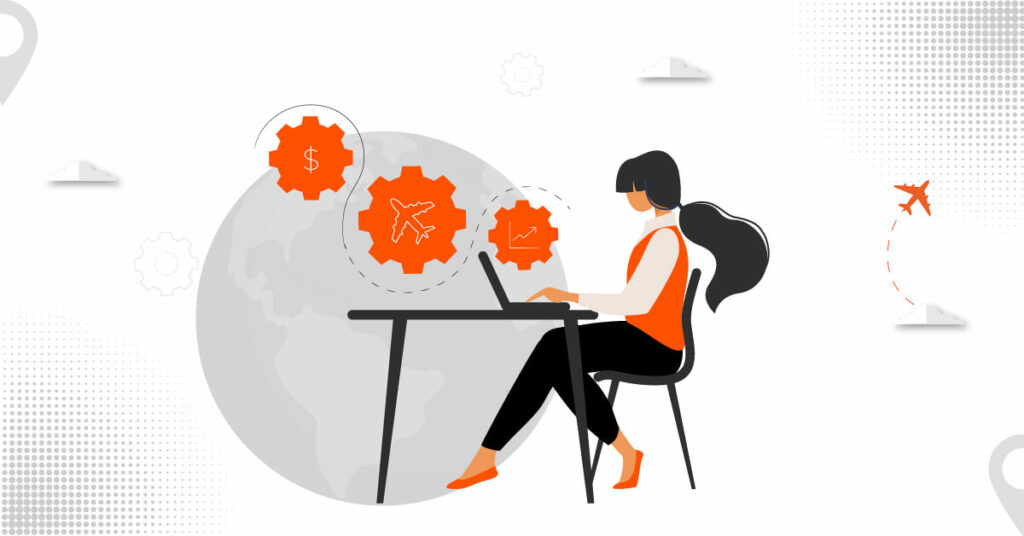 Corporate travel managers are responsible for tracking the entire business travel management process, including planning itineraries, booking tickets, and optimizing trips. They work to make sure that the company-sponsored trips are cost-effective.
But as business travel becomes more flexible and employee-centric, travelers want more personalized experiences and ease in the travel process. This might include things like preferred routes, extra baggage allowance, or even more hand-holding than the usual flight booking process. All of these needs must also be considered so that the business traveler's experience is as seamless as possible.
Below are steps you can implement to ensure a seamless travel experience.
1. Personalize the Trip
According to Sabre, 69% of business travelers think it's important to get travel options catered to their preferences and travel history. Personalized options such as preferred hotels, airlines, flight meal plans, and seat preferences can significantly enhance the experience of travelers.
Consequently, personalization improves the mood and productivity level of travelers and helps develop a more positive relationship with the employer.
2. Offer Concierge Services
Concierge services are a boon to business travelers as they make their trips a lot less stressful. These services include cab rentals, travel insurance, visa assistance, providing recommendations on nearby hotels, forex card assistance, etc.
With these services, business travelers do not have to worry about researching the details themselves. Instead, they get the best options and assistance, saving them valuable time and effort. As a corporate travel manager, you can partner with a TMC or Concierge company that provides these services.
3. Improve Hotel and Flight Experience
Ensuring employee privacy, comfort, and convenience should be one of the priorities of corporate travel managers. While booking, you can consider the following tips to offer a more satisfactory hotel and flight experience to business travelers.
Make sure the employee gets separate and comfortable hotel accommodations
After a long day on their business trip, employees require a comfortable and separate hotel room to unwind. Booking one room for two or more employees may save money on that trip but can cause employee dissatisfaction.
A few problems that employees may face while sharing the room are differences in bedtime routines, snoring, and personal space conflicts. These problems can cause stress to the employees and, consequently, a decrease in productivity. Therefore, it's best to book separate rooms for each employee.
Book hotels close to the meeting destination
Employees are on a tight schedule during business trips, so as a corporate travel manager, it is your responsibility to book hotels near your office or meeting location. This can help employees save time that would otherwise be wasted on commuting. Moreover, booking faraway hotels may also cause business travelers to get late for their meetings due to dense traffic.
Book comfortable and convenient flights
It is expected of corporate travel managers to book flights with reputable airlines. If your budget allows, upgrade the flight class to ensure your travelers are comfortable and have access to good services. This can help them relax properly on the trip so that they are well-rested when they arrive at their destination. Some airlines also offer lounge access to business-class passengers, which can be beneficial during layovers.
Book non-stop flights
Booking non-stop flights is another great way to ensure your employees have a seamless travel experience. Non-stop flights are less likely to have issues like lost baggage during a layover, delays of connecting flights, and the need to go through security again, saving your employees a lot of time and hassle. They're also the fastest way to reach your destination.
4. Have a Duty of Care Plan
Organizations are legally and morally responsible for ensuring the safety of their business travelers. Being a corporate travel manager, you play a vital role in ensuring the safety of any business travelers associated with your company.
By having a well-defined and thought-out duty of care plan, you can mitigate and reduce any risks associated with traveling. The plan also sets a precedent for how employees should be treated in case they face unforeseen circumstances while on a business trip.
Here is a free duty of care checklist for you:
A few major steps of a duty of care plan include:
Proper risk assessments
To curate a detailed duty of care plan, corporate travel managers have to understand the risks that travelers might face while traveling. For this, the primary step is to analyze the degree of risk associated with all aspects of travel, such as location, road conditions, weather, local disease outbreaks, employee health, etc.
You can mark the risk as low, medium, or high on the assessment questions. Generally, each traveler will have a unique assessment result owing to the difference in risk due to age, gender, and health.
Some of the major risks that a traveler can face are health risks, political risks, theft and eve teasing, accidents, and natural disasters. After you have gained thorough information, you can start developing your duty of care plan.
Here is a business travel risk assessment checklist you can use to ensure traveler safety.
Educating your travelers
It's important to let your travelers know about the travel safety protocols and guidelines they should follow if they face any trouble during their journey. Ensure to brief them on the location they are traveling to and give them emergency contact numbers for their safety.
Tracking your travelers
It is essential to know the whereabouts of your travelers at all times. To do this, you can either partner with a TMC that offers live tracking software or partner with a duty-of-care service provider.
The software application can inform you of potential traveler risks . It can also notify your travelers in real time about nearby accidents, political unrest, or weather disruptions. This allows you to be proactive in making decisions about your traveler's safety and well-being rather than reactive when an incident has already occurred.
5. Give Them Access To T&E Management Software
Travel and Expense (T&E) software is designed to help corporate employees manage every aspect of their travel and expenses, from booking tickets to submitting expense reports for reimbursement. It is a comprehensive solution that ensures that employees need only one platform to plan and organize their trips, making the entire process more efficient and streamlined.
Employees can use it to:
Upload receipts from anywhere and file expenses on the go
One of the major hassles that business travelers face is collecting paper receipts to submit at the end of the trip for reimbursement. Paper receipts can be lost, stolen, or damaged, and saving them for later can distract employees from the task at hand.
However, with travel and expense software, employees can click a picture of the receipt and immediately upload it on the application. Once they upload the receipt, they can create an expense report and submit it in less than a minute without having to be physically present in the office. This way, the receipt can be preserved on the cloud. Plus, it helps employees track their expenditures easily.
View all travel and expense data in one place
T&E software is beneficial for employees as it allows them to view all of their travel and expense data in one place. With just a few clicks, employees can access their flight and hotel details, car rentals, expense reports, and itineraries. This helps them stay on top of their schedule and budget, making business trips more efficient.
Modify their itinerary when required
With T&E software, travelers have the option to self-book their tickets and modify their itinerary whenever required. For example, if a traveler wants to visit a nearby city for bleisure purposes and extend his trip by a day, he can immediately book a flight with the app itself.
To try travel expense software for free, get the free demo now.

6. Ensure the Availability Of 24/7 Traveler Support
Business travelers can face a lot of challenges while they're on the road, and sometimes they need help right away. That's why it's so important for them to have real-time assistance, so they can get their problems solved quickly.
Some of the issues that travelers usually face are delayed flights, weather emergencies, unsafe hotels, visa issues, or missing baggage. If these problems aren't solved urgently, it can ruin the rest of the trip and put the traveler's safety at risk.
To provide 24/7 traveler support, corporate travel managers can partner with a TMC that provides round-the-clock support to business travelers over call, message, or email. Some TMCs also provide AI chatbots over software so that travelers can self-ask questions and get appropriate solutions.
7. Have a Flexible Travel Policy
An important aspect of business travel management is having a flexible travel policy that accurately reflects the requirements of business travelers is important for many reasons. It allows for a smoother experience by ensuring that all bookings are compliant. It also enables travelers to make cancellations or modifications to their itinerary if required.
Plus, it is important for safety reasons as it allows business travelers to overspend if their safety is at risk.
8. Get Feedback From Employees
According to a survey of 1700 business travelers, a whopping 46% of those surveyed said that their feedback on hotels was ignored, and 48% said the same for flights. For corporate travel managers, it's crucial to take this feedback seriously in order to avoid having the same complaints from travelers on future trips.
For example, if a traveler reports that a hotel they stayed at made them feel unsafe, you can block that hotel for all employees in future trips. This way, you can use the feedback to update travel policy and strengthen the safety of business travelers. By taking travelers' feedback into consideration, you can make necessary changes that can improve the overall experience for everyone involved.
Ensure a Seamless Travel Process With These Steps
When employees travel for business, it's important for them to have a seamless and comfortable experience from the beginning. It is the responsibility of corporate travel managers to take all the necessary steps to make sure this happens. Ultimately, a smooth business enhances employee productivity and consequently benefits the organization.
You can also consider opting for ITILITE, which is an advanced T&E management software solution. It is a comprehensive platform that enhances the business travel experience by allowing personalized booking, online expense filing, 24/7 travel support, itinerary management, and so much more.
ITILITE Lunch and Learn: If you would like to know more, come meet us in your city. Join us for our "Top Tier Travel Talks" Lunch Seminar.