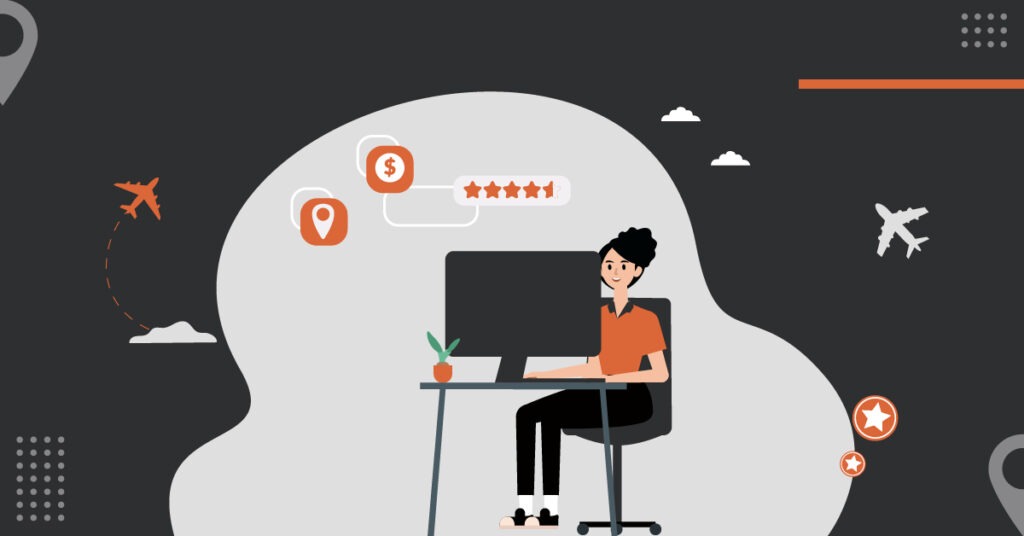 It is without a doubt that the business travel industry is continuously growing. The global business travel market is expected to rise above $2001 billion by 2028. Therefore, small and large enterprises are looking for efficient ways to accommodate their increased business travel volume.
One way to manage your company's increasing travel needs is partnering with a good travel management company (TMC). A TMC is an organization that is solely dedicated to managing your company's business travel needs. Unlike the traditional travel agent, TMC provides other beneficial services besides just booking flights and hotels.
If you, as a travel manager or a company owner, decide to choose a TMC to optimize your business travel process, here are a few fundamental characteristics you should know:
1. Gives Access to Extensive Travel Options
While planning a business trip, travel managers and employees can book the best hotels and flights only if they can access more suitable options. When they book from third-party websites, they must browse multiple websites before selecting the right option. Moreover, they get limited options as these websites don't have an extensive travel inventory.
Therefore, one of the primary characteristics of a TMC you should look for is its extensive travel inventory. Most new-age or tech-savvy TMCs source their travel inventory from GDS (Global Distribution System). The GDS gathers, combines, and analyzes data from various travel vendors and provides you with a wide range of travel options.
Additionally, the TMCs also offer a self-booking tool that combines hotel and flight options in a single platform. This way, you don't have to browse through various websites to find the right option, thus saving time.
2. It Helps Reduce Business Travel Costs
As an organization, optimizing business travel costs is crucial if you have employees frequently going on business trips. However, you may not necessarily have the most cost-efficient options while booking flights and hotels through an online travel agency. Also, it may be difficult to identify areas of cost leakages, especially if so many employees are traveling at the same time.
Alternatively, travel cost reduction is one of the most significant characteristics of a travel company. A TMC can help you reduce business travel costs by partnering with hotel and flight vendors and negotiating with them for better deals. Moreover, a TMC also has access to Low-Cost Carriers (LCCs) with affordable options.
Some of the best TMCs also have travel software that offers an AI-powered virtual travel consultant. A virtual travel consultant like ITILITE Mastermind compares your travel and expense data against industry standards and suggests where you could have saved more.

3. Helps you Draft a Robust Travel Policy
Drafting a robust travel policy is the foundation of a company's business travel management process. But, most travel managers and organizations find it challenging to draft a good travel policy because it has to be economical and, at the same time, address employees' travel needs.
For example, if you book a low-budget hotel or flight, employees may not like them. Contrarily, if you book an expensive one, it can burn a hole in your pocket.
An important characteristic of a travel company is that it can help you draft a robust travel policy. A TMC has a team of experts who first understand and analyze your company's travel management process, identify guidelines, look into employees' travel history, and many more. They help you build a travel policy to consider employee preferences, safety aspects, and overall travel costs.
Get Free Travel Policy Template
4. Provides Round-the-Clock Travel Support
According to GBTA, almost 45% of business travelers consider safety a major concern when traveling for business. Business travelers face various safety risks, from pickpocketing to the pandemic, from losing their luggage to getting stuck in the airport due to bad weather, and many more. Additionally, female business travelers must be more careful as they have a high chance of experiencing safety risks.
Hence, it is important to support your employees under such circumstances. But some companies and travel managers find providing travel support challenging, either it is because it is outside their office hours or differences in the time zone.
A TMC provides 24/7/365 business travel support to your employees. Most travel management companies has a support team who are highly experienced to help your employees come out of difficult situations during their travel. Moreover, employees can connect with them through various mediums such as chats, calls, and emails in case of such emergencies.
5. Provides Enhanced Personalized Experiences
With so many business trips taken every year, employees now want to travel according to their interests and have comfortable experiences. However, finding policy-compliant flight and hotels that also matches employees' preferences is what most travel managers find difficult. For instance, an employee wants to book a hotel closer to the airport, but travel managers cannot find any good options. Hence, employees may reluctantly compromise on staying near the airport.
A TMC helps you solve this problem by personalizing your travel management process. The travel management software adopted by tech-forward travel management companies uses predictive analysis to understand travelers' past travel preferences and recommends policy-compliant options based on those patterns. Such recommendations help you choose a suitable option without compromising employees' preferences. This will help you enhance their business travel experience.
6. Ensures Strong Data Security
Data security is a topic of growing concern, not just for the employees but also for the companies. Everything must be taken care of before the business trip so there is no data leakage. Moreover, travel managers, especially, have to handle the data of multiple employees on a daily basis. They must collect and store employees' information, such as their email addresses, home addresses, ID cards, credit card details, phone numbers, etc. If these details are leaked, your company can face security threats.
This is where a TMC comes into the picture. One of the main characteristics of a modern travel management company is that it uses cloud-based travel management software, which offers advanced data security. It helps you protect companies' and employees' important data. Here, the information is encrypted so no one can access it without permission. And if someone tries to access the data, you are immediately alerted. Hence, there are no chances of data leakage.
7. Provides Detailed Business Travel Data
For every company, tracking employees' expenses and spending habits is crucial to make informed decisions. The travel data includes in-depth insights into your employees' spending habits, out-of-policy bookings, and budget savings. Hence, companies must track their employees' travel KPIs like department-wise spending, per-trip individual expenses incurred, etc., to improve their financial performance.
A TMC will help you with this by offering advanced business travel analytics. Some advanced TMCs use T&E management software, combining all the travel data on a single dashboard. This lets you view, analyze, and manage your expenditures. Additionally, you can also get automated reports for various things such as department-wise spending, expense type, specific time, and many more based on your requirements.
8. Fastens Expense Reimbursements
Expense filing and reimbursement is a tedious process in most companies. And, if your company uses the traditional method of managing expenses, it requires employees to collect physical copies of the receipts and submit them individually. Moreover, the finance team has to go through each claim individually to avoid out-of-policy and fraudulent reimbursements. This expense filing, submission, and reimbursement cycle is complicated and time-consuming. Ultimately, such delays can leave employees frustrated.
Another important characteristic of a travel company is it helps you speed up the expense filing and reimbursement process. The T&E software offered by some TMCs allows employees to quickly scan the receipt, upload them into the software, create expense reports and submit them for approval. The auto-flag feature notifies employees of any out-of-policy expenses and errors in the receipt, and the approver also gets instantly notified through mail. Moreover, The finance team can easily review the bills submitted and immediately reimburse the amount through ACH.
An integrated travel and experience platform is just one of the factors that decides the robustness of your overall T&E system. Use our calculator to find out where your organization's T&E system stands on a scale of 0-100.
9. Prevents Travel Expense Fraud
Did you know that expense fraud is one of the major challenges faced by organizations worldwide? According to the Association of Certified Fraud Examiners (ACFE), companies face at least $40,000 because of expense fraud. Employees can make fraudulent attempts by submitting the same expense bills more than once or tampering with them. This can lead to huge mismanagement of funds.
A TMC can help you control travel and expense fraud. The T&E software used by the TMC has a built-in fraud detection feature that verifies the expense reports after submission. The software flags any out-of-policy expenses, duplicate/incomplete receipts, and expenses in the wrong category.
Enhance your Travel Process with the Help of a Travel Management Company
Knowing the above-mentioned characteristics of a travel management company can help you choose a good travel management partner like ITILITE.
ITILITE is a TMC that helps simplify your travel management process through a SaaS-based travel and expense management software solution. The ITILITE platform provides granular travel policy configurations, 24/7/365 business travel support, extensive travel inventory, and more.
Schedule a free demo with ITILITE to know more about the advanced features and services.