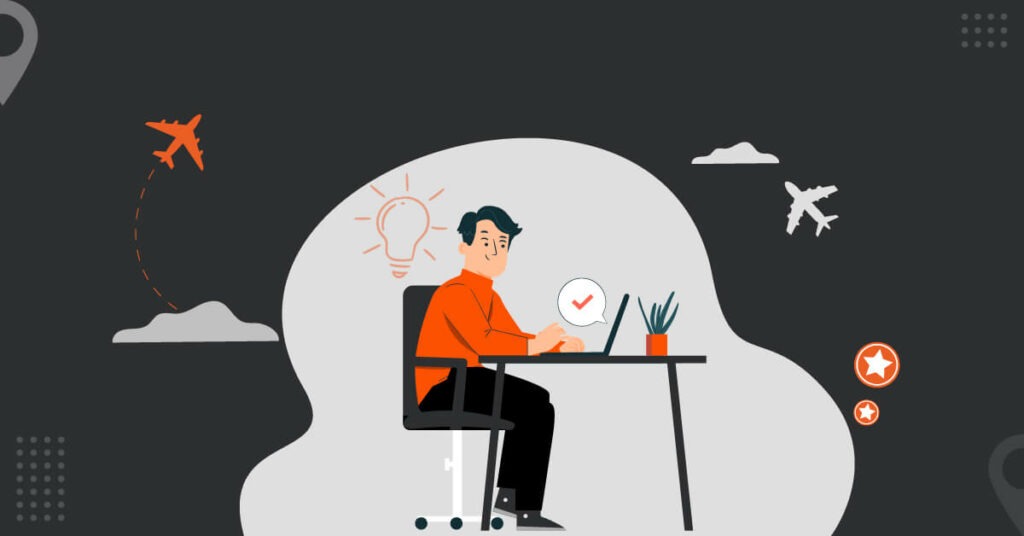 Being an office manager for a small business requires you to wear many hats, one of which is booking travel for your employees. It requires a lot of planning and can become a time-consuming task if you do not have the proper process in place.
These 10 small business travel booking tips will help ensure your booking process runs smoothly.
1. Have a Standard Procedure for Booking Requests
As an office manager, if your booking procedure is not organized, you must notice that you receive travel requests over different channels (such as email or text). Additionally, not all requests will have the complete details required for booking a trip.
Such disorganization of bookings can be taxing especially when you have other tasks to complete as well, such as itinerary planning and managing other aspects of travel. Therefore, it's crucial to capture all details via a standard method. This not only saves you time and effort but also ensures you make no mistakes while making bookings.
The first small business travel booking tip is to standardize the booking request process. You can ask your employees to submit a travel request form every time they have to go on a business trip. This would enable you to capture all necessary details such as destination, ticket preferences, number of nights, etc., and ensure that your booking details are collated on a single platform.
You can download the template of the trip request form below.
2. Have Traveler Details and Documents Handy
When making travel arrangements for your employees, it is important to have all the relevant documents and information about your employees in one folder. This includes their personal data, travel documents, insurance, visa, etc.
Having traveler details in a central location will make booking trips much more hassle-free, especially in the case of last-minute bookings. Plus, you can easily identify which documents are missing or are close to the expiry date.
3. Know the Requirements of your Employees
Business travelers are looking towards personalized experiences nowadays. As an office manager, it is your responsibility to ensure that your employees have a travel experience that is both convenient and meets their specific requirements.
To accomplish this, you can create a travel profile for each of your employees. A travel profile will help you understand the needs and preferences of your employees, and you can refer to it every time you make a small business travel booking.
A travel profile checklist can include:
Preferred hotels and airlines
Airline class preference
Seat preference (window or aisle)
Dietary preferences and restrictions
Must haves in a hotel (gym, pool, etc.)
Preferred arrival and departure timings
4. Create a list of Preferred Flights and Hotels
You can create a list of preferred flights and hotels by researching and gathering feedback from your travelers after they return from their business trips. You can either create a single list or sort the list according to various factors.
For flights, preference factors include convenience, in-flight services, price and value for money, loyalty programs and rewards offered, and so on. Similarly, you can sort hotels based on star ratings, business amenities offered (e.g., WiFi facilities, concierge services), location, payment methods available at the hotel, business suite size, etc.
Creating a preference list will help you make quick decisions and save you time from having to do research repeatedly.
5. Consider Corporate Loyalty Programs
Many companies, such as American Airlines and Delta, offer corporate loyalty programs. These partnerships between businesses and airlines allow business travelers to gain additional perks. Additionally, the company or employee earns points on each small business travel booking.
For example, the Business Extra Program offered by American Airlines adds 1 point to the company's account for every $5 spent on qualifying flights. After the company spends $5000 on at least three employees, the points can be converted to travel rewards.
Some other popular perks offered with loyalty programs are complimentary upgrades, lounge access, discount on certain fares, etc. Loyalty programs can be extremely beneficial for small businesses since they typically don't have access to the corporate discounted airline prices (as it requires a minimum annual spend that small businesses usually don't qualify for).
6. Go Through Airline Policies while Booking 
Research about policies of different airline companies before booking tickets. Some companies have rigid rules and do not allow any modifications or refunds once the tickets are booked. However, there are multiple airline options that offer some extent of flexibility.
For example, United Airlines (as well as a few other airlines) allows you to change your flight free of cost. If the new booking is more expensive than the original one, you'll just have to pay the difference. However, if it's cheaper, you may get credit for future bookings. This is especially beneficial for business travelers since their plans change frequently.
Additionally, most airlines offer free-of-charge cancellations within 24 hours of booking as long as you purchase it at least a week before departure.
7. Set up Notifications for Price Drops
Prices for flights are always changing, and it can be tough to keep track of the website for the best deals. One way to overcome this problem is to set up price alerts. They notify you whenever the prices of your flight search drop. This way, you can monitor the changes and book as soon as you view the lowest price.
8. Book Flight Tickets Early
Flight prices constantly fluctuate; however, according to Google, you can get the best prices by booking 21-60 days in advance. Additionally, flight costs are 12% cheaper for departures on Monday, Tuesday, and Wednesday than on the weekends.
9. Take Employee Feedback after the Trip
Employee feedback is essential in improving the quality of your future business trips. It can also help you identify gaps in your business travel management plan. To get the most useful feedback, include questions in your feedback form that address specific aspects of the trip, such as:
Was the hotel location appropriate?
Did you face any safety issues?
How convenient was the trip on a scale of 1-10.
Were the in-flight services according to the standard?
How well did your travel arrangements meet your needs?
How smooth was the small business travel booking process?
How do you feel after the trip? Would you like to take more or fewer business trips in the future?
What challenges or unexpected events arose during the trip?
By asking them for feedback and suggestion, you can address the issue immediately and ensure that your future travel plans are as efficient as possible.
10. Make use of Automation
If you want to make your small business travel booking process as seamless as possible, you can opt for travel management software (TMS). It is a one-stop solution for all your travel requirements.
With this software, you won't have to worry about manually consolidating traveler details or scrolling through different websites to find the lowest prices. It simplifies your booking process and also enables your business travelers to have an enhanced travel experience.
Some more reasons why you should consider a travel management software solution are:
A Single Platform for all Travel Requirements
TMS enables you to save and access the details of all travelers on a single platform. It also allows you to view the travel history of all your employees and live-track their current trips.
Allow Travelers to Book Their Tickets Themselves
TMS gives travelers the privilege of booking their trip tickets themselves. This enables them to personalize their trip according to their preferences and saves you a lot of time and effort.
Travelers Can View Trip Details on a Consolidated Dashboard
Travelers can view and modify their itinerary from anywhere at any time. They can track upcoming flights and hotel bookings and be prepared in case of any delays or cancellations. Simultaneously, the application notifies the office manager regarding any changes in the itinerary.
Use GDS to get the Lowest Prices
The travel management software provider partners with GDS (Global Distribution Service) to provide you with the lowest fares in an extensive travel inventory.
Ensure Policy Compliance while Booking
Employees can view policies in real-time so that they can comply with them while booking. Out-of-policy flight and hotel options are displayed in a separate window, and the office manager is notified in case an employee books them.
Streamline Booking Approvals
Once the traveler books their ticket, you can review it and approve or reject the booking. The software also allows multi-level approvals, which means different managers can review the booking before finalizing it.
Block Unsafe Flights and Hotels
If you feel that certain flights and hotels are unsafe for your employee, then you can block those from the application. Your employees will not be able to book those ensuring their safety.
Better Plan your Future Trips with the Help of Travel Reports
Travel reports give you holistic insights into the travel program of your company. You can view travel data such as the number of out-of-policy bookings, most preferred airline, and last-minute bookings. You can use this information to optimize your travel program and policies.
Optimize your Booking Process with these Tips
By using these tips, you can streamline your booking process and use your time efficiently. However, it's challenging to implement these tips without the help of a modern travel management software solution.
Consider using an advanced travel management platform like ITILITE. With this software, employees can book tickets, modify itineraries, and personalize their trips themselves, while you can approve trip requests in just a few clicks. This makes ITILITE an ideal solution for managers looking to optimize their travel program.
Request a demo to experience the benefits yourself.