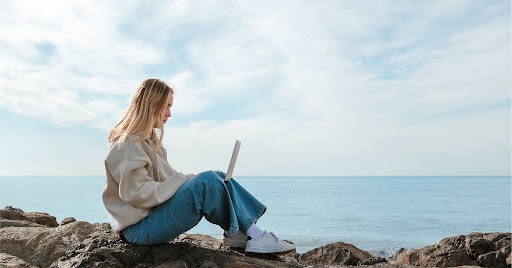 In a rapidly evolving corporate world, where world life balance is paramount, a new trend has emerged- bleisure travel. Earlier, when employees went on business trips, their itinerary would be packed with meetings, business conferences, attending calls, and working on their regular office work. This made them feel stressed, exhausted, and frustrated, leading to employee dissatisfaction.
However, over the past few years, companies across the globe have realized the drawbacks of continuous business travel. They now allow employees to extend their trips to relax, unwind and enjoy a few leisure activities. As the concept gains momentum, companies like ITILITE play a crucial role in facilitating the integration of work and play.
Let's learn in detail about the rise of bleisure travel, its benefits, challenges, and how ITILITE paves the way for a harmonious blend of business and leisure.
The Rise of Bleisure Travel 
Bleisure, a portmanteau of "business" and "leisure," is an innovative business travel trend encouraging business travelers to enjoy work and leisure activities. It adds an extra layer of enjoyment during their business travel. The concept of bleisure travel has recently gained a lot of importance as employees increasingly seek to combine work responsibilities with personal travel experiences.
The rise of bleisure travel is based on several factors. Firstly, technological advancements have made remote work more comfortable, enabling employees to extend their business trips beyond any business obligations. This flexibility has allowed employees to indulge in leisure experiences such as exploring new places, cultures, and cuisine. This has changed the way of mundane business trips into an enriching travel experience.
Secondly, companies are now recognizing the benefits of bleisure travel. Bleisure travel enhances employees' satisfaction and well-being as employees can combine work with leisure activities. This leads to an increase in productivity and creativity. This business travel trend has made companies more flexible with their travel policies and incorporating bleisure travel.
Furthermore, the hospitality industry has been very accommodating regarding bleisure travel. The hotels now offer personalized and tailored services that cater to the need of business travelers. For instance, they offer amenities such as co-working spaces, high-speed internet, and local activity recommendations to accommodate work and leisure needs.
Bleisure travel has gained popularity and traction for various reasons:
Work-life balance: New-age business travelers, especially millennials, prioritize work-life balance above all. Bleisure travel allows them to complete their work commitments and indulge in leisure travel experiences. This strikes a balance between both their personal and professional lives.
Maximizes travel opportunities: Some travel policies provide employees with unique opportunities, such as visiting new cities or countries. Bleisure travel ensures these opportunities allow them to explore local cultures, cuisines, and tourist attractions during their free time.

Boosts employee satisfaction and productivity: Organizations that allow their employees to go on bleisure trips have found them more productive and happy. They feel valued and supported, increasing their job satisfaction and overall productivity.
Cost-effectiveness: Some days, the flight prices are costly. During those days, employees can extend their business trips and enjoy leisure activities. This helps save money for both employees as well as the company.
Networking: When employees are not working, they can interact with other people during their trip. For instance, they can interact with other business professionals, potential clients, local guides, etc. Such interactions foster deep connections and contribute to personal growth.

ITILITE: Transforming Bleisure Travel
In today's digital day and age, technology has revolutionized various aspects of our lives, and corporate travel is no exception. ITILITE is one the main examples of how technology shapes the future of bleisure travel. ITILITE is an advanced travel platform that assists you with providing your employees an amazing bleisure travel experience. Let us see how:
Streamlined Itinerary Planning
With ITILITE, your employees can seamlessly integrate their business and leisure activities in a single, well-organized itinerary. ITILITE's travel management platform syncs with various travel booking options, such as ensuring flight deals, negotiating with hotels, and planning leisure itineraries, all in one place!
Expense Tracking And Reimbursement
Keeping track of expenses is a crucial aspect of bleisure travel. ITILITE simplifies this process by enabling travelers to categorize and record expenses related to both work and leisure. This feature streamlines the reimbursement process, ensuring that your employees are fairly compensated for their expenditures.
Customized Recommendations
One of ITILITE's standout features is its ability to provide personalized recommendations based on travelers' preferences. Whether it is suggesting to your employees the best places to visit, trying local eateries, or engaging in some recreational activities, the platform lets them make the best of their leisure time.
Policy Compliance
With respect to travel policy compliance, ITILITE shines again. ITILITE helps provide real-time access to travel policies and reject travel expenses beyond your assigned travel budget. This ensures policy compliance while being able to enjoy all the leisure activities during their trip.
Seamless Communication
ITILITE's travel platform facilitates effective and continuous communication between you and your employees. Through ITILITE, you can share travel itineraries, update any change of events, provide real-time alerts, get updates on flight cancellations, and many more. This fosters a sense of security and reliability for your employees.
Insights and Analytics
ITILITE's data-driven approach offers valuable insights to both travelers and companies. Travelers can assess their spending patterns and travel habits, while companies can better understand their employees' travel behaviors, enabling them to tailor policies accordingly.
Incorporate Bleisure Travel With The Help of ITILITE
Bleisure travel undoubtedly has a multitude of benefits. It has changed the way how business professionals approach business trips. By combining work and personal activities, employees can enjoy their business travel experience, have a good work-life balance and build strong business relationships. Moreover, companies also retain their top-performing employees in this competitive market.
Travel management platforms like ITILITE are rising to provide innovative solutions such as itinerary planning, expense management, and seamless communication. With ITILITE leading the way, the seamless integration of business and leisure is becoming more accessible, revolutionizing the future of corporate travel.
Want to know how ITILITE can help you incorporate bleisure travel? Book a free demo now!

Author
:
Priyanka Kamath
Priyanka Kamath is a content writer and marketer at ITILITE. She quit her clinical research job to pursue something she loved-content creation! An avid traveler and travel influencer, she loves creating memories and narrating stories through videos and photos. She loves watching thriller movies and is an ardent cricket enthusiast.
Get the latest in your inbox
Subscribe to the Itilite blog and never miss a post!