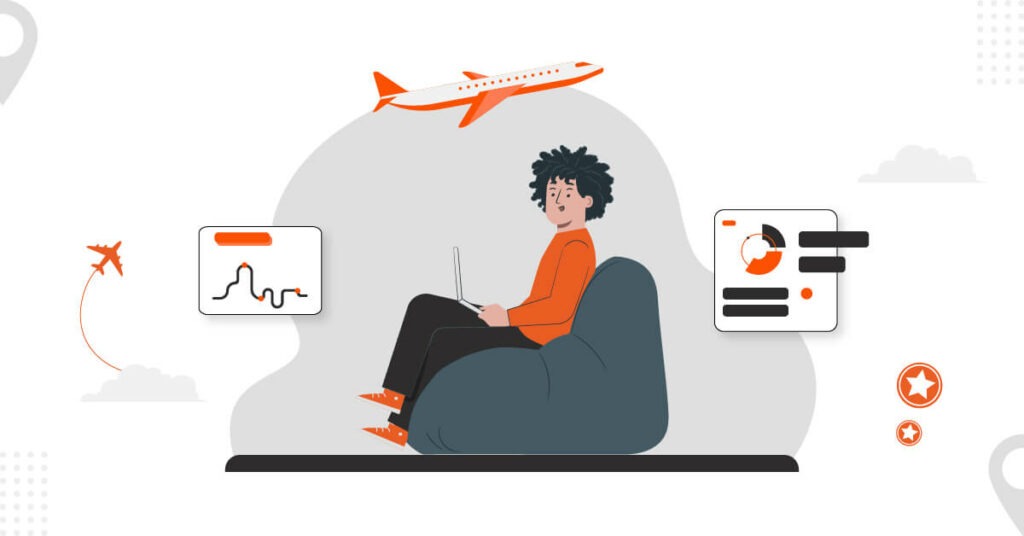 Travel managers play a crucial role in managing business trips for their employees. From the time a business trip is announced to when employees are back, travel managers must take care of everything.
Although the pre-trip travel management process is very crucial, post-trip travel management is equally important. Post-trip travel management is crucial to identify areas of improvement, reduce costs, identify policy violations, and ensure employees have a good travel experience in the future.
Listed below are some of the best practices for post-trip travel management that travel managers should follow:
1. Conduct Post-Trip Reviews
Once employees return from their business trips, the first step you must follow in post-trip travel management is conducting post-trip reviews. These reviews will help you understand any issues that employees faced during their journey, such as problems with accommodations and transportation. Based on their feedback, you can make changes to your business travel program accordingly.
To conduct an effective post-trip review, you can schedule meetings with your employees. During these meetings, you must listen to and consider their suggestions seriously. As a travel manager, you can ask them to be very honest about their experiences so that you get to know what actually happened.
Additionally, you can also hand over a feedback form where employees can give their honest feedback. It could include questions on their experiences or rating every experience.
Some of the questions can include:
How was their overall business trip experience?
Did they feel the trip was well-organized, or are there any areas of improvement?
Did they face any challenges while boarding the flight or during the layover?
How were their accommodations? Were they clean and comfortable, or were there any issues with the surroundings or the hotel staff?
How was the transportation service? Was the driver on time, or did they have issues getting around the city?
Did they face any safety issues during the trip, especially female business travelers?
By conducting post-trip reviews, you can understand employees' pain points or challenges. Based on this, you can make changes to your business travel program accordingly. You can also create a document summarizing the feedback and actions to be implemented for future business trips.
One of the major issues employees face after returning from a business trip is employee expense reimbursement. After submitting their expense reports, they have to wait for days or weeks to get their amount reimbursed.
This can strain their finances and, as a result, their decision to participate in future business travel activities. Therefore, travel managers should keep track of employee reimbursements.
You must also ask your employees to submit their expenses before a given deadline, maybe within 1 or 2 weeks after they return from their trip. A better way to do this is by encouraging employees to use expense management software so that they can file expenses on the go.
This way, the finance department can get real-time alerts, quickly review the expense reports and initiate the reimbursement.

3. Take Necessary Measures for Policy Violations
Travel policy violations are among the most commonly faced issues by most companies. Hence, as a travel manager, you must look into any travel policy violations during post-trip travel management. You can do that by following these steps:
Identifying the violation: You can first start by identifying what aspect of the travel policy was violated by the employee. It could be either booking a hotel outside the company's policy or exceeding the per-diem limit.
Discussing the violation with the employee: Once you have identified the policy violation, you must discuss it with the employee as to why he/she did it. It could be either unknowingly or purposely.
Taking necessary actions: Depending on the severity of the violation, travel managers can take corrective actions such as providing additional training to employees on travel policy compliance or implementing a strict travel policy.
Documenting the violation: You must document every policy violation made by the employees. This will help you identify any trends and patterns for policy violations among employees.
Communicate the violation with other departments: Based on the nature of the violation, it may be essential to communicate it with other departments, for instance, the finance department.
By following these measures, travel managers can ensure travel policy compliance and also optimize the business travel management process.
4. Provide Support for Jet Lag and Travel Fatigue
After many days of continuous travel and work, employees will be exhausted. Due to traveling through different time zones and having a tight schedule, they may suffer from jet lag and travel fatigue. According to research, jet lag can significantly impact employees' productivity, health, and safety.
Hence, as a travel manager, providing your employees with the right support is essential during post-trip travel management. This will help them recover from these issues and return to work in a healthy and productive state.
Some of the ways in which you can provide support are:
Encourage rest: You can ask your employees to take a day or two off, catch up on their sleep and rest well. Once they are fully recovered from fatigue and jet lag, they can resume work.
Provide flexibility: Give your employees the flexibility they need and allow them to adjust their office timings.
Suggest including minor workouts: You can suggest your employees do some minor workouts, such as yoga, lunges, push-ups, cycling, etc., that will help them feel refreshed.
Encourage them to stick to a balanced diet: Encourage employees to have healthy meals and snacks that can relieve them from jet lag or fatigue. It is important they also stay hydrated and drink fruit juices to get rid of fatigue.
Advise employees on sleep patterns: Travel managers should also provide information on how employees can adjust their sleep patterns after the trip.
Providing support to employees post-business trips for jet lag and travel fatigue enhances their job satisfaction. They can return to work in a better, healthier, and more productive state.
5. Encourage a Healthy Work-Life Balance
Business travel can be very exhausting and emotionally draining for employees. Hence, one of the important steps in post-trip travel management is encouraging employees to have a healthy work-life balance. This means they are not immediately expected to return to work as soon as they return.
You can also have a policy in place allowing employees to take a few days off to spend time with their families. Encouraging a healthy work-life balance can help prevent mental breakdown and burnout and ensure that your employees perform at their best.
6. Provide Feedback to Employees
After doing all the above-mentioned steps, the most important part of post-trip travel management is providing feedback to employees about their performance. This includes adherence to business travel policy and achieving business goals. If you identify any areas of improvement, you must provide constructive feedback so that they improve in the future.
You may also want to discuss employees' overall business travel experience. If your employees have had a great travel experience, you can consider it as a win. And if they face any challenges during the trip, you can discuss with them how these issues can be addressed in the future.
7. Implement Changes
After conducting post-trip reviews, identifying policy violations, and providing feedback to employees, you should implement changes. Based on all the information collected, you must make changes to your travel program to improve its effectiveness and efficiency.
Changes may include updating your travel policy, making better travel arrangements by negotiating with vendors or adopting better technology to streamline your travel management process. Whatever changes you make, ensure you communicate them clearly to all employees, so they know the updated policies and procedures.
Ensure a Good Post-Trip Travel Management Process 
As a travel manager, your job doesn't end when your employees return from their business trips. The post-trip travel management process is just as important as the pre-trip planning process. By following the practices outlined in this blog, you can carry out a smooth post-trip travel management process.
However, if you find this process challenging or don't have sufficient time, ITILITE can help you with that. At ITILITE, we help you manage your business travel activities seamlessly, from modifying travel itineraries, implementing changes in the travel policy, negotiating with flight and hotel vendors, and many more. However, our travel management platform helps you improve employees' business travel experience.
Book a free demo with ITILITE to learn more about our advanced features.