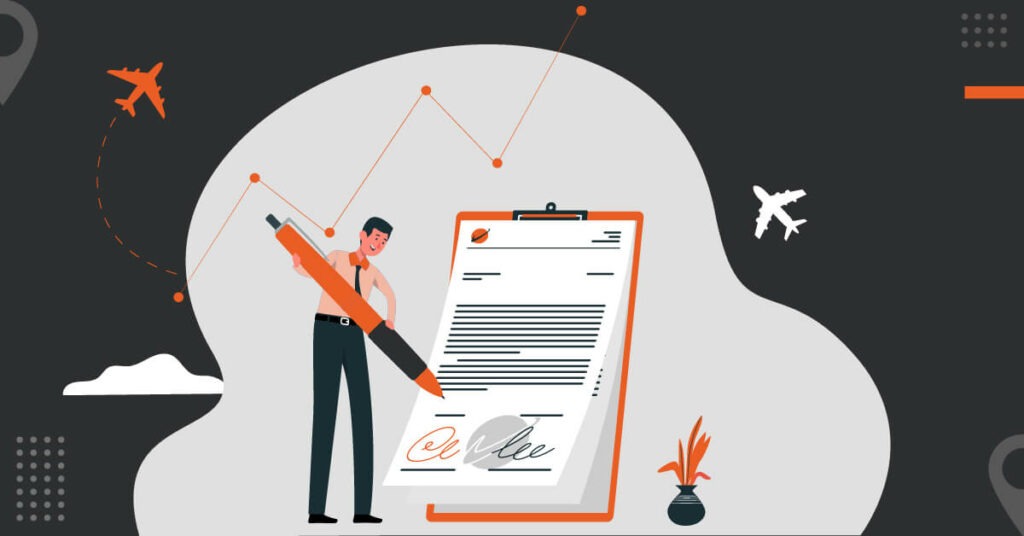 Although corporate travel is one of the significant functions for most companies, corporate travel compliance remains a major challenge for travel managers. This is because when employees travel for business purposes, they book hotels and flights that align with their preferences not with the travel policy.
When employees fail to comply with your company's travel policy, it can majorly affect the company's monetary health. Therefore, it is imperative that you, as a travel manager, have a robust travel policy in place to ensure policy compliance.
Here are a few ways to improve your corporate travel compliance:
1. Analyze your Existing Travel Policy
The first and foremost step to improve corporate travel compliance is analyzing your current travel policy. As your business travel process evolves, so should your corporate travel policy.
Hence, you must first thoroughly review your existing travel and expense policy and identify the travel behavior of your employees.
You can do this by questioning a few practices, such as:
How many employees went on business trips this year compared to the last year?
Which type of hotels and flights do employees generally prefer?
How much money is spent on average on each trip (domestic and international)?
How many days in advance are employees booking their travel?
Of all the trips, how many are domestic, and how many are international?
Are employees booking flight and hotels on corporate rates?
By finding answers to these questions, you will get an overall idea about travel spending.
Moreover, you can also identify what employees find unfavorable, such as low-budget accommodations and certain airlines. Once you gain insights into such things, you can make a checklist of the necessary changes that can be made to your existing travel policy.
If you need help in assessing your present travel and expense management system, use the calculator below.
2. Communicate Travel Policies Clearly
Once you have analyzed and prepared a proper travel policy, your job does not end there. A major hurdle in business travel compliance is that employees are unaware of the policy guidelines. It can be mainly because of poor communication or lack of visibility.
This problem generally occurs due to the lack of a digital travel management platform; when things are done manually. If employees do not know the details of the travel policy, policy violations are inevitable.
Travel management software gives you real-time visibility of the travel policy. When the employees want to book their travel, the software shows the notification right beside the out-of-policy options.
This way, employees can easily access and gain visibility into travel policy as they become aware of the cost limit and avoid any policy violation.
3. Provide Employees with a Self-Booking Option
The traditional booking method includes employees connecting with a travel agent or sending multiple emails to their travel manager to book their business trip. This process is tedious and leads to compliance issues. This is because it is difficult for travel managers to track if the bookings are made within the policy.
You can empower employees to book their business trips with a self-booking tool. With the tool, you can set up in-built policies and approvals, which allows employees to book their trips on a single screen with a huge flight and hotel inventory.
Moreover, when employees book a trip, the approver gets an instant notification and either approves or rejects it, depending on the policy. This way, business travel compliance is assured, and employees' preferences are also met.

4. Consider Employee Preferences
Travel managers usually don't consider employees' preferences while drafting a corporate travel policy and book cost-effective flight and hotel options. This is because they may be outside the company's budget, which can lead to policy violations.
One of the best ways to ensure corporate travel compliance is by enhancing employee personalization. When creating a travel policy, you must consider your employees' past preferences. You can use a travel management solution with AI that recommends customized booking options. This helps employees compare and choose packages that best suit their needs.
Additionally, you must take feedback from your employees post their business trips. After all, they have first-hand experience of the trip. When you take their feedback, you can understand their problems and incorporate the relevant suggestions in the policy.
5. Use Software that Allows Complex Policy Configurations
Travel managers face a major challenge in configuring complex policies into their existing systems or software.
For instance, let us consider a scenario where a top-level executive from your company has to travel internationally, which requires a pretty hefty budget. And for such type of travel, a separate approval workflow needs to be configured in the software.
Most travel management software in the market don't offer such granular policy setup. You can overcome this problem and ensure business travel compliance with an integrated travel and expense solution. It allows you to customize travel policy for various situations, such as:
Multi-level approval workflows
Flight policy setup based on department, airlines, employee level, etc.
Hotel policy based in location, stars, etc.
The best T & E solution allows you to handle all situations easily. For example, if an employee has to go on an international business trip, the software displays the in-policy options to choose from.
Apart from policy compliance issues, there are other travel compliance challenges that you must take care of.
6. Address Tax Compliance Issues
When employees travel internationally, they are subject to the rules and regulations of the destination's jurisdiction. This includes tax laws. And most travel managers find it challenging to comply with tax-related issues.
If your company is not managing these efficiently, it could lead to penalties and interest that can seriously impact your company's financial health.
You can address tax compliance issues by actively managing and tracking employees' travel activities. You must closely monitor where employees travel, for what business purpose, and the duration of their stay. Communicating the tax rules for business travel with employees who travel frequently is also crucial. This way, you and your employees can be tax compliant and be aware of any tax implications.
7. Monitor Immigration Compliance
Apart from tax risks, employees may also pose immigration risks. Not acquiring the correct documents needed for an employee to travel to a destination can put themselves and their employer at risk for penalties or travel bans.
As a travel manager, you must obtain permission to ensure that your employees can travel to a specific country and conduct business-related activities. Business travelers entering a particular country multiple times within a specific time frame can raise red flags.
Therefore, you should ensure that you and your employees know of immigration risks, breaches, and ways to avoid them.
Use Technology to Enhance your Corporate Travel Compliance
The world of corporate travel is evolving every day. Yet, corporate travel compliance still remains one of the major challenges that travel managers face. Hence, it is high time that travel managers invest in travel and expense management software that will help improve compliance.
ITILITE's integrated travel and expense management software can help you achieve policy compliance. The software lets you configure complex policies and flags any out-of-policy bookings made. Additionally, the software has a customizable dashboard and allows employees to book their trips without going against the company's policy.
Get the free demo of ITILITE now to experience all the features yourself.