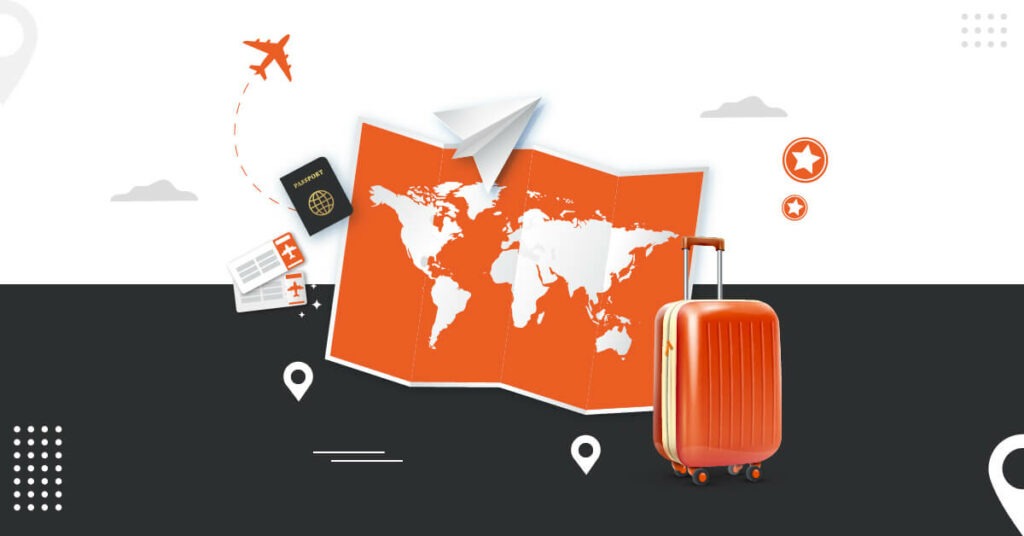 It is without a doubt that business travel has evolved multi-fold over the years. Hence, with the continuous evolution of business travel, employees going on business trips are also on the rise. According to a report, despite the inflation, business travel budgets will increase to surpass the pre-pandemic levels by 6-10% this year.
However, as business travelers travel across the globe, sometimes multiple times a year, they must plan and prepare well. Business trips can be hectic and strenuous without proper planning, eventually leading to burnout, stress, and exhaustion. Therefore, listed in this business travel guide are the best business travel tips and tricks to help you have a smooth and successful trip in 2023.
1. Plan Ahead
The first and foremost aspect of business travel is planning. It is important that you start business travel planning in advance, i.e., from when the business trip is announced. You do not want to spend just a few days before the commencement of the business trip running around finding your document, packing clothes, and arranging other essential items. This will only make you feel more stressed and anxious.
Planning your trip ahead of time not only makes you feel relieved but also makes you feel more confident about your trip. Here is what you can do:
Research the Destination Thoroughly
You can begin by finding information about the place you are traveling to. This includes researching the climatic conditions, political situation, local cultures, cuisines, popular activities, modes of transport, etc.
You should also enquire with your travel manager, friends, or colleagues who have traveled to the same destination.
Reading blogs and articles and watching recent videos or news is also an excellent research method.
Prepare your Itinerary
Your business travel itinerary must include every minute detail of your business trip. Include all the details about flight timings, cab pick up and drop off timings, accommodation details, business meetings and conferences, mode of commute within the destination, etc.
You can also incorporate details of your personal things to do, such as workouts, meditation, breakfast, leisure activities, and talking to family and friends, among many others.
Here is a customizable template you can use to prepare a comprehensive itinerary.
Book Flights and Hotels in Advance
Advance booking for flights and hotels is very beneficial as you save up a lot on costs, get the best offers and deals, and you get to choose the flight and hotel of your choice. 
Booking in advance also helps you plan your business travel budget and thus allows you to plan your trip accordingly. 
Everything you need will be taken care of, especially by the hotels, if you inform them about the requirements earlier rather than booking at the last minute and not getting what you want. 
If you plan ahead of your business trips, as we have in this corporate travel guide, you can be more confident about the trip you are about to embark on.
2. Pack Smart
One of the biggest challenges of business travel is packing. Hence, another important tip we would give you through this business travel guide is to pack smartly.
You must pack according to various situations, such as casual attire for leisure outings and activities, formal attire for business meetings and conferences, party wear for office parties, etc. Apart from apparel, you also need to keep electronic gadgets, travel documents, foreign currencies, and more. 
While packing all these, you must also take care not to overpack. If you overpack, your luggage will be heavy for you to carry everywhere. Hence, packing smartly is essential. 
Preparing a packing checklist is a good practice that will come a long way. It will help you while packing as you can check off all the essential items. Some of the essential items include:
Important travel and business documents
Local currencies
Electronic gadgets
Formal and casual attire
Business cards
Medications 
Office stationeries
Get Free Business Packing Checklist
3. Stay Connected
Communication is key when traveling for business. However, due to differences in time zones, it can be difficult for you to communicate with your managers, colleagues, and clients. Hence, investing in proper communication tools is one of the most significant suggestions we have included in this business travel guide.
If you don't have the right tools to communicate, it becomes difficult to carry out any business travel activities, which can, in turn, affect your business trip goals. 
Therefore, you must ensure you have reliable means of keeping in touch with them. This may include a smartphone with an international plan, a laptop or tablet, and a secure VPN connection.  
Hence, before going on the trip, check if all these are taken care of by your organization or the hotels. You must also use business travel tools for video and audio conferencing, allowing you to connect with your colleagues or clients instantly. 
4. Get Sufficient Sleep
During business trips, your work schedule is packed throughout the day. You must attend various business meetings/conferences, meet new people, and go out with colleagues or clients at different times and locations. Due to this, you may not get sufficient sleep. And if you go on an international business trip, your sleep schedule is majorly affected, also known as jet lag.
Lack of sleep can be very frustrating and can hamper your productivity during a business trip. Therefore, getting proper sleep is another essential tip we have included in this business travel guide.
You should try to get sleep whenever possible. You must at least have 7-9 hours of sleep to stay active and productive. You must also get sufficient sleep the night before taking off and plan your itinerary in such a way that you get sufficient time to rest. 
5. Keep yourself Organized
During a business trip, you have to meet new people, attend business meetings, go out with clients for lunch/dinner, and many more. During such times, it is important you keep your business cards and important documents, such as your company profile, handy.
This is because you may have to exchange them or hand them over to other professionals while networking. If you can't find them during that time, you will have to search for them, which can create a negative impression about you or your company. 
Therefore, another crucial tip we would like to include in this business travel guide is keeping yourself organized. Keep all your important documents and information in one place, such as a hard-shell case or a folder, so that they are easily accessible when you need them.
You should also invest in a good-quality backpack or briefcase to carry everything with you to secure the documents. You can even make a list of documents and where they need to be placed so that you can refer to this list when you can't find them. 
6. Have a Balanced Diet
Business travel can be very liberating in a way that you get to try different types of cuisines. However, indulging in local cuisines such as pastries, desserts, and fried food and consuming aerated drinks can cause sugar overload, weight gain, and digestive discomfort, leading to lethargy. 
Therefore, you should stick to a balanced diet throughout your business trip. A balanced diet not only makes you feel active and productive but also prevents you from succumbing to any illness. Some ways we suggest in this business travel guide to help you follow a balanced diet are:
Eat at least 5 portions of fruits and vegetables every day.
Avoid junk food and aerated drinks.
Incorporate protein in every meal, such as pulses and eggs.
Drink at least 6-8 glasses of water daily. 
Skip highly-processed and sugar-sweetened items. 
Eat only if you are hungry.
7. Be Aware of your Company's Travel Policy
Before going on your business trip, knowing your company's travel policy is very important. It includes rules and regulations for business travel, be with for booking flights and hotels or expense submission and filing. If you are unaware of your company's travel policy, you may spend more than your allocated budget. 
Therefore, always review your company's travel policy or check with your travel manager. If you cannot understand or if something is unclear from the policy, you can always get it clarified. This way, you can also help your travel managers create a robust travel policy as part of the business travel management process. 
8. Get Travel Insurance
When you go on business trips, you are exposed to certain risks. These risks can be related to health, luggage, accidents, important documents, etc. During such situations, you need an extra layer of monetary protection to cover up for the financial loss caused. Business travel insurance is a relatively inexpensive way to protect yourself from any untoward incidents. 
Also, waiting at the airport overnight or delay in flights can cost you a huge amount of money. However, with business travel insurance in hand, you have nothing to worry about as it covers your delay in business trips. Other benefits of this insurance include emergency dental treatment, loss of baggage and personal documents, body repatriation, personal liability, and hijack distress allowance. 
9. Make Use of Airport Lounges
Another crucial mistake that business travelers make while traveling is not utilizing the airport lounges. Airport lounges are basically facilities operated at airports that provide comfort to corporate travelers, such as comfortable seating, a quieter environment, free and secure wi-fi connection, foods and beverages at nominal rates, magazines, showers, and occasionally even SPAs.
Airport lounges are a great way to unwind before a business trip, during a long layover, after a red-eye flight, or even catch up on work. Some airport lounges even offer lounge memberships where you can avail of services like complimentary refreshments, exemptions on meal bookings, and many more. Therefore, using airport lounges is extremely beneficial if you are a frequent business traveler.
10. Manage your Expenses Carefully
Sometimes while traveling for work, you might have to shell out money from your pocket for transportation, food, lunch with clients, and other miscellaneous things. And while spending, you also need to ensure that you don't go against your company's expense policy. 
If you don't manage your expenses efficiently, it can lead to overspending, ultimately burning a hole in your pocket. Moreover, your company may not reimburse your business travel expenses after your trip. 
Therefore, always ensure that you manage and spend your expenses wisely. The best way to do this is with the help of expense management software. With the help of this software, you can scan and upload your expense receipts at any time, anywhere. This will help you avoid mismanagement of expenses and comply with the company's policy. 
11. Download Useful Travel Apps
There is no denying the fact that business travel can be stressful. You must know local customs and cultures, manage your expenses, find the quickest route to your business meeting, and many more. With all the work-related activities, these additional things can make you feel overwhelmed and stressed. However, downloading some specific useful travel apps can make your business travel seamless.
In this business travel guide, we are including the list of some of the most useful travel apps :
ITILITE: Best for tracking expenses
Jetzy: Best for social excursions 
Docusign: Best for E-signatures 
FLIO: Best airport guide
Google Translate: Best language translator
Xe Currency: Best currency converter 
CamCard: Best for scanning business cards
Google Maps: Best for navigation
These applications are available on both iOS and Android phones and are extremely useful for business travelers. 
12. Be well Prepared for Business Meetings
Finally, don't forget the goal of your business trip. The main aim here is to meet prospective clients, sign new business deals and contracts, and develop a strong business relationship to achieve your company's goals. Therefore, you must be well prepared for your business meetings. Some ways we suggest in our business travel guide to help you prepare for meetings are:
Organize all your notepads, pens, documents, presentations, etc., in a file. 
Make sure you have electronic copies of your important documents. 
Know the agenda of the meeting and keep your discussion points ready. 
If you are hosting a meeting or a conference, send invites 1-2 weeks prior to the event. 
Have a backup of your presentation once it is finalized.
Consider potential obstacles and be prepared for them. 
Determine desirable outcomes and follow-up tasks. 
Follow this Business Travel Guide for a Smooth Business Trip in 2023
Planning, managing, and executing business travel can be very exhausting and cumbersome. A good business travel guide will ensure safety and security of the traveler. Business travel tips typically cover various aspects of business travel, including planning, organization, productivity, health, networking, and more. Following the tips and tricks from this business travel guide can help you make it hassle-free in 2023. 
Another way you can streamline business travel is by asking your company to invest in a travel management company like ITILITE. At ITILITE, we take care of all your business travel needs. We help you with policy-compliant hotel and flight bookings, prepare detailed itineraries, take care of any cancellations free of charge, provide 24/7/365 customer support via calls, chats, emails, and much more. 
Schedule a free demo of ITILITE to learn more about how our experts can help you simplify business travel.