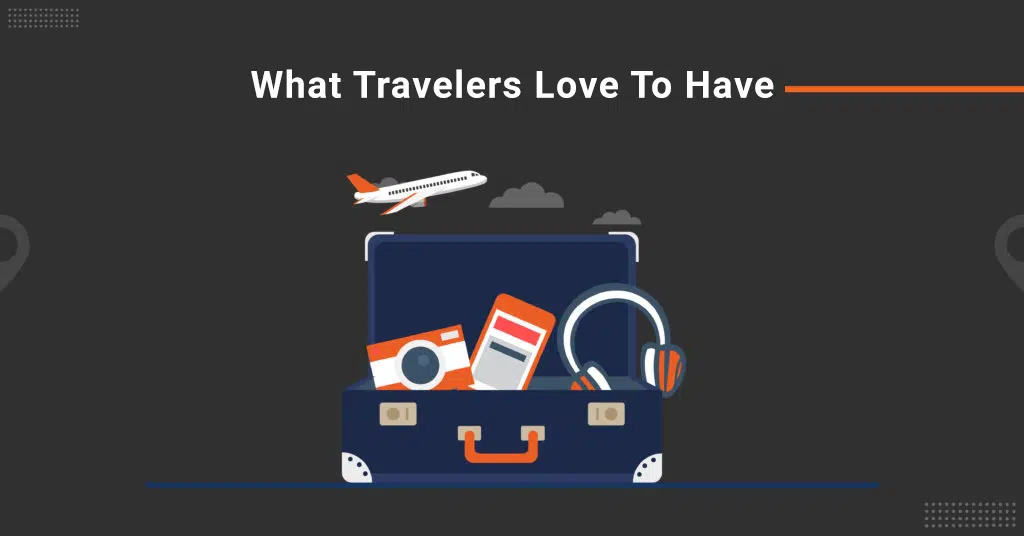 Travel is back, but business travel is not what it used to be. There are certain things that travelers need to stay organized and safe. Hence, as a travel manager, if you want to present gifts to your road warrior employees to help make their trips more comfortable and convenient, we have got you covered.
In this blog, we will discuss the best gifts for business travelers. These business traveler gifts will make their lives a lot easier and more productive. It will also make them feel comfortable and healthy, and they will enjoy their trip to the fullest. Read on!
List of 15 Best Gifts for Business Travelers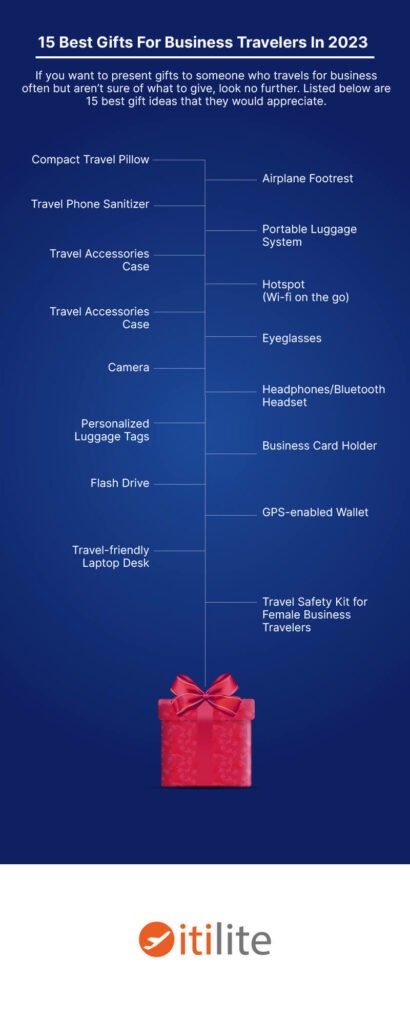 1. Compact Travel Pillow
This could be one of the best gifts for business travelers, especially if they travel abroad frequently. A customizable pillow can offer a great amount of support to the head and back and prevent stiff necks during long train trips and flights. The traveler will be able to sleep peacefully on flights. And it's compact i.e., easy to pack inside your laptop bag or carry-on luggage.
Buy here at $27.45.
The seats in an airplane are of different heights and widths. An adjustable airplane footrest will help the traveler elevate her feet off the ground. They will not have to keep their feet in the same stiff position throughout the flight. A footrest will help them align their feet and legs into a more comfortable position.
The airplane footrest is one of the best gifts for business travelers as it will turn their economy travel into a first-class experience.
Buy here at $27.99.
3. Travel Phone Sanitizer
This is the perfect gift for a business traveler. A phone is a hotspot for germs and bacteria. A travel phone sanitizer will help the traveler get rid of the germs in minutes.
The travel phone sanitizer can also be used to sanitize credit cards, keys, and anything that fits inside the box. All travelers need to do is plug it into an outlet, place their phone inside it and wait for a few minutes, and they get an almost 100% germ-free device. It also has the feature of charging all the phones, so there is no need to worry if they forget the charger at home.
Buy here at $79.95.
4. Portable Luggage System
A portable luggage system is the best gift for a frequent business traveler. There are many portable luggage systems in the market that can help a traveler include every item of their packing checklist in their luggage in an organized manner. They have different compartments for clean, dirty, or unused clothes.
Therefore, there is no need to unpack on a business trip with limited bandwidth. You can hang the expandable bag, fill in your clothes, and then collapse and latch it again to turn it into a suitcase.
So, when the travelers reach their destination, all they need to do is rehang it, and they will have all items neatly stored and easily accessible. There's even a separate section for shoes.
Buy here at $36.99.
5. Travel Accessories Case
A good travel accessories case will ensure that all essential travel accessories – jewelry or cufflinks – are in place when the traveler needs them. It will help them keep their accessories organized and scratch-free. You can even personalize it by adding a monogram to make it one of the perfect gifts for frequent business travelers.
Buy here at $25.99.
6. Hotspot (Wi-fi on the go)
This is a highly useful gift for a frequent business traveler. With a wireless hotspot, travelers don't need to buy a sim card in any country they visit to access data or the internet.
Whether they want to work from their hotel room or in a coffee shop, a hotspot provides unlimited LTE data and internet access. It can become the most trustable companion for a business traveler who might need data to find routes or work in the middle of the road.
Buy here at $379.99.
7. Eyeglasses
While traveling for work, your employees are mostly glued to laptops and mobile screens. Hence, a set of anti-glare eyeglasses is one of the best gifts for business travelers. You can have the non-prescription lenses in the glasses and gift them for the protection of their eyes. It will let them have a healthy relationship with their devices and support their total well-being. Also, glasses are trendy these days.
Buy here at $95.00.
8. Camera
A sleek, lightweight, and easy-to-use camera that clicks professional photos can be a great idea for gifts for frequent business traveler. They don't have to carry bulky DSLR cameras and click their travel photos easily with such a camera.
Buy here at $95.
9. Headphones or Bluetooth Headset
A pair of headphones or a Bluetooth headset can be a great gift for business travelers. They not only have external noise cancellation but also help them stay connected by being accessible – whether they are walking through an airport or boarding a cab. They also have wireless charging so that travelers can stay powered up.
Buy here at $159.
A personalized luggage tag with the employee's name can be a good gift for frequent business travelers. This is because it helps the business traveler avoid the frustration of grabbing the wrong bag or losing luggage during travel. It also makes travel bags look trendy.
If you are planning to gift a personalized luggage tag to your road warrior employees, you can choose from various options available in the marketplace – lightweight, durable, and stylish.
Buy here at $14.88.
11. Business Card Holder
During a business trip, travelers meet a lot of people – new and old. Having a business card holder would help them put their business cards in it and safely store the cards they receive safely. They may require to contact their connections in the future; a business card holder can come in handy then. One can also customize the business cardholders.
Hence, a business card holder is one of the best corporate travel gifts.
Buy here at $4.99.
12. Flash Drive
While traveling for work, employees need to carry various digital files like presentations and reports of a highly confidential nature. For this, they need a tool to help them carry huge amounts of data safely. Hence, while shortlisting the best gifts for business travelers, a USB flash drive should be at the top of your list.
With a USB flash drive, the data can be secured with a pin or biometric verification. This way, only authorized people can access the information, leading to a lesser probability of data theft.
Buy here at $23.98.
13. GPS-enabled Wallet
Travelers prefer to carry their cash, cards, and other small items in their wallets. However, in the hustle and bustle of a business trip, it is easier for them to drop their wallet or leave it in places like airport washrooms.
Hence, a GPS-enabled wallet can be the best gift for business travelers who are always on the go. Such wallets come equipped with a tracker to help travelers determine the wallet's location using a mobile app.
Moreover, some wallets also have an anti-theft alarm that can be triggered through the owners' mobile phones. So, travelers can carry their wallets wherever they go without
stressing about them being lost or stolen.
Buy here at $29.99.
14. Travel-friendly Laptop Desk
During a business trip, employees are constantly moving. A significant portion of their time is spent on flights and cabs. Meanwhile, they have to keep working on their laptops, which can cause back and neck problems. So, a travel-friendly laptop desk is a great gift for a business traveler.
A laptop desk can help travelers maintain a good posture while using their laptops on the go. Moreover, it can provide stability to make working in a moving vehicle easier. So if business travel is recurrent in your company, a travel-friendly laptop desk is the best gift for frequent business travelers.
Buy here at $45.99.
15. Travel Safety Kit for Female Business Travelers
Female business travelers are more prone to encountering dangerous situations while visiting new destinations. Hence, keeping them equipped with the right tools is essential to ensure their safety during business trips.
Therefore, a travel safety kit is one of the best gifts for women business travelers. The safety kit can include the following items:
Convenient Trips are the Business Traveller Gifts
Finding gifts for business travelers that make their lives easier can be a challenge for travel managers. Our gift guide can help you pick a few useful travel accessories for your road warrior employees. However, the most essential gifts you can give to your business travelers are convenience and safety. You can ensure travel safety and convenience with the help of a travel management software like ITILITE.
With the ITILITE platform, your employees can complete all the travel bookings from a single platform within 90 seconds. They get access to cost-efficient flights and hotel options from an extensive inventory sourced from the Global Distribution System(GDS).  This way, they can have a seamless booking experience. 
Moreover, using ITILITE, you can ensure employees' safety by blocking unsafe hotels and tracking travelers' locations during business trips.
To learn more about how ITILITE's advanced features, get a demo now.