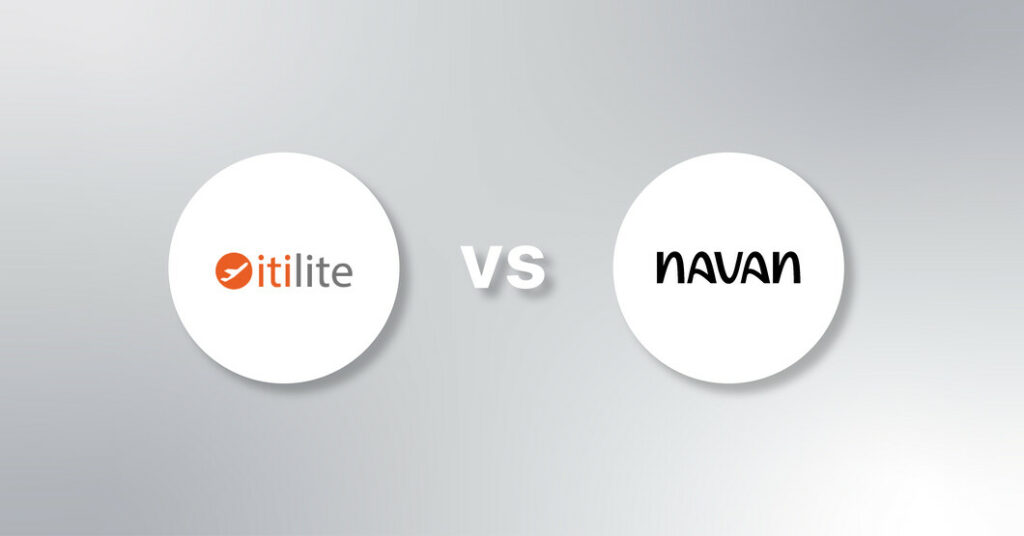 The business travel market worldwide is experiencing an upward trend. Based on research conducted by Statista, the corporate travel sector is projected to expand by 188 percent by 2028. Organizations are looking for ways to manage the travel volume surge. This requires efficient travel and expense management.
With the rise of technology, numerous software solutions have emerged to streamline these processes and give companies better control over their travel and expense operations. Two popular options in this space are ITILITE and Navan.
ITILITE VS NAVAN: A Thorough Comparison
In this blog post, we will compare these two travel management platforms. From which software's customer support is the best to which has better pricing, we are breaking it down in this detailed post.
ITILITE Overview
ITILITE is a leading SaaS-based integrated travel and expense management platform that empowers finance, operations, HR, and travel leaders to keep corporate travelers safe, control costs, and deliver a delightful experience to travelers.
The global business travel management company offers many features, such as travel booking, expense tracking, approval workflows, policy compliance, instant fraud detection, reporting, and many more.
The platform partners with popular travel partners in the industry, allowing users to book flights, hotels, and other travel services seamlessly. ITILITE provides real-time insights and analytics, enabling organizations to gain actionable intelligence from travel and expense data.
Navan Overview
Navan is another travel and expense management solution that aims to simplify the process of managing corporate travel and expenses. The platform offers an end-to-end solution to make travel easier. It offers travel booking, expense tracking, receipt capture, policy enforcement, and reporting features.
Navan helps streamline and automate travel and expense management processes, enabling businesses to control costs, increase efficiency, and enhance employee experiences. Despite the long list of features, Navan doesn't quite match many unique offerings from ITILITE.
ITILITE VS NAVAN
When comparing ITILITE vs Navan, both solutions offer similar core travel and expense management features. However, there are some differences worth noting.
Customer Support
ITILITE offers 24/7/365 free assistance to travelers in case of any emergencies via calls, live chat, and email. Our proactive and experienced customer support offers the industry-best response time of less than 10 seconds. Moreover, you can get assistance post-working hours without any additional fee.
Despite also offering multichannel 24/7/365 free business travel support, Navan falls short in many ways when compared to ITILITE. The platform does not provide a free live travel agent. Any request through a live agent incurs a fee of an additional $25. Also, Navan has an average response time starting at 60 seconds, meaning more wait time for travelers.
Pricing
ITILITE offers total transparency with the pricing. Travel will cost you $9.99 per trip, including flights and hotels booked in one request. There is no additional fee for contacting support, cancellations, or making changes in the itinerary any number of times. With respect to expenses, it will cost you $4.99 per active user. And the best part? There is no annual subscription cost.
To learn more, visit ITILITE's Pricing Plan
However, the same is not the case with Navan. Navan charges around $ 25 per trip with an annual subscription fee upward of $5000 per year. Some customers have also expressed disappointment with Navan's hidden fees.

Approval Process
ITILITE provides a multi-tiered workflow hierarchy to streamline approvals, saving time for employees and approvers. You can customize the workflow depending on the type of travel (international/domestic), departments, employee level, etc.
Moreover, if any employee makes any out-of-policy booking, the employee and the approver are instantly notified through notifications and emails and prompted to re-book. This ensures any unnecessary delays and policy compliance.
However, Navan doesn't quite match up with ITILITE's approval system. Navan leverages a soft-approval system, unlike ITILITE. When the soft out-of-policy approval option is selected, managers or other designated approvers are notified via email that one of their travelers has made an out-of-policy booking.
The email will provide booking details, and approvers can take action on the booking at their discretion within 24 hours. If no action is taken, the booking will remain as is. This can lead to cost leakages for your company.
Travel Deals
ITILITE has a wide range of travel inventory across flights, accommodations, and car rentals. This also includes low-cost carriers with affordable options, so you can be sure you're always getting the best deal.
ITILITE also has tie-ups with leading airlines and hotels in the industry, where you can get negotiated corporate rates and travel deals. Moreover, users love the best flight and hotel options based company's travel budget they find on ITILITE.
Navan, whilst offering a large inventory, doesn't stack up regarding the flights, accommodations, and other fares needed for successful business travel. According to user reviews, there are instances where the rates are higher than if one were to book directly, and in some cases, certain options are not visible at all.
Expenditure Data Analysis
ITILITE knows that business travel can be expensive. Many companies are still struggling to identify areas of cost leakages and streamline their travel expense management process. To address this issue, ITILITE has launched an AI-powered virtual travel consultant known as ITILITE Mastermind.
A virtual travel consultant like ITILITE Mastermind suggests where you can save more by comparing your travel data against industry benchmarks. It uses machine learning and predictive analysis to analyze employees' spending behavior and last-minute bookings.
This gives detailed insight into the overall travel spending and helps you monitor and control travel expenses, thus enhancing your business travel management process.
Navan's expense manager dashboard gives you a glance view of the transaction activity and spending data. You also get an overview of business spend and transactions submitted for manual reimbursement. But that is about it.
With Navan's expense manager dashboard, you don't get an idea about the current business travel industry rates, which otherwise can help you save up on business travel costs.
Dedicated Account Manager
A dedicated account manager is essential to your business travel management process as your company grows. Having an account manager dedicated to your company gives you a direct, single point of contact for all your questions and needs.
Hence, at ITILITE, every customer has their own dedicated account manager who will be with them from the start to transition smoothly and within a day. And, of course- without any additional costs! You can even go live with us within 24 hours. If you wish to begin even sooner, why don't you Contact Us Today?
With regards to Navan, you get an account manager at an additional cost. Moreover, access to the account manager depends on your spending. This means you only get a dedicated account manager if you have spent a certain amount on your travel. Unlike ITILITE, account management is not free of cost.
No. of Users
At ITILITE, once you have onboarded your employees, you only pay when they book travel or submit a report. Oh yes! There is no monthly fee. So you can add as many users as you want, but you pay only when they travel.
Unlike ITILITE, Navan charges a monthly fee per user regardless of if that user travels—you're paying no matter what.
Cashback
At ITILITE, you get a 1.5% cashback on all travel spending using ITILITE partner cards and a 1% cashback on more than $100,000/month of travel spending. This helps you keep your travel costs in check.
At Navan, you only get up to 1% cashback. The customer is eligible for a 1% total rebate on Eligible Rebate Spend for non-negotiated corporate hotel rates and a 1% total Rebate on all other Eligible Rebate Spend for the Term.
ITILITE VS NAVAN : Comparison Table for Features
Features
ITILITE
NAVAN
Customer Support
24/7/365 free live support via call and
chat in less than 10 seconds
24/7/365 support with a $25 fee per request.
Per-trip Booking Fee
$9.99 per trip
$25 per trip
Approval Process
Hard-approval process
Soft approval process
Travel Deals
Best corporate travel rates
Sometimes prices are higher if booked through Navan.
Virtual Travel Consultant
World's first virtual travel consultant-ITILITE Mastermind.
No virtual travel consultant.
Dedicated Account Manager
Included in the per-trip fee.
Available at additional charges.
No. of Users
Pay only when employees book travel or submit a report.
Chargeable with a monthly fee
Cashback
Up to 2.5% cashback
Up to 1% rebate.
Experience Business Travel Like Never Before with ITILITE!
ITILITE offers an extensive travel inventory and top-notch customer support, making it a reliable and all-inclusive travel management platform suitable for businesses of any scale.
Regardless of whether you're arranging a return journey between San Francisco and Las Vegas or a three-night stay in Chicago, ITILITE consistently outperforms Navan in every aspect.
To know more about our advanced features, talk to our experts now!