According to the latest statistics, 1.3 million professionals travel for business purposes every day in the USA. Hence, most companies these days deploy a business travel manager to ensure frequent employee travels without hassles and stress.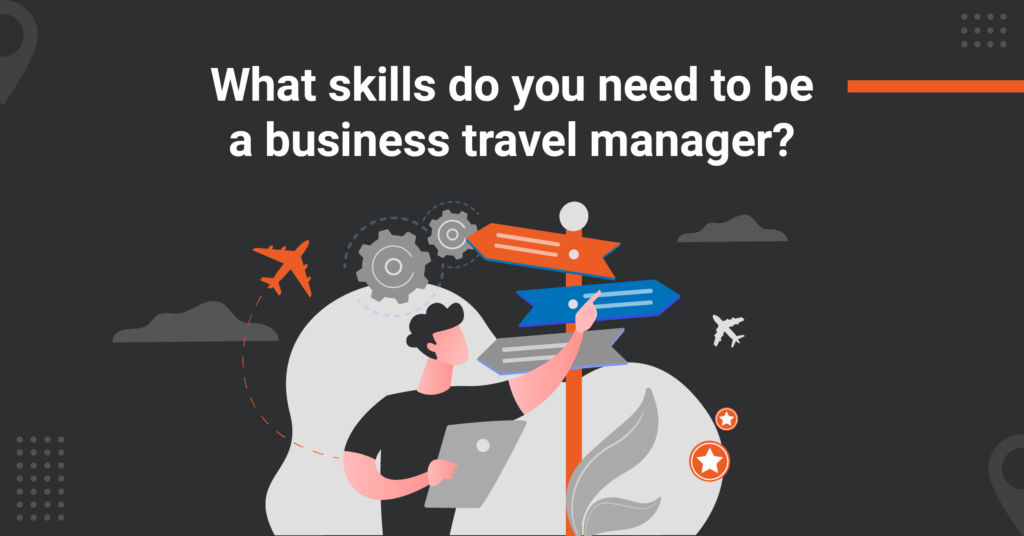 A business travel manager needs to manage various aspects and challenges of corporate travel. In addition to designing the organization's travel policy and ensuring policy compliance, they have to manage travel arrangements, monitor expenses, collaborate with corporate travel agencies, and analyze corporate travel data.
Hence, if you want to become a successful travel manager, you can do it only by acquiring and honing a set of professional skills. Here are 10 professional skills essential to succeed as a business travel manager.
1. Education and Training
While recruiting travel managers, many employees prefer candidates with bachelor's degrees in tourism, hospitality, and travel management. Additionally, you can impress prospective employers by completing specialized training and certification programs from reputable institutions.
The education and training will help you acquire the knowledge and skills required to manage various aspects of corporate travel management efficiently.
2. GDS Knowledge
Many bloggers describe the Global Distribution System as the brain of the travel industry. The computerized network system facilitates corporate travel arrangements by providing relevant and real-time information about airlines, hotels, car rentals, and travel agencies. 
Beginners often find GDS to be complicated and tricky. You must spend some time mastering this computer-based system to impress prospective employers. However, it is also advisable to familiarize yourself with some widely used travel industry technologies.
3. Travel Policy Designing
Implementing corporate travel policy and ensuring its compliance is one of the key responsibilities of corporate travel managers. While designing a business travel policy, you need to focus on various factors – making business travel hassle-free, keeping employees stress-free, and controlling travel expenditure.
Also, you need to understand the company's existing practices to optimize critical processes like business travel management, travel expense management, and travel expense audit.
4. Interpersonal Skills
As a business travel manager, you have to interact with employees before, during, and after business trips. Also, you have to communicate with various travel agencies frequently to make travel arrangements. Hence, it is imperative for you to continuously hone your communication and interpersonal skills.
You need to master the art of gathering vital information by having conversations with various stakeholders. It is also advisable to boost your communication skills by learning multiple languages and understanding cultural diversity.
5. Art of Negotiation
These days, business travel managers explore ways to control and curtail overall business travel costs. You can curtail costs and expenditure only by regularly negotiating with vendors, suppliers, and other stakeholders. Hence, in addition to honing your interpersonal skills, you need to master the art of negotiation.
The negotiation skills will help you to enforce travel policies without escalating costs. However, you should also focus on keeping the business travel experience of employees intact while negotiating for better deals and discounts.
6. Budgeting Skills
Most organizations these days calculate ROI on business travel expenses incurred by employees. They prepare budgets to track the amount spent on business trips in the short and long runs. As a travel manager, you need to prepare your organization's corporate travel budget.
Your budget must focus on tracking and controlling business travel expenses. Also, it needs to ensure that employees remain comfortable and safe during business trips while complying with the travel policy. You need to acquire basic knowledge about finance and budgeting.
7. Auditing Skills
Businesses in the USA lose 1.9 billion dollars every year due to expense frauds. Hence, companies these days make travel expense auditing an ongoing process to prevent expense frauds and travel policy violations.
Travel managers are not required to conduct expense audits. But they must facilitate expense audits by making expense reports and receipts accessible to auditors on demand. Also, they need to analyze the audit reports elaborately to take corrective actions. Hence, it is advantageous for a business travel manager to have basic auditing skills.
8. Leadership Skills
Successful travel managers always act as good leaders. They make employees feel confident and comfortable resolving current issues and providing on-time assistance proactively. Employees rely on travel managers to eliminate roadblocks before, during, and after business trips.
You can easily build a professional reputation in the company by becoming a good leader. While exploring ways to manage business travel efficiently, you should work on your leadership skills. Leadership skills will help you achieve professional success in the long run.
9. Analytical Decision-making
A travel manager has to solve problems faced by multiple employees every day. Also, they have to interact and negotiate with many vendors and suppliers regularly. Hence, it becomes essential for business travel managers to make strategic decisions in minutes.
You can make decisions promptly only by analyzing relevant data and information. Also, it is vital to prioritize and reconfigure strategies proactively to eliminate roadblocks. You must hone your skills to mine data.
Moreover, you must explore ways to leverage the information to finetune travel policies and the travel management process.
10. Industry Knowledge
The business travel industry has been growing and evolving consistently. New-generation technologies like Artificial Intelligence (AI), Augmented Reality (AR), Virtual Reality (VR), and Internet of Things (IoT) have been changing both desires and preferences of frequent travelers.
You cannot become a successful travel manager without understanding the industry's in and out. Also, you must keep your industry knowledge up-to-date by consuming information from various online sources. It is also important to track the emerging business travel trends.
While mastering the art of business travel management, you must remember that automation is currently one of the hottest trends in the worldwide business travel industry. Many organizations these days opt for business travel management software like ITILITE to accomplish travel bookings and management. Hence, you should also be well-trained to work on these software solutions.
We offer a free demo of ITILITE for you to experience the advanced features yourself.