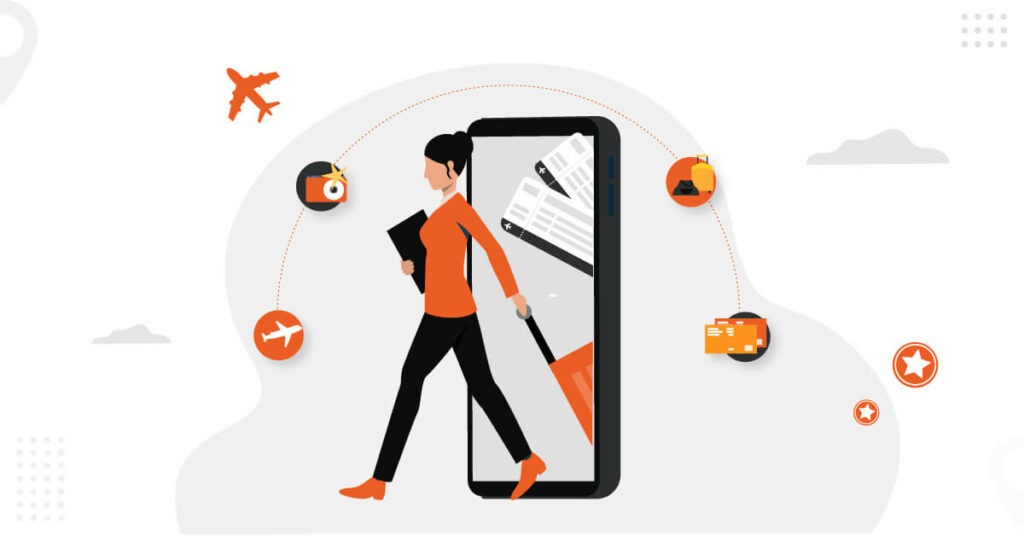 With the global travel technology market expected to expand by $3.70 bn. during 2022-26, companies are always looking for advanced travel management solutions to optimize their travel processes and keep pace with the demands of their employees.
Consequently, companies prefer online corporate travel management tools over traditional methods as they provide employees with a more personalized travel experience and allow travel managers to streamline their operations.
If you are considering optimizing your travel processes, read further to understand why online corporate travel management is a better choice over traditional one.
1. Anywhere, Any Time Access
Traditional Method Drawback: Travel managers cannot process approvals or track travelers from anywhere.
In an online corporate travel management system, your data is stored on the cloud server. This means that you can access the system as long as you have an internet connection and a smartphone. This feature is highly beneficial for both travel managers and employees.
It allows travel managers to process approvals and track employees from anywhere. Meanwhile, employees can upload travel documents, modify itineraries and view all travel details on one platform from anywhere at any time. This convenience and flexibility make corporate travel much easier to manage.
2. Reduction in Cost
Traditional Method Drawback: High resource utilization cost and inability to efficiently identify areas of cost leakages/optimization.
Traditional travel management requires a lot of manpower to collate travel data, analyze KPIs, book tickets, manage inventory, process approvals, and so on.
An online corporate travel management tool is a one-stop solution to manage all your travel requirements. It automates most of the repetitive tasks allowing you to decrease the cost incurred on the workforce.
Additionally, an online corporate travel management solution provides you with insights on major travel KPIs such as traveler spending, department-wise spending, percentage of last-minute bookings, and percentage of bookings made out of policy. Such information is critical in optimizing cost and identifying areas of leakages. This way, you can proactively monitor and control your expenditure.
3. Centralized Data and Documentation
Traditional Method Drawback: Data scattered across multiple platforms, making it cumbersome to process.
Online corporate travel management tools help you store all documents and data on the cloud so you can access them quickly on a single platform. This helps travel managers create comprehensive business traveler profiles for them to personalize the traveler experience.
Centralized data is also beneficial in increasing the efficiency of business travel management. For example, instead of having to re-enter traveler information such as name, designation, age, gender, etc., you will just have to click the name of the traveler, and the pre-saved information will auto-fill the details. Similarly, you could access traveler spending history in just a few clicks.
4. Seamless Integrations with Third-Party Software
Traditional Method Drawback: Lack of data integration with different departments
As a travel manager, your travel management system must integrate with the HR, ERP, or finance department. For example, travel managers have to look at employee spending (which comes under the finance department) to optimize future trips and personal details (which comes under the HR department) to curate better travel experiences.
Seamless data flow with the help of online corporate management solutions ensures that data is updated in real-time and there is no duplicate data. This prevents any confusion or errors that could arise from outdated or incorrect information.
With the help of data integration, you get a comprehensive view of your traveler information without spending time asking for it from different departments or juggling between different tools.
5. Reduction in Errors
Traditional Method Drawback: High chances of errors and inaccuracies due to manual intervention.
Repetitive tasks such as transferring data from one system to another and collating/analyzing data when done manually have high chances of errors. However, with the help of an online travel management solution, you can automate these tasks and decrease errors and inaccuracies significantly.
Additionally, these solutions use the latest technology of OCR (Optical Character Recognition) that automatically retrieves data from documents such as receipts and invoices, sparing you the need to enter data manually.
6. Increase in Productivity
Traditional Method Drawback: Significantly low productivity levels due to the workload of repetitive tasks
A study found that, on average, it takes professionals 18 minutes to find a document manually. Furthermore, another research showed that employees spend 9.3 hours per week gathering information. Online business travel management solutions increase organization productivity with automation.
When mundane processes are automated, the company can focus more on activities that lead to business growth, such as innovation, strategy, and development. Consequently, employee productivity levels and efficiency increase in the absence of repetitive tasks that would typically increase the workload of employees.
7. 100% Policy Compliance
Traditional Method Drawback: Have to depend on manual cross-checking to see if the trip is compliant with travel policy
An online travel management solution integrates with your company's policy. So, when your employees browse options for their trip, they see options that comply with the policy on a separate window. However, in case they still choose to book tickets that are out-of-policy, the trip request will be sent to the manager as a special case which he may or may not approve.
You can also customize the policy at any time based on employee level, trip location, airline and hotel options, etc. Plus, policy updates are pushed to the platform in real-time, so employees are always up-to-date on any changes.
8. Deep Insights to Optimize Travel
Traditional Method Drawback: Lack of cohesive data and automated collation on a single dashboard
Business travel data is imperative in optimizing future travel. An online corporate travel management collects data such as date of booking, percentage discount on the ticket, traveler health, travel cost, and sustainability level of the trip. It then reflects this data in the form of graphs so that managers can analyze them to enhance the efficiency of travel management.
Some major benefits of the advanced analytic feature are:
9. Self-Booking Through Extensive Inventory
Traditional Method Drawback: Usually, employees cannot book tickets themselves, increasing the workload of travel managers.
With an online corporate travel management system, employees can book their travel tickets themselves. This gives them access to a wide inventory of travel options, allowing them to tailor their trip to fit their individual preferences. Plus, this saves travel managers a lot of time and effort.
On the contrary, in a traditional travel management system, the travel manager is responsible for making all trip bookings and often misses out on the traveler's preferences due to a high volume of requests.
Additionally, an extensive inventory of low-cost flight and hotel options helps the company save money.
10. Streamlined Approval Process
Traditional Method Drawback: Lack of approval automation which may result in delays.
When an employee books their trip tickets, and it falls under the company limit, it is sent to the manager. However, if the booking expenses exceed a certain amount, the request may be forwarded to the senior manager for further approval. This approval sequence can be customized and automated by the company based on several factors.
This way, the employee doesn't have to waste time and effort trying to figure out to who to send the approval request. Additionally, the system notifies the approver when they receive a trip request allowing them to immediately approve the request in a few clicks, preventing any delays.
11. Scalable Solution
Traditional Method Drawback: The travel management process is difficult to scale.
An online corporate travel management system is crucial for companies that are expecting to grow or are currently in a state of expansion. It allows the seamless addition of employees to the system without compromising the efficiency of the travel management process. As a result, the travel management system will run just as smoothly whether you have 50 employees or 500.
On the other hand, in a traditional travel management system, employees have to rely on manual processes, which are often error-prone and time-consuming. Not to mention, as the number of users increases, so do the chances for delays, problems, and inefficiencies in management.
12. Enhanced Data Security
Traditional Method Drawback: User data is scattered and not secure.
An online corporate travel management system consolidates your company's entire data onto one cloud-based platform, allowing for enhanced data security. The data is encrypted and stored under multiple layers of security, which can include firewalls, network security, several authentication gateways, etc.
Consider Switching to an Online Corporate Travel Management System
Organizations are increasingly turning to online travel management as they grow to optimize their travel management process. It allows organizations to streamline their travel booking and approval processes, reducing the time and effort required to manage business travel.
If you are planning to upgrade your travel management system, you can consider switching to ITILITE. It is an advanced travel management software solution that offers personalized bookings through a wide inventory, 24/7/365 travel support, and all the benefits mentioned above.
Book a demo to experience the benefits yourself.