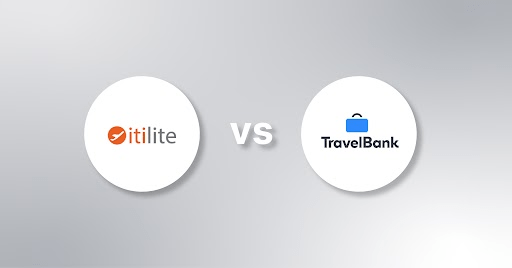 In this blog post, we will compare these two travel management platforms – ITILITE vs TravelBank – from pricing, features, ease of use and other aspects.
ITILITE
ITILITE is a state-of-the-art, all-in-one travel and expense management solution. The platform offers a comprehensive global inventory, ensuring you have access to a vast array of travel options no matter where your business takes you.
ITILITE's automated policy compliance takes the guesswork out of adhering to your company's travel policies, safeguarding your budget, and ensuring compliance every step of the way.
The platform also enables configuring negotiated hotel rates, ensuring that you secure the best deals available in the market. With a seamless platform and a mobile app that's designed for convenience, ITILITE simplifies the entire travel and expense management process, making it an indispensable tool for businesses of all sizes.
TravelBank
TravelBank offers a dynamic mobile-first approach to corporate expense and business travel management. Their travel booking platform simplifies the booking process, providing a convenient and efficient way to plan business trips.
Speedy reimbursement is one of their strong suits, ensuring that employees experience minimal wait times when seeking reimbursement. Notably, they provide extensive support for both corporate and personal cards, catering to a wide range of user preferences.
ITILITE vs TravelBank: A Comparison
Pricing
ITILITE offers:
Cost-Effective Transparency: ITILITE offers a simple and transparent pricing structure of
$9.99 per trip per traveler. Even if your travel plans involve a combination of flights and hotels, you pay the same flat rate. ITILITE Expense pricing is a flat fee of only $5 per active user per month.
Prepaid Wallet Discount: Another lucrative payment option by ITILITE is the prepaid wallet method. Those who choose this option get an exclusive discount. The cost per trip per traveler drops to just $6.99, making efficient travel management even more affordable.
No Minimum Commitment: Unlike other platforms, ITILITE doesn't impose any minimum commitments on your company. You have the freedom to use our services as you need them without being tied down.

TravelBank offers:
Two pricing models: A subscription option at $15 a month or a pay-per-use model at $12 per booking. However, opting for a subscription means committing to a fixed monthly fee, regardless of how frequently you use the services. If your travel needs vary month-to-month, you might end up paying for unused benefits. Expense pricing is slightly higher than ITILITE, at $8 per user per month.
Reporting
Both ITILITE and TravelBank recognize the paramount importance of informed decision-making in travel management. That's why both platforms offer robust, customized reporting features, empowering you with the ability to access granular information that can significantly enhance your travel program and spend management.
With this feature at your disposal, you can gain valuable insights into your travel expenses, track compliance with company travel policies, identify cost-saving opportunities, and optimize your travel program's overall efficiency.
Automated Expense Fraud Detection Feature
ITILITE's Automated Expense Fraud Detection is like an ever-vigilant guardian for your corporate travel expenses. It continuously monitors your bookings, transactions, and payment processes, proactively seeking out any signs of suspicious activity. Plus, the software allows you to set customized thresholds and alerts tailored to your specific needs.
However, this feature is unavailable in TravelBank, leaving a gap in your travel management strategy. Without this feature, your company may be more vulnerable to fraudulent activities that could result in financial losses and damaged trust.
Travel Personalization
From seat preferences and meal choices to hotel room preferences, ITILITE's platform allows travelers to personalize their bookings to an unprecedented degree. This level of customization leads to happier and more productive travelers.
TravelBank may offer valuable travel management services, but their lack of personalized booking options limits your travelers' ability to choose and customize their travel experiences. This can lead to missed opportunities to enhance traveler satisfaction and productivity.
Dedicated Account Manager
When it comes to corporate travel management, having a dedicated expert by your side can make all the difference. ITILITE goes the extra mile by providing you with a dedicated account manager at no additional cost.
With TravelBank, you'll need to pay extra for the support and guidance of a dedicated account manager. This added expense can strain your travel management budget and limit your access to expert assistance.
Suggested Read:
Why Customers Choose ITILITE Over TravelBank
Top Notch Customer Service at Zero Additional Cost
ITILITE provides 24/7/365 live customer support through various channels, including phone calls, chats, and email, and the best part is that it comes at no additional cost to you.
What sets ITILITE apart is an industry-leading response time of just 10 seconds, ensuring that you receive immediate attention and assistance whenever you need it. Moreover, the queries get resolved within just 60 minutes, guaranteeing a quick and hassle-free experience.
Wide Inventory Selection
ITILITE offers an impressive array of travel options meticulously curated from diverse sources. You can get a one-stop solution for all your travel needs, whether you're looking for flights, hotels, or car rentals.
Moreover, you get to choose from an extensive selection of options. From flights with over 470 renowned airlines to accommodations in more than 1 million properties worldwide
The platform also partners with reputable suppliers, Global Distribution Systems (GDS), and well-known platforms like Booking.com, Priceline, Agoda, and others to ensure that you have access to the best and most reliable travel options.
Flight Price Re-Shopping is your company's secret weapon for maximizing cost savings on business flights. It's all about automatically rebooking your flights at a lower rate if the price drops before your departure date. Imagine the possibilities: significant savings with minimal effort!
With Flight Price Re-Shop, you don't have to lift a finger to save your company thousands of dollars. Our intelligent system continuously monitors flight prices for your booked itineraries, ensuring you get the best deals without any additional effort on your part.
ITILITE's Flight Re-Shop feature seamlessly integrates with your existing travel management processes. It's hassle-free and doesn't disrupt your travel plans.
Revolutionary Virtual Travel Consultant
ITILITE Mastermind, the world's first virtual travel consultant, offers comprehensive insights that go beyond the surface. It dives deep into your travel program, analyzing key metrics, and then draws parallels with industry peers. This means you gain invaluable insights into where your travel program stands in comparison to others, allowing you to identify strengths and areas for improvement.
But it doesn't stop there. ITILITE Mastermind takes these insights and turns them into actionable strategies. Imagine having a trusted advisor at your side, guiding you on how to enhance your business travel management program. By leveraging data, it calculates the potential improvements and cost savings that are within your reach.
Suggested Read:
Opt For ITILITE: Your Go-To Travel Management Companion
ITILITE is an industry-leading, all-in-one travel management solution. Our travel booking platform is renowned for its seamless user experience, where booking your corporate travels and managing expenses becomes a breeze.
What truly sets us apart is our dedicated 24/7 customer support team, committed to addressing your needs with a lightning-fast response rate of just 10 seconds.
Join the ranks of satisfied clients who have made ITILITE their trusted travel companion and experience travel management like never before. Your journey to simplified, cost-effective, and efficient corporate travel begins here.
Book a demo now to experience these benefits yourself!