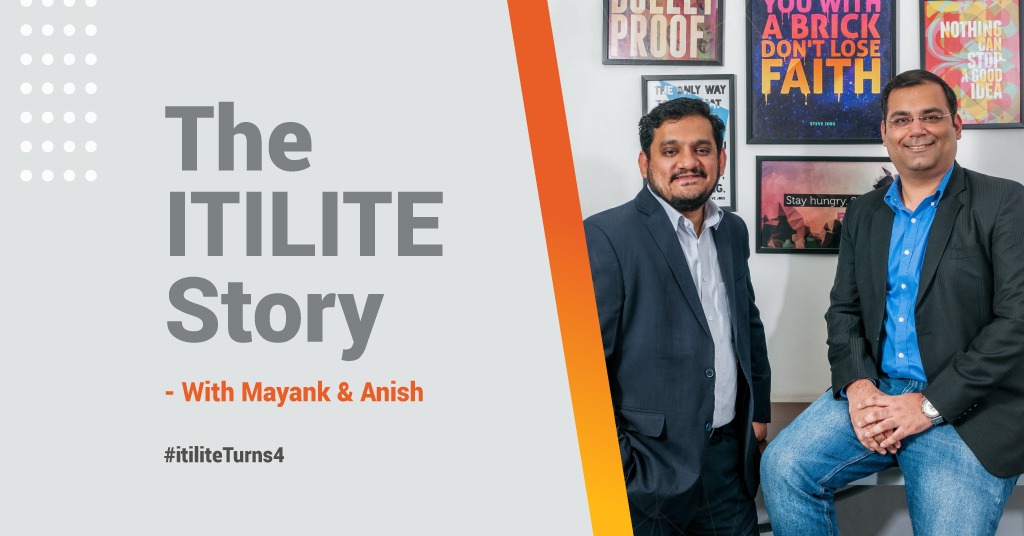 On our 4th anniversary, we decided to brew a kettle full of coffee and catch-up with our founders. The idea was simple, to look back at the past 4 years and hear from them – the ITILITE story, the learnings, and the way forward. This blog is a compilation of my conversation with Mayank and Anish.
If there is one thing you should read today, let it be this. Read on!
Khushali: Hello Mayank and Anish, thank you for taking out time today. Everyone on the team, including myself, had been looking forward to this conversation, and we are super excited to have you with us. In the past few days, I have got so many questions from the team that I plan to do a series of interviews to cover them all. Let us see how many questions we can cover today.
Mayank: Thank you, Khushali. I hope we can answer most of your questions!
Khushali: Yeah, let's see. So first things first, as we celebrate ITILITE's 4th anniversary today, I think a good start for us would be to look back at the glorious 4 years and know what are some of the things that made you proud in this journey so far?
Mayank: There are many small and big milestones around business, product, customers, and employees that have made us all proud.
In the past 4 years, we onboarded 250+ customers (including unicorns, public companies, and Fortune 500 companies), delivered innovative products to simplify business travel & expenses, and expanded into new geographies. All of these moments were special to us.
But if I have to articulate what makes me and Anish proud every single day, I would say – our amazing team and our happy customers.
We have super talented team members who believe in our mission and are working relentlessly to simplify business travel & expenses. Each member of our team is an entrepreneur. Their ownership & growth mindset is what is driving ITILITE to become a world leader in the T&E space. Every day when we see our team come back and raise the bar on how we operate, we feel super proud.
As for customers, we always strive to add value to our customers' life. Appreciation from our customers is a big milestone for us. From the early days when our first customer gave us a 5 on 5 ratings on a trip to now making it to a high performer on G2, it has been a great journey of customer delight. However, even today when a customer says that we have done an amazing job, that's a highlight of our day. Achieving and consistently maintaining an NPS of 62, which is 2X of the industry average, is the other thing that keeps us motivated and happy.
Khushali: That's an impressive journey indeed! Now that we have briefly talked about ITILITE's journey so far, it would be good for our readers to know the story behind ITILITE. How did the idea come into being?
Anish: As it is rightly said, the best ideas come from a personal pain point. During our consulting days in McKinsey, Mayank and I used to spend more than 200 nights a year on the road. We literally lived out of our suitcases.
As business travelers ourselves and as consultants working with organizations on balancing cost and employee experience, we could see the flaws in the process of traveling for business clearly from the perspective of the user and the company.
The pain points were real and very early on we realized that we needed to fix them. While personal travel was becoming more seamless, business travel was still dealing with endless emails, phone calls, and failed attempts of bringing control in the manual process.
Both of us were of a belief that while technology can deliver such minutely intuitive experiences to the end consumer, there must be no excuse for the business travel industry to still be running on legacy processes.
We knew that business travel deserved better and that was the genesis of ITILITE – to make the ITIneraries LITE on the budget as well as effort.
Khushali: Interesting story. Can you tell us more about the journey from idea to the first client?
Mayank: We started with the idea of employee incentives to save costs for the company. This seemed like such an elegantly brilliant idea, which is a win-win for both employees and the company.
Our early discussions with potential buyers confirmed our belief that this is a great idea (and we continue to see the benefits even today). However, very early on we realized that a large associated problem – the process of business travel booking itself is broken and will have to rethink the whole process from scratch.
Given the strong conviction and early momentum, we started getting incoming interest from investors who saw this space broken as well. That's where we partnered with Matrix Partners who did our seed funding round and they have been a great partner even today.
Khushali: It must have been quite a journey getting your first customer on board. How did you get your first customer?
Anish: When you start up, getting the first customer is hard because you don't have references, you don't have a history.
In our case, I think conviction in the idea helped us convince some of the buyers. Also, our background helped because we had dealt with the business travellers pain and the company's struggle to control cost ourselves.
Capillary Technologies came on board as our first customer and we are thankful to them for believing in us at such an early stage. There are a lot of players in the ecosystem who help you be successful and Capillary Technologies has been a great support for a lot of startups including us.
At Capillary, we started with a small pilot where they used one product in one of their departments and from there it has been over 4 years now and they have used all our products and have been very happy. We have constantly grown with them.
The early adopters of our product were forward-thinking companies. The next year after the launch was all about graduating to working with large Indian companies. From there, today we work with some of the largest multinational companies and conglomerates in the world.
Khushali: As ITILITE grew, you would have focused on hiring good talent as well. How did you start building the team that could put ITILITE on a strong growth trajectory?
Anish: The team that joins in the first few years is very crucial to the success of any company. The early hires make or break a company. They have to play multi-functional roles and step up to make the company successful.
We have been lucky that most of our early hires – Aravind, Yakin, Anupam, Gauri, and Aastha are still with us and have grown with the company. They have given more than what we expected out of them and have contributed across teams.
We were very fortunate to have Ramkumar come and join us in the early days to lead our engineering team. He has been the foundation of building our engineering team as well as the product. For a tech product like ours, having great engineering is a core to the success of the company and Ram, along with his team, has helped us build a robust tech foundation.
Khushali: With so much work around, does your team get time to bond? How do they get to know each other outside of work?
Mayank: Before Covid, we used to go out regularly for outings. For the last six months, we have been having them mostly virtually, but our Fun Team and the Chief Fun Officer have done an amazing job there and that's probably our highest-rated team across the company. We still look forward to doing an in-person outing soon, when it is safe to do so.
Back when we started, we were just a few people and we could all fit into one bar table. Since then we have grown a lot, we are now about a 200 member team. All of us can no longer fit into one restaurant let alone a bar table. 🙂
Khushali: Yeah I agree, the Fun Team and The Chief Fun Officer are doing a fabulous job. It is a wonderful initiative, especially in these times.
Coming to my next question now, when it comes to building a team, what are the things that matter the most to you?
Anish: There are two core things which are the basis of our people philosophy at ITILITE.
First, hiring for the right mix of skill and will. High drive or will is absolutely essential for each team member. Level of skill expected while joining depends on the experience and the position. With high drive, usually, the skill can be improved.
Second, ensuring professional growth for each individual. It is our promise to everyone on the team that if you look back every six months, you would have grown as a professional. We strive to do this through a mix of (a) challenging and exciting work that pushes people outside their comfort zone, (b) mentorship and peer learning and, (c) formal training.
Khushali: Now that we talked about hiring philosophy, it is only natural for me to ask about your plans when it comes to hiring.
Mayank: We are one of the very few travel companies in the world where the team has grown in 2020. We are close to 200 people now.
Right now there are two core functions that our company does – Building & Selling and we are very actively hiring across sales, marketing, tech, and product.
Beyond this, across functions, we are always on the lookout for smart people who believe in our mission and want to join us.
Khushali: Last year was pretty unusual for all of us more so for the T&E industry, given the pandemic. What are your thoughts on it?
Mayank: Yes, the last year has been tough for the travel industry overall. However, if you look at the bigger picture it is better for the industry. The T&E industry had been undergoing a slow digital transformation for some years now and the pandemic has accelerated that digitalization.
Businesses have realized that legacy tools & processes are not viable in the rapidly changing scheme of things. To prepare for the "new normal" they are looking for a robust, truly integrated T & E solution. They want a T&E partner that can keep their employees safe and at the same time help them plug cost leakages by providing complete visibility on travel and expense data in one place.
At ITILITE, in these trying times, we all hustled together like any other great team. While our transaction & revenue dropped with travel not happening much, our customer base doubled in the last nine months. We also launched new products and we are one of the very few companies in this space who raised a funding round in these times.
Khushali: This is inspiring Mayank, and shows how great companies are built by great teams. This now brings me to my last question for the day. What are your future plans? What should we look forward to in the coming times?
Mayank: We have some interesting product launches planned for the year. We are formally launching ITILITE Expense soon. With this, we become the world's only truly integrated travel and expense solution provider. We are also launching Marketplace for our customers and end-users. More details on this will be shared soon!
On the business front, we will be focussing on global expansion this year. We have already launched in the SEA and the U.S and we will soon be expanding into other markets from where we are already getting some inbound customer interest.
As we expand our product offering and tap into new markets, we are looking at strengthening our team across functions. We are actively hiring for all roles as mentioned earlier.
Khushali: Thank you so much Mayank & Anish! It was a pleasure having this conversation with you both. I am sure our readers will enjoy reading this too.
Mayank & Anish: Thank you so much for having us here!
And with this, we took the last sip of coffee and brought the conversation to an end. What could be a better way to start our anniversary celebration than to reflect on the wonderful journey so far.
Thank you for staying with us till the end! Until we meet again, stay safe and take care.
Onwards & upwards!