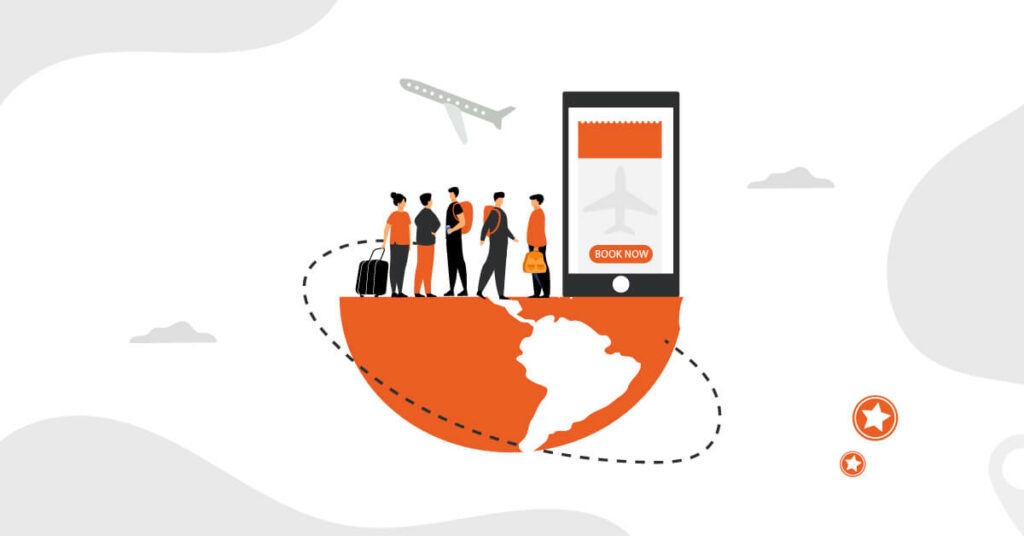 Organizing group travel is a complex task that requires travel managers to consider various factors, such as employee safety, preferences, and budget. To overcome these challenges, travel managers need a solution that can simplify the process of managing travel for multiple employees at the same time.
This is where group travel management software comes in. It provides a better experience for travel managers by helping them manage all aspects of group travel with ease.
Group travel management software makes trip organization easier for travel managers in the following ways:
1. Greater Visibility Over Booking Status
Travel managers often have to rely on multiple channels to follow up with employees to ensure they book their tickets in a timely manner.
With the help of group travel management software, you can easily monitor employee bookings on a single dashboard. This enables you to know which employees have booked their tickets and which are yet to book. As a result, the software eliminates the need for manual tracking bookings and makes the process more streamlined.
Furthermore, if employees are coming from different locations, you can identify any flights that do not have the same arrival time. This helps minimize business trip disruptions and ensures a smooth travel experience for all employees.
2. Improved Communication with Business Travelers
Typically, travel managers communicate with business travelers via messages, emails, or calls. However, sometimes travelers can miss an email or not remember the exact information on the call. It becomes difficult to track multiple channels to communicate with a group of travelers.
With group travel management software, you can streamline communication. Travel managers can use the software as a single platform to address any issues the employees might have.
Moreover, travel managers can send reminders to employees about important dates, such as visa application deadlines. A single channel not only improves the booking experience for employees but also helps to resolve any issues more efficiently.
In addition, the software provides real-time updates to travelers about any changes in their travel plans, such as flight delays. This can help prevent confusion and ensure employees arrive on time at their destinations.
3. Round-the-clock Support
Business travel can be challenging for employees, as they may face various issues that require immediate assistance. However, companies usually do not have the resources to solve issues of all group members through in-house travel managers. Therefore, it becomes imperative to outsource travel support.
Group travel management software addresses this issue by offering AI-enabled customer service chatbots. These chatbots are trained to handle routine emergency questions. In addition, software providers have a dedicated travel assistance team that offers help even beyond business hours.
Having access to 24/7 support ensures that employees receive the necessary help and can travel stress-free. They can get assistance with a range of issues, such as the best routes, emergency situations, and other queries. As a result, employees can focus on their business objectives at hand.
4. Faster Spend Reconciliation with Budget
Group travel managers need to have a clear understanding of the expenses made during group trips. However, keeping track of expenses from different sources can be challenging.
Group travel management software provides an overview of all trip expenses. This makes it easier for managers to track and calculate expenses accurately. With real-time reports, managers can measure trip ROI and track travel KPIs.
These reports also help managers match group travel expenses against budgets and identify excessive expenditures, helping managers streamline group travel spending in the future.
5. Access to Group Travel Analytics
It is important for travel managers to control business travel expenses while ensuring the trip remains comfortable for employees.
To do this, you need to monitor the main factors that contribute to costs. This can be done by using travel analytics which allows companies to track important metrics. These metrics include the duration of trips, ticket expenses, and the number of last-minute bookings.
Once companies have access to this group travel data, they can use it to analyze cost-saving opportunities and identify trends. This can help travel managers negotiate better deals with vendors and find ways to reduce excessive spending.
In addition to these benefits, group travel analytics can also be used for benchmarking and forecasting. By comparing their travel expenses with those of other companies in their industry, businesses can gain insight into industry standards. This enables them to make more informed decisions about their travel budgets and streamline business travel management.
6. Personalization for Each Traveler
When planning a group trip, it's important to ensure all travelers have a satisfactory experience. However, traditional booking tools may not consider each traveler's specific needs.
A group travel management software can help overcome this issue. The software uses AI to analyze data from past trips to customize the travel experience for each individual. For instance, If someone prefers a window seat on the plane or has dietary restrictions, the software will ensure their needs are met.
When employees are offered personalized options, it is easier to follow the company's travel policy. Additionally, personalization helps ensures that employees stay productive on their business trips. This, in turn, leads to a better ROI for the business trip.
7. Enhanced Safety of Group Members
It's important to know where your travelers are when they're on the go, but it can be difficult to keep track of everyone's location. However, group travel management software can help make sure that everyone stays safe by giving real-time tracking and alerts for possible risks or emergencies.
This software uses GPS technology to keep tabs on where everyone is. For instance, it notifies travel managers if there are any changes in the planned route or delays in arrival. That way, the managers can take action to keep everyone safe, like changing transportation or contacting authorities if necessary.
Group travel management software can also help travelers in unfamiliar places by giving them access to emergency support services like medical help and evacuation services.
Furthermore, the software also enables travel managers to block risky hotels so that travelers cannot go there.
Manage Group Travel Efficiently with Group Travel Management Software
Clearly, group travel management software offers several features that can enhance the experience of travel managers. Therefore, you must get in touch with a reliable company that can offer this solution to you.
ITILITE is an advanced travel management company that offers group travel management software. With ITILITE, you can personalize the travel experience of all group members. Moreover, we have a dedicated travel support team to ensure the safety of all travelers.
To know more about the benefits, book a demo now.