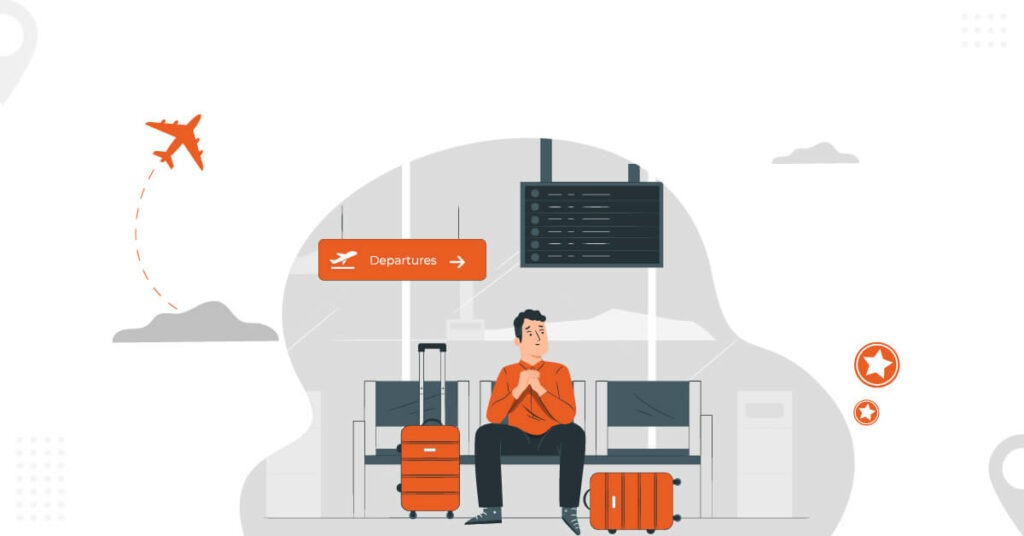 Business travel can be stressful and unpredictable, with disruptions and delays being a common occurrence. Disruptions such as flight cancellations and bad weather can throw off even the most carefully planned itinerary, leading to missed meetings and wasted time.
Therefore, it's crucial for travel managers to be aware of practical ways to cope with business trip disruptions, including preparation, communication, and contingency planning. With these strategies in mind, travel managers can help business travelers navigate disruptions more easily and minimize the impact on their travel plans.
What can Cause Business Trip Disruptions?
The following reasons may cause business trip disruptions:
Flight delays and cancellations
Lost luggage
Transportation disruptions due to traffic congestion, road closure, bad weather etc.
Visa or immigration issues
Medical issues such as illness or accident
Safety issues such as robbery, political instability, cybercrime, etc.
Personal emergencies
6 Ways to Encounter Business Travel Disruptions and Delays
1. Establish Communication with Traveler
The well-being and safety of travelers are of utmost importance during a business trip disruption, and the first step in providing support is establishing contact with them. This initial communication serves as an opportunity to check in with the traveler, express empathy, and assure them that their situation is being taken seriously.
Once you have established contact, gather information about the cause of the disruption. This information can help you to determine the appropriate course of action to support the traveler.
2. Provide Emergency Assistance
After assessing the traveler's situation, you must provide relevant assistance.
In Case of a Medical Issue
The first step is to identify a nearby hospital or medical facility and inform them of the situation. The travel manager should also work to arrange for local transportation to the hospital, such as a taxi or ambulance.
Furthermore, the traveler would require help with medical insurance paperwork in the hospital to ensure the coverage of expenses. So, make sure you provide assistance with that. It is also essential to keep the higher authorities and the family of the traveler informed during such a situation.
In Case of Security Concerns
If the traveler has faced safety-compromising incidents such as pickpocketing, assault, robbery, etc., the traveler needs to call the local police number or visit the nearest police station. Hence, you should provide all these details to the traveler before they go on the trip.
If the incident involves the theft of travel documents or other essential documents, you should contact the traveler's embassy or consulate. They can assist the traveler in obtaining replacement documents and provide expert guidance regarding the situation.
In Case of Missing Luggage
If the traveler hasn't received his luggage on arrival, it is essential to promptly guide the traveler on how to contact the airline and fill out the necessary forms to file a baggage claim. It's important to note that airlines are responsible for up to $3,800 in compensation for lost, damaged, or delayed bags, as mandated by the Department of Transportation.
Furthermore, it's important to remind travelers to retain receipts for the purchase of essential items, as these expenses can be reimbursed by the airline. Lastly, obtain the tracking number for the missing luggage to keep track of its whereabouts and assist the traveler accordingly.
3. Inform the Traveler about Consumer Rights 
Each airline has its own policy for compensating passengers in case of delays or cancellations. However, the Department of Transportation states that if an airline makes a significant change to a scheduled flight and the passenger decides not to travel, they are entitled to a refund.
Additionally, you can ask the business traveler if they paid for an optional service such as baggage fees, seat upgrades, or in-flight Wi-Fi but could not use the service due to a flight delay or cancellation. In such cases, inform them that they are entitled to a refund of the complete amount and guide them through the process of claiming the compensation.
If the flight has been delayed significantly, check with the traveler if they want to avail of the complimentary benefits. For example, most airlines offer complimentary hotel accommodations and ground transportation in case of overnight delays.
Also, airlines such as American Airlines, Delta, and United Airlines allow you to book tickets with a partner airline (at no additional cost) in case of significant delays. Most airlines also provide meals or meal vouchers for delays of 3 hours or more.
4. Discuss Alternate Travel Options
After an emergency situation has been resolved and the traveler is ready to go, look for available flight options. Additionally, check whether you are eligible for free flight bookings in case of flight delays or cancellations.
Further, when booking a new flight, try to opt for a non-stop option, especially if the traveler is already stressed due to business trip disruption. This can help reduce the chances of further delays or complications.
5. Ask the Traveler to Access the Airport Lounge
For flight delays of less than 3 hours, it's best for the traveler to wait at the airport rather than making alternative arrangements. In such a situation, you can ask the traveler to use the airport lounge.
Airport lounges offer a spacious and comfortable environment that is generally quieter than the rest of the airport. This can be especially beneficial for the traveler who may need to use this time to catch up on work or just to relax.
In the lounge, the traveler can find comfortable seating, often with access to charging outlets, as well as free Wi-Fi. In addition to these amenities, airport lounges often provide free snacks and drinks, which can be particularly useful if the traveler has not had the chance to grab a meal due to a business trip disruption.
Travelers can access airport lounges via a day pass, a Priority Pass membership, or travel credit card. Some airlines also offer complimentary lounge access to first-class passengers.
6. Monitor the Situation Until the Traveler has Reached the Destination
Even after you have provided all the necessary support to the traveler, your job is not done yet. You must monitor the situation to ensure everything goes smoothly and the traveler doesn't face any further inconvenience. This can include staying in touch with the traveler, reviewing travel policies and procedures, and keeping an eye on travel alerts.
Following up with the traveler is crucial to confirming they reached their destination and addressing any issues that may have arisen during business trip disruption. This provides them peace of mind and enables you to gather valuable feedback and identify areas for improvement.
By addressing any underlying issues that contributed to the travel disruption, you can help to minimize the risk of similar incidents occurring in the future and improve the overall travel experience for employees.

How to Stay Prepared for Business Trip Disruptions?
Conduct Travel Risk Assessments
Travel risk assessment helps identify and mitigate threats that an employee could face while traveling. It also helps in taking proactive measures to prevent business trip disruptions and ensure traveler safety.
Get Insurance for Travelers
Business travel insurance is designed to provide coverage and protection for employees who are traveling for work-related purposes. When looking for travel insurance for your employees, ensure that it provides: emergency medical evacuation, medical coverage, reimbursement for trip cancellation or delay, coverage for delayed or lost baggage, and 24-hour emergency assistance.
Check Flight Status Regularly and Keep Travelers Informed
It's important to note that flight schedules can change frequently. Therefore, check the flight status regularly leading up to the departure time in case of any last-minute changes. This way, you can be prepared for any delays beforehand and make changes to the traveler's itinerary at the earliest.
During an emergency, it's critical that you have access to the updated contact information of the traveler. Also, ensure they have the contact information of emergency services, local police, embassy, etc., so that there is proper communication during any disruption.
Know Flight Delay and Cancellation Policy 
It is important to read and understand an airline's delay and cancellation policy before booking a flight. Some airlines may offer free rebooking to a partner airline in case of a delay or cancellation, while others may not.
To maximize the benefits in the event of a business trip disruption, you should book flights with reliable airlines with flexible policies, which can help minimize the impact of any unexpected changes to travel plans.
Live-Track your Travelers
Live tracking is helpful in ensuring the safety of business travelers because it provides real-time information about the location and status of the traveler. Live tracking can be particularly useful in emergency situations, such as natural disasters or civil unrest.
In addition to providing real-time information, live tracking can also help to improve communication and collaboration among stakeholders, which can help to ensure a coordinated and effective response in the event of an emergency or other disruption.
To do this, you can use a business travel management solution and view the location of all your travelers on a single dashboard. 
Evaluate the Causes of Previous Disruptions
Evaluating the causes of previous disruptions can help avoid future disruptions by identifying potential areas of risk and developing strategies to mitigate them. By analyzing the root causes of disruptions, travel managers can gain insight into the most frequent issues. Consequently, you can plan the steps to prevent them from happening in the future.
For example, if a previous disruption was caused by a weather event, travel managers may consider booking flights with more flexible policies. Similarly, if a security incident causes a disruption, travel managers may work with security experts to develop protocols and procedures for managing these types of incidents.
Manage Business Trip Disruptions Efficiently
The best way to prevent or manage business trip disruptions is to use a business travel management software application. It allows you to live track your traveler and stay in touch with them during the disruption.
You can use an advanced business travel management solution like ITILITE that provides 24/7/365 support to your traveler in case of any business trip disruption. ITILITE also offers AI chatbots, with the help of which travelers can get answers to their queries in just a few seconds during delays and disruptions.
To experience these benefits yourself, book a demo now.