With the emergence of new expense categories, higher emphasis on cost savings, and a spike in unintentional frauds, most companies are talking about expense management automation.
Theoretically , automating expense management process sounds like an excellent idea to automate your expense management process. However, it might get difficult for you to convince relevant stakeholders in your organization to get on the bandwagon without showing them the ROI.
Let find out how you can save time and money with expense management automation.
In this blog, we share with you how much time & money you can save by expense management automation. Read on!
PS: You might be pleasantly surprised with the potential savings and may plan to automate your expenses by the time you finish reading the blog.
Save on Finance & Accounting time & cost
For companies managing business expenses manually, automation can save hours of manual bookkeeping and reconciliation efforts and reduce manpower costs as well. Here's how:
According to a recent report by the Global Business Travel Association (GBTA), it takes around 20 minutes for a finance professional ($58 in pro-rated salary) to process one expense report manually. And on average, 19% of expense reports have errors. The cost to correct one expense report is $52 and it takes 18 minutes to correct each filing.
On the other hand, the cost of processing one expense report via an automated system is just $6.85. So, let's do some simple math to uncover how much your company can save on finance and accounting time and cost of expense reporting by automation.
Let's say your company has 100 employees and each employee files 5 expense reports in a year, then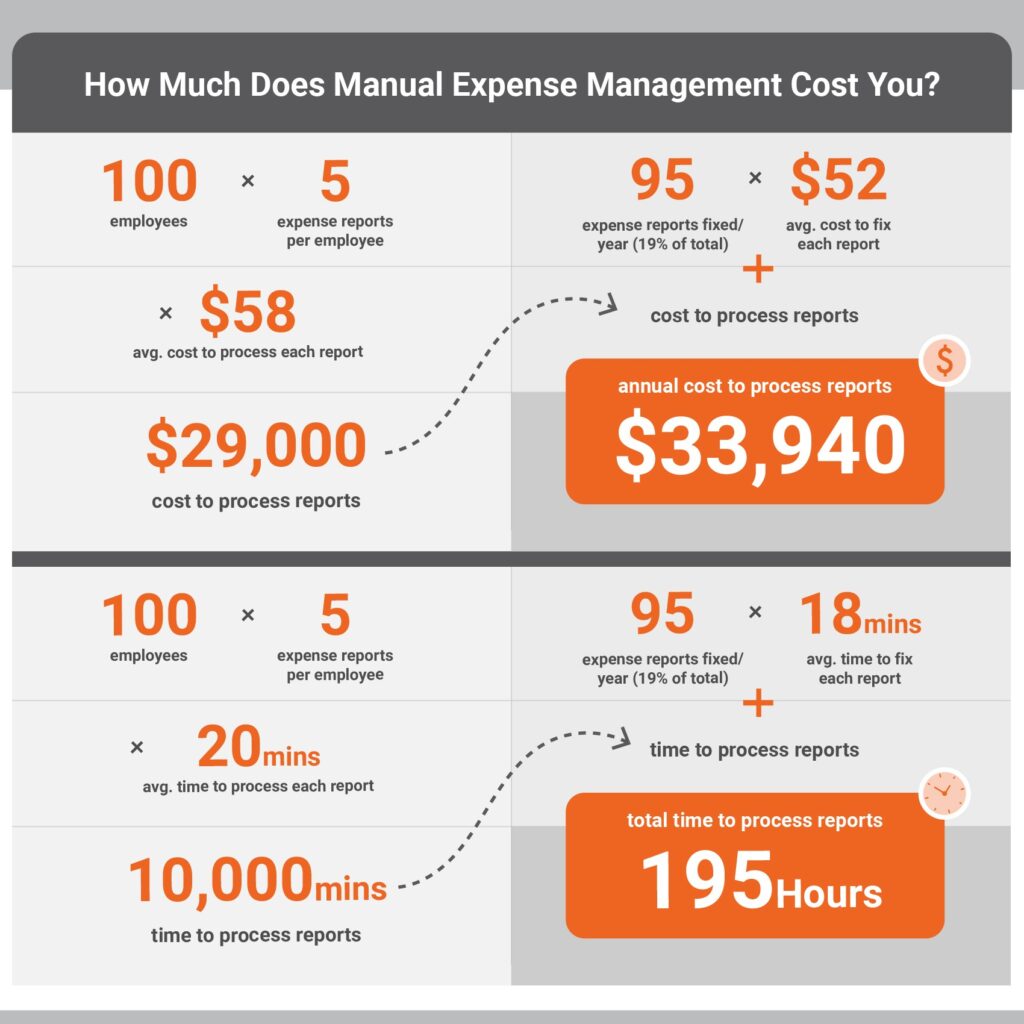 On the other hand, with the same number of employees and expense reports each year, see how much you can save if you automate your expenses:
YOUR SAVINGS: Save 89% cost & 57% time of your F&A teams
Control frauds and save money
According to ACFE, $40,000 median size of expense fraud was detected in the US in 2020. By automating expense management , you can control frauds by flagging off any out-of-policy expense, duplicate claims, etc. at the time of filing itself.
Also, Also, around 25% of expenses submitted violate the defined T&E policy in nearly half of the organizations. With expense management automation, you can show your expense policies upfront to the employees and ensure accurate expense filing. This controls (un) intentional frauds that might be happening due to lack of policy awareness among employees.
YOUR SAVINGS: Save around $40,000 by controlling expense fraud
Increase data visibility and plug cost leakages
Having end-to-end data visibility on spends across the organization ensures that you can identify areas where most of the wasteful spending is happening, know which teams are overspending and plug cost leakages. A good expense management automation software will show you all this data nicely laid out on a custom dashboard helping you derive deeper insights. With this data in your hands, you can calculate ROI for every dollar spent and take corrective measures wherever required, forecast expenses, allocate budgets and take informed business decisions.
YOUR SAVINGS: Complete data visibility helps plugin cost leakages & save 5% of costs
This is how much you could save by automating expense management of your company. Not enough? Want to save more? In that case, integrate your travel solution with the expense solution.
Additional savings if you integrate your travel & expense solution
Faster expense filing & provisioning
If you unify your travel & expense solution, your finance teams will have organization-wide visibility on expenses at all times. They will know how much each team has spent, which teams have exhausted their budget, who has traveled and not filed, how many unfiled expenses are there, and more. All this will help them do accurate provisioning. Not only this, but they can also send smart nudges from the system itself. This saves endless hours they would otherwise spend chasing employees to file reimbursements and expense reporting becomes more easy
Your Savings: Save an additional 8% time of your finance teams
Strengthening fraud detection
In cases of fictitious or inflated travel expense claims, an integrated solution proves to be very useful. With all travel and expense data in one place, the system can match travel and expense dates and detect any false claims that might have been filed.
Your Savings: Further reduce frauds by 20%
Automating expense is easier than you think
Now that you know the value of expense automation and are already thinking to get started, you might be wondering if digitizing the expense process is a huge task. Don't worry. With a cloud-based expense management automation platform like ITILITE, you can go live in just one day! Ready to take the leap? Book a free personalized demo with our product specialist today.