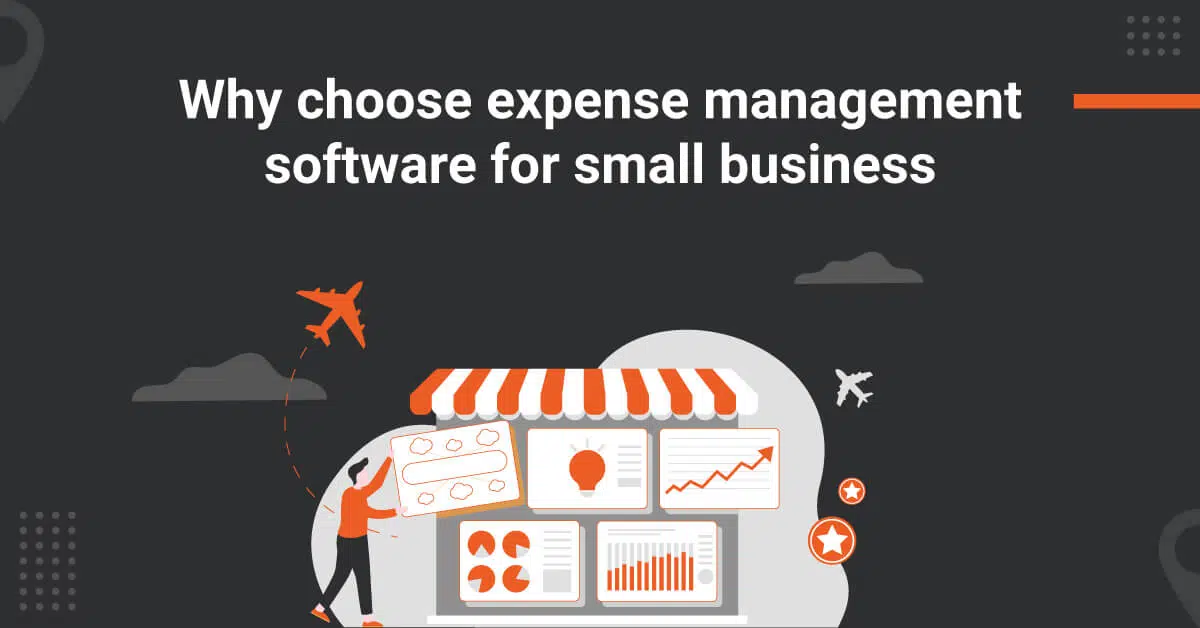 Small businesses are generally of the view that they can handle expenses manually due to their small-scale process. Nothing can be further from the truth. Errors, frauds, unhappy employees, and data management are just some of the challenges associated with the manual expense management process.
This raises the question: In this age of technological advancements, when everything is getting digitized, why not your expense management process? Is there a solution that can help you automate the employee expense process while saving costs and reducing errors? The answer to this is expense management software for small business.
Managing travel and expense reports is an essential task for any small business, and using an expense management software can make this task easier, faster, and more cost-effective. But have you considered how much you could save on travel and expense management costs by using the right software? Try using our savings calculator to estimate your potential savings on travel and expense management expenses. Click here to access the calculator.
Expense management software is an efficient platform for managing expenses for small business. Let's see why you should choose the best expense management software for your small business.
1. To scale with ease
Unlike large enterprises, the growth rate of small businesses is very rapid. However, as your company expands, so does your expense process.
In such as case, it becomes challenging for the finance team to handle the expense process if you are managing employee expenses on paper or spreadsheets. This is because the expense files increase with time, and they need to manage and store a large volume of files (physically or digitally).
With expense management software for small business, you get a centralized platform for data management. All the expense reports (dating back years) are stored on the cloud and accessible easily by the finance team for audit. Moreover, if your process grows over time, there is no need for extra cabinet space for paper storage.
2. To automate the process
The manual expense management process is tedious and time-consuming. Any employee who still files expenses reports on paper or spreadsheets knows the struggle of getting reimbursed. Once the employee files expense reports, it needs to endure an entire journey from approver to approver before getting to the accounts payable team.
By moving to expense management software for small business, you can automate the entire reimbursement process. With expense management automation, employees can file expense reports on the software, which then get automatically sent to the approver. The approver receives reminders on their phones to review and approve the expenses in real-time. If the approver approves the expenses, the account payable team can view the file on their dashboard.
3. To reduce errors
Errors are a part of any manual process – expense management is no different. In conventional expense filing, employees need to fill in the expense details by hand, leading to frequent errors. Moreover, the finance team is also vulnerable to errors because they have to validate the expenses manually.
Expense management software for small business ensures an error-free expense management process. The best software offers an auto-scanning feature with OCR (Optical Character Recognition) technology that picks up all the details from the receipts, so the employees don't need to fill the expense reports manually. Consequently, the finance teams can approve the expenses without checking them one by one.
Moreover, it also offers a mileage tracking feature that calculates the exact distance traveled by the employees so they don't make any mistakes filling up the miles.
4. To detect frauds
According to a study, about 11% of all frauds in a small business are expense reimbursement frauds. Whether an employee is filing the expenses in the wrong category, attaching invalid receipts, or inflating costs, it is tough for the finance team to identify them while managing expenses manually for small business. They need to manually validate each expense report with the receipts, causing them to miss the minute details.
The best expense management software comes with automated fraud detection and audit feature. It identifies the expenses that violate the policy, duplicate expenses, expenses in the wrong category, etc., and notifies the approver/finance team of the same in real-time.
5. To enhance expense analysis
Spend analysis is a major part of expense management for small business. A small business needs to keep track of its cash flow, cost leakages, etc., to make better use of its revenue. However, you cannot get the insights to optimize the expense process by handling expenses manually.
The best expense management software for small business offers advanced analytics, in addition to expense filing and management. You get a customized dashboard, where all the expense information is updated in real-time, ensuring transparency in your expenses process. Moreover, the finance team can generate customized reports for departments, categories, and more.
6. To improve the employee experience
Employee experience is an essential aspect of any small business. It affects employee retention, productivity, and morale. Moreover, when the employees are unhappy, it also impacts your brand image. Making employees file expenses manually only stresses the employees out.
Opting for the best SaaS-based expense management software offers employees the ability to file expenses from anywhere, anytime. Moreover, they don't need to save receipts with them till the end of the month. The employees can just upload the receipts on the software, which gets scanned automatically.
Expense management software also offers a personalized dashboard, where the employees can track the reimbursement status in real-time.
7. To ensure policy compliance
Expense policy dictates the protocols to be followed while filing and approving expenses. However, there is no concrete way to ensure that employees comply with the policy while managing expenses manually. It is a document that the company hopes the employee reads before filing the expenses.
Opting for expense management software for small business ensures 100% policy compliance. The software is built-in with features such as real-time policy visibility and 'out-of-policy' notifications. Hence, whenever employees file expenses, they get notified on the filing window if the expense is out of policy. Moreover, the approver and the finance team get notifications in real-time in the case of a policy violation.
Choose the Best Expense Management Software for Small Business
Expense management software for small business can help you expand the employee base without worrying about handling their expenses. Moreover, the employees are happy as they don't have to file expenses manually and get reimbursed quickly. Expense management software is a boon for the finance team also as they don't need to manually validate each expense.
Try out ITILITE'S expense management software for small business for free to see the difference.

Author
:
Sharad Acharya
Sharad Acharya is a content specialist at ITILITE. With over a decade of experience in content marketing, Sharad has gained expertise in writing for niches like business travel, expense, AI, and Cloud. An avid reader, Sharad likes to read fiction in his free time.