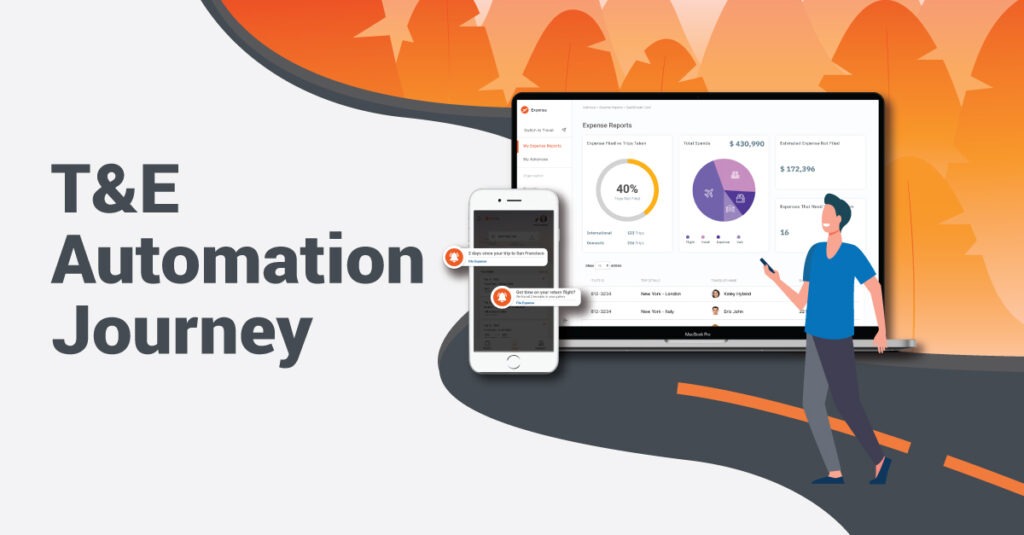 Business travel and expense is the second-largest operating cost for many companies, surpassed only by payroll. Businesses spend an average of 8 to 12 % of their annual budget on travel and related expenses, making it all the more critical to manage it smartly.
There are various ways to manage business travel and expenses, from manual to fully automated T&E (Travel & Expense) solutions. Even though companies are receptive to adopting technology when it comes to managing their business travel and expenses, they usually do it in stages – from automating a part of the process to using an end-to-end Travel & Expense management solution – as they mature.
Even though each stage of T&E automation has its added benefits, the adoption of technology in stages often causes companies to lose out on potential savings with the time lost.
Therefore, choosing the best-in-class, fully automated T&E solution is always profitable. It streamlines the business travel processes with a reduced burden on staff supporting the Travel & Expense and keeps a close eye on spending.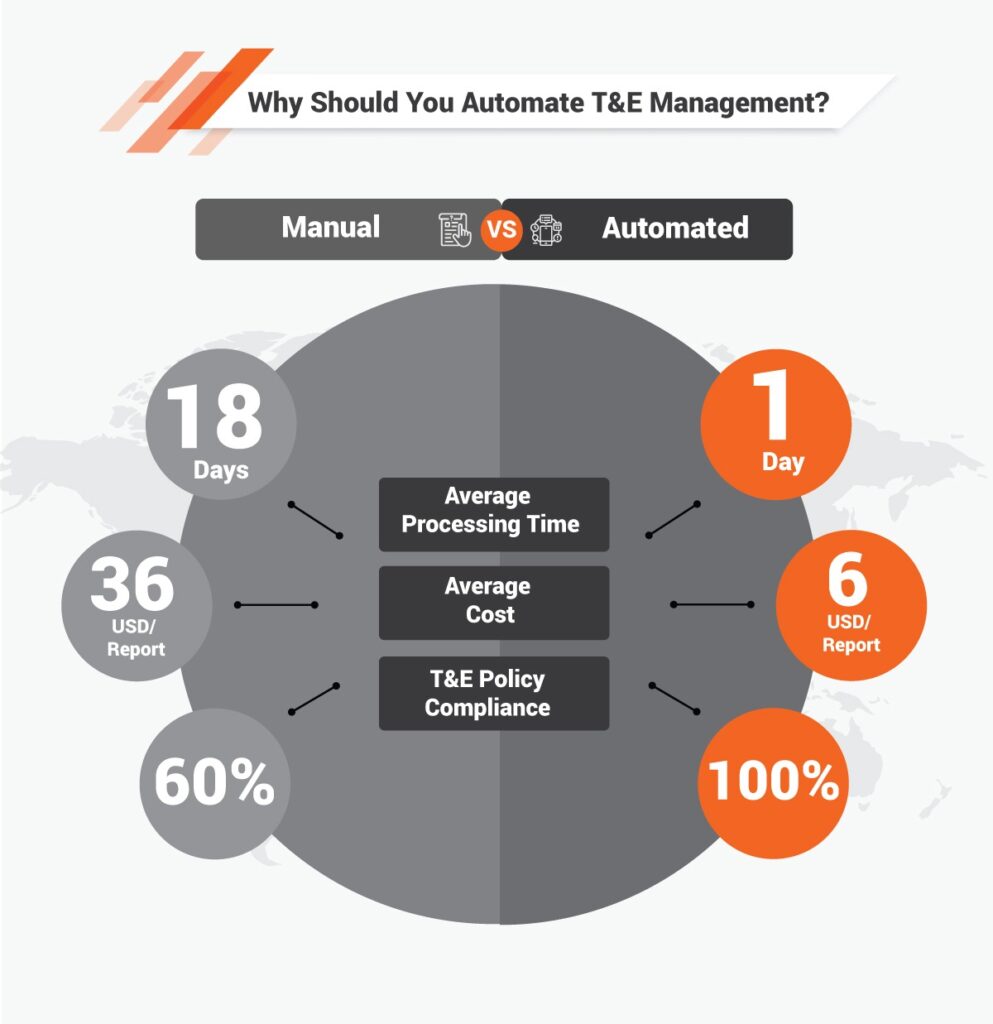 Read along to find the different stages of T&E automation and the benefits of having a fully automated T&E solution.
Stages of Travel & Expense Automation Journey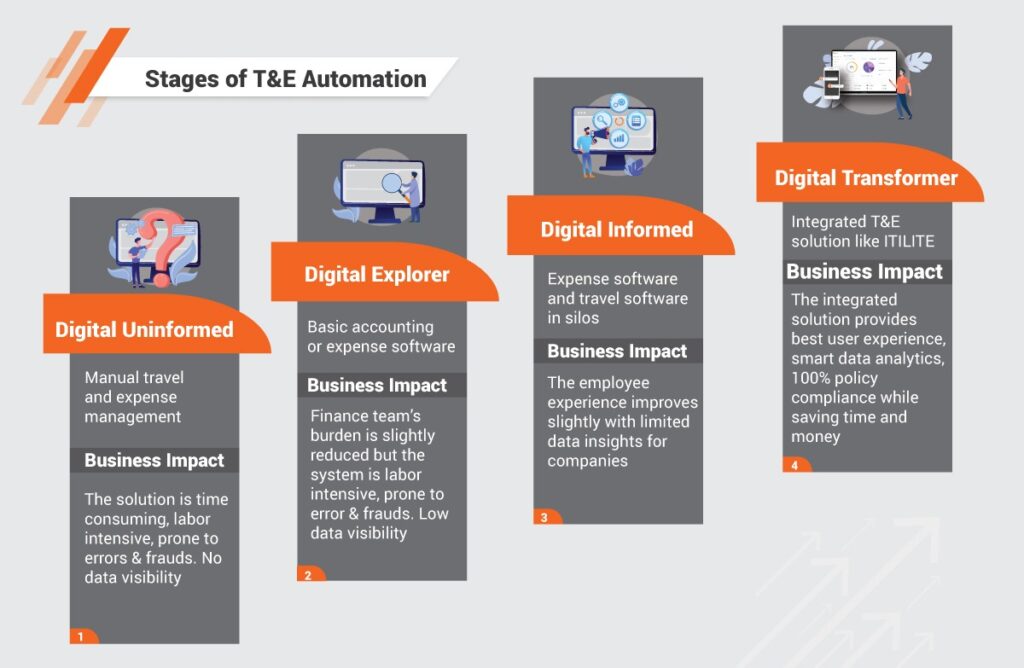 Stage 1: Digital Uninformed: Manual management
Companies manage their business travel with external vendors and manage expenses manually on paper or spreadsheet.
Here's how a manual T&E management process looks like,
Pre Trip Planning: It starts with an employee writing an email to her manager seeking travel approval. Once the manager approves, the employee routes the mail to HR, finance, and travel managers for travel & accommodation booking and expenses preapprovals.
Post Trip Expense Reporting: Once the employee is back from the trip she has to claim her travel expenses by filling out a paper-based reimbursement form. Submitting it along with physical copies of all the receipts.
The form and bills are then routed to the supervisor for approval or sent directly to the accounting team without any review. 
Finance Team Audit: The accounting team then analyzes the expense reimbursement report and tallies it against the submitted bills. They may return the report to the employees for additional information or clarification if needed. 
Expense Reimbursement: Once the manual tally of expenses is done, the report is sent to accounts payable. Someone from the account processing team will then enter the expense data on the ledger, and the employee expenses are reimbursed as per the company's policy.
Problems with Manual T&E Management
Manual processes are time-consuming; it takes about 18 days to process expenses after the submission
It is difficult to implement policy compliance while managing T&E on paper, leaving room for fraudulent behavior
It provides poor visibility on how the money has been spent, preventing control on expense budget
It is labor-intensive, with a high burden on the finance teams, making it expensive to manage.
Not only manual T&E management is prone to higher chances of error and is time-consuming; in more than 80% of such cases, the cost of processing an expense report is significantly higher than the expense listed on the invoice.
Implementing travel expense automation can help streamline your business travel expense management process, saving you time and potentially reducing costs. If you're considering automating your travel expenses, you may be wondering how much you could save. Try using our savings calculator to estimate your potential savings on corporate travel expenses by implementing travel expense automation. Click here to access the calculator.
Some companies use spreadsheets to manage expenses at this stage, thinking that it will save their employees some time. It might make the process easier but that is not the case. Research suggests that even though spreadsheets are widely accepted, employees find themselves exhausted. 
A survey of nearly 1,000 CFO's and senior finance professionals by FSN, a U.K.-based news and research organization, found that 97% of the finance team lose sleep over missing deadlines, making mistakes, and lack of adequate controls. Whereas 60 percent said, they spend too much time cleaning and refining data.
Stage 2: Digital Explorer – Basic expense management or accounting software
Companies have identified the need for digitalization and have basic accounting software for backend travel expense management. Finance teams' burden is somewhat reduced but the process still has cost leakages.
At this stage, companies have identified the need for digitalization and want to decrease their finance teams' burden. So they get basic expense management software. The back-office accounting runs better than before, and the work burden gets somewhat reduced, but the process still has cost leakages, with limited data visibility.
Under this stage of automation, companies help the finance team to receive a consolidated expense report from all employees. However, the burden on the employee taking business trips is still the same.
On an average, employees or travel managers (whoever is booking the trip) visit about 38 websites before booking a trip and spend hours finalizing the flight and hotels.
Post-trip, the employee has to consolidate all expenses with proof of expenses and send it to the finance team for reimbursement. Even though the accounting or expense software has eased the finance team's workload to some extent, still the combined time wasted in booking trips, filing expenses, and reimbursement processing is more than 8+ staff hours combined. 
What if both travel booking and expense management are automated? Wouldn't it ease the burden on both the employee and the finance team? Let's explore the next stage of digital T&E automation.
Stage 3: Digital Informed – Both travel and expense management are automated but on different platforms
The solution manages one or more business travel functions like expense management or travel booking but in silos. User experience improves slightly with limited data insights for companies.
The companies at this stage, have realized the importance of a better user experience for the travelers and digitized both expense and travel management but with different solutions. Employees can now book online tickets and file expenses on the go but on different platforms. For example, if the employee has to travel from India to the USA, she might book a flight on a travel platform that provides travel invoices in INR. In contrast, her other travel-related expenses are registered on another expense platform in USD.
In such cases, even though the employee can file the expenses easily, the finance team gets two MIS documents in different currencies – one from the travel platform and the other from the expense platform.
The finance team then spends hours (approximately 40 minutes per report per employee) going over each line item and correlating spends and approvals. In case of any red-flagged spending, they reach out to the employees for clarification, causing reimbursement delays.
Such expense and travel solutions in silos improve user experience in parts but provide limited data insights for companies, preventing companies from improving ROI. Moreover, lack of visibility also prevents 100% compliance to existing travel policy and guidelines leading to cost leakages.
Stage 4: Digital Transformer – Integrated travel and expense management
One solution to book travel tickets and accommodation along with expense management. The truly integrated solution provides better user experience, 100% policy compliance while saving time and money for companies
Companies at this stage have identified the best-of-breed solution to manage their business travel and expenses. They use a single platform that not only helps them in planning and booking the business trip but also provides capabilities to file expenses on the go.
The end to end, automated T&E solution gives freedom of implementing multilevel, flexible T&E policy, is able to curate smart results within the budget as per the company's policy, send smart notifications for timely expense filing, and set warning flags for fraud or against policy inputs and much more
Moreover, the integrated T&E solution ensures that the company recovers the correct value of VAT and GST taxes on international business travel as per government policies. 
In short, the best-automated T&E solution provides – improved compliance, productivity, visibility, and a great employee experience to all the stakeholders of business travel while saving money for the company.
Travel & Expense Automation is the key!
Automation is undoubtedly your answer – rather than moving in stages from manual to T&E automation; select a unified Travel & Expense platform to streamline your business travel. This not only reduces time in expense reimbursement but also provides better spend visibility and policy compliance along with cost savings in the long run.
A fully unified travel and expense management software like ITILITE has all the capabilities to support your business travel and related expenses.
With features like pre-approved trips, easy online flight and hotel booking (as per company policy) to expense filing on the go, ITILITE helps you improve your teams' productivity, reduces cost leakages, and provides complete visibility on your travel spend!
Want to know more about how ITILITE can help you streamline your T&E expenses? Connect with our product specialists & book a free demo today!

Recommended Read