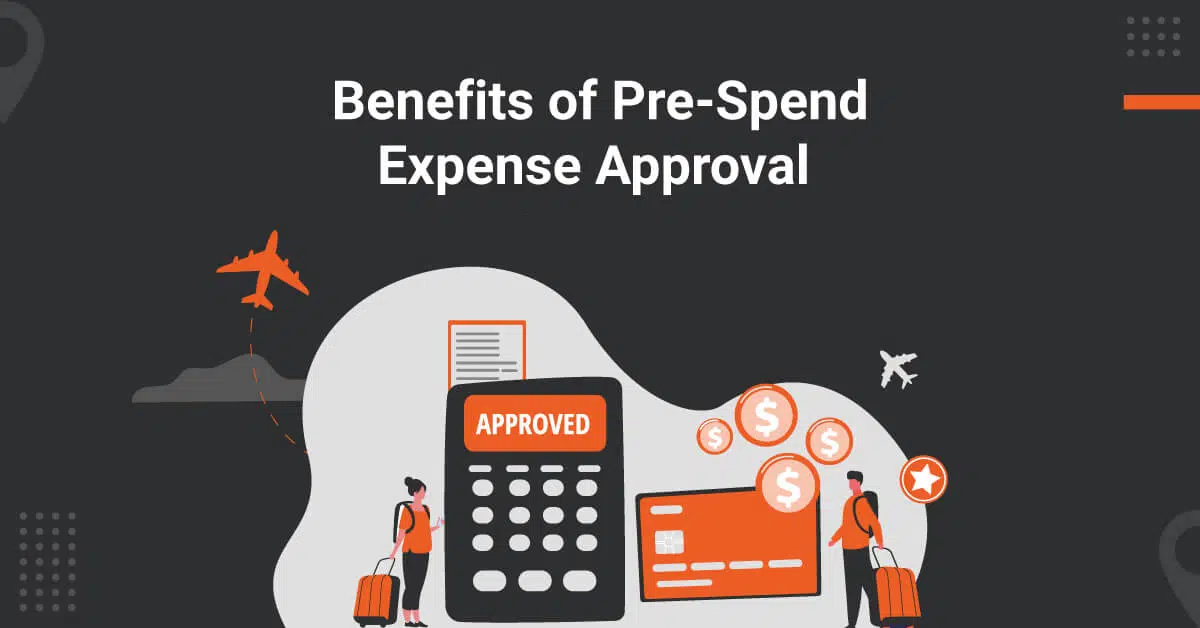 No organization can keep employees satisfied and motivated without streamlining the expense reimbursement process. That is why many organizations these days prefer pre-spend approval to post-spend expense approval to speed up employee expense reimbursement.
Unlike post-spend approval, pre-spend expense approval requires employees to get expenses approved by the line manager or approver before spending money. This makes employees incur expenses according to predefined expense policies. Hence, organizations can manage employee-initiated expenses more efficiently by leveraging the benefits of expense pre-approvals.
Implementing a pre-spend expense approval process can help your company manage expenses and avoid overspending. But did you know that a well-designed pre-spend approval process can also help you save money on expenses? To estimate your potential savings on pre-spend expense approval, try using our savings calculator. Click here to access the calculator.
Unlocking 9 Important Benefits of Pre-Spend Expense Approval
Access Company's Funds
Employees need to submit expense reports for approval in advance of a business trip or actual spending. They can incur only pre-approved expenses for specific purposes. Moreover, many companies allow employees to file advance requests along with expense requests.
Access to the company's funds helps employees eliminate the need to spend out of their pockets. Moreover, this process eliminates the need to wait for expense reimbursements.
Cut Overspending and Control Costs
While pre-approving any employee expenses, approvers consider the organization's expense policy and preset approval limits. They further ask employees a slew of questions when the expense estimation appears overstated. They ensure that the employee is not incurring any unnecessary expenses or escalating costs.
Hence, organizations implement expense pre-approval to control overall costs and cut overspending.
Speed up Expense Reimbursement
The post-spend expense approval process increases expense reimbursement time significantly. The employees have to attach receipts, file expense reports, wait for the line manager to approve, and follow up with the finance team to validate the expenses.
However, in the case of pre-spend expense approval, the finance team can process and reimburse pre-approved expenses quickly. They are not required to verify expense reports elaborately according to expense policies or spend time detecting expense frauds.
Hence, many organizations switch from post-spend approval to pre-spend approval to speed up expense reimbursement.

Ensure Expense Policy Compliance
While processing employee expense reports, the finance team spends additional time ensuring policy compliance and detecting policy violations.
With expense pre-approval, business expenses incurred by the employee do not violate predefined expense policies. An organization can further streamline the process by defining an approval matrix and approval limits clearly. Hence, pre-spend approval reduces the instances of policy violations significantly.
Calculate Work Travel Cost Accurately
Often decision-makers find it challenging to calculate the cost of individual work trips made by employees accurately. Hence, they lack access to the actionable insights required to make informed decisions.
Expense pre-approvals help the finance team calculate business travel costs accurately by comparing the pre-approved expenses to actual expenses. The information and data help decision-makers improve both decision-making and financial management processes.
Visualize and Monitor Employee-Initiated Expenses
The expense pre-approval process allows the finance team to access the expense request form submitted by an employee. They can refer to the request form to gather important information related to expenses, like the nature of the expense and estimated costs. Also, they can monitor and track expenses efficiently by comparing the request form to the final expense report submitted by the employee.
The transparency makes it easier for decision-makers to track and analyze expenses while making budgets or forecasts.
Options to Speed up Expense Pre-approvals
While planning an expense pre-approval process, decision-makers can speed up the approval process by creating an approval matrix. The expense approval matrix clearly defines who can approve employee expenses of a certain type and amount. Moreover, the matrix also defines approvers for specific departments or projects.
Decision-makers can keep the matrix flexible in introducing new approvers as the number of employees increases.
Eliminate Expense Fraud
An organization can prevent revenue losses only by detecting and controlling a variety of expense fraud. Employees commit expense fraud in many ways while filing expense reports. The finance team has to put in extra time and effort to detect common expense fraud like fictitious expenses, overstated expenses, and mischaracterized expenses.
Pre-spend expense approval helps organizations eliminate instances of expense fraud and ensure policy compliance.
Choose from Approved Suppliers and Vendors
Enterprises form partnerships with different airlines, hotel suppliers, and vendors to avail of discounts and deals. But employees often choose their preferred vendors or merchants when buying a product or consuming services. Enterprises have to spend more when employees do not choose approved vendors or suppliers.
Pre-spend expense approval ensures that employees deal with only approved suppliers. Hence, it becomes easier for enterprises to control employee expenses by leveraging discounts. For instance, the approver can recommend the airlines to the traveler while approving her request to booking a flight.
Pre-spend Expense Approval Means Convenience
Every organization can cut overspending and ensure policy compliance by implementing expense pre-approvals. But an organization can leverage the benefits of pre-spend approvals only by keeping the process simple and fast. In addition to defining an approval matrix, decision-makers must enable managers to approve or deny expenses effortlessly.
The new-age expense management software like ITILITE supports approval workflow customization. Also, they maintain an audit trail of every approval along with comments. These features make it easier for managers to define approval matrix as well as set expense pre-approval limits.
To try out the advanced features of ITILITE, get the free demo now.

Get the latest in your inbox
Subscribe to the Itilite blog and never miss a post!