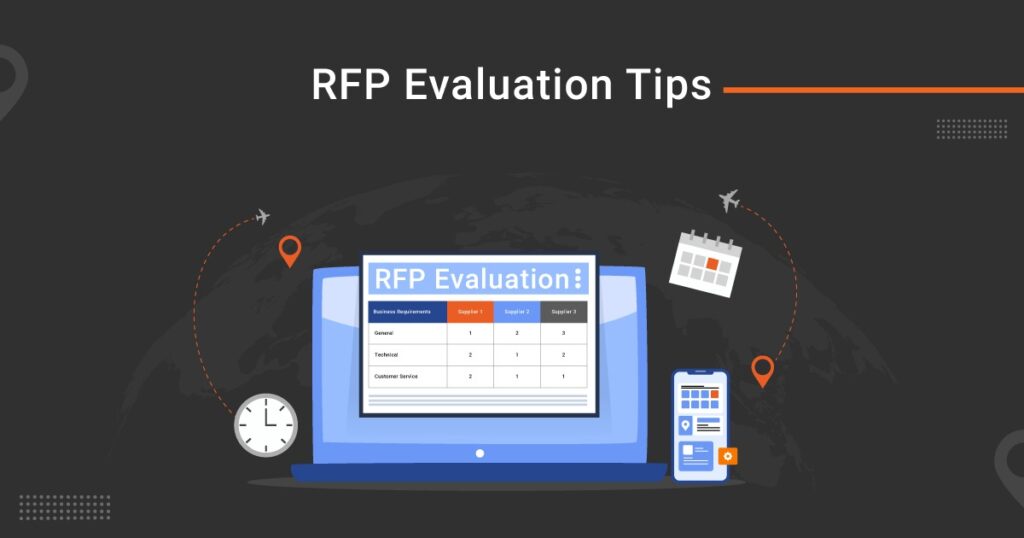 With the overwhelming changes within the travel industry in the last year, a great deal of responsibility is now on the travel managers. They need to choose travel management companies that provide cost control, excellent travel experience, and traveler safety.
Nowadays, the best travel management companies offer an advanced travel management software, where your employee can book travel easily.
And the best way to evaluate any travel management solution for your company is through RFP – Request for Proposal. It is a process that helps you compare and analyze the software solution available to you on various parameters.
Let's understand how to evaluate RFP requests for travel management in your company.
What Is An RFP?
Request for Proposal (RFP) in business travel is a detailed document in which businesses identify and detail their business travel needs and invite solutions from potential travel management companies (TMC). RFPs are very different from both a Request for Quotation (RFQ) and a Request for Information (RFI) as it requires more detailed responses from the TMCs.
In the case of Request for Information (RFI), it gets you the general information about the vendors, and the Request for Quotation (RFQ) gets you the pricing and payment.
RFP for travel management services helps you evaluate various vendors and find a travel management company that will help you in saving costs & time, increasing productivity, efficiency, etc. It analyzes what the vendors bring to the table and choose the one best-suited for your business travel needs.
Let's say you have issued Requests of Proposal to a bunch of travel management companies you are interested in and have received a good response from them. Now, you are faced with the challenge of evaluating them.
Choosing the right travel management company (TMC) is critical to ensuring your business travel program runs smoothly and cost-effectively. To find the best TMC for your business, a comprehensive RFP process can help. But have you considered how much you could save by choosing the right TMC? Try using our savings calculator to estimate your potential savings on corporate travel expenses by selecting the right TMC through a comprehensive RFP process. Click here to access the calculator.
Evaluation of an RFP is as important as sending out the RFP. There are multiple factors that you need to consider to find the perfect solution for your organization.
How To Evaluate RFP Responses From A TMC: Key Factors
Before evaluating the RFPs for travel management companies, its essential to have a list of factors that align with your company's needs. This will help you critically analyze each element during selection and speed up the evaluation process.
Some essential factors to look out for are:
1. Expertise
While evaluating the travel management company, you should ask for brief company history. Look for the experience and knowledge base of the vendor. You must ask for:
A brief company background
How long have they been in the industry?
Who are their major clients and what is the average account size of each client?
With the responses to these questions, you will get an idea of the expertise they have in your industry or as a travel management company in general. Moreover, you need to check whether the travel management company has successfully delivered for clients.
Make sure you check references and case studies of different clients that include everything about how the travel solution provider helped the client solve a particular problem.
2. 24*7 Support & Traveler-First Philosophy
The safety of your employees should be your first priority. A travel management company that can give your travelers 24*7 support has already hit the ball out of the park.
When business travelers are abroad, it is vital to give them 24*7 support to help them navigate everything easily in a new and foreign place.
3. Business Travel Inventory
The travel management company should offer your employees access to global travel inventory including transportation such as airplanes, trains, rental cars, etc., and accommodation such as hotels, studio apartments, etc.
The employees should be able to check the availability of hotel rooms, flights, to make and confirm reservations in real-time. Apart from this, they should also give offers on group bookings, leisure travel, and more.
This will also help you in cost savings for your company.
4. Top-level Technology
Even before you start the RFP process, a go-live time is set in your mind. Make sure the travel management company you choose has integration capabilities and can meet your timelines.
Furthermore, consider how easily changes can be made in their T&E platform to adapt to your company's unique requirements. Does it have an inbuilt travel policy feature? Is there flexibility for customizing categories and travel policy features? Does it provide real-time data visibility?

Apart from this, the TMC's travel management platform must have a mobile app a well as browser-based access. This factor is important as the number of employees filing expenses through the convenience of their mobile phones has increased over the years.
This convenience is what will help you get your employees to adopt the T&E solution you choose for your company.
5. The Cost Of T&E Management Software
The cost of a travel management company is one of the significant factors to keep in mind while evaluating your RFPs. Things to consider here are how the service is priced, is it charged based on pay per user or annually/ quarterly?
You also need to evaluate if there are any customer support charges? Apart from this, also, watch out for any hidden fee – for instance, extra charges for making any customization or additional costs for services.
There's No Hurry!
This whole RFP evaluation process can be made easy with the help of weighted scoring for each factor as per your company's travel and business requirements. For instance, you can add values to different criteria like giving cost a weightage of 20% and traveler safety a weightage of 25%, etc.
ITILITE is a Travel and expense management platform that offers the best the best travel inventory, along with an integrated travel and expense platform.
To see if we can be a strong contender in your RFP process, reach out to our product expert for a free demo today.
Free Template To Evaluate RFP for Travel Mnagement Services
Here is a template you can use to evaluate RFP responses from various TMCs. Feel free to customize it according to your needs.