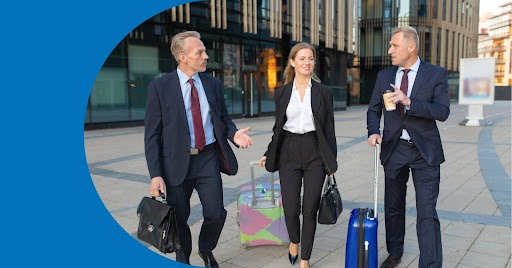 Planning and coordinating travel for a large group can be a logistical nightmare. The process can quickly become overwhelming, from finding the best flight deals to securing accommodations and coordinating transportation. That's where group travel booking software comes in.
In this blog, you will learn how group travel booking software can help you streamline and manage event travel efficiently.
Streamlined Bookings of Groups
Group travel booking software is used to facilitate and streamline the process of business travel booking and managing group travel arrangements. The software enables the management of group bookings in a single platform, making business travel management easier. It allows travel organizers to easily search and compare options for flights, accommodations, transportation, and activities suitable for group travel.
Furthermore, the software can create personalized packages for different individuals going on the same trip. For example, it considers preferences such as the type of meal in flight, flight seating (window or aisle), or any specific amenities required in the hotel.
Better Group Discounts and Deals
Group travel booking software often allows organizers to make bulk bookings for an event. By booking multiple seats or rooms at once, organizers can negotiate special group rates, which can result in significant cost savings for the group.
In addition, the software may include price comparison features that allow organizers to compare prices from different suppliers.
Further, some group travel booking platform works in partnership with travel management companies (TMCs). These TMCs have established relationships with travel suppliers and can leverage their networks to get competitive rates.
By using the software, organizers can tap into these partnerships and benefit from the expertise and negotiating power of the travel management company(TMC), resulting in better deals for the group.
Improved Management of Event Participants
Group travel booking allows travel managers to create and organize events or groups within the application. Managers can input essential information like departure date, event location, and more in the event description, providing a centralized source of information for participants.
Additionally, managers can create a detailed trip itinerary that ensures employees have all the necessary details at their fingertips. Once the participants are added, the manager gains complete visibility into the trip status of each employee.
This functionality allows for effective trip management and tracking. Managers can easily monitor the booking status of each participant, ensuring that everyone is on schedule and informed about any changes or updates.
Travel Document Management
Group travel booking app or software provides a secure platform for storing and organizing travel documents. Instead of relying on physical copies or separate emails, participants can log into the software and access their relevant documents whenever needed. This eliminates the risk of misplacing or losing important travel documents.
In addition, group travel booking system often includes document-sharing features. Travel managers can upload important documents such as itineraries and travel guides; group members can access these documents whenever needed.
Moreover, the software has features to track document expiry dates. Travel managers can input relevant expiration dates for passports, visas, or other documents, and the software can send alerts when documents are approaching their expiry.
Efficient Communication with the Group
Group travel booking platform makes communication and coordination with the group easier. With all the participants and trip details organized within the software, the manager can efficiently oversee the group as a whole.
This centralized approach eliminates the need for fragmented communication channels, such as separate email threads or messaging apps. Instead, managers can send updates on the software, and all members will be notified regarding the same.
In addition, the software enables participants to interact with each other by sharing updates or discussing trip-related matters.

Efficient Expense Management
Group travel booking enables participants to input and track their expenses. They can record their expenses, such as meals, within the software. This allows both participants and travel managers to comprehensively view the overall expenses incurred during the trip.
Plus, the software allows travelers to capture and manage receipts. Participants can upload digital receipts directly into the platform, eliminating the need for paper receipts. The travelers can then create and submit their expense reports in a few clicks, ensuring fast reimbursement.
24/7 Travel Support
Group travel booking software ensures round-the-clock travel support through a combination of AI-enabled chatbots and dedicated assistance teams. The software's chatbots are designed to handle common emergency questions and provide instant responses, even outside regular business hours. These chatbots use artificial intelligence algorithms to understand and address participants' queries efficiently.
Moreover, group travel management companies have dedicated travel assistance teams that are available 24/7 to offer personalized support. These teams comprise knowledgeable travel professionals who can assist employees with various issues.
Whether dealing with emergencies or addressing general travel queries, the assistance team is equipped to provide prompt and reliable help. This level of support enhances the travel experience, minimizes stress, and allows business travelers to concentrate on their work without worrying about travel-related challenges.
Enhanced Safety of The Group
Group travel booking tool or app often includes features for risk assessment and mitigation. It enables travel managers to identify destination or travel activities risks.
In addition, the software can send real-time travel alerts and notifications to participants. This includes updates on security advisories, weather conditions, flight delays, or any other potential disruptions. Such alerts keep participants informed and allow them to take necessary precautions.
The software also allows travel managers to store and provide emergency contact information for participants. In case of any emergencies, participants can quickly access the necessary contact details, ensuring prompt communication and assistance.
Leverage Group Travel Booking Software for Event Travel
In conclusion, group travel booking software is a game-changer for event travel. It simplifies the management of group bookings, saves time and money, and enhances the overall travel experience.
ITILITE is an efficient travel management software that you can use to book group travel. It also offers features such as itinerary management for events and 24/7 customer support, ensuring that group travelers have a smooth and enjoyable travel experience from start to finish.
To know more about the benefits, book a demo now.