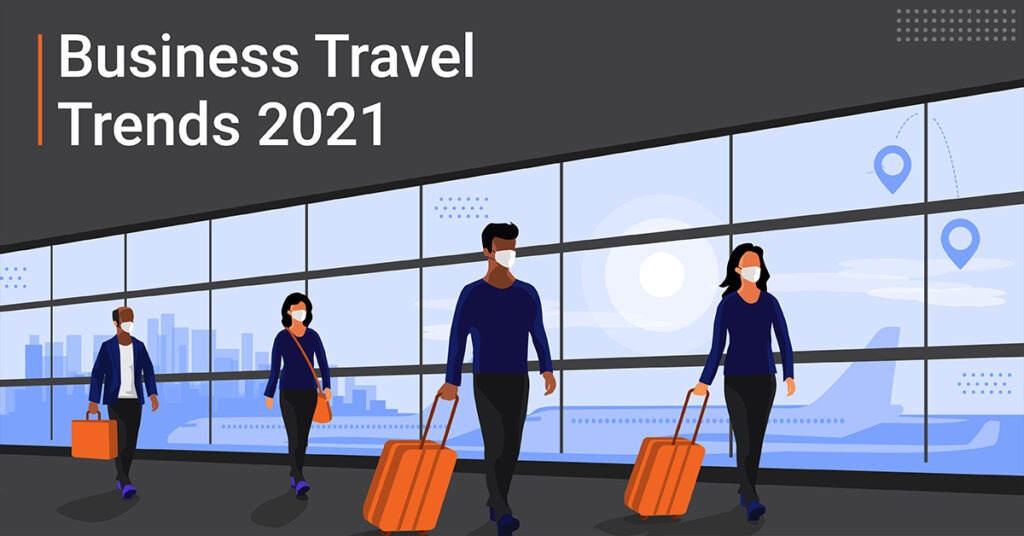 When was the last time you saw your employees excited about their upcoming business trip? Or, do you remember how it felt to travel without packing a bag full of sanitizers, disinfectants, and tissue rolls?
Well, a lot has changed in the past year – the world has embraced remote working, the adoption of technology has seen a massive upsurge, and the way businesses used to operate has changed drastically. However, one thing that stays constant is the power of meeting people in person.
This brings us to realize the importance of business travel – the gateway that connects people and businesses. As economies open and businesses get ready to resume travel, we see certain emerging trends that are shaping the world of business travel. While some of these trends have been brought in by the pandemic, some were accelerated by it. To know what these trends are, read on.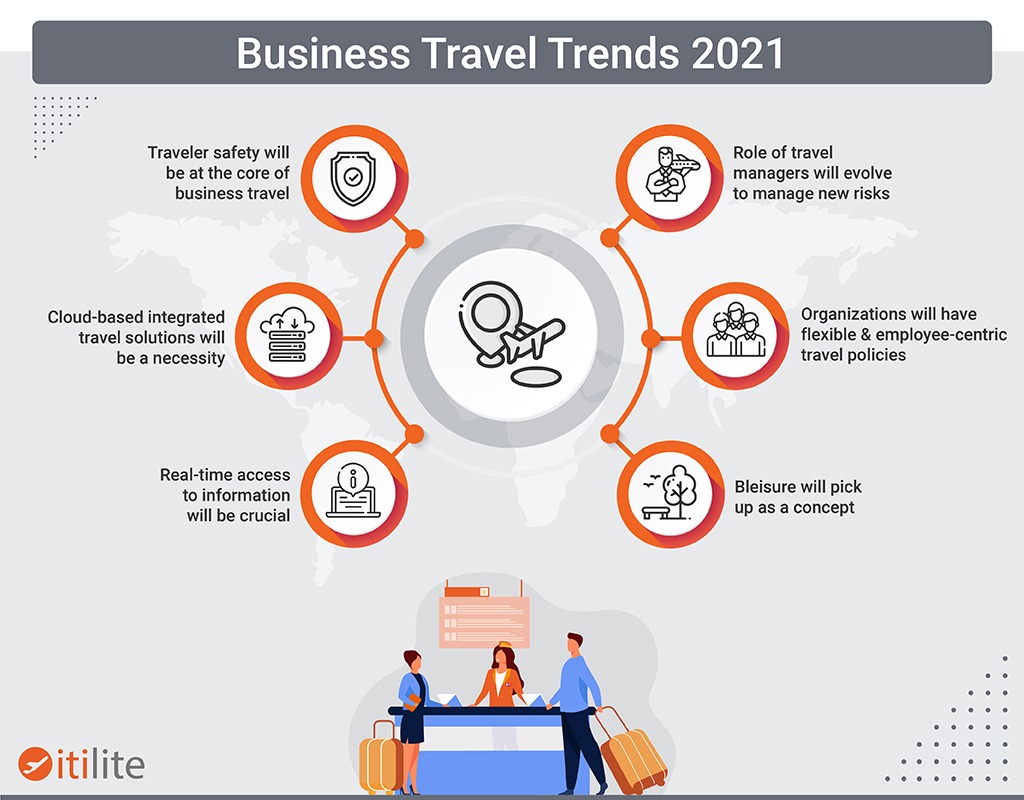 Trend #01: Traveler safety will be at the core of Business Travel
The first trend we see is the increased focus of businesses on traveler safety. While the concept of duty of care has always been there, recent changes have given it a whole new meaning.
Today, organizations are seen taking all necessary steps to ensure traveler safety at every step of their journey. As businesses set off to resume travel, we predict two common themes organizations will be adopting to ensure safety – defining & allowing only essential travel and ensuring safety within essential travel.
Businesses will clearly define what essential travel means to them. They will prioritize their travel plans and allow only essential travel till the situation becomes better. They will also take a step further, analyze the risk of travel for each employee based on her medical history and current health condition, and then decide if she is fit to travel.
Once a traveler is on the move, organizations will ensure that she is safe throughout her travel by sharing real-time updates on the destination country, tracking her location to be accessible in case of crisis, ensuring stays at safe hotels, planning for her safe returns, and more.
Trend #02: Cloud-based integrated travel solutions will be a necessity
The pandemic clearly highlighted the issues with a siloed business travel approach where businesses had been managing their travel (& expenses) with multiple segregated vendors. Not having a consolidated view on travel status, real-time traveler location, and other updates made them realize how critical it was to have a cloud-based integrated travel solution.
In these changing times, organizations are actively looking for solutions that bring in efficiency and help them save costs while still providing an amazing employee experience. They need access to complete information in one place so all stakeholders – travelers, travel managers, finance leaders, decision-makers – can make smarter and safer decisions for their organizations.
That's why the future of business travel management will combine all segregated travel and expense tools into one tool, as is the case with ITILITE, which provides online travel booking, inventory, support, and expense management. Such integrated tools will simplify business travel and expense processes for organizations and evolve further to provide personalized context to address the specific needs of individual travelers.
Trend #03: Real-time access to information will be unavoidable
We have been living in a time of uncertainty for over a year now and being on top of every latest update has become important for everyone – especially for travel managers who are responsible for planning business trips for employees.
Providing real-time travel updates/guidelines to travelers to build their confidence and ensure safety will be a critical requirement in organizations.
What does this mean for businesses? This means that it will be essential for the travel manager to have all the information regarding the flight updates, quarantine changes, itinerary & whereabouts, emergency contacts, and crisis management plan for their employees at their fingertips. And to take care of all these things for a number of employees, having a robust all-in-one travel management solution, like ITILITE will become unavoidable.
Trend #04: The role of travel managers will evolve to meet new risks & challenges
The fourth trend that we predict is the evolution of travel managers in the new world of business travel. Travel managers will need cutting-edge skills and technology to win the new challenges.
Their role will no longer be limited to booking tickets and planning itineraries. In the new world, they will have to play the role of "risk managers". From defining essential travel, deciding who can travel, evaluating risks & business ROI for each trip, doing robust scenario planning, and providing all the necessary support to travelers at all times – they have a lot on their shoulders.
To help them in their demanding role, organizations need to equip them with the right tools and solutions. At ITILITE, we launched a tool to help travel managers and travelers have access to real-time travel updates across the globe at their fingertips.
Trend #05: Organizations will have flexible & employee-centric travel policies
It has become increasingly common to see companies following 'People First' at the core of business travel policies. In the near future, organizations will rethink their policy and compliance procedures to accommodate scenarios where employees make out policy purchases to stay safe.
Some of the things that will make a place in the revised policy are phased opening of business travel, defining essential and non-essential travel, clear procedures for meetings and minimal contact and airline safety policies, offering incentives/discounts on extended stays, and a flexible cancellation policy. Organizations will be seen as being much more flexible in their approaches, adopting configurable policy and approval flows, and parking all the rigidity until we bounce back to absolute normalcy.
Trend #06: Bleisure will pick up as a concept
One of the trends to look forward to in the coming times is the increased investment of business travelers in bleisure. With an entire year of sitting inside homes, people have been looking for a change. While the world of travel is gradually opening up, schools and offices remain shut in most of the countries and this gives an option to business travelers to travel with their families on a business trip. This trend raises the requirement of a tool that supports bleisure and booking for extended trips.
While this trend is just picking up, even the little number of bleisure trips that take place will be longer in duration, owing to the hybrid work culture.
While these trends suggest how the future of business travel will look and what are the necessary steps that organizations and travel managers need to take, we are sure there is more to come. As we see upcoming trends in the rapidly evolving landscape, we will keep sharing them with you. Stay tuned for more!
Recommended Read